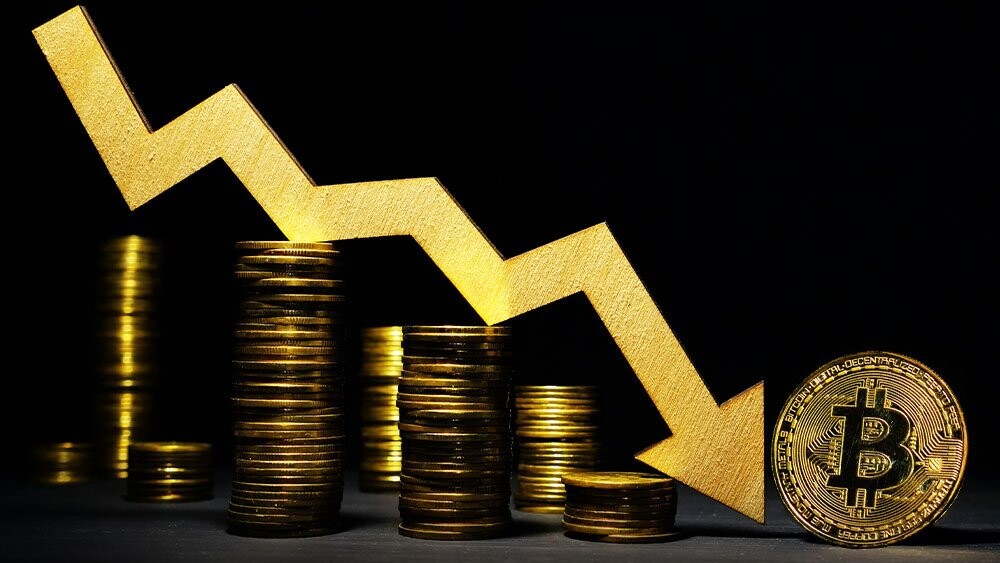 In the film directed by Wolfgang Petersen and played in the main role by George Clooney, a storm that turned into a cyclone caused the sinking of a fishing boat named Andrea Gail, tragic news that Sebastián Junger recorded in a book based on making the movie.
These words characteristically refer to a serious problem that develops through a series of events, none of them too serious on their own, but which together can become something of magnitude.
That is what seems to be happening with cryptocurrencies and like beasts that smell blood, several important players in the financial world take the opportunity to try to deliver a knockout blow and thus achieve another Andrea Gail.
After reaching its record price of $ 65,000, bitcoin began to fall, at first, it seemed a logical correction but its fall continued and continued and continued until today where its price fell by more than 50%, everything is in Less than two months.
Something similar happened with Ethereum, it reached $ 4,300 and today it is just 2,200 but its fall is even more dramatic because it occurred in a significantly shorter time.
Bans in China, statements by Elon Musk, attacks by environmentalists for electricity consumption, the ban in Japan, new bans from China and Iran, and the statements of several presidents of central banks increased the intensity of the wind from a simple tropical storm to the category hurricane.
Of course, those falls have dragged down most of the altcoins and there are some whose decline is simply dramatic causing losses among their holders of between 50 and 70%.
Meanwhile, all cryptocurrency enthusiasts watch in bewilderment as our holdings and hopes are quickly headed for the garbage can.
I have been talking about volatility for a long time, I always say that it is not good; precisely that weakness is today the perfect target used to attack them. Let's hope that the end is not like that of the fishing boat in the movie and that everything returns to normal lanes, that this serves as an experience to realize that those who do not want the new paradigm to triumph are a fabulous enemy who knows how to play their cards in quietly and precisely.

En el film dirigido por Wolfgang Petersen e interpretada en el papel principal por George Clooney, una tormenta que se convirtió en ciclón provocó el hundimiento de un barco pesquero de nombre Andrea Gail, una noticia trágica que Sebastián Junger plasmó en un libro sobre cuya base se realizó la película.
Con esas palabras se suele mencionar característicamente un problema grave que se desarrolla encadenando una serie de eventos, ninguno demasiado grave por si solo pero que en conjunto pueden convertirse en algo de magnitud.
Eso es lo que parece estar ocurriendo con las criptomonedas y como fieras que huelen sangre, varios actores importantes del mundo financiero aprovechan la oportunidad para tratar de darle un golpe de gracia y de esa manera lograr otro Andrea Gail.
Luego de llegar a su precio récord de 65.000 dólares, el bitcoin comenzó a caer, al principio pareció una corrección lógica pero su caída continuó y continuó y continuó hasta el día de hoy donde su precio bajó en más de un 50%, todo es en menos de dos meses.
Algo similar ocurrió con el Ethereum, llegó a cotizar en 4.300 dólares y hoy está apenas en 2.200 pero su caída es aún más dramática porque se produjo en un tiempo sensiblemente menor.
Prohibiciones en China, declaraciones de Elon Musk, ataques de ecologistas por el consumo eléctrico, prohibiciones en Japón, nuevas prohibiciones desde China e Irán y las declaraciones de varios presidentes de bancos centrales hicieron aumentar la intensidad del viento desde una simple tormenta tropical hasta la categoría de huracán.
Por supuesto esas caídas han arrastrado a la mayoría de las altcoins y hay algunas cuyo descenso es sencillamente dramático provocando pérdidas entre sus tenedores de entre un 50 y un 70%.
Mientras tanto todos los entusiastas de las criptomonedas miramos azorados como nuestras tenencias y esperanzas se encaminan rápidamente hacia el tarro de la basura.
Hace tiempo que vengo hablando de la volatilidad, siempre digo que no es buena; justamente esa debilidad es hoy el blanco perfecto que se utiliza para atacarlas. Esperemos que el final no sea como el del pesquero de la película y que todo vuelva a los carriles normales, que esto sirva como experiencia para darnos cuenta que aquellos que no quieren que el nuevo paradigma triunfe son un enemigo fabuloso que sabe jugar sus cartas en forma silenciosa y precisa.
Las fotografías son de mi propiedad excepto las que menciono la fuente.
The photographs are my property except those mentioned by the source.
Héctor Gugliermo
@hosgug
Posted Using LeoFinance Beta