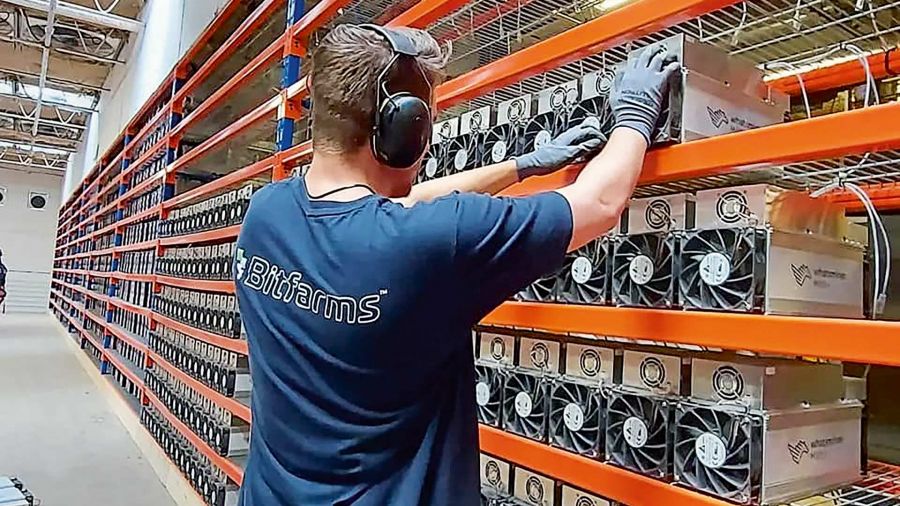 In my country, energy is not cheap, it has been subsidized by the state and the rates have been frozen for 2 years, all thanks to the management of the current government that, believing that it does good to the neediest, actually does it in a greater proportion. to those who could pay rates without subsidies because by not discriminating areas or consumption, the benefit is shared among all. Some of the things that make mine an unviable country, at least as long as these types of rulers who prioritize putting their friends and relatives in strategic positions instead of experts continue.
A few months ago the news was known that BitFarms, a company based in Canada, although founded by Argentines, which is dedicated to mining bitcoins, signed an agreement with a local power generating company to install a plant in the country with the purpose to mine that cryptocurrency. You can see the news on my blog by clicking Here.
At that time there was some surprise and mystery around the project, the local energy supplier was not announced, although the effective cost of the electricity that was insured was: 0.22 per kilowatt-hour (kWh). The mystery was revealed and although it was speculated that the location of the plant would be in Patagonia, BitFarms finally revealed through a photograph published on its institutional website that the generating plant corresponds to a thermoelectric plant owned by the Albanesi group that is located in the town of Río Cuarto, in the province of Córdoba, in the heart of the country.
What still remains a surprise and a mystery is the value per kWh since those figures are 1/3 of what is paid locally and the committed value does not even pay the cost of generating it. Another question is raised in the consumption that the mining farm will need, this power plant is part of the SADI (Argentine interconnection system) so its production is compromised by means of a contract and the authorities will surely not authorize the disconnection of part of the installed capacity. to deliver it to a private.
According to BitFarms executives, it is an agreement between private parties within the private property of the generating plant and ensures that the energy that the farm will demand is not part of the current network, but that the necessary investment will be made for its exclusive use, without no type of subsidy and within a framework agreed with the national and provincial authorities.

En mi país la energía no es barata, está subsidiada por el estado y las tarifas congeladas desde hace 2 años, todo gracias a los manejos del gobierno de turno que creyendo que hace un bien a los más necesitados em realidad se lo hace en mayor proporción a aquellos que podrían pagar tarifas sin subsidios porque al no discriminar zonas ni consumo el beneficio se reparte entre todos. Algunas de las cosas que hacen que el mío sea un país inviable, al menos mientras sigan este tipo de gobernantes que priorizan poner en puestos estratégicos a sus amigos y parientes en lugar de expertos.
Hace unos meses se conoció la noticia que BitFarms, una empresa radicada en Canadá, aunque fundada por argentinos, que se dedicada a la minería de bitcoins, firmó un acuerdo con una empresa generadora de energía local para instalar una planta en el país con el objeto de minar esa criptomoneda. Pueden ver en mi blog la noticia desarrollada haciendo clic Aquí.
En ese momento hubo cierta sorpresa y misterio alrededor del proyecto, no se anunciaba el proveedor local de la energía, aunque si el costo efectivo de la electricidad que se aseguraba: 0,22 por kilovatio hora (kWh). El misterio fue develado y aunque se especuló con que la ubicación de la planta sería en la Patagonia, finalmente BitFarms dio a conocer mediante una fotografía publicada en su web institucional que la planta generadora corresponde a una central termoeléctrica propiedad del grupo Albanesi que está ubicada en la localidad de Río Cuarto, en la provincia de Córdoba, pleno centro del país.
Lo que todavía sigue siendo una sorpresa y un misterio es el valor por kWh ya que esos guarismos son 1/3 de lo que se paga localmente y el valor comprometido ni siquiera paga el costo de generarla. Otro interrogante está planteado en el consumo que la granja minera necesitará, esta planta energética forma parte del SADI (sistema argentino de interconexión) por lo que su producción está comprometida mediante un contrato y las autoridades seguramente no autorizarán una desconexión de parte de la capacidad instalada para entregársela a un privado.
Según los directivos de BitFarms, es un acuerdo entre privados dentro del predio privado de la planta generadora y se asegura que la energía que demandará la granja no forma parte de la red actual, sino que se hará la inversión necesaria para su utilización exclusiva, sin ningún tipo de subsidio y dentro de un marco de acuerdo con las autoridades nacionales y provinciales.

Las fotografías son de mi propiedad excepto aquellas en las que menciono la fuente.
The photographs are my property except those in which I mention the source.
Héctor Gugliermo
@hosgug
Posted Using LeoFinance Beta