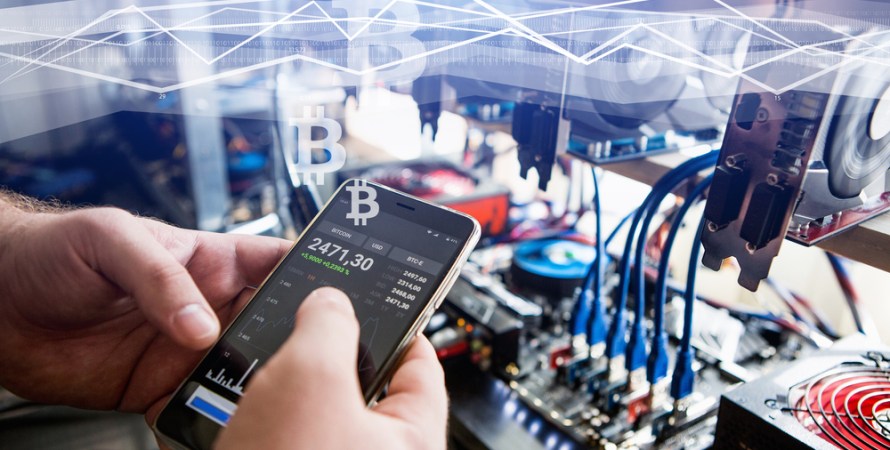 One of the less sympathetic characteristics of cryptocurrencies is the excessive amount of electrical energy that miners use to perform the famous proof of work (PoW) and thus earn the reward that is ultimately their source of income.
The great disadvantage of mining is that still most of the energy used in the process is not renewable, it is expensive and generates carbon dioxide (Co2) emissions, the main component of the greenhouse effect that is generating a gradual but constant increase. of the surface temperature whose effects have not yet been fully calculated but that worries the entire scientific community of the world.
That is why many players in the mining industry are looking for alternatives to lower energy costs and to make it cleaner and more renewable. Double objective.
It has emerged these days that several mining companies of bitcoin, Ethereum, and other cryptocurrencies are seeking an alliance with nuclear power plants. Although it is true that this way of generating energy has several cons that we will not explain here, they also have a form of generation that is much cleaner since it does not generate Co2.
In some countries, mainly in Western Europe, nuclear energy is not seen with good eyes and, for example, private companies dedicated to this industry are not included in the help that governments give to green energy generators.
This does not interest the miners too much, in short, it is not their problem, but the two objectives sought, the nuclear plants fulfill them perfectly: they generate energy at low cost and do not emit carbon dioxide. Bingo!
In the United States there is already an alliance of these characteristics, the Pennsylvania company Talen Energy has signed a letter of intent with the cryptocurrency mining company Terawulf who are going to build a mining plant next to the nuclear power plant and will be supplied with the energy generated by it. It is known that there are other projects although not as advanced as this one.
Although there are other, cleaner, less polluting and dangerous ways of generating electricity, they are not yet developed and cost less. El Salvador, the first country in the world that has adopted bitcoin as legal tender, has recently announced that the use of geothermal energy is being studied to provide the mining companies with the necessary energy, it is a good idea and also feasible, although It is not clear how long a project of such characteristics will take, and even less if the small Central American country could carry it out.

Una de las características menos simpáticas de las criptomonedas es la excesiva cantidad de energía eléctrica que los mineros utilizan para realizar la famosa prueba de trabajo (PoW) y de esa manera ganar la recompensa que es en definitiva su fuente de ingresos.
El gran inconveniente del minado es que todavía la mayor parte de la energía que se utiliza en el proceso no es renovable, es cara y genera emisión de dióxido de carbono (Co2), principal componente del efecto invernadero que está generando un aumento paulatino pero constante de la temperatura superficial cuyos efectos aun no están totalmente calculados pero que preocupa a toda la comunidad científica del mundo.
Es por ello que muchos actores de la industria del minado están buscando alternativas para abaratar costos de energía y para que ésta sea más limpia y renovable. Doble objetivo.
Ha trascendido por estos días que varias compañías mineras de bitcoin, Ethereum y otras criptomonedas están buscando una alianza con centrales nucleares. Si bien es cierto que esta forma de generar energía tiene varias contras que no explicaremos aquí, también poseen una forma de generación que es muchísimo más limpia ya que no genera Co2.
En algunos países, fundamentalmente en Europa Occidental, la energía nuclear no es vista con buenos ojos y, por ejemplo, las empresas privadas dedicadas a esta industria no están contempladas en la ayuda que los gobiernos otorgan a las generadoras de energía verde.
Esto a los mineros no les interesa demasiado, en definitiva, no es problema de ellos, pero los dos objetivos buscados, las plantas nucleares los cumplen a la perfección: generan energía a bajo costo y no emiten dióxido de carbono. Bingo!
En Estados Unidos ya existe una alianza de estas características, la compañía de Pensilvania Talen Energy ha firmado una carta intención con la compañía de minería de criptomonedas Terawulf quienes van a construir una planta de minado al lado de la central nuclear y se abastecerán de la energía generada por esta. Se sabe que hay otros proyectos aunque no tan avanzados como este.
Si bien existen otras formas más limpias, menos contaminantes y peligrosas de generar energía eléctrica, todavía no tienen el desarrollo necesario ni los costos tan bajos. El Salvador, primer país en el mundo que ha adoptado al bitcoin como moneda de curso legal, ha anunciado recientemente que está en estudio el uso de energía geotérmica para proveer a las mineras de la energía necesaria, es una buena idea y también factible, aunque no está claro el tiempo que demandará un proyecto de tales características y menos aun si el pequeño país centroamericano podría llevarlo adelante.
Las fotografías son de mi propiedad excepto las que menciono la fuente.
The photographs are my property except those mentioned by the source.
Héctor Gugliermo
@hosgug
Posted Using LeoFinance Beta