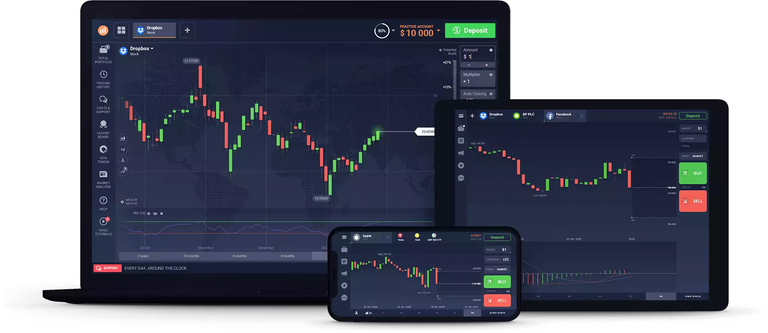 According to studies in Modern Trader magazine, there are almost 14 million people who, to a greater or lesser extent, carry out trading operations. This indicates that approximately one in 560 people worldwide have bought, sold, or exchanged some type of financial asset directly or through companies or people specialized in the field.
An impressive figure that clearly indicates the great expansion in the knowledge and use of tools for the exchange of financial assets, of course, that cryptocurrencies have greatly influenced this number although the aforementioned report does not specify it in an exhaustive way.
Indeed, the irruption in the world of finance by BTC, it's blockchain and all the other projects that were created from this idea, have irreversibly popularized access to markets and of course the hoarding and exchange of currencies. Even many people who began their foray into this specialized world and only reserved until then for a few, have understood that trading is not complex or requires large sums of money and can be carried out personally or through other people. . Not a few have started with cryptocurrencies and then expanded to other more traditional assets.
However, despite this large increase in people who invest in cryptocurrencies, in some places, there are still great restrictions to access those markets. In Latin America for example and to talk specifically about what happens here, we have enormous limitations when it comes to transferring money to some trading platforms through the use of our credit and debit cards. Despite the announcements by several major international banks about their opening for custody in the first instance and other services in the future for cryptocurrencies, many still block purchase operations through the aforementioned financial systems. This is due, according to the banking authorities, because the current legislation of many countries considers cryptocurrencies as high-risk operations and then complicates the operations of their clients to operate normally with them. According to the latest news, there are also huge restrictions of this type in Europe.
To further complicate matters, current legislation is quite lax in terms of how banks behave with respect to this type of transaction, leaving each entity free to act in terms of controls and security. Entities are free to use in the way they see fit the rules of "knowing your clients" and it is possible, even probable that the behavior in the authorization to transfer money to a cryptocurrency trading platform is different for two clients of the same institution.
We will see how these restrictive issues will evolve in the future, for now, it only remains to hope that they will fall under their own weight.

Según estudios de la revista Modern Trader, hay casi 14 millones de personas que en mayor o menor medida realizan operaciones de trading. Esto indica que aproximadamente una de cada 560 personas en todo el mundo ha comprado, vendido o intercambiado algún tipo de activo financiero en forma directa o a través de compañías o personas especializadas en el rubro.
Una cifra impresionante que indica a las claras la gran expansión en el conocimiento y utilización de herramientas para el intercambio de activos financieros, por supuesto que las cryptomonedas han influido enormemente en este número aunque el citado informe no lo especifique en forma taxativa.
Efectivamente, la irrupción en el mundo de las finanzas del BTC, su blockchain y todos los demás proyectos que se crearon a partir de esta idea, han popularizado de manera irreversible el acceso a los mercados y por supuesto el atesoramiento y el intercambio de divisas. Incluso mucha gente que comenzó su incursión en este mundo especializado y solo reservado hasta ese momento para pocos, ha comprendido que el trading no es complejo ni se requiere de grandes sumas de dinero y puede ser llevado a cabo en forma personal o a través de otras personas. No pocos han comenzado con las cryptomonedas y luego se han expandido a otros activos más tradicionales.
Sin embargo y pese a ese gran incremento de personas que invierten en cryptomonedas, en algunos lugares todavía hay grandes restricciones para acceder a esos mercados. En Latinoamérica por ejemplo y para hablar específicamente de lo que aquí acontece, tenemos enormes limitaciones a la hora de transferir dinero a algunas plataformas de trading mediante la utilización de nuestras tarjetas de crédito y débito. Pese a los anuncios de varios e importantes bancos internacionales sobre su apertura a la custodia en primera instancia y a otros servicios en el futuro para las cryptomonedas, muchos todavía bloquean las operaciones de compra mediante los sistemas financieros mencionados. Esto es debido, según mencionan las autoridades bancarias, porque la legislación actual de muchos países consideran a las cryptomonedas como operaciones de alto riesgo y entonces complican la operatoria de sus clientes para operar de forma normal con ellas. Según las últimas novedades, también en Europa hay enormes restricciones de este tipo.
Para complicar aún más la cosa, la legislación vigente es bastante laxa en cuanto a la forma de comportarse de las entidades bancarias respecto a este tipo de transacciones dejando librado a cada entidad la forma de actuar en cuanto a controles y seguridad. Las entidades están libres de utilizar de la manera que mejor les parezca las normas de "conocer a sus clientes" y es posible, incluso probable que el comportamiento en la autorización para transferir dinero a una plataforma de trading de cryptomonedas sea distinta para dos clientes de la misma institución.
evolucionarán en el futuro, por ahora solo resta esperar que caigan por su propio peso.
Las fotografías son de mi propiedad excepto las que menciono la fuente.
The photographs are my property except those mentioned by the source.
Héctor Gugliermo
@hosgug
Posted Using LeoFinance Beta