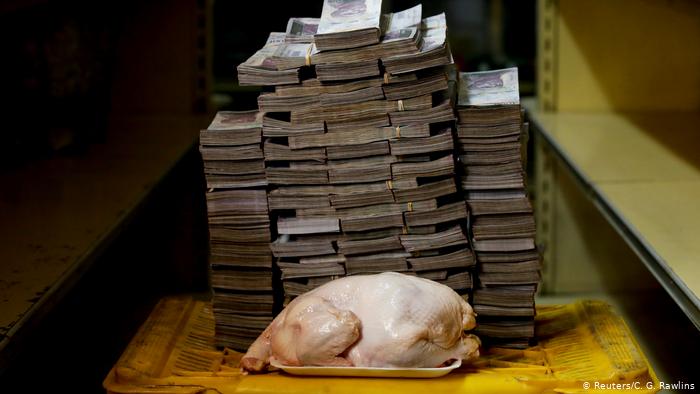 Inflation in Venezuela has been totally out of control for a long time, in fact, it is hyperinflation like the one that occurred in my country in the late 1980s.
I remember that moment and I assure you that it was something crazy, prices could increase two or three times in a day and the salaries were millions of pesos that were worth absolutely nothing, we were nominally millionaires because the real value of what we charged for our work taken to a stable currency like the dollar it was very poor. At the moment we have high inflation and it has remained with slight variations for about three years, let's hope it stays that way and we will not go through the hecatomb of 4 decades ago again. Something similar, although worse, happened in Germany in 1923, I think it was one of the largest recorded in the world if not the largest.
Now it is happening in Venezuela and also, although for now milder, in an African country: Zimbabwe.
In the sister country of South America, they are thinking of removing 6 zeros from the currency and if that is not enough to illustrate the terrible scourge of hyperinflation, it can be added that in the last 15 years, 14 zeros have been removed from the Bolivar!
Returning to uncontrolled inflation in my country in 1989 and 1990, there we also removed a good number of zeros, and for those of us who work in computer science that is excellent news because all the spaces reserved to contain figures were small and many systems of those Times canceled for exceeding the planned size.
Now in Venezuela, this problem is present and all banking and financial transactions have enormous difficulties to operate normally.
The disadvantage of having a currency that is totally devalued is more trustworthy than the value it represents, that is why Venezuelans are doing a de facto dollarization of the economy and are also turning to cryptocurrencies en masse. So much so that several cryptocurrency research and analysis companies give the Caribbean country third place in the global cryptocurrency adoption index. We can see it daily in Hive, the Venezuelans are an absolutely strong community with a great presence and participation in our ecosystem.
Venezuelans have become experts in handling cryptocurrencies, as a way of preserving at least in part their economic level and ability to save.
Hopefully, the hyperinflation will pass soon but that the habit of saving, investing, and exchanging cryptocurrencies remains and expands.

En Venezuela la inflación está totalmente descontrolada desde hace mucho tiempo, de hecho es una hiperinflación como la que ocurrió en mi país a fines de la década de 1980.
Recuerdo ese momento y les aseguro que era algo loco, los precios podían aumentar dos o tres veces en un día y los sueldos eran de millones de pesos que no valían absolutamente nada, éramos millonarios nominalmente porque el valor real de lo que cobrábamos por nuestro trabajo llevado a una moneda estable como el dólar era paupérrimo. En estos momentos tenemos una inflación elevada y se mantiene con ligeras variaciones desde hace unos tres años, esperemos que quede en eso y no pasemos nuevamente por la hecatombe de hace 4 décadas. Algo parecido, aunque peor, ocurrió en Alemania en el año 1923, creo que fue una de las mayores registradas en el mundo sino la más grande.
Ahora está pasando en Venezuela y también, aunque por ahora más leve, en un país de África: Zimbabue.
En el hermano país de Sudamérica están pensando en quitarle a la moneda 6 ceros y si eso no bastara para graficar el terrible flagelo de la hiperinflación, se puede agregar que en los últimos 15 años se han quitado al Bolívar ¡14 ceros!
Volviendo a la inflación descontrolada en mi país en los años 1989 y 1990, allí también quitamos una buena cantidad de ceros y para los que trabajamos en informática esa es una excelente noticia porque todos los espacios reservados para contener cifras quedaban chicos y muchos sistemas de aquellos tiempos cancelaban por exceder el tamaño previsto.
Ahora en Venezuela esa problemática está presente y todas las transacciones bancarias y financieras tienen enormes dificultades para operar con normalidad.
El inconveniente de tener una moneda que está totalmente devaluada es más de confianza que del valor que representa, por eso los venezolanos están haciendo una dolarización de facto de la economía y también se están volcando masivamente a las criptomonedas. Tan es así que varias empresas de investigación y análisis de las criptomonedas le otorgan al país caribeño el tercer lugar en el índice global de adopción de criptomonedas. Lo podemos ver a diario en Hive, la venezolana es una comunidad absolutamente fuerte con gran presencia y participación en nuestro ecosistema.
Los venezolanos se han hecho expertos en el manejo de criptomonedas, como una forma de preservar al menos en parte su nivel económico y capacidad de ahorro.
Esperemos que la hiperinflación pase pronto pero que la costumbre de ahorrar, invertir e intercambiar criptomonedas permanezca y se amplíe.
Las fotografías son de mi propiedad excepto las que menciono la fuente.
The photographs are my property except those mentioned by the source.
Héctor Gugliermo
@hosgug
Posted Using LeoFinance Beta