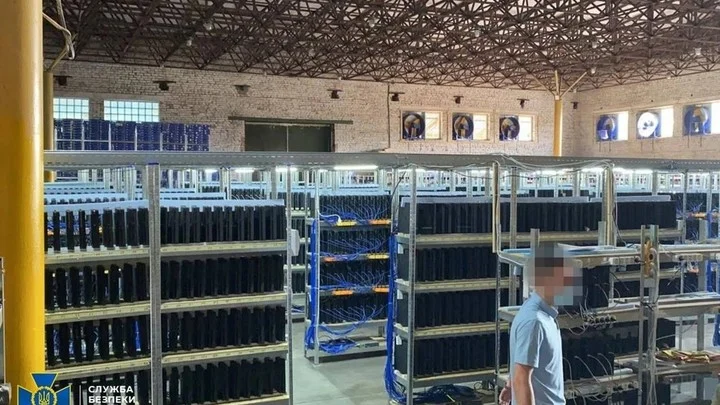 This adjective comes from the verb hang and can be used in various meanings, it is used when something is suspended from support when communication is cut off in a telephone conversation, it is used to attribute something to someone, to leave the study, or a profession. It is versatile.
In my country and several others in Latin America, the adjective hanging indicates that someone does not pay for electricity service because they have a connection outside the law.
Some may think that this criminal attitude is the property of criminals and low-income people who cannot afford the expense generated by electricity consumption. But sometimes there are surprises and, for example, these types of irregularities have been detected in apartment buildings and even in gated communities and country clubs where the income of the owners is high enough to live in that type of neighborhood. The latter shows that there are people who want everything for themselves, it doesn't matter if they can afford it, they avoid it because they don't care and because obviously, they can.
These days I learned that a huge cryptocurrency mining farm was discovered in the basements of a building located in the city of Vinnytsia, near Kiev, Ukraine. It was an absolutely secret operation, motivated mainly because the electricity and water that this activity consumed were disguised behind hacked meters so as not to record the true consumption.
Inside the farm, they found more than 3,000 video game consoles and 5,000 computers that together consumed (although not paying for) the equivalent of more than 260,000 dollars a month of electricity.
According to the police authorities, this huge seizure of material for mining is the largest in the country.
From what I understand, cryptocurrency mining is not prohibited in that country, but the ambition of the administrators made everything be done clandestinely to be able to use energy without paying for it and in that particular way maximize profits.
It's a shame that the talent and inventiveness of having come up with a farm that used PlayStations instead of GPUs or special mining equipment are wasted due to illegality.
Do you wonder how they discovered them? Well, there was a huge consumption spike and the technicians from the power company investigated. End announced.

Este adjetivo proviene del verbo colgar y que puede utilizarse en diversas acepciones, sirve para cuando se suspende algo de un soporte, cuando en una conversación telefónica se corta la comunicación, se utiliza para achacar algo a alguien, para abandonar el estudio o una profesión. Es versátil.
En mi país y también en varios otros de Latinoamérica el adjetivo colgado sirve para indicar que alguien no paga el servicio de electricidad por tener una conexión fuera de la ley.
Algunos pueden pensar que esa actitud delictiva es propiedad de malvivientes y personas de bajos recursos que no pueden solventar el gasto que el consumo eléctrico genera. Pero en ocasiones hay sorpresas y por ejemplo se han detectado este tipo de irregularidades en edificios de departamentos y hasta en barrios cerrados y clubes de campo donde los ingresos de los propietarios son lo suficientemente elevados como para vivir en ese tipo de vecindad. Esto último demuestra que hay personas que quieren todo para sí, no importa si lo pueden pagar, lo evitan porque no les importa y porque evidentemente, pueden.
Por estos días me enteré que una enorme granja de minería de criptomonedas fue descubierta en los sótanos de un edificio ubicado en la ciudad de Vinnytsia, cerca de Kiev, Ucrania. Era una operación absolutamente secreta, motivada principalmente porque la energía eléctrica y el agua que esa actividad consumía estaban disfrazadas detrás de medidores hackeados para no registrar el verdadero consumo.
En el interior de la granja encontraron más de 3.000 consolas de video juegos y 5.000 ordenadores que en conjunto consumían (aunque no pagaban) el equivalente a más de 260.000 dólares mensuales de energía eléctrica.
Según las autoridades policiales esta enorme incautación de material para el minado es la más grande ocurrida en el país.
Por lo que entiendo la minería de criptomonedas no está prohibida en ese país, pero la ambición de los administradores hizo que todo se realizara en forma clandestina para poder usufructuar la energía sin pagar por ella y de esa forma particular maximizar las ganancias.
Es una pena que el talento e inventiva de haber ideado una granja que utilizaba PlayStations en lugar de GPU o equipos especiales de minado se vea desperdiciado por la ilegalidad.
¿Uds. se preguntarán como los descubrieron? Bien, hubo un pico de consumo enorme y los técnicos de la compañía de electricidad investigaron. Final anunciado.
Las fotografías son de mi propiedad excepto las que menciono la fuente.
The photographs are my property except those mentioned by the source.
Héctor Gugliermo
@hosgug
Posted Using LeoFinance Beta