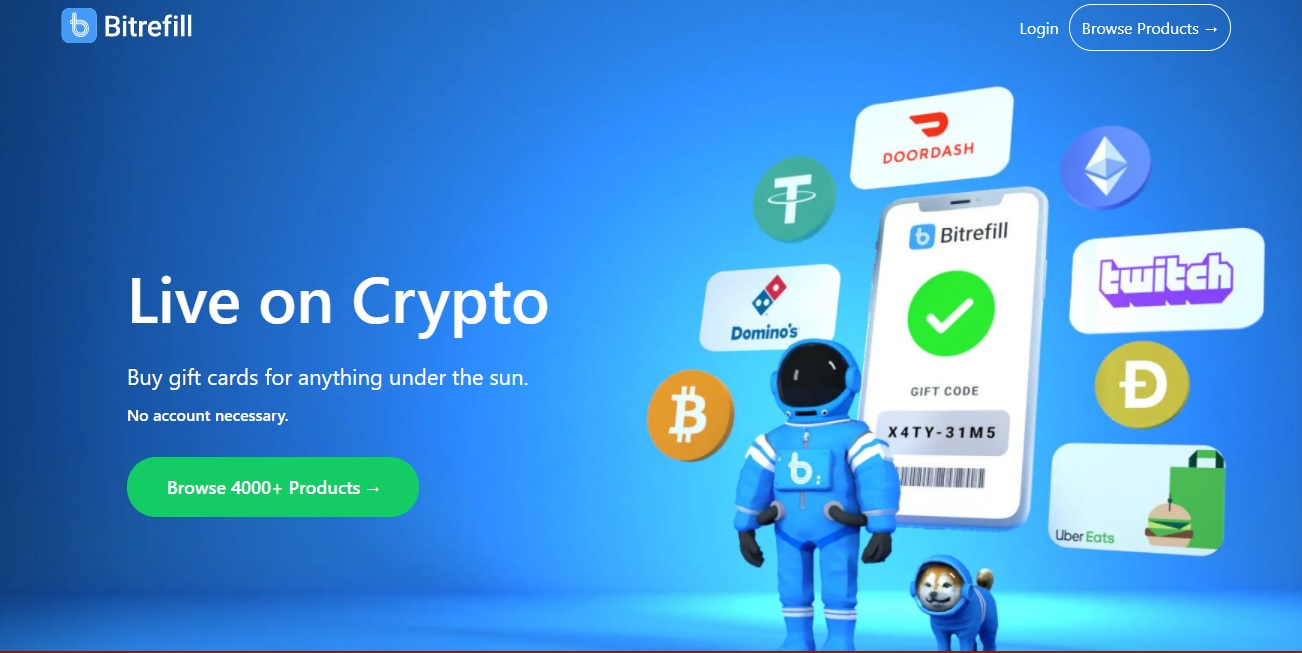 An Argentine company whose name is Bitrefill belonging to the field of gift cards and telephone recharge has announced the availability of a series of rechargeable cards with cryptocurrencies to make purchases in stores of Argentina and abroad.
This platform also has an application for smartphones from where you can top up your balance and pay for purchases without the need for a physical card.
For now, it only accepts a balance load with six cryptocurrencies: BTC, ETH, DOGE, LTC, USDT and DASH, but there is a project to expand the possibility of using others in the future.
The mechanism is simple, it is loaded from any wallet or exchange and you can choose to change to dollars or euros, once the change has been made, the card already has a balance and is ready to make purchases in the shops attached to Bitrefill although to operate In Argentina we must make a new change to our local currency and here there is a drawback: in the vast majority of adhered businesses the change is made at a value close to that of the informal dollar, also called blue, but for telephony and game companies, the change is made at the official value, which at the moment is approximately half of the informal one. I suppose this is absolutely not attractive to crypto holders, but it is one of the problems caused by the foreign currency trap.
The price in dollars or euros of the cryptocurrency chosen to load balance can be consulted from the application before confirming the conversion, in the same way it happens when going from those currencies to the peso.
In addition to that salvageable inconvenience if those two services are not consumed, there is another and that is to necessarily go through two conversions to be able to buy in the country (from crypto to dollars or euros and then to Argentine pesos). Exchange differences and any commission undermine the best performance of our holdings. However, it can be a good alternative for those who receive income abroad and do not want to bring it at the price of the official exchange where, as I said, half of the income is lost.
The offer of attached businesses is interesting and varied, there are important companies selling household appliances, street clothes, sportswear and outdoors, wineries, restaurants, glasses, toys, jewelry and many brands of local and international prestige that cover a wide range of products. and services, within the latter are telephone services, but with the exception mentioned above.
An interesting initiative that adds more usability to our beloved and appreciated tokens that we would all prefer to keep but that many of us need to change to alleviate our complex situation and dragged by the economy of the country that does not find a defined course.

Una empresa argentina cuyo nombre es Bitrefill perteneciente al rubro de tarjetas de regalo y recarga de telefonía ha anunciado la disponibilidad de una serie de tarjetas recargables con criptomonedas para realizar compras en tiendas de la Argentina y el exterior.
Esta plataforma también cuenta con una aplicación para el teléfono desde donde se puede recargar saldo y abonar las compras sin necesidad de la tarjeta física.
Por ahora solo acepta carga de saldo con seis criptomonedas: BTC, ETH, DOGE, LTC, USDT y DASH pero existe el proyecto de ir ampliando la posibilidad de utilizar otras en el futuro.
El mecanismo es sencillo, se carga desde cualquier monedero o exchange y se puede optar por el cambio a dólares o euros, una vez efectuado el cambio la tarjeta ya tiene saldo y se encuentra lista parar realizar compras en los comercios adheridos a Bitrefill aunque para operar en Argentina hay que realizar un nuevo cambio a nuestra moneda local y aquí se presenta un inconveniente: en la gran mayoría de los comercios adheridos el cambio se hace a un valor cercano al del dólar informal, también llamado blue, pero para la telefonía y las empresas de juegos el cambio se hace al valor oficial que en estos momentos está aproximadamente a la mitad del informal. Supongo que esto absolutamente no es atractivo para los tenedores de criptomonedas, pero es uno de los problemas ocasionados por el cepo a las divisas extranjeras.
La cotización en dólares o euros de la criptomoneda elegida para cargar saldo se puede consultar desde la aplicación antes de confirmar la conversión, de la misma manera ocurre al pasar desde esas monedas al peso.
Además de ese inconveniente salvable si no se consumen esos dos servicios, hay otro y es el de pasar necesariamente por dos conversiones para poder comprar en el país (de cripto a dólares o euros y luego a pesos argentinos). Las diferencias de cambio y alguna comisión atentan contra el mejor rendimiento de nuestras tenencias. Sin embargo, puede ser una buena alternativa para aquellos que reciben ingresos en el exterior y no quieren traerlos al precio del cambio oficial donde se pierde, como dije, la mitad de los ingresos.
La oferta de comercios adheridos es interesante y variada, hay importantes empresas de venta de electrodomésticos, ropa de calle, deportiva y outdoors, bodegas, restaurantes, anteojos, juguetes, joyas y muchas marcas de prestigio local e internacional que cubren una gran oferta de productos y servicios, dentro de estos últimos están los servicios de telefonía, pero con la salvedad mencionada más arriba.
Una interesante iniciativa que agrega más usabilidad a nuestros queridos y apreciados tokens que todos preferiríamos guardar pero que muchos necesitamos cambiar para paliar nuestra situación compleja y arrastrada por la economía del país que no encuentra un rumbo definido.
Las fotografías son de mi propiedad excepto las que menciono la fuente.
The photographs are my property except those mentioned by the source.
Héctor Gugliermo
@hosgug
Posted Using LeoFinance Beta