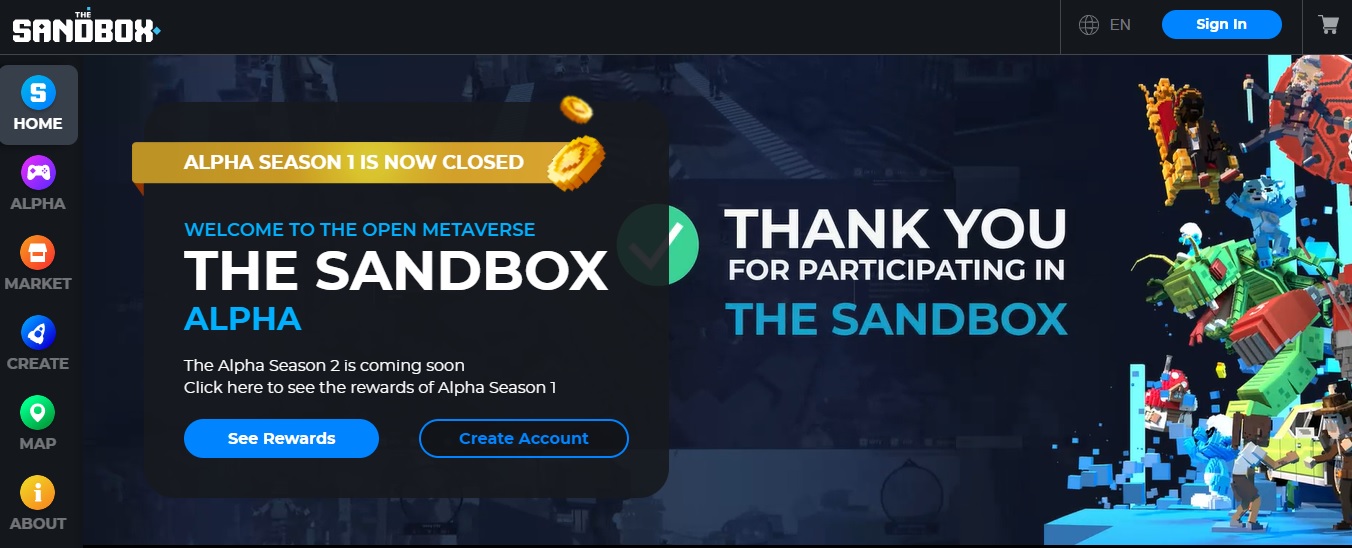 The era of play-to-earn games is gaining momentum and during the past year, when the importance of Axie Infinity began to be perceived, several companies in the field began to develop their own games. Of course, being one of the first and achieving resounding success, this game laid the groundwork and is considered a kind of P2E bitcoin.
Today there is a significant number of companies dedicated to the design and creation of games for this new P2E modality and some of them have already been launched on the market during the last months of last year.
We have, for example, Chainmonsters, a massive role-playing game with a theme very similar to the renowned Pokemon, it is still in a development phase but its entry is low cost and the graphics are well done. it is already being done with the preferences of the public.
The Sandbox goes further and plunges us into the metaverse where players create their own assets and monetize them to participate In a unique game experience, the central idea is to enhance the creations of the participants who can sell or make others participate in their creations under a reward system.
There are many others, some promising ones like Cryptocards and Black Eye Galaxy and the biggest and most powerful companies like Epic Games and Ubisoft have announced their interest in developing games under the blockchain and NFT modality.
Of course, I have a special line for our Splinterlands that unlike most are not developed on the Ethereum blockchain but on the appreciated (at least for us) Hive blockchain.
As I said in my previous post surely all of them will have a lot of fans and players, we will have to wait to see if some of them start paying for fans to sit in front of their screens and press the buttons.

La era de los juegos del estilo play-to-earn está tomando impulso y durante el año pasado cuando comenzó a percibirse la trascendencia de Axie Infínity varias empresas del rubro comenzaron a desarrollar sus propios juegos. Por supuesto que al ser uno de los primeros y al alcanzar un éxito rotundo, este juego sentó bases y es considerado una especie de bitcoin de los P2E.
Hoy en día existe una cantidad importante de compañías dedicadas al diseño y creación de juegos para esta nueva modalidad P2E y algunos de ellos ya han sido lanzados al mercado durante los últimos meses del año pasado.
Tenemos por ejemplo a Chainmonsters, un juego de rol masivo con una temática muy similar al renombrado Pokemon, aun está en una fase de desarrollo pero su entrada a bajo costo y los gráficos bien logrados ya se está haciendo con las preferencias del público.
The Sandbox va más allá y nos introduce de lleno en el metarverso donde los jugadores crear sus propios activos y monetizarlos para participar en una experiencia de juego única, la idea central es potenciar las creaciones de los participantes quienes pueden vender o hacer participar a otros de sus creaciones bajo un sistema de recompensas.
Hay muchos otros, algunos prometedores como Cryptocards y Black Eye Galaxy y las compañías más grandes y poderosas como Epic Games y Ubisoft han anunciado su interés en desarrollar juegos bajo la modalidad blockchain y NFT.
Por supuesto tengo un renglón especial para nuestro Splinterlands que a diferencia de la mayoría no está desarrollado sobre la blockchain de Ethereum sino sobre la apreciada (al menos para nosotros) cadena de bloques de Hive.
Tal como dije en mi publicación anterior seguramente todos ellos tendrán gran cantidad de seguidores y jugadores, tendremos que esperar para ver si algunos comienzan a pagar para que los fanáticos se sienten frente a sus pantallas y presionen los botones.
---
Las fotografías son de mi propiedad excepto las que menciono la fuente.
The photographs are my property except those mentioned by the source.
Héctor Gugliermo
@hosgug
Posted Using LeoFinance Beta