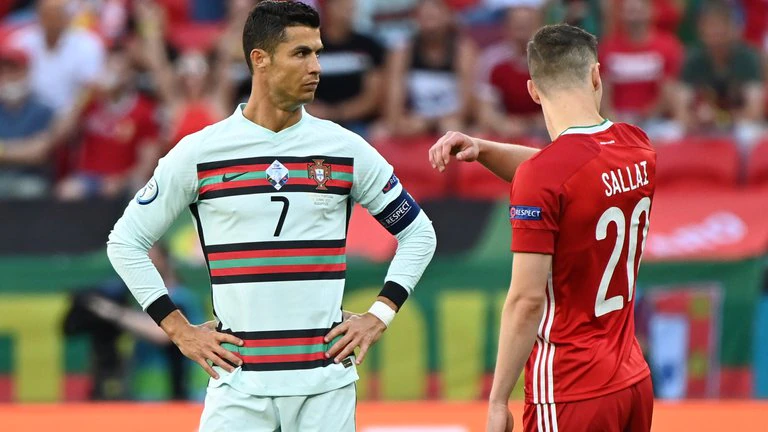 Today a curious fact toured all the news portals of the world, it occurred in the sports field but it transcended specialized journalism to become a trend of unsuspected scope.
The great Portuguese player Cristiano Ronaldo in the middle of a press conference prior to the meeting where Portugal beat Hungary by 3 goals to 0, had a gesture that caused a significant drop in the price of shares of Coca Cola, the most important company in the world specialized in non-alcoholic beverages.
Ronaldo removed with his hand and making a gesture of displeasure, two small bottles containing the famous dark, sugary and carbonated liquid that made the brand so famous. To endorse that his serious face had not been something casual, he said: "Water yes, Coca Cola no."
A while later, when the stock exchanges of Europe opened their round of negotiations, the shares of the North American company were around 56.10 dollars, after the gesture of the great striker they fell to 55.22, just a 1.6% loss But taken into numbers, the company went from $ 242 billion to $ 238 billion. A casualty that cost him a whopping $ 4 billion.
The speculations appeared immediately and Ronaldo was in the center of the scene, there were those who believed that CR7 had a contract with the competition, others more delusional said that he envied the handling of the cryptocurrency markets by Elon Musk because he did that. gesture to show that it can also cause an abrupt deviation of the markets, in this case, the most traditional and conservative.
What has probably happened is that Cristiano Ronaldo has underpinned with that gesture his recognized behavior on healthy and healthy food, without noticing that his figure is so outstanding that it caused unforeseen damage.
He was not the envy of good old Elon, nor has he signed a contract with Pepsi, but it has been shown that not even the most traditional and predictable markets in the world are immune from the declarations of some person of great relevance and exposure.
Elon Musk must most likely still be laughing.

En el día de hoy un dato curioso recorrió todos los portales de noticias del mundo, ocurrió en el ámbito deportivo pero trascendió al periodismo especializado para convertirse en tendencia de alcances insospechados.
El gran jugador portugués Cristiano Ronaldo en plena conferencia de prensa anterior al encuentro donde Portugal venció a Hungría por 3 goles a 0, tuvo un gesto que provocó una importante caída en el precio de las acciones de Coca Cola, la empresa más importante a nivel mundial especializada en bebidas sin alcohol.
Ronaldo apartó con su mano y haciendo un gesto de desagrado, dos pequeñas botellas conteniendo el famoso líquido oscuro, azucarado y gasificado que tan famosa hizo a la marca. Para refrendar que su cara seria no había sido algo eventual, dijo: "Agua si, Coca Cola no".
Un rato después, cuando las bolsas de comercio de Europa abrieron su ronda de negociaciones, las acciones de la compañía norteamericana rondaban los 56,10 dólares, luego del gesto del genial delantero bajaron hasta 55,22, apenas un 1,6% de pérdida, pero llevado a cifras, la compañía pasó de valer 242 mil millones de dólares a 238 mil millones. Una baja que le costó la friolera de 4.000 millones de dólares.
Las especulaciones aparecieron inmediatamente y Ronaldo quedó en el centro de la escena, no faltaron aquellos que opinaron que CR7 tenía contrato con la competencia, otros más delirantes dijeron que envidiaba al manejo de los mercados de las criptomonedas por parte de Elon Musk por que hizo ese ademán para demostrar que el también puede provocar un abrupto desvío de los mercados, en este caso los más tradicionales y conservadores.
Lo que probablemente ha pasado es que Cristiano Ronaldo ha apuntalando con ese gesto su reconocida conducta sobre los alimentos sanos y saludables, sin reparar en que su figura es tan descollante que provocó un daño no previsto.
No fue envidia del bueno de Elon, tampoco ha firmado contrato con Pepsi, pero si ha quedado demostrado que ni siquiera los mercados más tradicionales y previsibles del mundo son inmunes a las declaraciones de algún personaje de gran relevancia y exposición.
Elon Musk muy probablemente todavía debe estar riéndose.
Las fotografías son de mi propiedad excepto las que menciono la fuente.
The photographs are my property except those mentioned by the source.
Héctor Gugliermo
@hosgug
Posted Using LeoFinance Beta