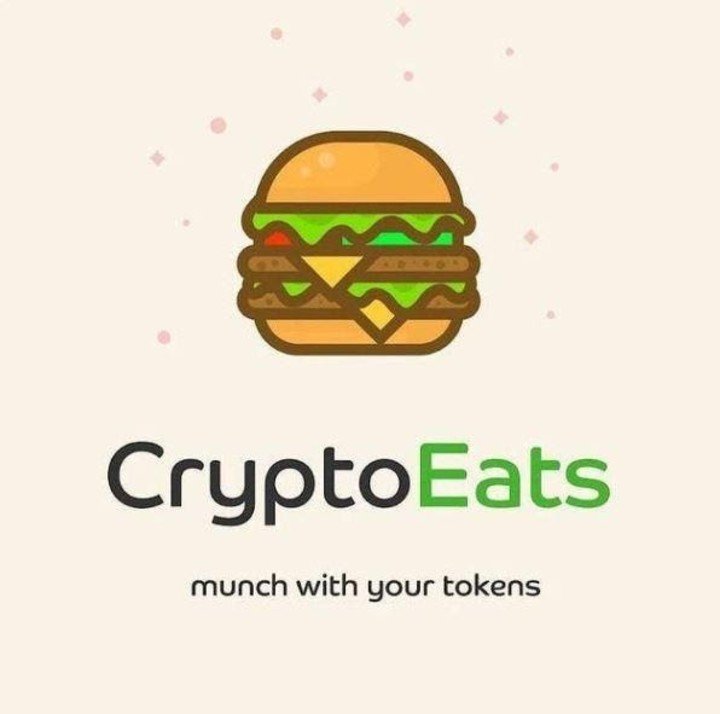 Since we are on the subject of scams, deceptions, and that yesterday I commented on the word "trucho" and the meaning that in these latitudes we have given it, I have to comment on another scam with cryptocurrencies.
This other scam was known a few days before the squid affair, although in this case, it is not a game but a food delivery company supposedly located in Great Britain that was publicized and promoted for a time by influencers and celebrities. The company that never got started was called CryptoEats.
This new application promised to be a strong competitor against other famous brands already established in the world of home food delivery such as Uber Eats, Delivery Hero, Glovo, and others, among the advantages it offered was the possibility of paying with various cryptocurrencies and even launched its own token called Eats.
A huge display that included designing a well-crafted logo, hiring influencers and celebrities, and a TikTok campaign. Many believed it would be a big thing and bought the tokens ahead of time. A global agreement with McDonald's and other fast-food companies was even mentioned.
It was all a big sham and a premeditated scam, a few minutes before the official launch the CryptoEats website stopped working and those who bought the cryptocurrency in advance saw their money disappear without a trace. Of course, several of the celebrities and influencers came out quickly to detach themselves from the matter, surely they had nothing to do with the issue but they will not be able to avoid losing some credibility, their most precious asset.
Despite the effort, it does not seem that the amount mentioned as raised by this shell company has turned out as planned, only half a million dollars would be the money they took. Of course, for many of whom I include myself that sum of money is very important, for a large-scale scam, it would not seem enough, luckily.
In today's world, scams and deception are the order of the day, perhaps fueled by confinement due to the pandemic and the large increase in online transactions. Cryptocurrencies were not left out of this and like other goods they are subject to the intelligence and evil of feverish minds.

Ya que estamos con el tema de estafas, engaños y que en el día de ayer les comenté sobre la palabra "trucho" y el significado que por estas latitudes le hemos dado, tengo que comentar otra estafa con criptomonedas.
Esta otra estafa se conoció algunos días antes del affaire del calamar, aunque en este caso no se trata de un juego sino de una empresa de delivery de comidas supuestamente localizada en Gran Bretaña que fue publicitada y promocionada durante un tiempo por personas influyentes y celebridades. La empresa que nunca llegó a funcionar llevaba por nombre CryptoEats.
Esta nueva aplicación prometía ser un competidor de fuerza contra otras marcas famosas ya afianzadas en el mundo de las entregas de comidas a domicilio como son los casos de Uber Eats, Delivery Hero, Glovo y otras, entre las ventajas que ofrecía estaba la posibilidad de abonar con diversas criptomonedas e inclusive lanzó su propio token denominado Eats.
Un gran despliegue que incluyó el diseño de un bien logrado logo, la contratación de influyentes y celebridades y una campaña en TikTok. Muchos creyeron en que sería algo grande y compraron anticipadamente los tokens. Hasta se mencionó un acuerdo global con McDonalds y otras empresas del rubro comidas rápidas.
Todo fue una gran farsa y una estafa premeditada, pocos minutos antes del lanzamiento oficial el sitio web de CryptoEats dejó de funcionar y aquellos que compraron anticipadamente la criptomoneda vieron como su dinero desaparecía sin dejar rastro. Por supuesto varias de las celebridades e influencistas salieron rápidamente a despegarse del asunto, seguramente no tuvieron nada que ver el el tema pero no podrán evitar perder cierta credibilidad, su más preciado bien.
Pese al esfuerzo no parece que el monto mencionado como recaudado por esta empresa fantasma haya resultado como lo planearon, apenas medio millón de dólares sería el dinero que se llevaron. Por supuesto que para muchos entre los que me incluyo esa suma de dinero es muy importante, para una estafa a gran escala no parecería suficiente, por suerte.
En el mundo de hoy las estafas y engaños están a la orden del día, quizás potenciadas por el confinamiento debido a la pandemia y al gran aumento de las transacciones en línea. Las criptomonedas no quedaron al margen de esto y tal como otros bienes están sujetas a la inteligencia y maldad de las mentes afiebradas.

Las fotografías son de mi propiedad excepto aquellas en las que menciono la fuente.
The photographs are my property except those in which I mention the source.
Héctor Gugliermo
@hosgug
Posted Using LeoFinance Beta