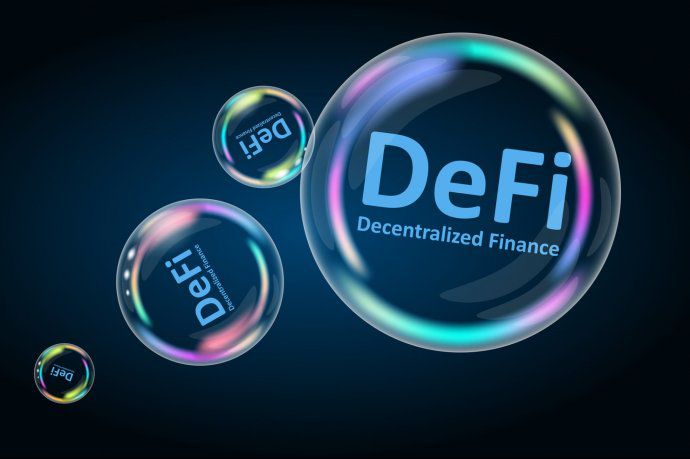 It can be said that the concept of decentralized finance or DeFi was born together with Bitcoin, however, it began to take hold with the launch of Ethereum back in 2015. It is not that the DeFi urgently need the creation of Vitálik Buterin for its implementation, but if they were empowered by it due to the operational restrictions of the original Bitcoin network. These days there are DeFi projects in several other networks and blockchain such as Cardano, Polkadot, Tron and EOS, just to name some of the best known. I am not forgetting the Leofinance projects of course. Despite the diversity of networks that DeFi offer, we cannot deny that Ethereum is still the most important with more than 70 projects underway and many others in development.
Originally the DeFi were associated with the concept of decentralized loans, perhaps because some of these projects were among the first to hit the market, then a great diversity of services were added to the initial offer and today decentralized services offer a wide portfolio of options that include payments for goods and services, transfers, insurance and of course investments, savings accounts, credit cards and capitalization of interest among others. Many if not all of these services available only by banks and financial entities regulated by a central entity.
The growth of DeFi has been enormous, the great leap was made during 2020, powered by the Covid-19 pandemic ?, and in 2021 the trend continues to grow. One of the main reasons that analysts consider for this boom is the entry into the segment of strong investment groups from all over the world and among which we can highlight some first-line banks.
A binding of cryptocurrencies and stablecoins with fiat currencies continues to be used, this custom will be difficult to break since the commercial and financial development only with cryptocurrencies is not yet developed. The simple exchange with conventional money gives greater credibility and stability.
It also attracts investors not used to crypto finance and technology; In my country, for example, many have found a way to protect their savings from the erosion of inflation and tight exchange controls by making use of the possibilities that DeFi offers. We can say that they have entered out of necessity and found a whole new world of possibilities.

Se puede decir que el concepto de finanzas descentralizadas o DeFi nació conjuntamente con Bitcoin, sin embargo, comenzó a tomar fuerza con el lanzamiento de Ethereum allá por el año 2015. No es que las DeFi necesiten imperiosamente la creación de Vitálik Buterin para su implementación, pero si se vieron potenciadas por ella debido a las restricciones operativas de la red original de Bitcoin. Por estos días existen proyectos DeFi en varias otras redes y blockchain como por ejemplo Cardano, Polkadot, Tron y EOS, solo por nombrar algunas de las más conocidas. No me olvido de los proyectos de Leofinance por supuesto. No obstante la diversidad de redes que ofrecen DeFi, no podemos negar que Ethereum sigue siendo la más importante con más de 70 proyectos en marcha y otros muchos en desarrollo.
Originalmente las DeFi se asociaron al concepto de préstamos descentralizados, quizás porque algunos de esos proyectos fueron de los primeros en salir al mercado, luego una gran diversidad de servicios se agragaron a la oferta inicial y hoy en día los servicios descentralizados ofrecen un amplio portafolio de opciones que incluyen pagos de bienes y servicios, transferencias, seguros y por supuesto inversiones, cuentas de ahorro, tarjetas de crédito y capitalización de intereses entre otros. Muchos sino todos estos servicios disponible solo por bancos y entidades financieras reguladas por algún ente central.
El crecimiento de las DeFi ha sido enorme, el gran salto fue dado durante el año 2020 ¿potenciado por la pandemia de Covid-19?, y en este 2021 la tendencia sigue en crecimiento. Una de las principales razones que los analistas consideran para este auge es el ingreso al segmento de fuertes grupos inversores de todo el mundo y entre los cuales podemos destacar a algunos bancos de primera línea.
Todavía continúa utilizándose una ligadura de las criptomonedas y stablecoins con monedas fiat, esa costumbre será compleja de romper dado que el desarrollo comercial y financiero solo con criptomonedas aun no está desarrollado. El sencillo intercambio con el dinero convencional da mayor credibilidad y estabilidad.
También atrae a inversores no acostumbrados a la tecnología y finanzas cripto; en mi país por ejemplo, muchos han encontrado la forma de proteger sus ahorros de la erosión de una inflación y de los férreos controles de cambio haciendo uso de las posibilidades que DeFi ofrece. Podemos decir que han ingresado por necesidad y encontraron todo un mundo nuevo de posibilidades.
Las fotografías son de mi propiedad excepto las que menciono la fuente.
The photographs are my property except those mentioned by the source.
Héctor Gugliermo
@hosgug
Posted Using LeoFinance Beta