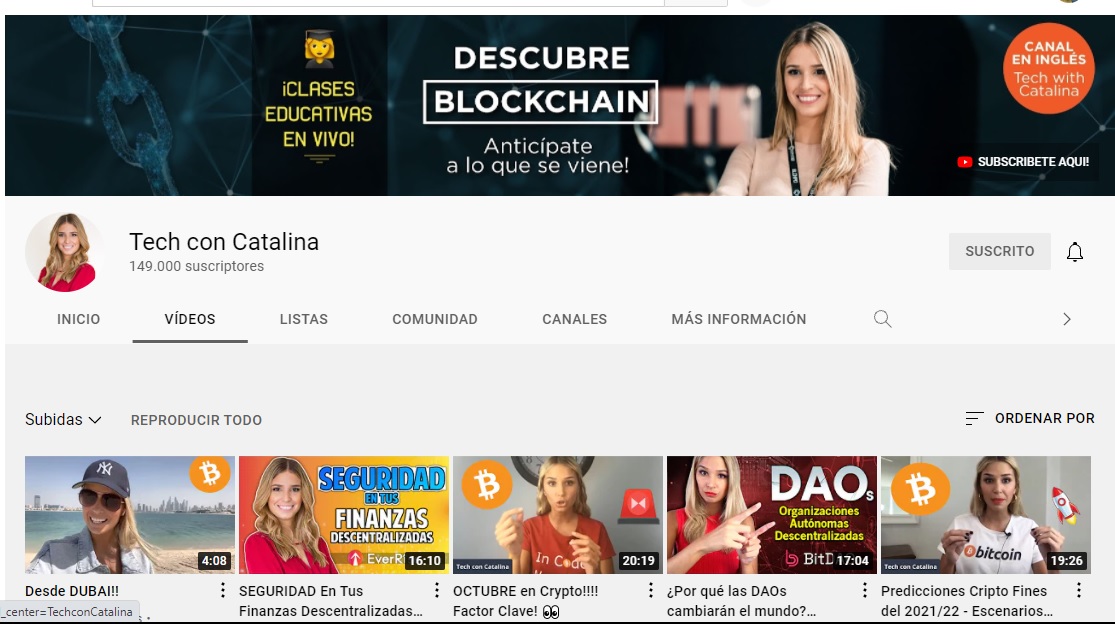 While it is true that the dominant language in the world of business and finance in English and by the way also in the segment of cryptocurrencies, Spanish has been steadily gaining space.
Of course, it helps the fact that this language is the second with the largest number of inhabitants who speak it in the United States of North America with more than 56 million people, but to them are added most of the countries of Central and South America that contribute each day more users, holders and investors, all eager to receive news, advice, and advice on the crypto ecosystem.
Therefore, the number of specialized media continues to grow and YouTube channels, for example, are filled with specialists offering information and promoting the massive use of crypto assets.
Within this huge and diverse ecosystem of information, there is an Argentine girl who has pleasantly surprised me by her knowledge, enthusiasm, and quality of information, I am referring to Catalina Castro who presents weekly on her channel "Tech with Catalina" various news, approaches, predictions and teaching about cryptocurrencies. An outreach success judging by its nearly 150,000 subscribers that are constantly growing. Of course, she not only has that channel in Spanish but also another with similar content in English.
His videos also include interviews with important figures in the crypto world such as Michael Saylor, CEO of MicroStrategy who owns significant investments in bitcoin, Charles Hoskinson, creator of Cardano, and Carl The Moon, a famous crypto trader and trend analyst.
Today there is a large amount of information in Spanish for all those who are starting and also for connoisseurs, of course, and as in any other field there are those who know and those who sell smoke, I must admit that it is not always known from what Each one of them is on the side of the game, so you have to be careful, but I can assure you that this girl is excellent and provides an enormous service to the Hispanic community.

Si bien es cierto que el idioma dominante en el mundo de los negocios y las finanzas es el inglés y por cierto también en el segmento de las criptomonedas, el español ha ido ganando espacio en forma constante.
Por supuesto ayuda el hecho que este idioma sea el segundo con mayor número de habitantes que lo hablan en los Estados Unidos de Norteamérica con más de 56 millones de personas, pero a ellos se sumas la mayoría de los países de Centro y Sudamérica que aportan cada día más usuarios, tenedores e inversore, todos ávidos de recibir noticias, consejos y asesoramiento sobre el ecosistema cripto.
Por lo tanto, la cantidad de medios especializados no para de crecer y los canales de YouTube, por ejemplo, se llenan de especialistas ofreciendo información e impulso al uso masivo de criptoactivos.
Dentro de ese enorme y diverso ecosistema de información hay una chica argentina que me ha sorprendido gratamente por sus conocimientos, entusiasmo y calidad de información, me refiero a Catalina Castro quien presenta semanalmente en su canal "Tech con Catalina" diversas noticias, enfoques, predicciones y enseñanza sobre criptomonedas. Todo un éxito de divulgación a juzgar por sus casi 150 mil suscriptores que aumentan constantemente. Por supuesto que no solamente tiene ese canal en español sino también otro con similares contenidos en inglés.
Entre sus videos también hay entrevistas a importantes personajes del mundo cripto tales como Michael Saylor, CEO de MicroStrategy que posee importantes inversiones en bitcoin, Charles Hoskinson, creador de Cardano y Carl The Moon, un famoso trader y analista de tendencias cripto.
Hoy en día hay una gran cantidad de información en español para todos los que están comenzando y también para los conocedores, por supuesto y como en cualquier otro rubro están los que saben y los que venden humo, debo reconocer que no siempre se sabe de qué lado del juego está cada uno por lo que hay que andar con cuidado, pero si les aseguro que esta chica es excelente y presta un enorme servicio a la comunidad hispana.

Las fotografías son de mi propiedad excepto las que menciono la fuente.
The photographs are my property except those mentioned by the source.
Héctor Gugliermo
@hosgug
Posted Using LeoFinance Beta