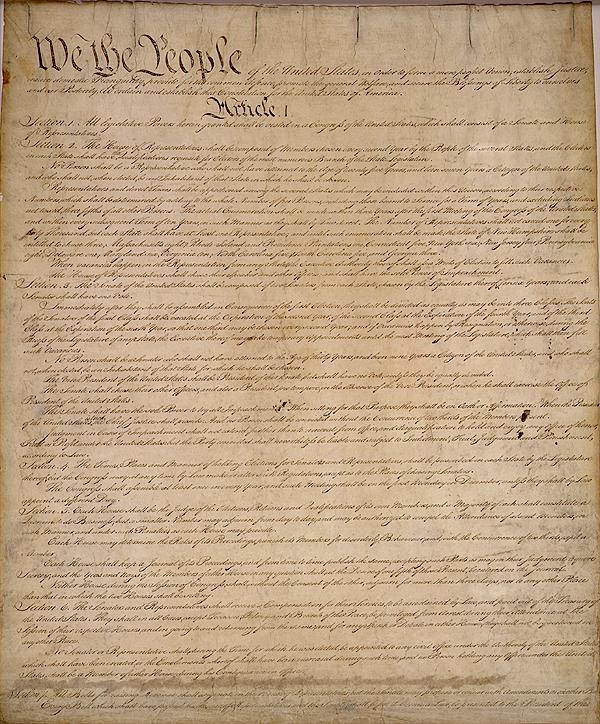 Fuente
De Constitutional Convention - Dominio público
https://commons.wikimedia.org/w/index.php?curid=36571
On various occasions it is heard, including participating in a collective purchase, this curious mechanism has been imposed among people with less purchasing power who come together to acquire a certain batch of a product or service to lower costs, generally better prices are achieved when they are buying in larger quantities, we all know that.
These days I have read something that caught my attention, a Decentralized Autonomous Organization, better known by the acronym DAO, has been set up with the main objective of acquiring in an auction that the famous firm Sotheby's will carry out the only copy held by a private person of the North American Constitution, an original document drawn up in 1787. According to state information from the USA, there are 10 other copies of this document that are in the possession of different state organisms.
Of course, it is not the first time that different people come together to contribute money for an acquisition, not even for one as important as this one, not because of its monetary value but because of its historical significance, the news is given in that the participation that each one of the members will contribute, it will be in cryptocurrencies.
Obviously, it is a modality not yet practiced in the universe of human activities and the message is encouraging, all those interested will be able to own a part of a great asset thanks to their cryptocurrencies, a new use of technology, and all the great properties that it offers such as security, transparency and the inalterability of the records.
So far some 6.5 million dollars have been raised, an estimated amount of the auction value of 20 million, according to what has transpired the current owner of the priceless collection will donate the money raised to a foundation that she directs and that specializes in education about democracy.
The news brings a whole series of implications, but in my opinion, the most important is that according to studies only a little less than 0.1% of the inhabitants of the planet can afford to think about having collections of rare and expensive objects and of them only 0.01% get it. With the help of cryptocurrencies and a serious and responsible organization, it is now feasible to bring more people closer to that possibility, even people with limited economic resources.

En diversas ocasiones se escucha, inclusive de participa de una compra colectiva, este curioso mecanismo se ha impuesto entre personas con menor poder adquisitivo que se juntan para adquirir un lote determinado de algún producto o servicio para abaratar costos, generalmente se consiguen mejores precios cuando se comprar en mayores cantidades, todos sabemos eso.
Por estos días he leído algo que llamó mi atención, se ha constituido una Organización Autónoma descentralizada, más conocida por la sigla DAO, con el objetivo principal de adquirir en una subasta que realizará la famosa firma Sotheby's la única copia en poder de un privado de la Constitución Norteamericana, documento original redactado en el año 1787. Según información estatal de USA existen otras 10 copias de ese documento que se encuentran en poder de diferentes organismos estatales.
Por supuesto no es la primara vez que diversas personas se juntan para aportar dinero para una adquisición, ni siquiera para una tan importante como esta, no por su valor monetario sino por su significado histórico, la noticia está dada en que la participación que cada uno de los integrantes aportará, será en criptomonedas.
Evidentemente es una modalidad aun no practicada en el universo de las actividades humanas y el mensaje es alentador, todos los interesados podrán ser propietarios de un parte de un gran activo gracias a sus criptomonedas, uno nuevo uso de la tecnología y de todas las grandes propiedades que esta ofrece como la seguridad, la transparencia y la inalterabilidad de los registros.
Hasta ahora se llevan recaudados unos 6,5 millones de dólares un monto estimado del valor de la subasta de 20 millones, según ha trascendido la actual dueña de la inapreciable colección donará el dinero recaudado a una fundación que ella misma dirige y que se especializa en la educación sobre la democracia.
La noticia trae toda una serie de implicancias, pero a mi criterio el más importe es que según estudios solamente un poco menos del 0,1 % de los habitantes del planeta se puede dar el lujo de pensar en poseer colecciones de objetos raros y onerosos y de ellos solo el 0,01% lo consigue. Con ayuda de las criptomonedas y una organización seria y responsable ahora es viable acercar a más personas a esa posibilidad, incluso a personas de escasos recursos económicos.

Las fotografías son de mi propiedad excepto aquellas en las que menciono la fuente.
The photographs are my property except those in which I mention the source.
Héctor Gugliermo
@hosgug
Posted Using LeoFinance Beta