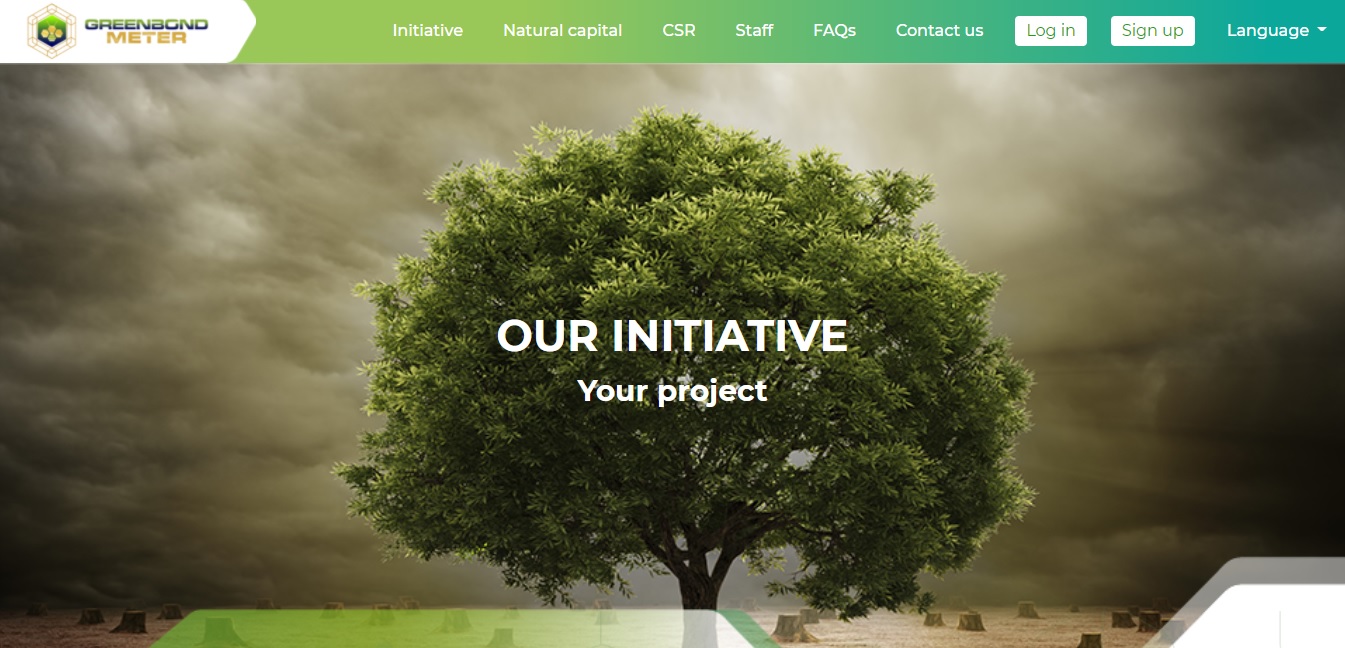 I have already spoken on other occasions about projects that aim to try to save the planet from destruction due to massive deforestation that contributes to global warming and increased carbon emissions.
At the beginning of the year, they told me about the Green Bond Meter (GBM) project and I found it extremely interesting, so I was finding out more, you can check their initiative and proposal by entering their website GreenBondMeter.
The proposal and project of this group born in Argentina consist of a creative solution different from others that have been presented in other parts of the world, the idea is to get people who are interested in preserving the planet to acquire a token called GMBCoin that is equivalent to the preservation of one square meter of the biosphere. The value of the currency is backed by the capital that the preservation of that natural space represents and in one year this cryptoactive will generate what the company has called "the GBM Credit carbon bond" with which additional economic benefits can be obtained.
The central idea of ​​the project consists of recovering and conserving virgin forests of this sector of the planet threatened by logging, both controlled and indiscriminate, a modality that has already done irreparable damage in the forests of central Latin America, especially in vast regions of Brazil. , Paraguay, Uruguay, and Argentina.
The technology that is being used combines Blockchain, GIs, and AI and maintains the idea of ​​preserving one hundred million hectares within Argentina and neighboring countries for at least 100 years.
The first field of almost 30,000 hectares that is subject to recovery is located in the province of Misiones and consists of a biosphere of the Paraná forest that was threatened by controlled logging.
GBM has developed strategic alliances with Heimdall Technologies and with Nideport for the realization of the project that is already underway.

Ya he hablado en otras oportunidades sobre proyectos que apuntan a tratar de salvar al planeta de su destrucción debida a la desforestación masiva que colabora con el calentamiento global y el aumento de la emisión de carbono.
A principios de año me hablaron del proyecto Green Bond Meter (GBM) y me pareció sumamente interesante, así que estuve averiguando más, pueden consultar su iniciativa y propuesta ingresando a su sitio web GreenBondMeter.
La propuesta y proyecto de esta agrupación nacida en Argentina consiste en una solución creativa y diferente a otras que se han presentado en otras partes del mundo, la idea es lograr que personas a las que les interese la preservación del planeta adquieran un token denominado GMBCoin que equivale a la preservación de un metro cuadrado de biosfera. El valor de la moneda está respaldado por el capital que representa la preservación de ese espacio natural y en un año este criptoactivo generará lo que la compañía ha dado en llamar "el bono de carbono GBM Credit" con el cual se pueden obtener beneficios económicos adicionales.
La idea central del proyecto consiste en recuperar y conservar selvas vírgenes de este sector del planeta amenazadas por la tala, tanto la controlada como la indiscriminada, modalidad que ya ha hecho daños irreparables en selvas del centro de América Latina, especialmente en vastas regiones de Brasil, Paraguay, Uruguay y Argentina.
La tecnología que se está utilizando combina Blockchain, GIs y AI y mantiene la idea de preservar cien millones de hectáreas dentro del Argentina y países vecinos por al menos 100 años.
El primer campo de casi 30.000 hectáreas que es objeto de recuperación se encuentra localizado en la provincia de Misiones y consiste en una biosfera del bosque paranaense que estaba amenazado por una tala controlada.
GBM ha desarrollado alianzas estratégicas con Hemidal Technologies y con Nideport para la concreción del proyecto que ya se encuentra en marcha.
Las fotografías son de mi propiedad excepto las que menciono la fuente.
The photographs are my property except those mentioned by the source.
Héctor Gugliermo
@hosgug
Posted Using LeoFinance Beta