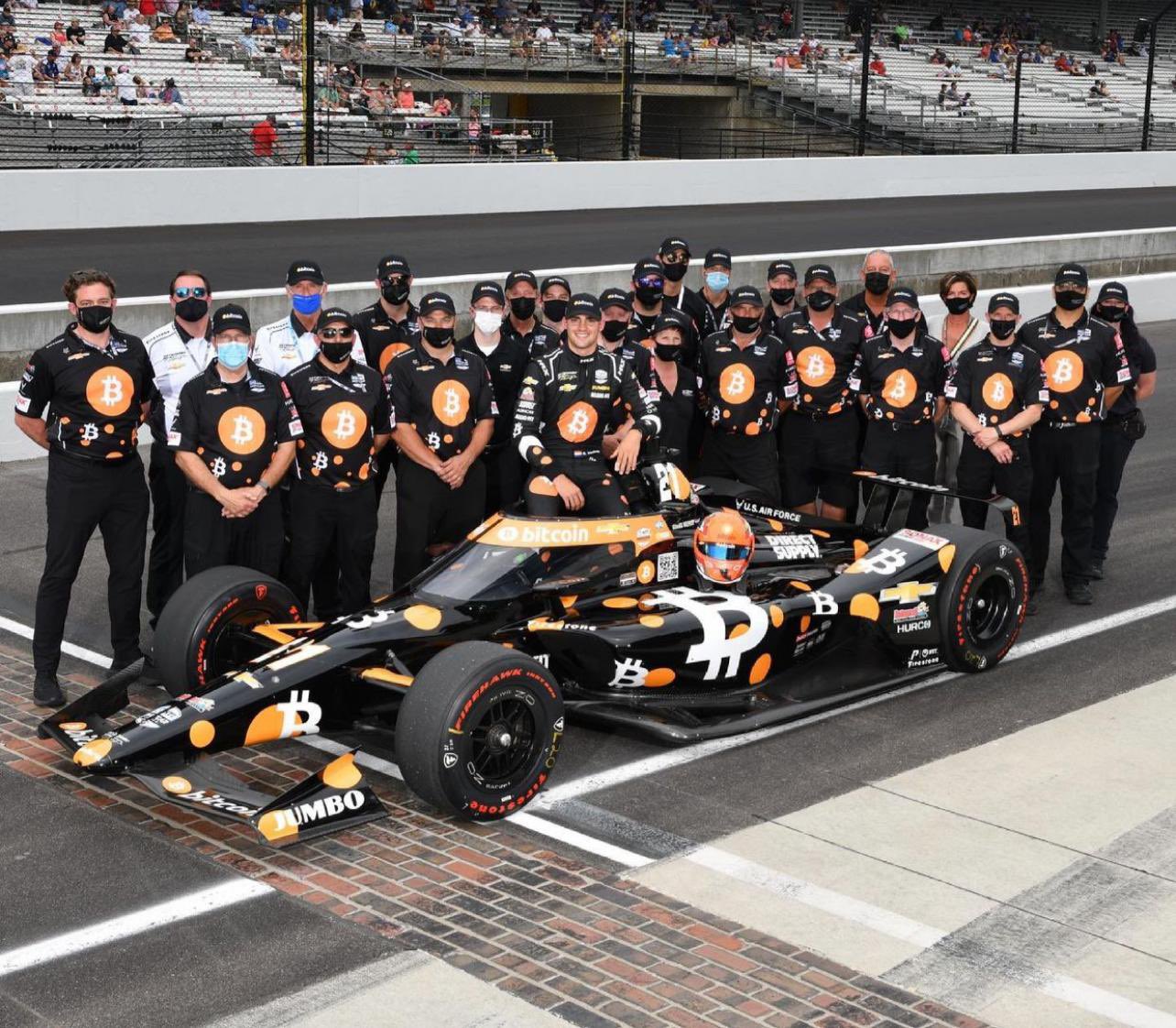 This would be fake news because the competition has just ended and was won by Brazilian Helio Castroneves, his fourth win in this historic and popular car race.
However, bitcoin also won, since its logo and its proposal were seen by millions of spectators and fans who wait a long year to be able to observe what is perhaps the most popular of all automobile competitions, this may be debatable because they exist various circuits and races that are mythical and popular, Monaco in Formula 1, Le Mans in tourism and perhaps some of Nascar, a category that I like more every day, occurs to me.

But I don't want to go around the bush and talk about this popular sport which is also one of my favorites, I just want to talk right now about the bitcoin that effectively decorates car number 21 that was driven by Rinus Veekay and is owned by the ECR team (Ed Carpenter Racing). The vehicle is powered by Chevrolet, which is also my favorite brand. It should also be noted that number 21 is not accidental but is dedicated to the 21 million bitcoins that will be the total and unique issuance of the most famous of all cryptocurrencies.
To reaffirm the ECR's commitment to bitcoin, they have announced that it is the first team within the category that will include the aforementioned cryptocurrency among the payment methods for its staff.
The arrival of bitcoin to the popular category was possible thanks to an alliance between the ECR team and the startup Bitcoiner Strike, who will be in charge of managing payments and donations. Anyone can support the initiative by contributing through a new peer-to-peer donation model and for this the startup's payment scheme based on the Bitcoin Lightning network is used.
Qualifying was promising for Rinus Veekay and the ECR team as they managed to place their Chevrolet on the first starting line in position number 3, however, in the race they fell some places finishing in 8th.
However, as I titled this post, the big winner of the day was probably bitcoin.

Esta sería una noticia falsa porque la competencia acaba de terminar y fue ganada por el brasileño Helio Castroneves, su cuarto triunfo en esta histórica y popular carrera de automóviles.
Sin embargo, el bitcoin también ganó, ya que su logo y su propuesta fue vista por millones de espectadores y fanáticos que esperan un largo año para poder observar la que quizás sea la más popular de todas las competencias automovilísticas, esto probablemente sea discutible porque existen varios circuitos y carreras que son míticas y populares, se me ocurre en estos momentos Mónaco en la Fórmula 1, Le Mans en turismo y quizás alguna de Nascar, categoría que cada día me gusta más.
Pero no quiero irme por las ramas y hablar de este popular deporte que es también uno de mis favoritos, solo quiero en este momento hablar del bitcoin que efectivamente decora el auto número 21 que fue conducido por Rinus Veekay y es propiedad del equipo ECR (Ed Carpenter Racing). El vehículo está motorizado por Chevrolet que, además, es mi marca favorita. También hay que destacar que el número 21 no es casual sino que está dedicado a los 21 millones de bitcoins que será la emisión total y única de la más famosa de todas las criptomonedas.
Para reafirmar el compromiso del ECR con el bitcoin, han anunciado que es el primer equipo dentro de la categoría que incluirá la mencionada criptomoneda entre los métodos de pago para su personal.
La llegada del bitcoin a la popular categoría fue posible gracias a una alianza entre el equipo ECR y el startup Bitcoiner Strike quien será la encargada de gestionar pagos y donaciones. Cualquier persona puede apoyar la iniciativa aportando mediante un nuevo modelo de donaciones peer-to-peer y para ello se utiliza el esquema de pagos del startup basado en la red Lightning de Bitcoin.
La clasificación fue por demás prometedora para Rinus Veekay y el equipo ECR ya que lograron ubicar su Chevrolet en la primera línea de largada en el puesto número 3, sin embargo, en la carrera retrocedieron algunos lugares finalizando en el 8vo.
Sin embargo y como titulé esta publicación, el gran ganador de la jornada fue probablemente el bitcoin.
Las fotografías son de mi propiedad excepto las que menciono la fuente.
The photographs are my property except those mentioned by the source.
Héctor Gugliermo
@hosgug
Posted Using LeoFinance Beta