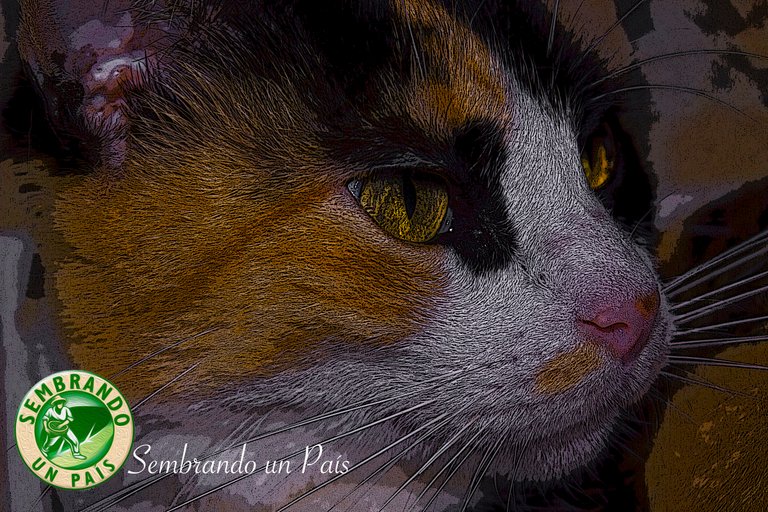 ENGLISH: We present our new Art:
Original Size: 5184 × 3456 Px
Format: JPG
Preview: 3000 x 2000 Px
The photo on the basis of which this art was made is a portrait of our kitten "Bakat", the FIE portrait taken with our Canon EOS Rebel T3I of 18MP in RAW format. The photograph was subsequently retouched using Photoshop to slightly change the contrast, the lighting and shadow points, as well as the saturation of the yellow tonalities.
Then filters were applied to highlight the textures and postpone the image a little. The idea was to make it look like a painting and at the same time preserve the realistic details of the photograph in RAW format. If you want to know our kitten better, you can see this short that we recently climbed our YouTube channel (audio in spanish):

---
ESPAÑOL: Presentamos nuestro nuevo Arte:
Tamaño Original: 5184 × 3456 Px
Formato: JPG
Vista Previa: 3000 x 2000 Px
La foto en base a la cual se hizo este arte es un retrato de nuestra gatita "Bakat", el retrato fie tomado con nuestra Canon EOS Rebel T3i de 18MP en Formato RAW. La fotografía fue posteriormente retocada utilizando Photoshop para cambiar ligeramente el contraste, los puntos de iluminación y sombra, así como la saturación de las tonalidades amarillas.
Luego se aplicaron filtros para resaltar las texturas y posterizar un poco la imagen. La idea fue hacerla parecer una pintura y al mismo tiempo conservar los detalles realistas de la fotografía en formato RAW. Si quieres conocer mejor a nuestra gatita puedes ver este Short que subimos recientemente a nuestro Canal de YouTube:

---
Posted Using Aeneas.Blog