Muy buenos días a todos los blogueros de esta inmensa y estupenda plataforma social, en la que cada uno se expresa en la medida que puede sin incurrir a plagio, volcando con sus propias palabras al efectuar publicaciones, que hacen que esto puede seguir adelante, teniendo en cuenta y considerando que, por ejemplo yo en lo personal no soy un profesional en escribir mis post, pero como pueden leer los mismos, todo lo que hago lo ejecuto con mucho amor y perseverancia, dejando de lados los prejuicios que otros puedan ocasionar al efectuar sus comentarios referente a los mismos, como digo cada uno en su iniciativa y manera de explayar sus post, sabiendo y teniendo en cuenta que al ser una plataforma social y no de profesionales, en la cual se comparte todo lo que se nos pueda venir en nuestros pensamientos, por eso en este post lo que quiero compartir con ustedes, algo que es lo mas grande o sea que proviene de nuestra MADRE NATURALEZA,
Como es el caso de esta mariposa , la cual es muy simpática, por ende muy atrevida, me expreso de esta forma porque en el momento del almuerzo, la misma revoloteaba la mesa, no tuve mejor idea que colocar en una cuchara un poco de agua con azúcar, sabiendo que es el agrado de ellas, como se puede ver en la foto dicha mariposa, no dejando pasar un segundo se abalanzo sobre la cuchara, es en ese momento que me deslumbro y procedí a sacarle una foto, en la cual se puede observar, como sostiene una gota de agua, por eso digo lo de la MADRE NATURALEZA, es algo tan bello ver esto, luego de quedar un segundo como posando para la foto, se echo a volar alejándose del lugar, dejándome una sensación, como diciendo muchas gracias por el agua.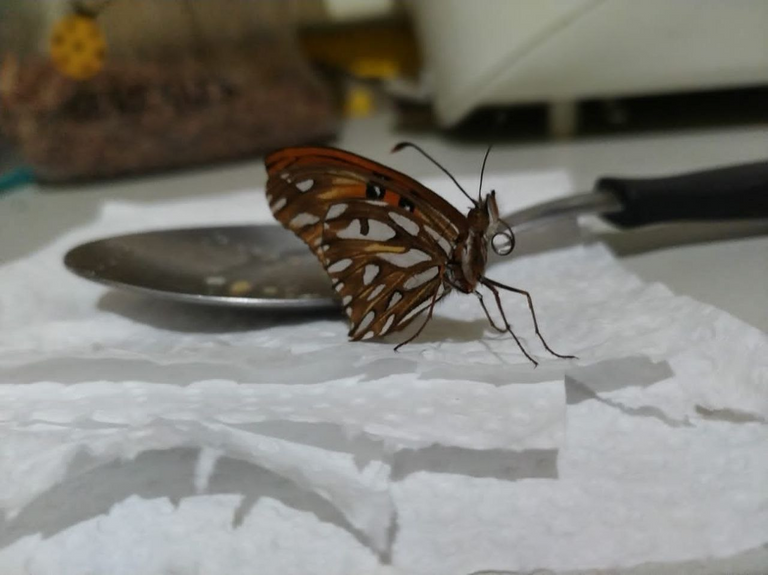 También todo esto nos lleva a tener en cuenta el respeto por el otro ser y las reglas de convivencia, como a podido ver en la foto, una simple mariposa pero la misma es un ser vivo y con sus necesidades, como lo es de querer tomar agua, bueno justo me vino en la mente que mi abuela siempre colocaba un pequeño recipiente con agua y azúcar, donde no solamente venían mariposas, también lo hacían los colibrí y una variedad de aves pequeñas.
Así que si fue de sus agrados este post, solamente me queda espera sus agradables comentarios.
MUCHAS GRACIAS POR LEERME Y SEGUIRME, QUE PASEN UN BENDECIDO DIA.
TRANSLATED TO ENGLISH
Good morning to all the bloggers of this immense and wonderful social platform, in which each one expresses himself to the extent that he can without incurring plagiarism, using his own words when making publications, which means that this can continue, having taking into account and considering that, for example, I personally am not a professional in writing my posts, but since you can read them, everything I do I execute with a lot of love and perseverance, leaving aside the prejudices that others may cause to the make your comments regarding them, as I say each one in his initiative and way of expanding his post, knowing and taking into account that being a social platform and not professionals, in which everything that may come to us is shared in our thoughts, that's why in this post what I want to share with you, something that is the greatest, that is, it comes from our MOTHER NATURE,
As is the case with this butterfly, which is very nice, therefore very daring, I express myself in this way because at lunch time, it fluttered the table, I had no better idea than to place a little water in a spoon with sugar, knowing that it is to their liking, as you can see in the photo said butterfly, not letting a second pass it pounced on the spoon, it is at that moment that I was dazzled and I proceeded to take a photo, in which it You can see how he holds a drop of water, that's why I say about MOTHER NATURE, it is something so beautiful to see this, after staying for a second as if posing for the photo, it flew away from the place, leaving me a feeling, like saying thank you very much for the water.
! [image.png] (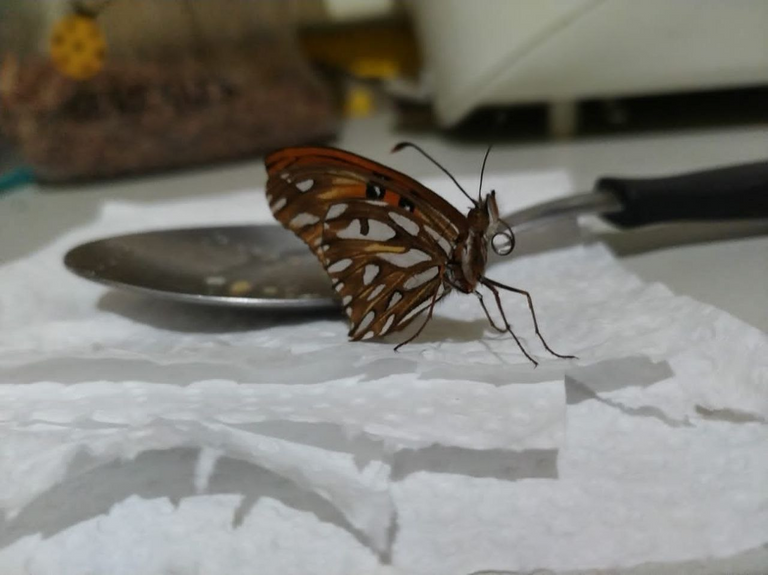 )
All this also leads us to take into account respect for the other being and the rules of coexistence, as you can see in the photo, a simple butterfly but it is a living being and with its needs, as it is to want to drink water, well it just came to my mind that my grandmother always placed a small container with water and sugar, where not only did butterflies come, but also hummingbirds and a variety of small birds did.
So if she liked this post, I only have to wait for her pleasant comments.
THANK YOU VERY MUCH FOR READING AND FOLLOWING ME, HAVE A BLESSED DAY.