Hola a todos la verdad despertar un domingo y salir al jardín, ver las flores, pero eso no es todo si no que ver una mariposa de color blanca como la que se ve en la foto, la cual desde temprano esta recorriendo de flor en flor, para degustar su alimento- el polen- la misma es de color blanca con la totalidad de su cuerpo de color azul lo mismo que sus antenitas que sobresalen arriba de sus ojos, observar todo esto para mi en lo personal es como estar en una espectáculo grande como un circo, que cada presentación es una novedad, bueno la novedad es esta que cuando salí al jardín la vi volando, si tenemos en cuenta todo esto que es lo mas grande que nuestra madre naturaleza no regala y lo hace todos los días, con cosas nuevas, o sea espectáculos nuevos, que los mismos no nos dejan de sorprender y a mi agradarme de gran manera, como esta planta de flor, alegría del hogar, la verdad que su nombre en grandioso, porque con sus flores coloridas irradian mucha alegría, mas cuando la tenemos plantada frente a nuestro hogar, que aparte de hermosearla la embellece mas.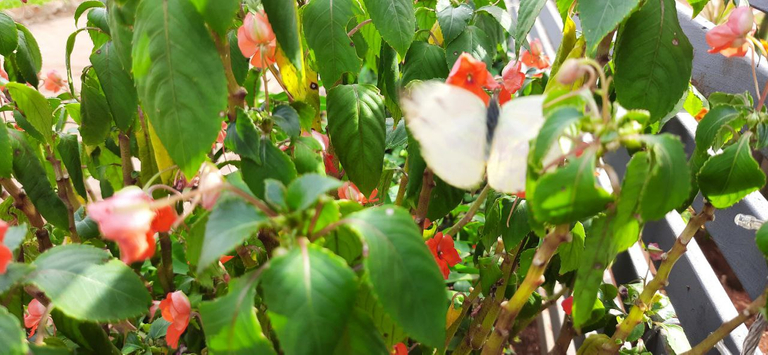 De esa manera amigos tuve este despertar un domingo mas de nuestra vida, pero con el alma rebosando alegría como la flor y el corazón muy alegre, para seguir subsistiendo el día a día.
MUCHS GRACIAS POR SEGUIRME Y LEERME.
TRANSLATED INTO ENGLISH
Hello everyone, the truth is to wake up on a Sunday and go out to the garden, see the flowers, but that's not all if not to see a white butterfly as seen in the photo, which early in the morning is traveling from flower to flower, to taste their food - pollen - it is white with all of its body blue as well as its antennae protruding above his eyes, watching all this for me personally is like being in a big show like a circus, that each presentation is a novelty, Well the novelty is this that when I went out to the garden I saw it flying, if we take into account all this that is the greatest thing that our mother nature does not give and she does it every day, with new things, that is to say new shows, that the same ones do not stop surprising us and to please me in a great way, like this flower plant, joy of the home, the truth that its name is great, because with its colorful flowers they radiate much joy, but when we have it planted in front of our home, that apart from making it beautiful, it embellishes it even more.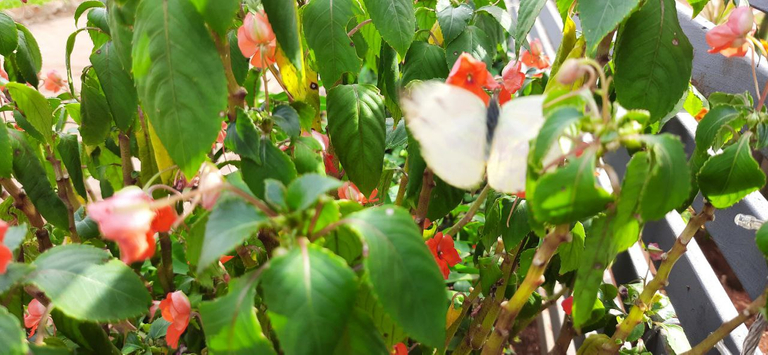 So friends I had this awakening one more Sunday of our life, but with the soul overflowing with joy as the flower and the heart very happy, to continue subsisting the day to day.
THANK YOU VERY MUCH FOR FOLLOWING ME AND READING ME.