Hola a todos, teniendo la experiencia y la suerte de haber quitado una foto a una ave solitaria la cual se hallaba montada sobre los cables de electricidad de la calle, hoy puede observar a una cantidad inmensa de varias aves de distintos colores, lo cual de me llamo la atención, así que no dude y comencé a quitarles fotos, es como si las mismas estaban esperando que yo hiciera eso, como verán están todas en pose, no es solamente eso, si no que se me ocurrió una idea la cual la lleve a la practica, ingrese a casa y traje un puñado de arroz, el cual esparcí en la calle, nuevamente los mire, teniendo en cuenta ese fondo celeste del cielo que dejaba ver como un paisaje pintado en un cuadro, o sea el fondo y luego las aves, sobresaliendo el poste de electricidad.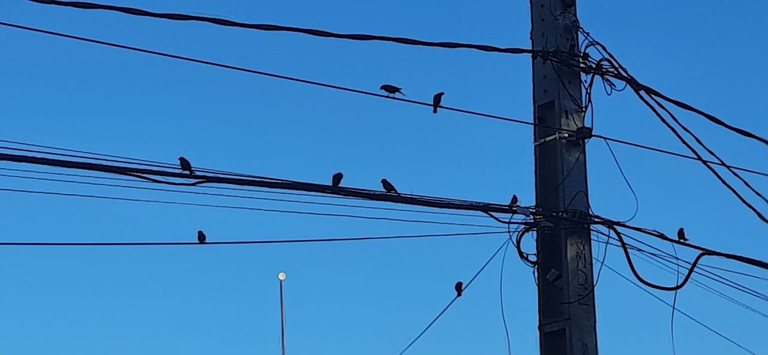 Muy grande fue mis sorpresa, porque no solamente las aves que se hallaban montadas en los cables descendieron a comer, si no que se agregaron varias mas, note que cuando comienzan a aglomerarse varias aves, en este caso por comida, es como si llamaran la atención de las demás y entonces se arriman todas las que se encuentran en los alrededores, grande fue mi sorpresa porque todas compartían esa comida, ni siquiera se inmutaban en mirarse unas a otras, estaban muy concentradas en alimentarse.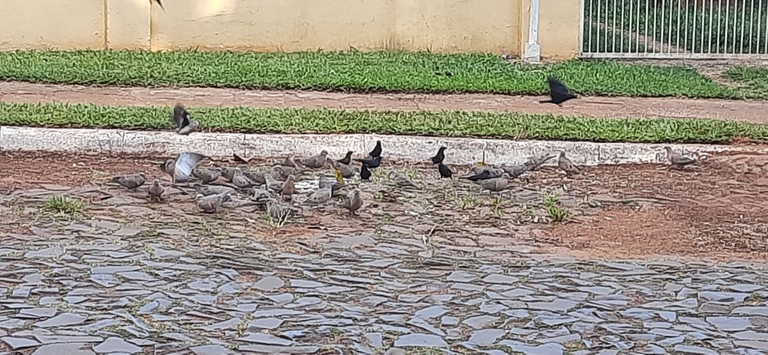 Como se puede ver en la foto, las había de color gris, negro, amarillo, marrón, la verdad que eso me lleno de alegría saber que con un puñado de arroz cuanto uno puede hacer, con otras especies, sabiendo que las mismas tienen vida, y tienen que subsistir en este mundo, por eso amigos y en lo personal siempre el compartir con otros seres que integran este mundo es lo mas bello, porque todos necesitamos de todos y esta es una forma de expresarnos, en algo tan sencillo y simple, darle de comer a estas hermosas aves.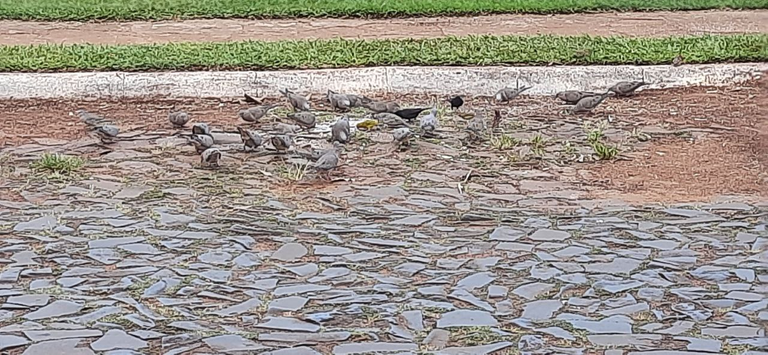 Les digo que se me hiso costumbre y es como un habito el de darles comida a estas aves, no solamente a las aves, también lo hago con los gatos, perros de la calle, que como bien les dije todos integramos este planeta por ende todos necesitamos de todos y así vivir en armonía y PAZ.
Si de alguna manera les agrado este post, no duden de enviar sus apreciados comentarios y también sus votos.
MUCHAS GRACIAS POR SEGUIRME Y LEERME, BUEN FIN DE SEMANA.
TRANSLATED INTO ENGLISH
Hello everyone, having the experience and luck to have taken a photo of a solitary bird which was mounted on the power lines of the street, today you can see a huge amount of several birds of different colors, which caught my attention, so I did not hesitate and began to take pictures of them, it is as if they were waiting for me to do that, as you can see they are all in pose, it is not only that, but I came up with an idea which I put into practice, I went home and brought a handful of rice, which I spread on the street, again I looked at them, taking into account that sky blue background of the sky that looked like a landscape painted in a picture, that is the background and then the birds, protruding the electricity pole.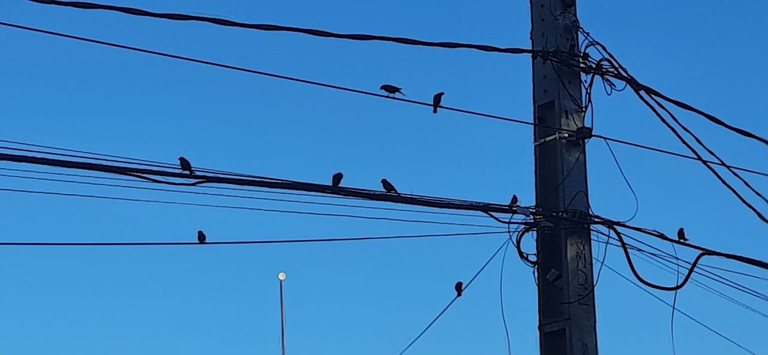 Very big was my surprise, because not only the birds that were mounted on the wires came down to eat, but several more were added, I noticed that when several birds begin to agglomerate, in this case for food, it is as if they call the attention of others and then all the birds that are in the vicinity come closer, great was my surprise because they all shared that food, not even flinching to look at each other, they were very focused on feeding.
image.png](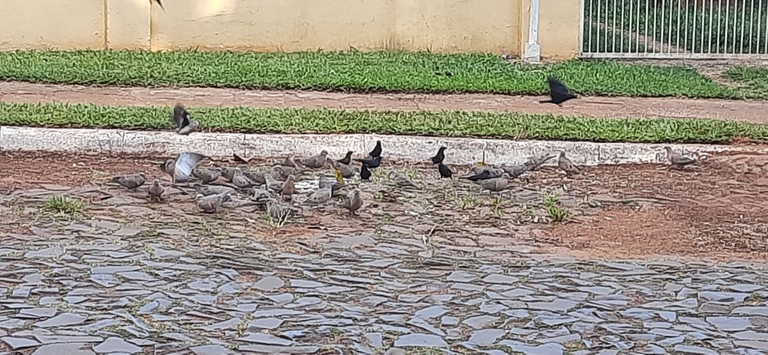 )
As you can see in the photo, there were gray, black, yellow, brown, the truth that filled me with joy to know that with a handful of rice how much one can do, with other species, knowing that they have life, and have to survive in this world, so friends and personally always share with other beings that make up this world is the most beautiful, because we all need everyone and this is a way to express ourselves, in something so simple and simple, feed these beautiful birds.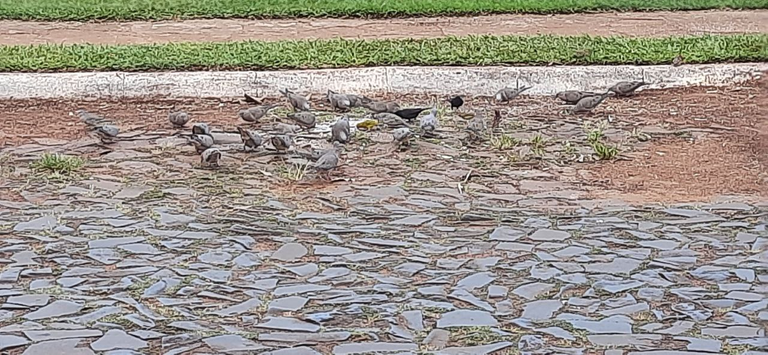 I tell you that it became a habit and it is like a habit to give food to these birds, not only to the birds, I also do it with cats, street dogs, as I said we all integrate this planet, therefore we all need each other to live in harmony and PEACE.
If in any way you liked this post, do not hesitate to send your appreciated comments and also your votes.
THANK YOU VERY MUCH FOR FOLLOWING AND READING ME, HAVE A NICE WEEKEND.