Hola a todos, buen comienzo de fin de semana, que lo disfruten en familia, lo cual es el tesoro mas valioso que podemos poseer, tampoco tiene precio ni siquiera el metal valioso se lo puede comparar, siempre y cuando y en la medida que podamos lo hacemos lo digo en lo personal, pero como sociedad es hermoso disfrutar de la misma o sea de la familia, También existen otras manera de disfrutar de la familia en un sabroso almuerzo, todos juntos, sin prejuicios, exicibiendo el amor del uno por el otro como lo manda la ley de la naturaleza, hablando de almuerzo paso a contarles lo que se cocino de rico hoy, que es lo siguiente:
Filete de merluza arrollado, el cual como lo dije lo lavamos bien, lo condimentamos con ajo, perejil y un poco de sal, lo vamos colocando en una fuente y lo llevamos al horno de la cocina, a temperatura media, cuando notamos que ya esta cocinado, lo dejamos adentro de dicho horno pero este apagado,
Luego tomamos una olla colocamos agua, cuando esta comienza su ebullicion le agregamos arroz, cuando este comienza a levantarse o sea hacia la parte de arriba, apagamos el fuego y retiramos la olla para colar el arroz, una ves colado, lo dejamos y el mismo procedimiento lo hacemos con la arveja, la cual también una ves colada, la mesclamos con el arroz, le agregamos un poco de ajo bien picado, cebolla cortada bien fina, unos pedacitos de tomate, sal a gusto y condimento de arroz, cuando vemos que se mesclo bien le agregamos sobre los arrollados de filete de merluza, de esa manera comenzamos a degustar de esta sabrosa comida, le podemos agregar limón a gusto.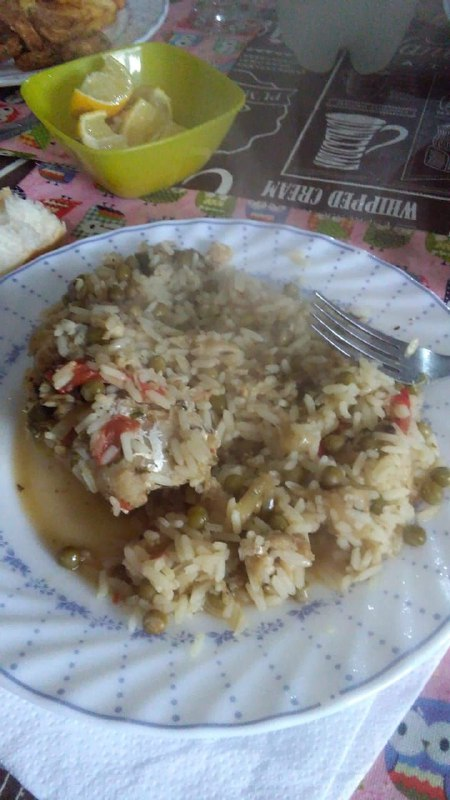 Quedaría todo como se ve en la foto, como pueden ver es el plato servido una ves que se cocino todo lo nombrado, amigos esto no es una receta lo explique de esta manera porque es como bien dije un almuerzo en familia y en la manera que se lo cocino, la verdad salió todo muy sabroso.
De haberles agradado de como prepare y cocine esta delicia de los arrollados de filete de merluza con arroz y arveja, no dejen de agregar con sus palabras los comentarios referente al mismo.
MUCHAS GRACIAS POR LEERME Y SEGUIRME, QUE BUEN SABADO.
Hello everyone, good start to the weekend, enjoy it as a family, which is the most valuable treasure that we can possess, it also has no price, not even the valuable metal can be compared, as long as and to the extent that we can We do it, I say it personally, but as a society it is beautiful to enjoy it, that is, of the family, There are also other ways to enjoy the family in a tasty lunch, all together, without prejudice, showing the love of one for the Another as the law of nature dictates, speaking of lunch I will tell you what was cooked rich today, which is the following:
Rolled hake fillet, which as I said we wash it well, season it with garlic, parsley and a little salt, we place it in a source and we take it to the kitchen oven, at medium temperature, when we notice that it is already cooked, we leave it inside the oven but it is off,
Then we take a pot we put water, when it begins to boil we add rice, when it begins to rise or towards the top, we turn off the heat and remove the pot to strain the rice, once it is strained, we leave it and the same We do the procedure with the pea, which is also once strained, we mix it with the rice, we add a little minced garlic, finely chopped onion, a few pieces of tomato, salt to taste and rice seasoning, when we see that It mixes well, we add it on the hake fillet rolls, that way we begin to taste this tasty food, we can add lemon to taste.
! [image.png] (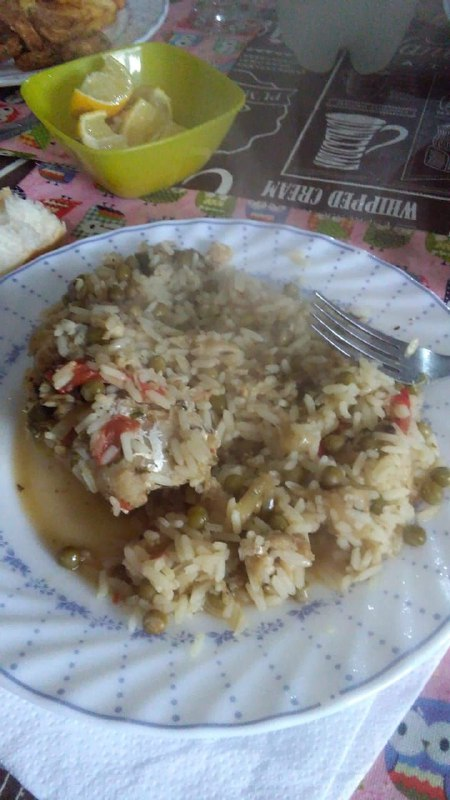 )
Everything would remain as seen in the photo, as you can see is the dish served once everything named was cooked, friends this is not a recipe explain it this way because it is as well I said a family lunch and in the way that I cook it, the truth came out all very tasty.
If you have liked how I prepare and cook this delicacy of hake fillet rolls with rice and peas, do not forget to add your comments regarding it.
THANK YOU VERY MUCH FOR READING AND FOLLOWING ME, WHAT A GOOD SATURDAY.
HAKE FILLET ROLLED WITH RICE AND PEAS