¿Cómo podemos aplicar el modelo AIDA (Atención, Interés, Deseo y Acción) en nuestra presentación ante el público? Para ello veremos cada una de las partes para tenerlo lo mas claro posible.
How can we apply the AIDA (Attention, Interest, Desire and Action) model in our presentation to the public? For this we will see each of the parts to have it as clear as possible.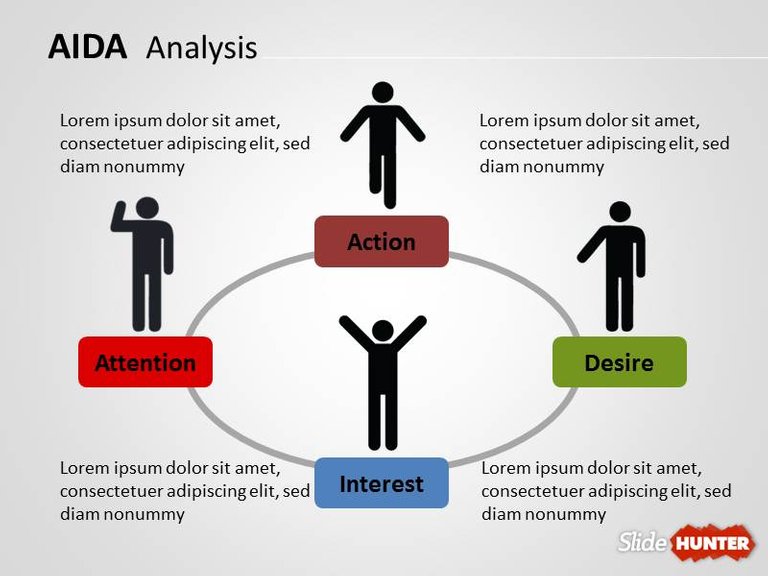 LINK

| Español | English |
| --- | --- |
| CAPTANDO LA ATENCIÓN DE NUESTRO PÚBLICO DE MANERA RÁPIDA: Recordemos que durante algunas publicaciones anteriores estamos hablando de la capacidad de atención del ser humano que en este tiempo de hiperconexión es demasiado baja (Menos de 8 segundo). | GETTING THE ATTENTION OF OUR PUBLIC QUICKLY: Let us remember that during some previous publications we are talking about the attention span of the human being, which in this time of hyperconnection is too low (Less than 8 seconds). |

| Español | English |
| --- | --- |
| Con el copywriting tenemos la capacidad de captar la atención del lector rápidamente por ejemplo con un titular impactante, uno que verdaderamente despierte su curiosidad y sea relevante, que atienda a las necesidades y deseos del lector en este caso. | With copywriting we have the ability to capture the reader's attention quickly, for example with an impressive headline, one that truly arouses their curiosity and is relevant, that meets the needs and desires of the reader in this case. |
Aprende mientras duermes.
Gana mas en internet y despide a tu jefe.
Conquista a la mujer de tus sueños en solo tres pasos.
Learn while you sleep.
Earn more on the internet and fire your boss.
Conquer the woman of your dreams in just three steps.
LINK
| Español | English |
| --- | --- |
| Recordemos aplicar el principio de [Cine de acción] y así poder captar la atención del público de manera rápida, para ello debes sorprenderlo con algo distinto, lo debes descolocar y que sienta que tu presentación no es una mas como el resto. | Let's remember to apply the principle of [Action Cinema] and thus be able to capture the attention of the public quickly, for this you must surprise them with something different, you must dislodge it and make them feel that your presentation is not one more like the rest. |

| Español | English |
| --- | --- |
| Y para dar este paso debes trabajar bien en el comienzo para elegir la primer frase así como en la escritura el título debe captar la atención en la presentación la primer frase debe captar la atención de tu público. Para esto me gustaría enseñarte unos trucos a la hora de poner esto en práctica y lo veremos en la próxima publicación. | And to take this step you must work well at the beginning to choose the first sentence as well as in the writing the title must capture the attention in the presentation the first sentence must capture the attention of your audience. For this I would like to show you some tricks when putting this into practice and we will see it in the next publication. |

Lo relatado en esta publicación es 100% de mi autoría, ha salido de mi cerebro por mi experiencia, fracasos y estudio de distintas fuentes. Cualquiera que quiera tomar parte de este relato puede solicitar el permiso correspondiente para hacerlo.

Diseño: Banner realizado por @egonz