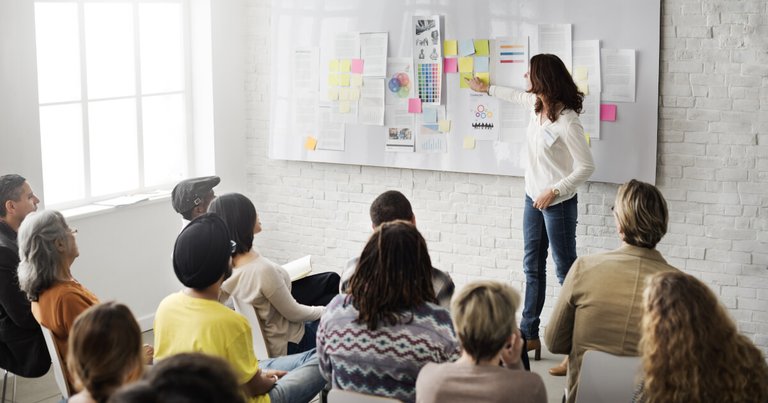 LINK
In the use of the AIDA model to implement in your presentation today we see section "A" Which consists of leading your audience to take action to achieve your goal.
Whenever ideas are presented in a professional environment, it is in order to achieve an objective, which is why from the beginning we must be very clear about the objectives since if you do not have it you can lose your way very easily, or rather: any Path may be your goal, anyway knowing your goal as a speaker is not everything, if you want your audience to do something specific you must tell them explicitly.
THE FIRST THING: There is a possibility that your audience will definitely NOT do anything because if the public MUST DEDUCT doing some kind of work, the public will not do it for fear of doing it wrong or out of laziness and much more if you do not express it explicitly.
THE SECOND: There is also a great possibility that you will do it wrong whether you really want to act but fear and laziness or fear of doing it wrong can increase the chances of error. It is for all this that for your audience to act you must make a very explicit call to action and that your audience understands the message.

For all this to take place, four requirements must be met:
IT MUST BE CLEAR: You must say exactly what to do.
BENEFICIAL: You must tell your audience exactly what they will gain doing that, avoid the "Between the lines".
SIMPLE: That this action is easy to perform, that it has a balance with the benefit.
MAKE IT RELEVANT: What you ask should help you solve that problem you talked about in your ideas presentation.
URGENT: Scarcity and urgency are incorporated here so that you understand that you must act quickly.
---

---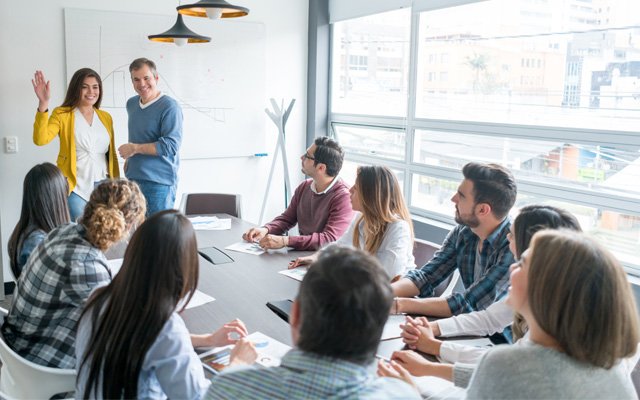 LINK
En la utilización del modelo AIDA para implementar en tu presentación hoy vemos el apartado "A" Que consiste en llevar a tu público a tomar acción para poder alcanzar tu objetivo.
Siempre que se presentan ideas en un entorno profesional es con el fin de alcanzar un objetivo es por ello que desde el principio debemos tener bien claro los objetivos ya que si no lo tienes puedes perder el rumbo de manera muy sencilla, o mejor dicho: cualquier camino puede ser tu objetivo, de todas manera conocer tu objetivo como ponente no es todo, si deseas que tu público haga algo específico debes decírselo de manera explícita.
LO PRIMERO: Existe una posibilidad que definitivamente tu público NO haga nada ya que si el publico DEBE DEDUCIR realizar algún tipo de trabajo el público No lo hará por miedo a hacerlo mal o por pereza y mucho mas si no lo expresas de manera explícita.
LO SEGUNDO: Existe también una gran posibilidad que lo haga mal ya sea que tenga muchas ganas de actuar pero el miedo y la pereza o miedo a hacerlo mal puede aumentar las probabilidades de error. Es por todo esto que para que tu público actúe debes realizar una llamada a la acción bien explícita y que tu público entienda el mensaje.

Para que todo esto se lleve a cabo se deben cumplir cuatro requisitos:
DEBE SER CLARO: Debes decir de manera exacta que hacer.
BENEFICIOSO: Debes decir a tu público de manera exacta que es lo que ganará haciendo eso, evita los "Entre líneas".
SENCILLO: Que esa acción sea fácil de realiza, que tenga un equilibrio con el beneficio.
QUE SEA RELEVANTE: Eso que pides debe ayudarle a resolver ese problema del que hablaste en la presentación de ideas.
URGENTE: Aquí se incorpora la escasez y la urgencia para que entienda que debe actuar rápido.

Lo relatado en esta publicación es 100% de mi autoría, ha salido de mi cerebro por mi experiencia, fracasos y estudio de distintas fuentes. Cualquiera que quiera tomar parte de este relato puede solicitar el permiso correspondiente para hacerlo.

Diseño: Banner realizado por @egonz