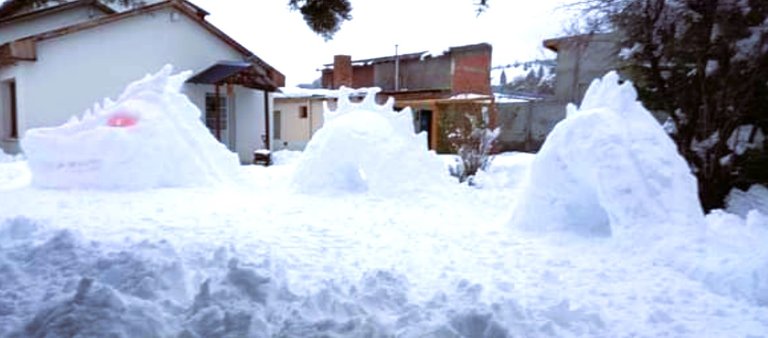 As in all seasons when the amount of snow accumulated in patios and gardens allows it, a traditional and friendly competition was held in Esquel that consisted of building a free-format sculpture with this element, that is, with a theme and size chosen by the builder.
This season in which the snow storms have been exceptionally strong and persistent, the possibility of leaving the creation of any object, however large and complex it may seem, to the imagination, was assured, and the competition was a complete success for more than four hundred competitors entered the contest that lasted three days.
Here in the southern hemisphere we are far from Christmas, there is still half a year to go and by the time it arrives the temperatures leave no chance of building those beautiful Santa Claus dolls, nor of having snowball fights, so common and fun that we can only see in the movies. Needless to say, Santa dolls were not the most chosen theme in the contest.
If there were many other works, one more beautiful than the other and won a very well-made dragon that seems to emerge from the thick layer of white snow to scare the most distracted.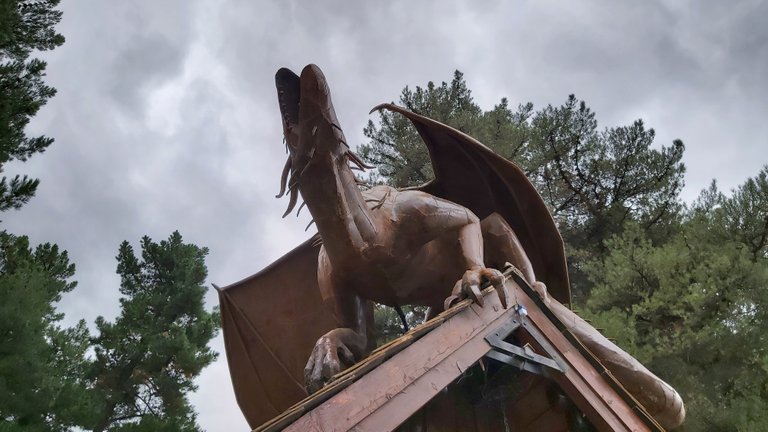 The dragon is a mythical being that is closely linked to the culture of the entire province of Chubut, especially to the towns of Trevelin and Esquel, where Welsh immigration in the 19th and early 20th centuries has been very strong. There is practically no family in these towns that does not have relatives, friends, or direct Welsh descent.
We have already seen the very well-done dragon that perched on the roof of the Trevelin tourist hut, throws fire twice a day instead of driving people away and instilling fear in them, it attracts and amuses them, something expected by the authorities who are fighting permanently to provide an already extraordinary region with more tourist attractions, and industry without chimneys that provides genuine income, something necessary in these times.

Como en todas las temporadas que la cantidad de nieve acumulada en patios y jardines lo permiten, se realizó en Esquel una tradicional y simpática competencia que consiste en construir con ese elemento una escultura de formato libre, es decir con temática y tamaño a elección del constructor.
Esta temporada en que las tormentas de nieve han sido excepcionalmente fuertes y persistentes, la posibilidad de dejar librada a la imaginación la creación de cualquier objeto por grande y complejo que pareciera, estaba asegurada, la competencia fue todo un éxito ya que más de cuatrocientos competidores se inscribieron al concurso que duró tres días.
Aquí en el hemisferio sur estamos lejos de la navidad, falta todavía medio año y para cuando la misma llega las temperaturas no dejan ninguna posibilidad de construir esos bellos muñecos de Santa Claus, tampoco de realizar guerras de bolas de nieve, tan comunes y divertidas que solo podemos observar en las películas. De más está decir que muñecos de Santa no fueron la temática más elegida en el concurso.
Si hubo muchas otras obras, una más bella que la otra y ganó un dragón muy bien realizado que parece surgir de entre la espesa capa de nieve blanca para asustar al más distraído.
El dragón es un ser mítico que está muy ligado a la cultura de toda la provincia de Chubut, especialmente a las localidades de Trevelin y Esquel donde la inmigración galesa del siglo XIX y principios del XX ha sido muy fuerte. Prácticamente no hay familia en estas localidades que no tenga parientes, amigos o sea directamente descendiente de galeses.
Ya hemos visto el muy bien logrado dragón que apostado en el techo de la cabaña de turismo de Trevelin lanza fuego dos veces al día en vez de alejar a las personas e infundirles miedo, los atrae y divierte, algo totalmente esperado por las autoridades que pelean permanentemente para dotar a ya de por si extraordinaria región de más atractivos turísticos, una industria sin chimeneas que otorga ingresos genuinos algo absolutamente necesario en estos tiempos.
---
Las fotografías son de mi propiedad excepto las que menciono la fuente.
The photographs are my property except those mentioned by the source.
Héctor Gugliermo
@hosgug