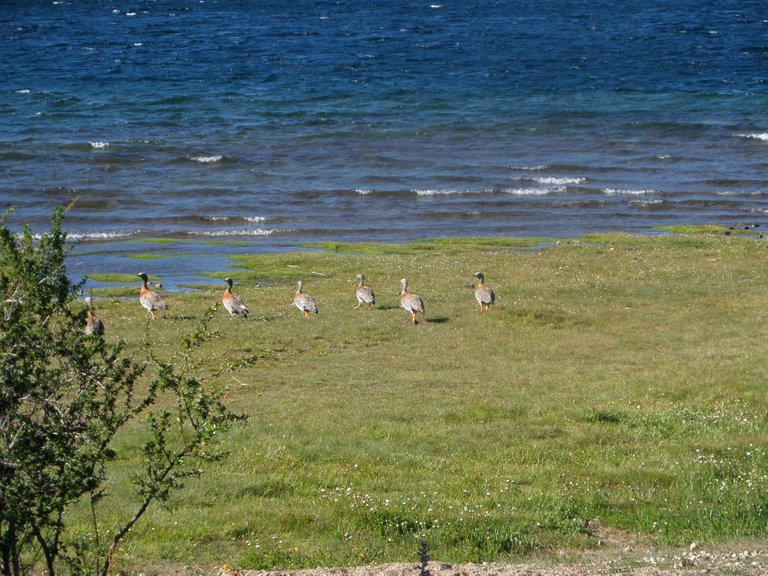 Dentro de nuestras posibilidades y gustos, siempre estamos buscando algo de aventura. No piensen que soy de esos como Indiana Jones, James Bond, el capitán Jack Sparrow o cualquier otro intrépido personaje de películas, además de no tener edad para hacer pirueta y esquivar balas, nunca fue parte de mi personalidad ese tipo de vida. Los episodios que buscamos son mucho más tranquilos, un silencioso bosque de altas lengas y alerces donde el único sonido lo provocan los grandes pájaros carpinteros negros con penacho colorado que horadan las gruesas cortezas de los troncos en busca de los insectos que allí moran, o el crepitar de las hojas mecidas por el viento. Nos gusta la pesca y por lo tanto el agua, los ríos y los lagos, todos con una trasparencia asombrosa y los huidizos peces que viven en sus profundidades. La Patagonia tiene mucho de eso y es nuestro destino favorito dentro de nuestro país.
Recuerdo un año en particular donde ocurrió lo que voy a relatar. Estábamos buscando algún lugar nuevo al que nunca hubiéramos llegado antes a pescar, el administrador de las cabañas donde hacíamos base nos dijo que fuéramos al lago Quillén ya que teníamos un bote inflable que buscáramos la costa de la gallina, era el mejor lugar, por lejos, de toda la cuenca del Aluminé.
El hombre era un poco parco y cuando intentamos sacarle mayores precisiones nos dijo que solos nos daríamos cuenta, y se fue a atender a unos recién llegados que reclamaban por la cabaña vecina a la nuestra.
Con la ansiedad al máximo partimos hacia nuestro destino, algo dubitativos porque no sabíamos a que se refería el lugareño con lo de la gallina. El largo viaje tuvo su epílogo con los últimos 20 kilómetros de tierra y piedra, sin embargo, el paisaje alucinante sirvió de bálsamo y nos calmó totalmente; nos encanta recorrer caminos desconocidos y asombrarnos con cada rincón que la naturaleza nos regala.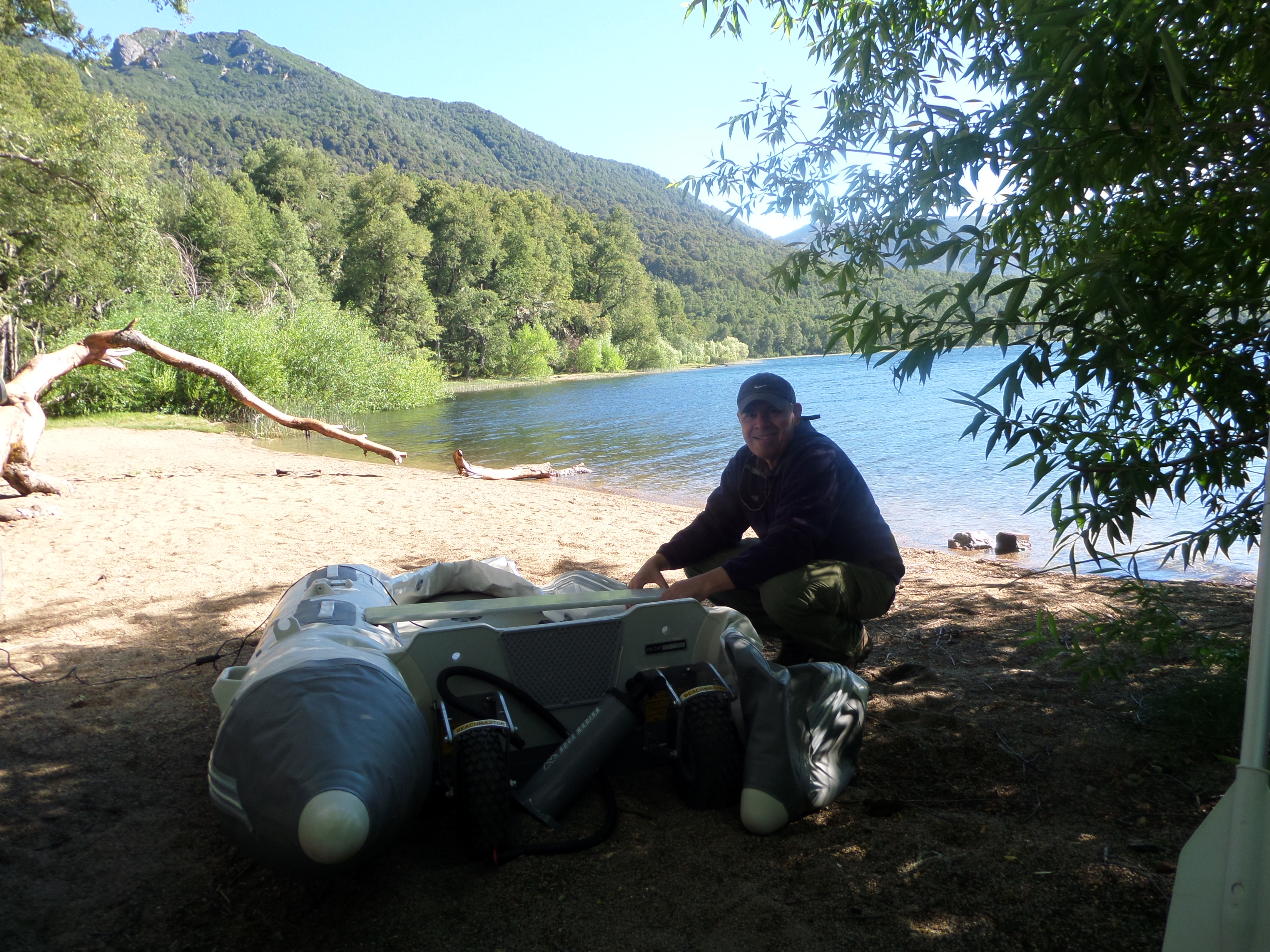 Por fin llegamos al enorme espejo de agua y en la costa vimos algunos cauquenes, si los miramos con simpatía parecen gallinas, pero no lo son, recorrimos un largo trecho bordeando las cristalinas aguas y la ansiedad volvió a subir, ver toda esa enorme extensión del líquido elemento pensando en los peces que alberga nos alteraba un poco y la gallina no aparecía por ningún lado. Era un lugar apartado y solitario, no encontramos ni una sola persona para preguntarle.
Finalmente, la ansiedad pudo más que el consejo, paramos en una muy prometedora playa rodeada de raulies y arrayanes y armamos el bote. Salimos a pescar y nos olvidamos de la gallina, hasta tuvimos un par de capturas por lo que todo estaba más que bien, no había gallina pero había algunos peces, más que suficiente para ambos.
Por la tarde cuando ya estábamos pensando en el regreso, al levantar la vista para admirar una vez más el bello entorno vi la gallina, una enorme formación rocosa en la cima de un cerro cercano. Le toqué el hombro a mi amigo y señalé con el dedo índice de mi mano derecha hacia el lugar donde se encontraba, Una sonrisa se dibujó en nuestras caras. Calculamos el tiempo que nos llevaría llegar hasta allí, pescar un rato y luego hacer el camino inverso. Ya era demasiado tarde.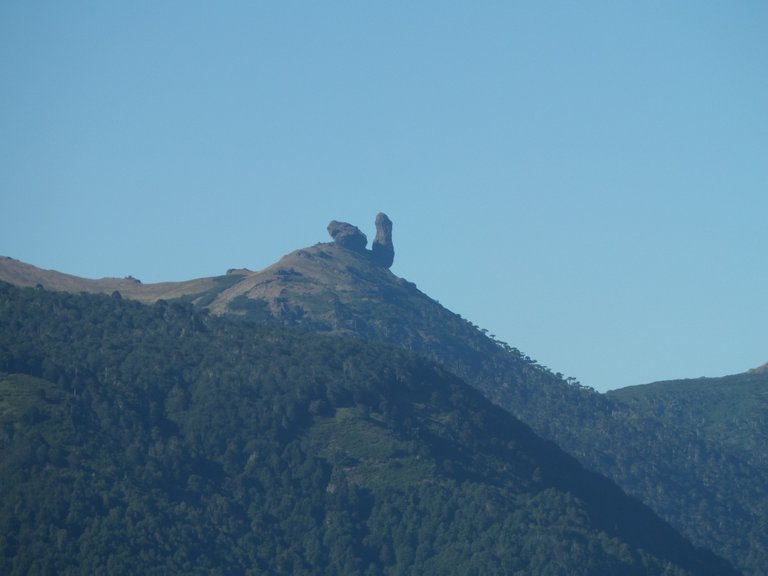 Un poco desilusionados dejamos para otra oportunidad ir hasta la playa bajo el cerro del ave galliforme, siempre con la esperanza de tener una nueva aventura y descubrir otro lugar para disfrutar.
Han pasado casi 4 años desde esa vez y todavía no hemos vuelto, la gallina seguramente seguirá esperando por nuestra visita.

The hen
Within our possibilities and tastes, we are always looking for some adventure. Do not think that I am one of those guys like Indiana Jones, James Bond, Captain Jack Sparrow, or any other intrepid movie character, besides not being old enough to do pirouettes and dodge bullets, that kind of life was never part of my personality. The episodes we are looking for are much calmer, a silent forest of tall lengas and larches where the only sound is caused by the large black woodpeckers with red plumes that pierce the thick bark of the trunks in search of the insects that dwell there, or the crackle of leaves swaying in the wind. We like fishing and therefore water, rivers, and lakes, all with amazing transparency and the elusive fish that live in their depths. Patagonia has a lot of that and it is our favorite destination in our country.
I remember a particular year where what I am about to relate happened. We were looking for a new place that we had never reached before to fish, the manager of the cabins where we were based told us to go to Lake Quillén since we had an inflatable boat to look for the coast of the chicken, it was the best place, by far, of the entire Aluminé basin.
The man was a bit sparing and when we tried to get more details on him he told us that we would find out on our own, and he went to attend to some newcomers who were complaining about the cabin next to ours.
We left for our destination with maximum anxiety, somewhat hesitant because we did not know what the local was referring to with the chicken. The long journey had its epilogue with the last 20 kilometers of earth and stone, however, the amazing landscape served as a balm and totally calmed us; we love to travel unknown roads and be amazed at every corner that nature gives us.
At last, we reached the huge water mirror and on the coast, we saw some geese, if we look at them with sympathy they look like chickens, but they are not, we traveled a long distance bordering the crystalline waters and the anxiety rose again, to see all that enormous extension of the Liquid element thinking about the fish it houses altered us a bit and the hen did not appear at all. It was a secluded and lonely place, we didn't find a single person to ask.
Finally, the anxiety got the better of the advice, we stopped at a very promising beach surrounded by raulies and myrtles and put the boat together. We went fishing and we forgot about the hen, we even had a couple of catches so everything was more than fine, there was no hen but there were some fish, more than enough for both of us.
In the afternoon when we were already thinking about returning, when I looked up to admire the beautiful surroundings once more, I saw the hen, a huge rock formation on the top of a nearby hill. I touched my friend's shoulder and pointed with the index finger of my right hand towards the place where he was standing. A smile spread across our faces. We calculated the time it would take us to get there, fish for a while, and then do the reverse route. It was already too late.
A little disappointed, we left for another opportunity to go to the beach under the hill of the galliform bird, always hoping to have a new adventure and discover another place to enjoy.
Almost 4 years have passed since that time and we still have not returned, the hen will surely continue to wait for our visit.
Las fotografías son de mi propiedad excepto las que menciono la fuente.
The photographs are my property except those mentioned by the source.
Héctor Gugliermo
@hosgug
---
Posted via proofofbrain.io