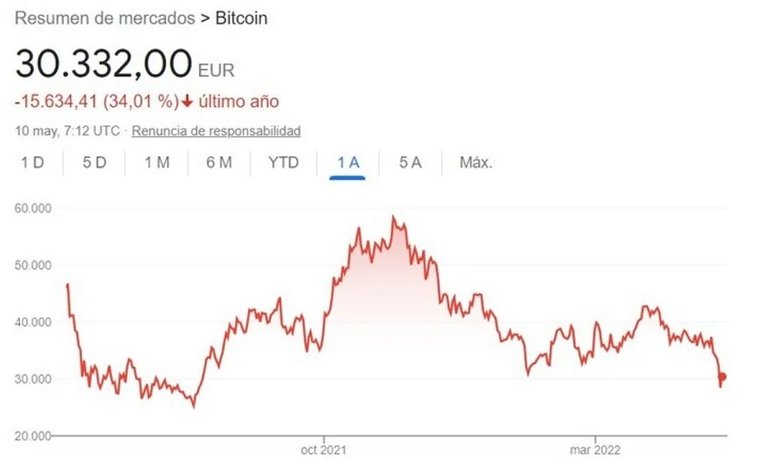 Talking to an enthusiastic young boy, the son of a Taiwanese merchant who has lived in Argentina for so many years that he is already much more Argentine than Taiwanese and this boy even more so; he was disappointed that he was a recent entry into the world of cryptocurrencies and thought he was wonderful, until last week.
As has happened to many of us who have been in this for a few years, cryptocurrencies have hit us hard once again, although for Nico, as the young man is called, it was his first time and of course, the impact has been tremendously painful, to make his life worse. His father scoffs at his disappointment, and the idea of ​​divestment of all his crypto assets haunts his mind.
I know that at some point they will rise again, probably not all of them, some will surely fall by the wayside, perhaps Terra whose blow has been so great that it will be very difficult to overcome.
And speaking of coming back today I got up musically and remembered a tango by a great national composer who for some unknown reason hasn't received all the recognition she deserves. The lyrics of a tango authored by her perhaps reflect like a few others the current feeling of many disappointed with cryptocurrencies.
Playing with the parallelism between a kite or kite, as we call it around here, and the life of a disappointed person, the lyrics of the tango go like this:
"I wanted to be a kite
Looking for height in my dream...
And I've been just like a kite
Which an evil wind put an end to
I don't know if my faith failed me, my will
or perhaps it was that I lacked thread"

The cryptocurrencies collapsed and the faith of many falters, I don't know when it will recover or if it will, it may take weeks, months, or years.

I kept thinking and came to the conclusion that unlike the young Taiwanese my optimism does not cease, today we have to lose maybe tomorrow we will smile again.

And as I said at the beginning, today I am musical and I remembered another lyric, this time from a talented blues and rock-oriented guitarist now deceased whose nickname was Pappo:

"Perhaps tomorrow, my boat will leave
Behind that wind
That he made me arrive"








Hablando con un entusiasta joven muchacho, hijo de un comerciante taiwanés que hace tantos años que vive en la Argentina que ya es mucho más argentino que taiwanés y este muchacho más todavía; estaba decepcionado porque ingresó hace poco tiempo al mundo de las criptomonedas y creyó que era maravilloso, hasta la semana pasada.

Como nos ha ocurrido a muchos que llevamos algunos años en esto, las criptomonedas nos han golpeado fuertemente una vez más, aunque para Nico, así se llama el joven, fue su primera vez y por supuesto el impacto ha sido tremendamente doloroso, para peor su padre se burla de su decepción y ronda en su mente la idea de desprenderse de todos sus activos criptográficos.

Yo se que en algún momento volverán a subir, probablemente no todas, algunas quedarán en el camino seguramente, quizás Terra cuyo golpe ha sido tan grande que será muy difícil de remontar.

Y hablando de remontar hoy me he levantado musical y recordé un tango de una gran compositora nacional que por alguna causa que desconozco no ha tenido todo el reconocimiento que se merece. La letra de un tango de su autoría quizás refleje como pocos el sentimiento actual de muchos decepcionados con las criptomonedas.

Jugando con el paralelismo entre una cometa o barrilete como le decimos por aquí y la vida de una persona decepcionada, la letra del tango dice así:
        "Yo quise ser un barrilete
        Buscando altura en mi soñar …
        Y he sido igual que un barrilete
        Al que un mal viento puso fin
        No sé si me falló la fe, la voluntad 
        o acaso fue que me faltó piolín"

Las criptomonedas se derrumbaron y la fe de muchos trastabilla, no sé cuándo se recuperará ni si lo va a hacer, puede tardar semanas, meses, años.

Me quedé pensando y llegué a la conclusión que a diferencia del joven taiwanés mi optimismo no cesa, hoy nos toca perder quizás mañana volvamos a sonreír.

Y como dije al principio, hoy estoy musical y recordé otra letra, esta vez de un talentoso guitarrista orientado al blues y al rock ya fallecido cuyo apodo era Pappo:
        "Quizás mañana, mi barca se ira
        Detrás de aquel viento,
        Que la hizo llegar"

---




Las fotografías son de mi propiedad excepto las que menciono la fuente.
The photographs are my property except those mentioned by the source.

Héctor Gugliermo
@hosgug