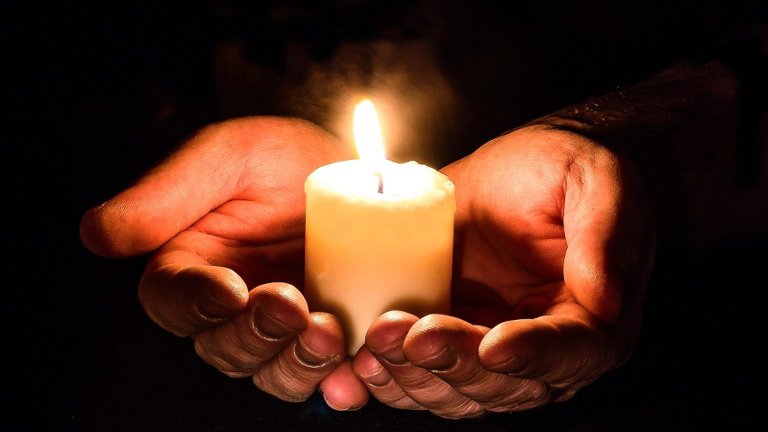 Although at present it is somewhat controversial, we all award the invention to the American Thomas Alva Edison who for the first time lit a light bulb using electrical energy, that was the 19th century and since then a lot of water has run under the bridge, my grandmother would say to allude to the passage of time and the events that have occurred since then.
As I mentioned in my previous publication, since Wednesday 12/29 we have been without electricity in a large sector of our neighborhood, and from the news, we learned that many other areas of the Federal Capital and the Buenos Aires suburbs also suffered similar damages.
The official justification is the same as always, the high demand produced by the oppressive heat of the last days makes the system collapse. That is true in part, a complement to it is the lack of investment in the sector, the bad salaries, and the negligence of the current rulers. But I don't want to go into this field, I only mention this within the general context.
This problem led me to wonder how they did in the past when electrical energy did not exist, a difficult question to answer when we have so many appliances and devices today that depend on that invisible energy that only becomes present and vivid when we lack it.
Today we are so dependent on this invention that we cannot sleep at night due to the oppressive heat, we cannot work or as I did I went to a bar to do it and incidentally recharge the phone and computer batteries, incidentally get some fresh air of the great refrigeration equipment that they have there.
Luckily Santa Claus or whoever you prefer took pity on us and yesterday afternoon they brought a huge generator set that they installed, luckily, 70 meters from my house. I say luckily due to the noise emitted by its powerful motor, poor neighbors who have it installed in front of their homes, although I suspect that they endure it for two reasons: the first they have no escape and the second, that noisy device gives them electrical energy necessary to return to normal and modern life.
At around 6 pm on 12/31, the light came back on and we quickly went out to turn on air conditioning, television, and refrigerator.
Thanks to Edison and others, we have an electric life that we fully enjoy.

Aunque en la actualidad es un tanto controversial, todos adjudicamos la invención al norteamericano Thomas Alva Edison quien por primera vez encendió una bombilla utilizando la energía eléctrica, eso fue el siglo XIX y desde entonces ha corrido mucha agua debajo del puente, diría mi abuela para aludir al paso del tiempo y de los acontecimientos ocurridos desde entonces.
Como mencioné en mi publicación anterior, desde el miércoles 29/12 estamos sin energía eléctrica en todo un amplio sector de nuestro barrio y por las noticias nos enteramos que también en muchas otras áreas de la Capital Federal y del conurbano bonaerense sufrían similares desperfectos.
La justificación oficial es la de siempre, la alta demanda producida por el agobiante calor de los últimos días hace colapsar al sistema. Eso es verdad en parte, un complemente de ello es la falta de inversión en el sector, los malos salarios y la desidia de los gobernantes de turno. Pero no quiero entrar en este campo, solo menciono esto dentro del contexto general.
Este problema me llevó a preguntarme como hacían en el pasado cuando no existía la energía eléctrica, una pregunta difícil de contestar cuando tenemos tantos aparatos y dispositivos hoy en día que dependen de esa energía invisible que solo se hace presente y de forma vívida cuando nos falta.
Tan dependientes somos hoy de ese invento que no podemos dormir por las noches debido al agobiante calor, no podemos trabajar o como hice yo me fui a un bar para hacerlo y de paso recargar baterías de teléfonos y computadoras, de paso tomar algo de aire fresco del gran equipo de refrigeración que allí tienen.
Por suerte Santa Claus o quien Uds. prefieran, se apiadó de nosotros y ayer por la tarde trajeron un enorme equipo generador que instalaron, por suerte, a 70 metros de mi casa. Digo por suerte debido al ruido que emite su potente motor, pobres los vecinos que lo tienen instalado frente a sus hogares, aunque sospecho que lo aguantan por dos motivos: el primero no tienen escapatoria y el segundo, ese ruidoso aparato les da la energía eléctrica necesaria como para volver a la vida normal y moderna.
A eso de las 18 horas del 31/12 volvió la luz y salimos raudamente a encender equipos de aire acondicionado, televisión y heladera.
Gracias a Edison y otros, tenemos una vida eléctrica que disfrutamos a pleno.
Las fotografías son de mi propiedad excepto las que menciono la fuente.
The photographs are my property except those mentioned by the source.
Héctor Gugliermo
@hosgug