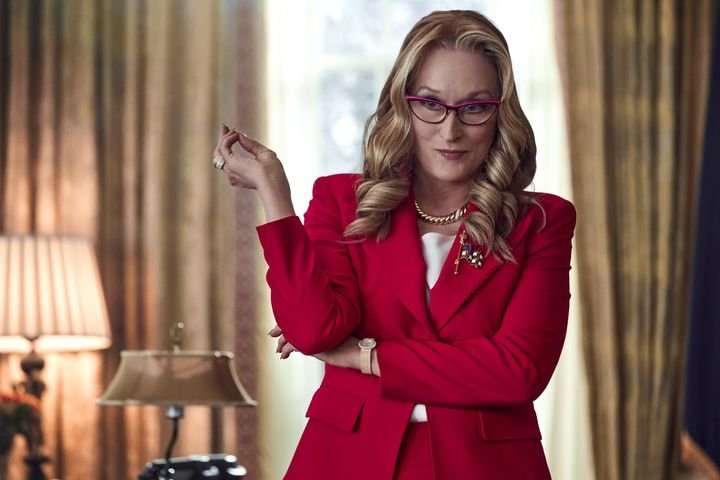 A few days ago the movie Don't look up! Or to put it in my language, "No mires arriba".
Just looking at the list of actors and actresses one would think that it is a film with aspirations of the Oscar award, Meryl Streep, Jenifer Laurence, Leonardo Di Caprio, Cate Blanchett are some of them, the most renowned perhaps.
However, critics and a large part of the public have been very harsh with this film production and do not agree, as, in jurisprudence, there is a whole library that speaks in favor and another equally voluminous that does so against.
The something like a crack that becomes insurmountable, something like what happens in my country with politics and the curious thing is that seeing it, I undoubtedly associated several of the characters and their performances with the absurd, crazy, and totally lacking in common sense with many of the politicians and officials who govern the destinies of my country today.
I have read that the character of the president of the United States has a lot of Trump, the businessman friend of Elon Musk, although in the initial presentation of his phone for me it was Steve Jobs, and so on that, we can place them in political and social life From the northern country, however, I cannot abstract myself from my own life on this side of the world and the characters easily adapt to the local political circus scene. Could it be that deep down we look so much alike, even if the results show otherwise?
From that point of view, the film is extraordinary, it shows with total simplicity and carelessness the totally opposed interests of the leaders of the day to what the people need, even at that extreme where the life of the planet itself is at stake.
The whole context is delusional, the critics have gone mad, widening until the unbearable gap between those who consider it a fiasco and those who see an interesting work. In this context where there are no agreements or concessions, the main message from director Adam Mackay is clearly: we deserve to see this insane society reflected in a film like this.
At least so far she has managed to get us all to talk about her, it is no small thing.

Pocos días atrás se estrenó en Netflix la película ¡Don't look up! O para decirlo en mi idioma, No mires hacia arriba.
Solo con observar la lista de actores y actrices uno pensaría que es una película con aspiraciones del premio Oscar, Meryl Streep, Jenifer Laurence, Leonardo Di Caprio, Cate Blanchett son algunos de ellos, los más renombrados quizás.
Sin embargo, la crítica y gran parte del público han sido muy duros con esa producción cinematográfica y no se ponen de acuerdo, como en la jurisprudencia, hay toda una biblioteca que habla a favor y otra igual de voluminosa que lo hace en contra.
El algo así como una grieta que se hace insalvable, algo así como lo que ocurre en mi país con la política y lo curioso es que, viéndola, asocié sin ninguna duda a varios de los personajes y sus actuaciones con las acciones disparatadas, alocadas y totalmente faltas de sentido común con muchos de los políticos y funcionarios que rigen los destinos de mi país en la actualidad.
He leído que el personaje de la presidenta de los Estados Unidos tiene bastante de Trump, el empresario amigo de Elon Musk, aunque en la presentación inicial de su teléfono para mi era Steve Jobs, y así otros que podemos ubicarlos en la vida política y social del país del norte, sin embargo, no puedo abstraerme de mi propia vida en este lado del mundo y los personajes se adaptan con total facilidad al circense escenario político local. ¿Será que en el fondo nos parecemos tanto, aunque los resultados demuestren otra cosa?
Desde esa óptica la película es extraordinaria, muestra con total simpleza y desenfado los intereses totalmente contrapuestos de los dirigentes de turno a lo que la gente necesita, inclusive en ese extremo donde la vida del planeta mismo está en juego.
Todo el contexto es delirante, los críticos han enloquecido ampliando hasta lo insoportable la grieta entre los que la consideran un fiasco y los que ven una obra interesante. En ese marco donde no hay acuerdos ni concesiones el principal mensaje del director Adam Mackay es a todas luces: nos merecemos ver reflejada esta sociedad demencial en una película como esta.
Al menos hasta ahora ha logrado que todos hablemos de ella, no es poca cosa.
Las fotografías son de mi propiedad excepto las que menciono la fuente.
The photographs are my property except those mentioned by the source.
Héctor Gugliermo
@hosgug