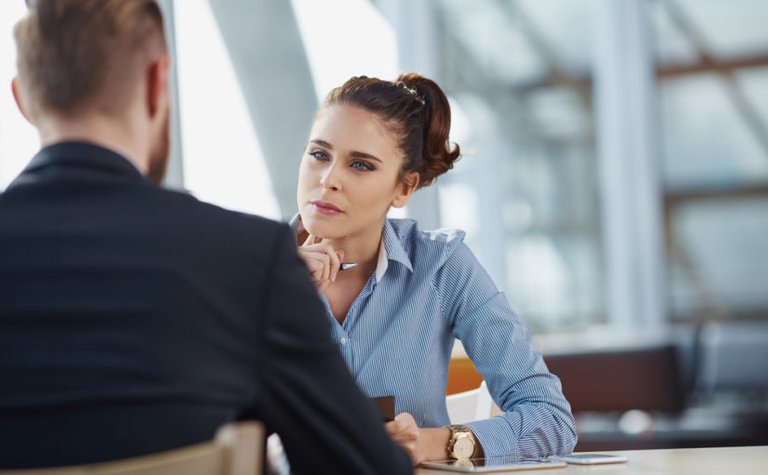 LINK
Imagining that we begin the job interview, we see the following steps to take into account and thus have a greater chance of success.
The third step: Although many times we ignore it is body language that speaks more about us than our words, therefore it is necessary that you maintain a good body posture, remember that the person who will interview you is in charge of reading all your expressions and lends much attention to details especially these.
Remember that if you sit down, it is advisable to keep your feet flat on the ground, DO NOT make the mistake of crossing your arms or hiding your hands since this is how you are showing insecurity, (Keep in mind that it depends on the situation you can use the Rapport).
Fourth step: To reinforce the sense of security it is important to establish eye contact with the interviewee, you must look him in the eye while establishing communication, the look should be in the sense of paying attention and in a natural way NOT an intimidating and excessive look.
Fifth step: With all this, it is very good to accompany him with an active listening, Try NOT to interrupt him and pay attention to what he says since in this way you can know what he needs from you and thus you can respond more specifically to his request in such a case .
Step six: All this leads you to answer clearly, questions abound in interviews, think carefully before answering, your answers must be clear, specific and above all with security.
What do you think of these steps to follow? You can tell me about your experience in the comments.
---

---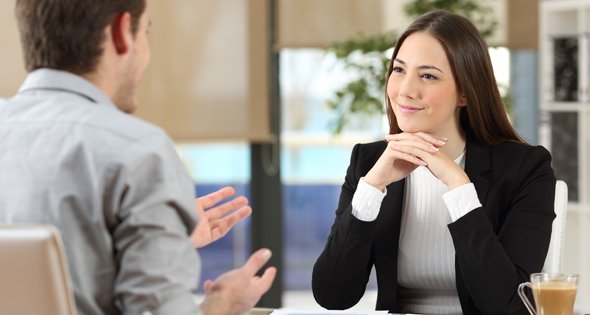 LINK
Imaginándonos que comenzamos la entrevista laboral vemos los siguientes pasos a tener en cuenta y así tener mayor probabilidades de éxito.
El tercer paso: Aunque muchas veces pasamos por alto es el lenguaje corporal el que habla mas de nosotros que nuestras palabras por ello es necesario que mantengas una buena postura corporal, recuerda que la persona que te entrevistará es encargada de leer todas tus expresiones y presta mucha atención a los detalles sobretodo a estos.
Recuerda que si te sientas es recomendable mantener los pies apoyados en el suelo, NO cometas el error de cruzar los brazos o esconder las manos ya que así estas demostrando inseguridad, (Ten en cuanta que depende de la situación puedes utilizar el Rapport).
Cuarto paso: Para reforzar el sentido de seguridad es importante establecer contacto visual con el entrevistados, debes mirarle a los ojos mientras establecen comunicación, la mirada debe ser en sentido de prestarle atención y de manera natural NO una mirada intimidante y excesiva.
Quinto paso: Con todo esto es muy bueno acompañarlo con una escucha activa , Trata de NO interrumpirle y prestar atención a lo que dice ya que de esta manera puedes conocer lo que necesita de ti y así puedes responder mas concretamente a su solicitud en tal caso.
Paso seis: Todo esto te lleva a responder de manera clara, en las entrevistas abundan las preguntas, piensa bien antes de responder, tus respuestas deben ser claras, específicas y sobretodo con seguridad.
¿Que te parecen estos pasos a seguir? Puedes contarme tu experiencia en los comentarios.