Hola Amigos 🐝💕
Espero que se encuentren muy pero muy bien, y que este día los haya sorprendido tanto como a mí, quiero compartir con ustedes experiencia extraordinaria que me brindo nuestra amada Naturaleza, puede observar desde muy cerca una IGUANA 🦎🦎 😍😍 la encontré esta mañana en una de las plantas de limones que tenemos en el patio de nuestra casa, su color era tan verde que cortaba distinguirla entre lo verde de las hojas de la planta de limón. Pudimos observarla porque uno de nuestros perros estaban inquietos ladrando a la planta, Viendo la insistencia de duque, me acerque a ver qué era lo que tando le inquietaba, pero con un poco de miedo de acercarme porque como estos días ha estado lloviendo mucho por estos lados, muchas veces las culebras salen buscando un lugar seco dónde estar, y yo pensaba que era una culebra, que le tengo un terror horrible 😱.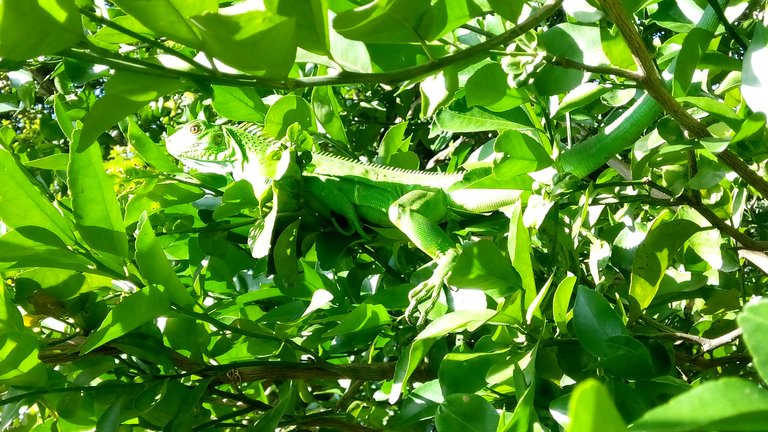 ---
Con miedo me acerque por la insiste en de Duque, y cuando observé bien la mata para asegurarme de no ver una culebra cerca, le observé la cresta a la iguana, fue un momento increíble para mí, porque no había visto una iguana tan cerca, digo porque siempre las veo el la cima de los árboles de mando o pumalacas y pasan tan rápido que se pierden en cuestión de segundos, está se encontraba en este mata de limón que es una planta relativamente bajita y estaba como inmovil, yo pienso que era para camuflajearse y que duque pensará que no estaba allí jejejejejeje.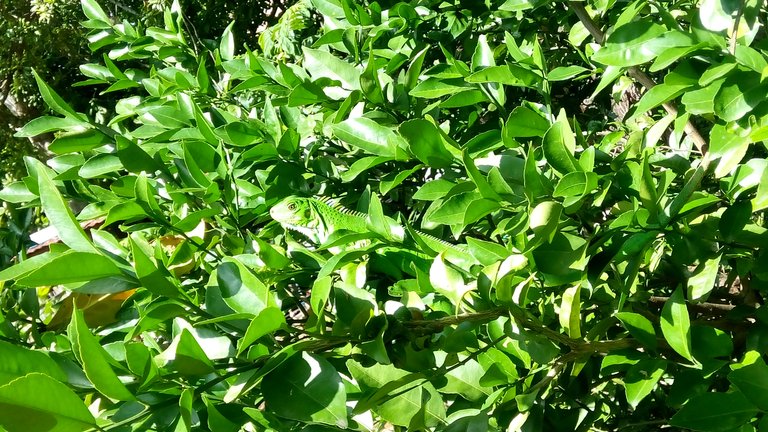 ---
Fuí rápidamente dentro de la casa a buscar mi teléfono para tomarle una fotografía, cuando iba camino a la sala de la casa para buscar el teléfono, le pedía a Dios porque estuviera allí cuándo regresara, porque como ellas son super rápidas. Cuando regrese tuve mucha suerte, por seguía en el mismo lugar, tal vez porque Duque está allí con su fastidio jejejejejeje logré tomarle varias fotografías lo más cerca que puede porque me daba miedo que me pudiera saltar encima o algo así.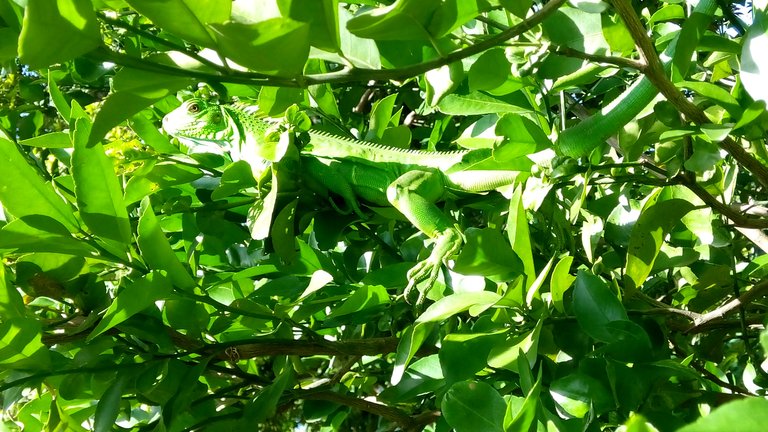 **"
El las fotografías se puede ver qué estaba perfectamente camuflajeada, el verde tan intenso de la iguana 🦎 pareciera que fuera un verde neón, me parece maravilloso todo lo que hace la Naturaleza, sin alteraciones podemos observar colores vibrantes que te deslumbran, y no solo el color de la iguana deslumbran, también es impresionante el pareció a un dinosaurio, tiene cresta, y es como un mini dinosaurio.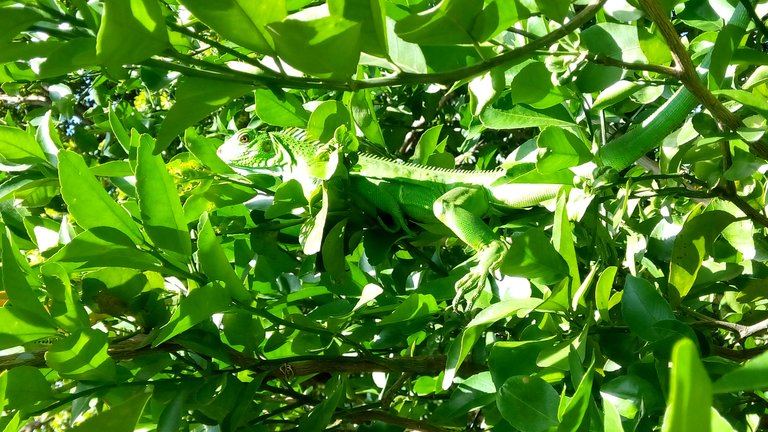 ---
De verdad quede impresionada con lo maravillo de este animal, el estaba inmóvil en la planta de limón, puede ser que Duque lo estaba intimidado y su forma de tener alguna defensa es quedarse inmóvil camuflajeada dentro de la planta. Para que la iguana pudiera seguir su rumbo tuve que llevar a duque conmigo para el frente de la casa, dónde lo distraje jugando por un rato, pasado un tiempo fuí de nuevo al patio a ver si aún seguía allí, pero ya había continuado su camino, dejándome unas hermosas fotografías que puede tomar con mi teléfono y una experiencia excepcional de haber podido observar un verde tan vibrante de un animal tan exóticos como lo es para mí esa iguana 🦎. En estos momentos es que quisiera tener una camara profesional para inmortalizar estos momentos con una buena calidad fotográfica.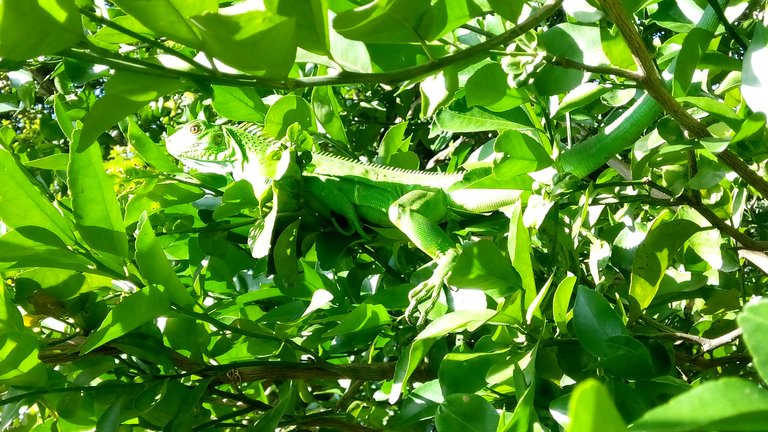 ---
Quise compartir con ustedes que me leen y apoyan siempre está bonita experiencia, espero que disfruten de estás imágenes no profesionales pero que guardaron un momento super genial.
---
LES DESEO LO MEJOR DE ESTÉ MUNDO, LLUVIA DE BENDICIONES PARA TODOS ✨✨✨🤗🤗🤗
Hello Friends 🐝💕
I hope you are very but very well, and that this day has surprised you as much as me, I want to share with you extraordinary experience that our beloved Nature gave me, you can observe from very close an IGUANA 🦎🦎 😍😍 I found it this morning in one of the lemon plants that we have in the yard of our house, its color was so green that it was hard to distinguish it among the green of the leaves of the lemon plant. We were able to observe it because one of our dogs was restlessly barking at the plant. Seeing duque's insistence, I approached it to see what was bothering it, but I was a little afraid to approach it because these days it has been raining a lot around these parts, many times snakes come out looking for a dry place to be, and I thought it was a snake, which I have a horrible terror 😱.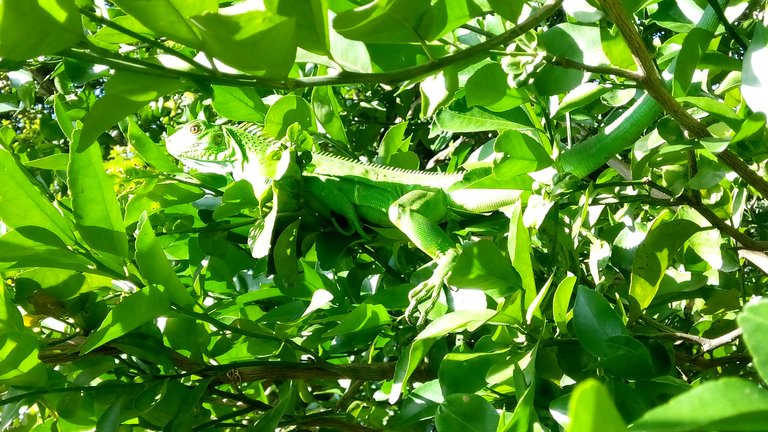 ---
With fear I approached Duque, and when I observed the bush well to make sure I didn't see a snake nearby, I observed the crest of the iguana, it was an incredible moment for me, because I had not seen an iguana so close, I mean because I always see them at the top of the command trees or pumalacas and they pass so fast that they are lost in a matter of seconds, this one was in this lemon bush which is a relatively low plant and was like immobile, I think it was to camouflage itself and that duque will think that it was not there hehehehehehehehehehehe.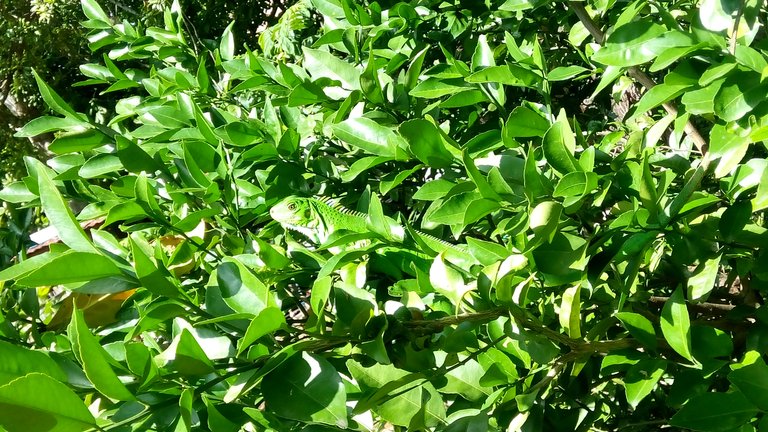 ---
I quickly went inside the house to get my phone to take a picture, when I was on my way to the living room to get the phone, I prayed to God that it would be there when I returned, because they are super fast. When I got back I was very lucky, because he was still in the same place, maybe because Duque is there with his annoyance hehehehehehehehehehehe I managed to take several pictures of him as close as possible because I was afraid he might jump on me or something like that.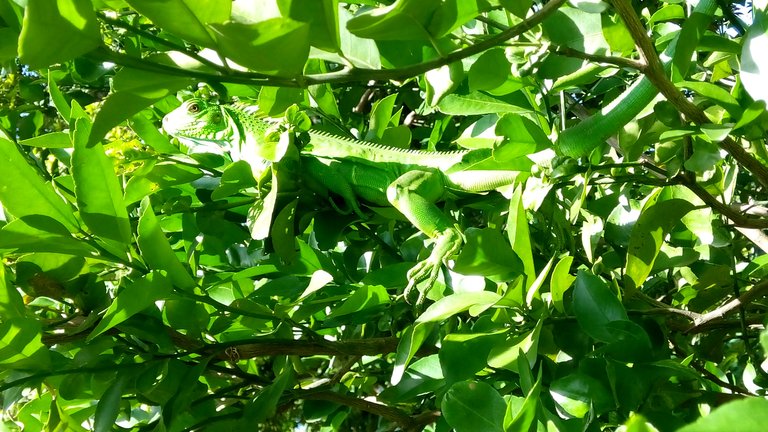 ---
In the pictures you can see that it was perfectly camouflaged, the intense green of the iguana 🦎 it seemed to be a neon green, I think it's wonderful everything that Nature does, without alterations we can see vibrant colors that dazzle you, and not only the color of the iguana dazzles, it is also impressive that it looks like a dinosaur, it has a crest, and it is like a mini dinosaur.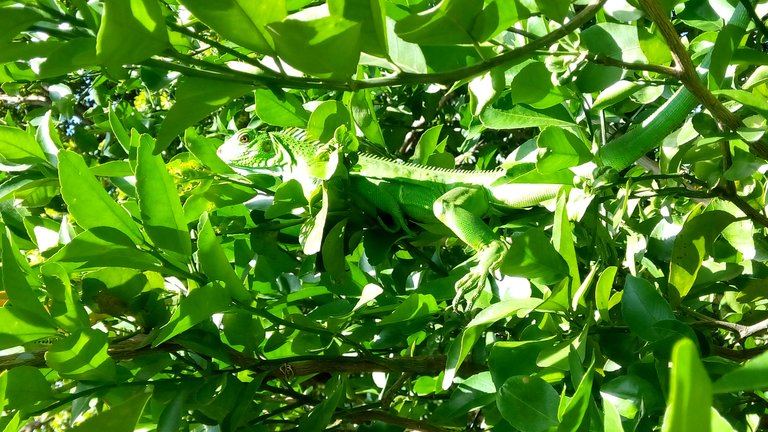 ---
I was really impressed with the wonder of this animal, he was motionless in the lemon plant, maybe Duque was intimidated and his way of having some defense is to stay motionless camouflaged inside the plant. So that the iguana could follow its course I had to take duque with me to the front of the house, where I distracted him playing for a while, after a while I went back to the patio to see if he was still there, but he had already continued his way, leaving me some beautiful pictures that I can take with my phone and an exceptional experience of having been able to observe such a vibrant green of an animal as exotic as it is for me that iguana 🦎. In these moments is that I would like to have a professional camera to immortalize these moments with a good photographic quality.
---
I wanted to share with you who read me and always support me this beautiful experience, I hope you enjoy these non-professional images but that saved a super cool moment.
---
I WISH YOU THE BEST OF THIS WORLD, SHOWER OF BLESSINGS TO ALL ✨✨✨✨🤗🤗🤗🤗🤗