Buenos días a todos, como digo llego el fin de semana, y este sábado me traslade a visitar a un primo que hacia demasiado tiempo que no lo veía, así que luego de llegar a su casa y degustar unos sabrosos mates, salió el tema de su emprendimiento, o sea la cría de cerdos, nos fuimos para los chiqueros de cerdos, comenzando a decirme, que en todo este espacio, que la verdad es bastante grande, pero no solamente eso en la parte de atrás corre un pequeño arroyo.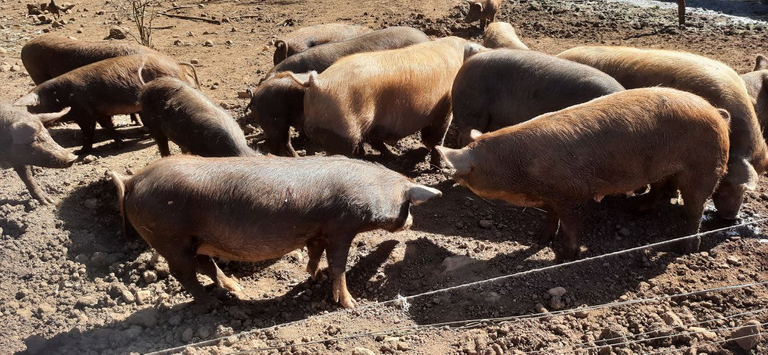 El mismo es ideal para estos animales,, lo disfrutan demasiado, como pueden observar son cerdos de varios colore, eso es porque tiene de cada genética unos cuantos ejemplares, como me dice mi primo, lo esencial es la comida, vacunarlos y cuidarlos para que crezcan sanos.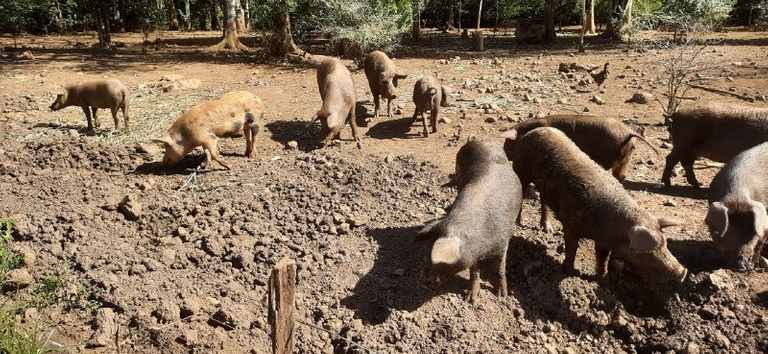 Estos que vemos en este corralito, son crías de 4 meses, por supuestos ya son un poco mas grandecitos y están vacunados, para tener en cuenta amigos y es un detalle muy importante,, se los encierran en corrales pequeños, para que no tengan muchos movimientos, de esa manera engordan y crecen mas rápidos.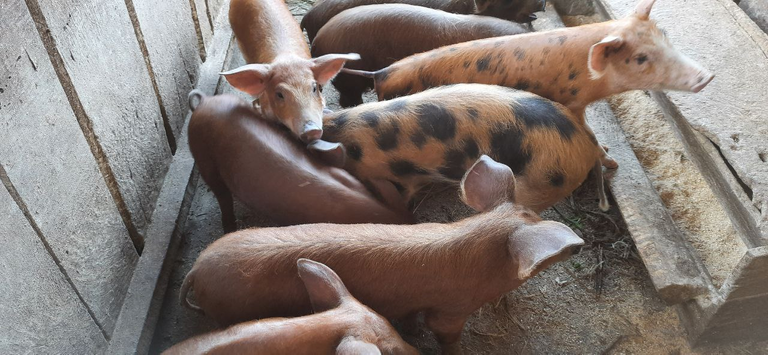 Para luego llevarlos y soltarlos en el corral al aire libre, donde se encuentra el arroyito en la orilla, pero así mismo no están descuidados en ese lugar porque tienen su techo, es en los pi letones donde se le da su comida.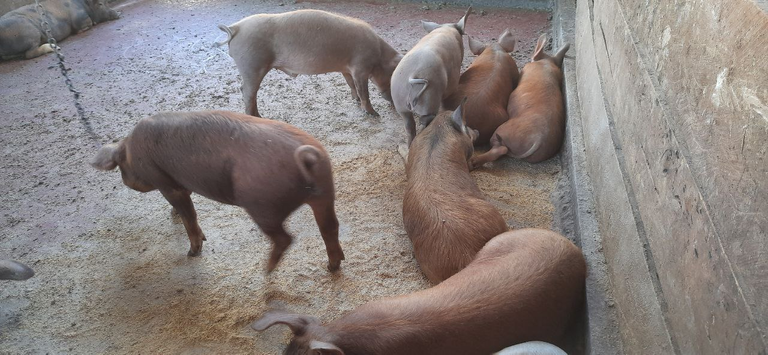 Es hora de destacar a este gran capón, o sea es un macho, como verán los cerdos de los cuales se crían acá, son todos los de hocicos largos, supuestamente son los mas sabroso a la hora de consumirlos, pero este que se encuentra acá, es el que tiene mayores privilegios, por el hecho de que es el que le sirve a todas las hembras, que se encuentran para la reproducción.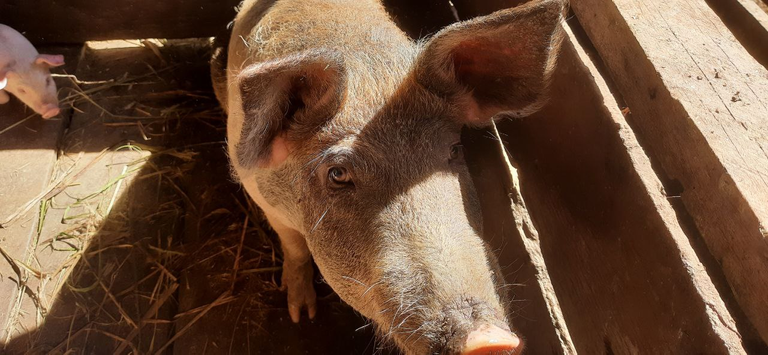 Las cuales son varios, y una ves que tienen sus crías, son alojadas en chiqueros individuales, por el hecho de que tienen que amamantar a sus crías.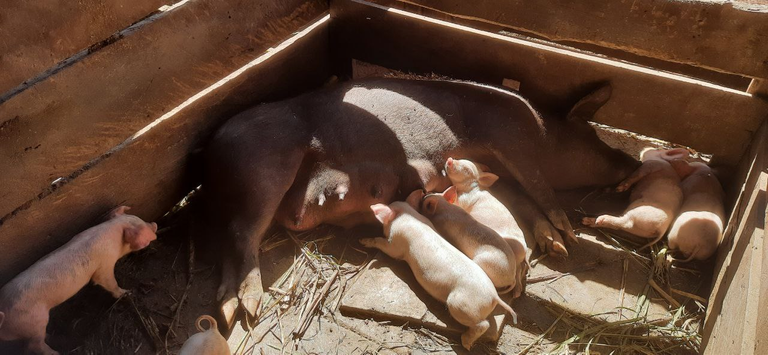 Cada madre con sus pequeños, en este caso son todos blancos y justo están almorzando jaajaj, su madre postrada muy cómoda.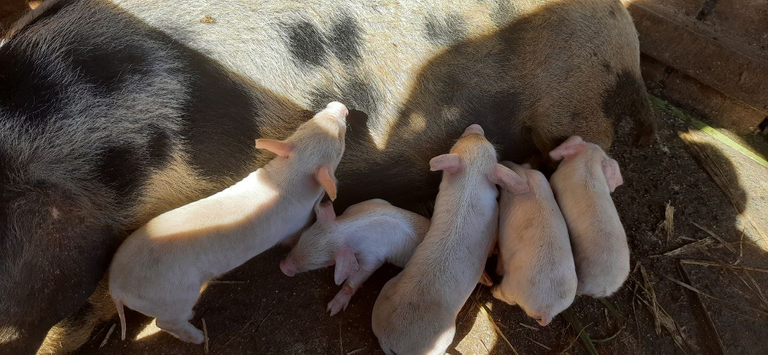 Bueno esta es una ocasión muy especial, dado que la misma es cruza con jabalí, es un poco arisca y como verán sus crías también, también el color de los mismos es diferente, tienen como rayas y cambia su pelaje.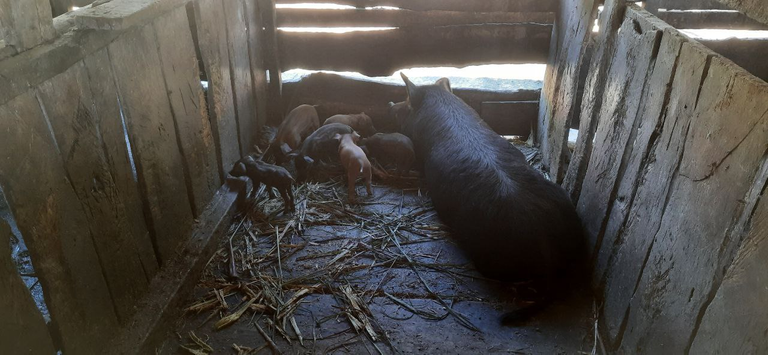 Justo mi primo tomo uno para enseñármelo, por el tema del color y pelaje, bueno la foto no salió tan bien porque justo se nublo un poco y estábamos debajo del techo, que en realidad es como un gran galpón.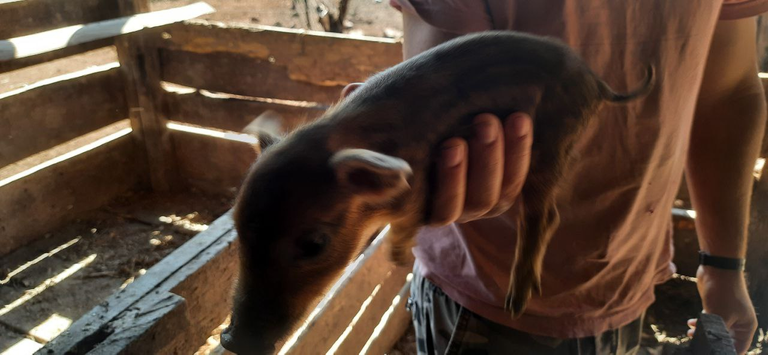 De esta manera efectué el recorrido enseñándoles de que manera se encuentran creciendo estos animales, COMO HE COMENTADO EN OTROS POST, POR EJEMPLO DE EL GLACIAR PERITO MORENO, DIGO QUE NO SOY UN GUIA TURISTICO, PERO PONGO DE MANIFIESTO TODO DE MI PARA QUE USTEDES AL PASAR POR MI POST, LO DISFRUTEN.
MUCHAS GRACIAS POR SEGUIRME Y LEERME, QUE TENGAN UN EXCELENTE SABADO.
TRADUCIDO AL INGLES.
Good morning everyone, as I say the weekend arrived, and this Saturday I moved to visit a cousin who had not seen him for a long time, so after arriving at his house and tasting some tasty mates, the subject of his enterprise came up, that is, the breeding of pigs, we went to the pig pens, starting to tell me that in all this space, which is really quite large, but not only that, in the back runs a small stream.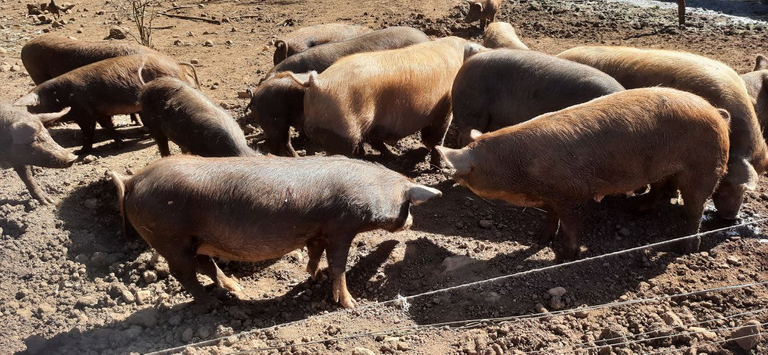 The same is ideal for these animals, they enjoy it too much, as you can see they are pigs of various colors, that is because it has of each genetics a few specimens, as my cousin tells me, the essential is the food, vaccinate and care for them to grow up healthy.
image.png](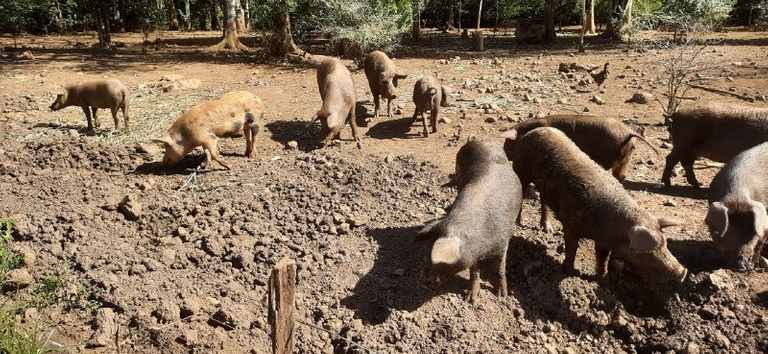 )
These that we see in this corralito, are pups of 4 months, of course they are already a little bigger and are vaccinated, to keep in mind friends and it is a very important detail, they are enclosed in small corrals, so that they do not have many movements, that way they get fat and grow faster.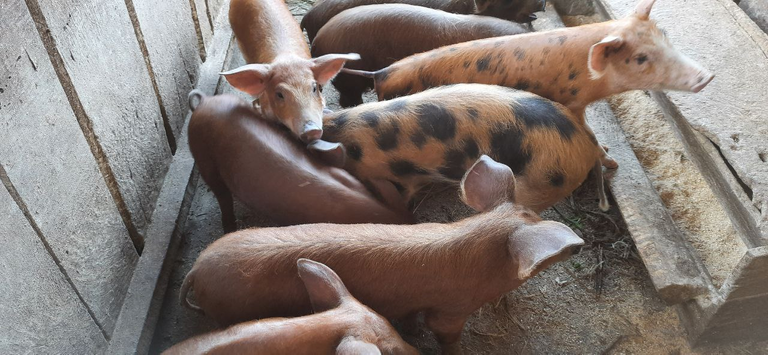 Then they are taken and released in the open air corral, where there is a small stream on the shore, but they are not neglected in that place because they have their roof, it is in the pi letones where they are given their food.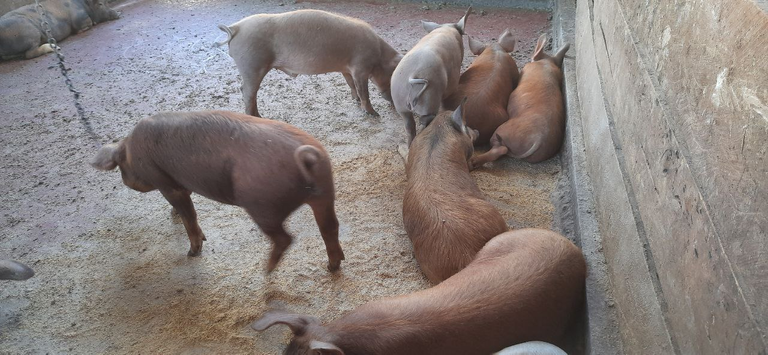 It is time to highlight this great capon, it is a male, as you will see the pigs which are raised here, are all long snouts, supposedly are the tastiest when consumed, but this one that is here, is the one that has greater privileges, by the fact that it is the one that serves all the females, which are found for reproduction.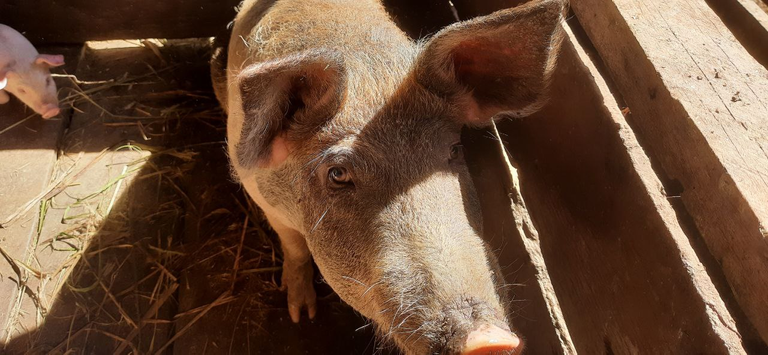 There are several of them, and once they have their young, they are housed in individual pens, due to the fact that they have to suckle their young.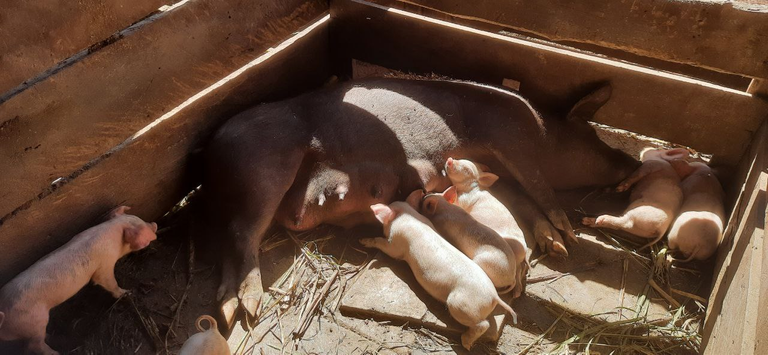 Each mother with her young, in this case they are all white and they are just having lunch, hahahah, their mother prostrate very comfortable.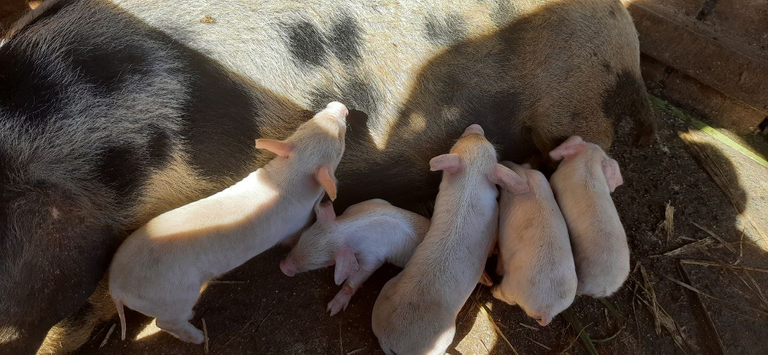 Well this is a very special occasion, because this one is a wild boar cross, she is a little bit surly and as you can see her offspring too, also the color of them is different, they have stripes and their fur changes.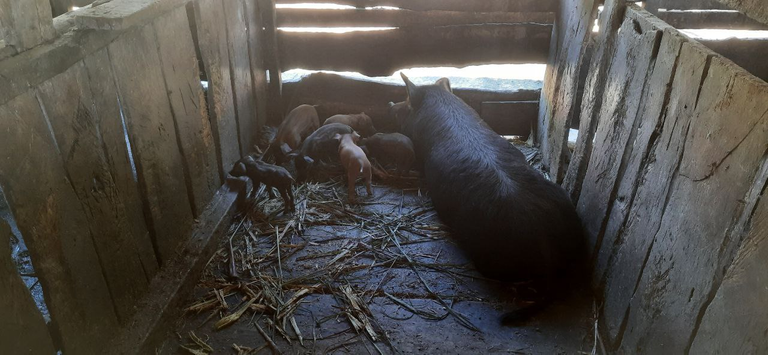 Just my cousin took one to show it to me, because of the color and fur, well the picture didn't come out so well because it was a little cloudy and we were under the roof, which is really like a big shed.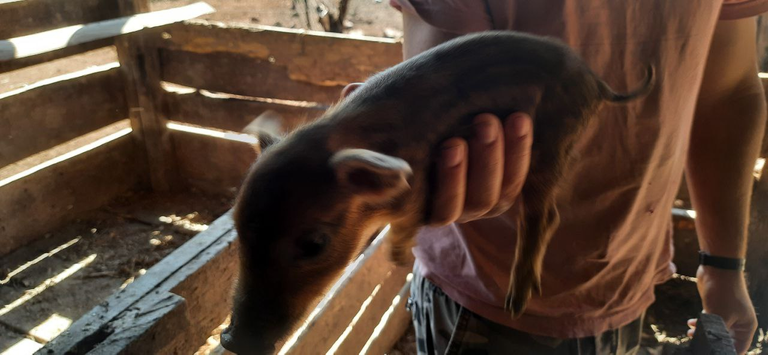 In this way I made the tour showing you how these animals are growing, AS I HAVE COMMENTED IN OTHER POSTS, FOR EXAMPLE OF THE PERITO MORENO GLACIER, I SAY THAT I AM NOT A TOURIST GUIDE, BUT I AM A TOURIST GUIDE, BUT I AM A TOURIST GUIDE SO THAT YOU CAN ENJOY IT WHEN YOU PASS BY MY POST.
THANK YOU VERY MUCH FOR FOLLOWING ME AND READING ME, HAVE A GREAT SATURDAY.