Hola como están todos, hoy amanecí con muchas ganas de efectuar una limpieza, la parte de las chatarras así que la mejor idea que tuve fue la de armar con las mismas o sea las chatarras una mesita para colocar el equipo de música, la mejor manera de pasar el tiempo y mantenerme ocupado, fue la de no dudar mas un segundo y manos a la obra, prepare la moladora, la maquina de soldar, los electrodos, pinzas y un alargue para la corriente eléctrica, comencé con lo que seria mi mano de obra, revolviendo hasta dar con el material que necesitaba para realizar dicha mesita, como se puede ver en la foto, son varias parte de material que tengo, como digo yo todo sirve, mas cuando le ponemos amor y perseverancia para hacerlo todo sale bien.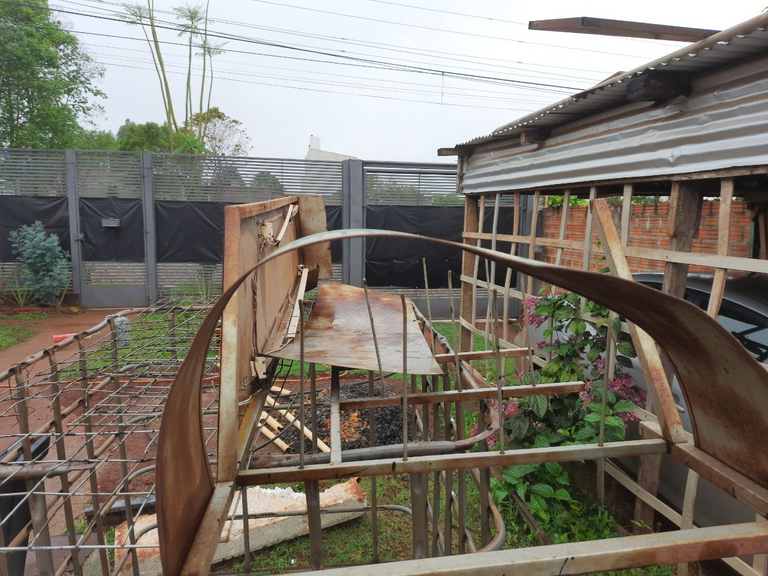 Comencé con las medidas de lo que quería armar y para que finalidad, bueno como les dije la finalidad Hera armar una mesita para el equipo de música, no tarde mucho en tener en mi mente lo que realmente quería hacer, entonces al ver que en las chatarras había un estante viejo que no tenia mas uso, pero si para lo que yo quería, comenzando con las medidas del equipo de música, lleve las mismas o sea las medidas para ir reformando dicho estante dejando varias parte cortadas con la moladora, parte de lo que seria chapas y también de caños, teniendo todo lo necesario lleve hacia la parte del quincho donde podría encontrarme mas cómodo para trabajar, como es lo mas importante la sombra, porque el sol es muy fuerte y en ese lugar estaría bien.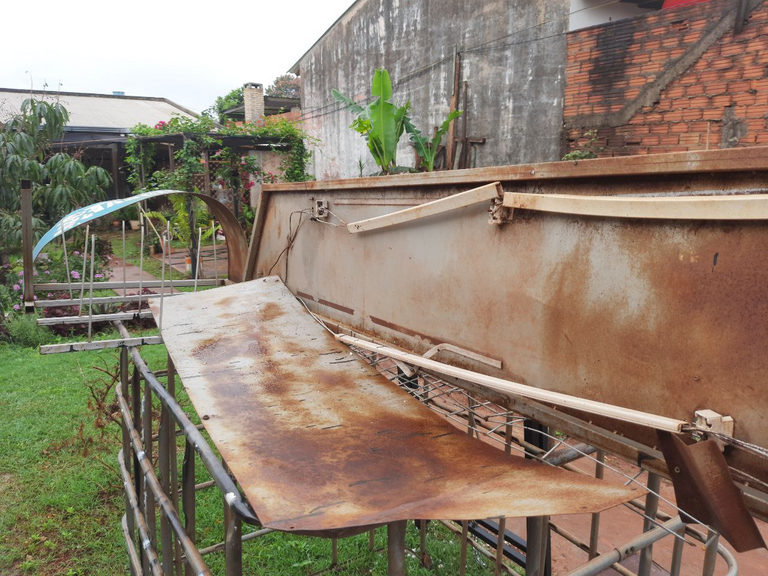 Por lo tanto ya estando cómodo en una parte del quincho me acomode y puse manos a la obra, cortando, soldando partes de la estructura, para de esa manera ir dándole forma a dicha mesita, una ves todo soldado comencé con los detalles pasando la moladora, al mismo tiempo quitando la pintura vieja de dichos materiales, o sea los caños y chapa.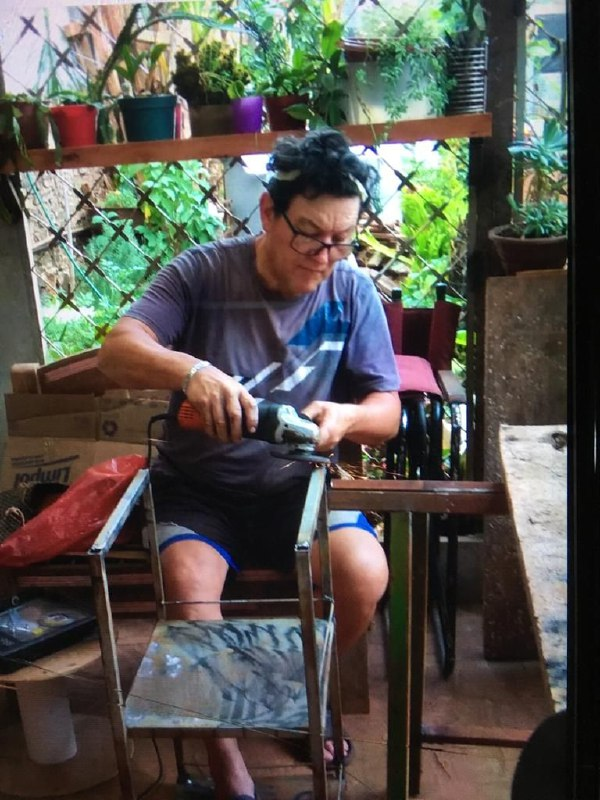 La verdad en lo personal para mi es como un relax, como pueden comprobar viendo en la foto lo concentrado que me encuentro, es por los detalles, no es que sea perfeccionista pero me agrada que todo lo que hago o construyo salga lo mejor posible, quizás ya lo habrán observado en publicaciones mías anteriores, así que en la siguiente publicación estaré terminando los detalles y la mesita propiamente dicha.
Lo que rescato amigos es que siempre no es conveniente arrojar a la basura, quizás si tenemos poco espacio pero de lo contrario es conveniente acomodar en un rincón, entonces cuando nos sale una iniciativa como esta la llevamos a la practica, puede ser para varias cosas, de tal manera que les haya agradado lo explayado no duden de enviar sus comentarios.
MUCHAS GRACIAS POR SEGUIRME Y LEERME, QUE TENGAN UN BELLO DIA EN FAMILIA.
TRANSLATED INTO ENGLISH
Hello everyone, today I woke up with a lot of desire to make a cleaning, the part of the scrap so the best idea I had was to assemble with the same or the scrap a table to place the stereo, the best way to pass the time and keep me busy, was not to hesitate a second and hands to work, prepare the grinder, the welding machine, electrodes, clamps and an extension cord for electric current, I started with what would be my labor, stirring until I found the material needed to make such a table, I started with what would be my labor, stirring until I found the material needed to make such a table, the welding machine, the electrodes, tweezers and an extension cord for the electric current, I started with what would be my labor, stirring until I found the material I needed to make the table, as you can see in the picture, there are several parts of material that I have, as I say everything works, but when we put love and perseverance to do it everything works out well.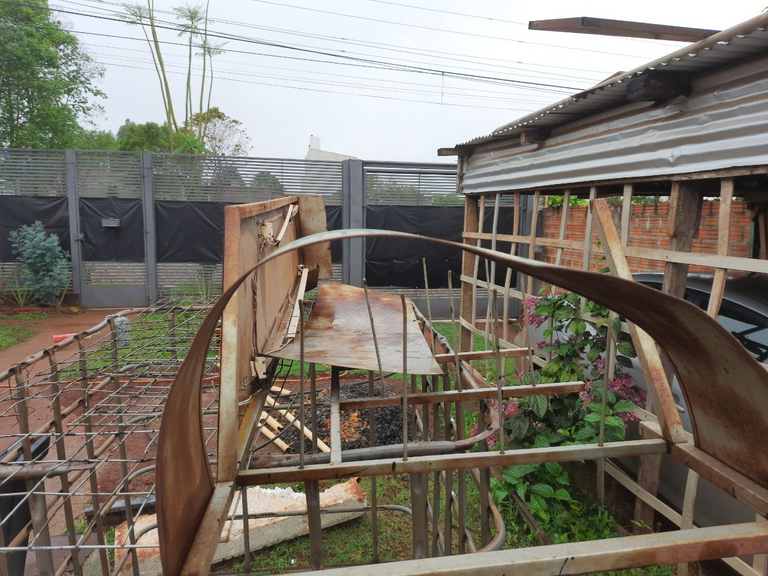 I started with the measures of what I wanted to assemble and for what purpose, well as I said the purpose was to assemble a table for the stereo, it did not take long to have in my mind what I really wanted to do, then seeing that in the scrap there was an old shelf that had no more use, but if for what I wanted, starting with the measures of the stereo, I took the same measurements to reform the shelf leaving several parts cut with the grinder, part of what would be plates and pipes, having everything I needed I took to the part of the quincho where I could be more comfortable to work, as the most important thing is the shade, because the sun is very strong and in that place it would be fine.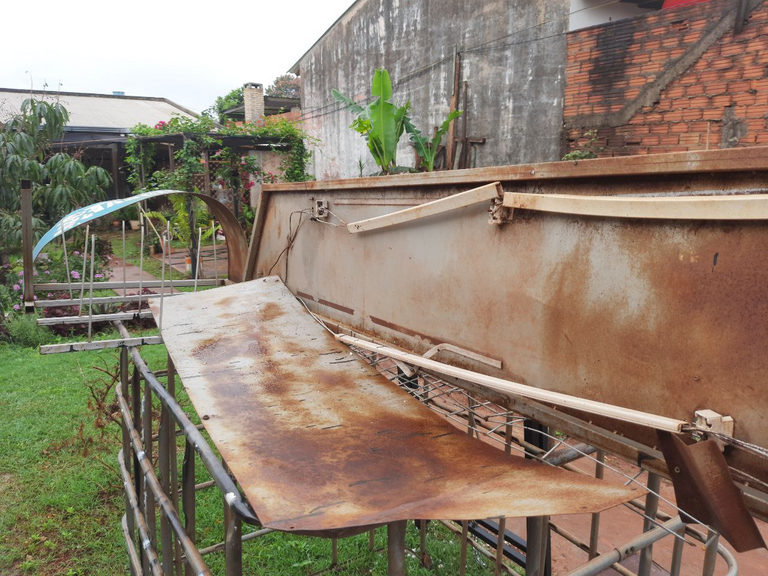 So being already comfortable in a part of the quincho I settled in and got down to work, cutting, welding parts of the structure, to give shape to the table, once all welded I started with the details passing the grinder, at the same time removing the old paint from these materials, that is the pipes and sheet metal.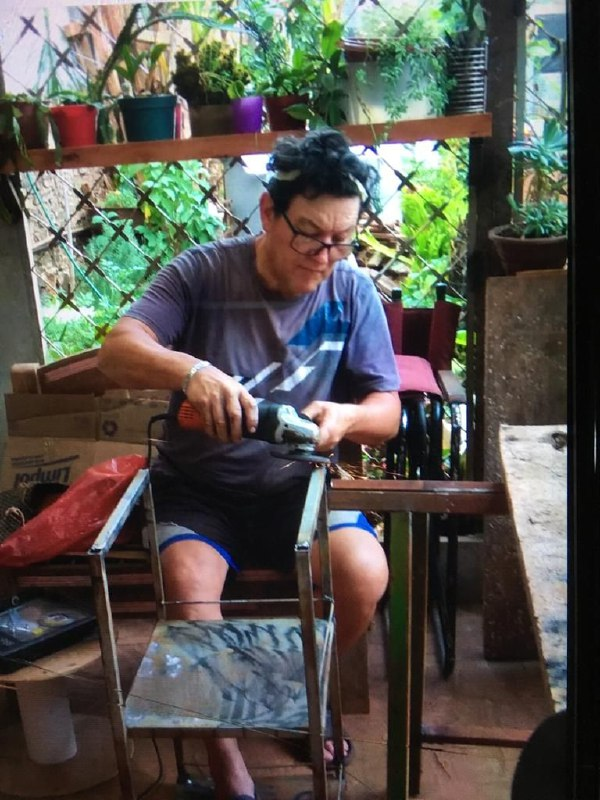 The truth personally for me is like a relax, as you can see in the photo how concentrated I am, it is for the details, it is not that I am a perfectionist but I like everything I do or build comes out as best as possible, perhaps you have already observed in previous publications of mine, so in the next publication I will be finishing the details and the table itself.
What I rescue friends is that it is not always convenient to throw in the trash, maybe if we have little space but otherwise it is convenient to accommodate in a corner, then when we get an initiative like this we put it into practice, it can be for several things, so that you have liked what I have explained do not hesitate to send your comments.
THANK YOU VERY MUCH FOR FOLLOWING ME AND READING ME, HAVE A NICE DAY WITH YOUR FAMILY.