Hola a todos, esta mañana, al salir de mi casa, en la manzana donde vivo, existe una parte de terreno que se encuentra sin vivienda o sea baldío, en el mismo crecen varias plantas, pero una de ellas me llamo la atención, lo digo por su forma, altura, sus flores y color de las mismas, así que me puse a buscar su nombre el cual alle, dicha planta se llama eritrina américa.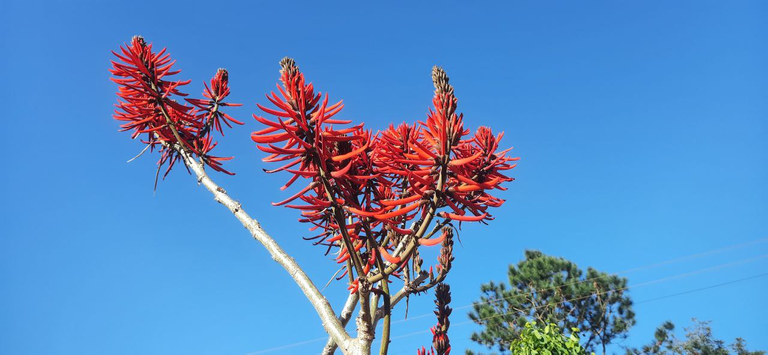 La misma es una planta que llega a crecer 10 metros a veces, dicho árbol se usa como árbol ornamental, como árbol de sombra en los cultivos de café y de cacao, como soporte en otros cultivos y en cercos vivos o se forman como una cortina alrededor de las plantaciones antes mencionadas, también como abono y alimento para animales, sus flores son comestibles, con las cuales se pueden preparar infusiones, porque contienen propiedades sedantes,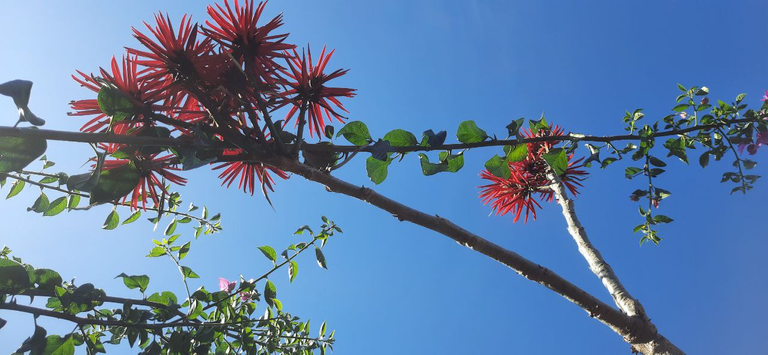 Su tallo es muy carnoso de un color verde claro, sus hojas se separan del tallo, como ven en la foto, las mismas son muy grandes, en forma de corazón, no son muy abundantes y sus flores crecen en forma de ramos, yo las comparo a los pétalos como bastoncitos de papas fritas, de un color rozo anaranjado.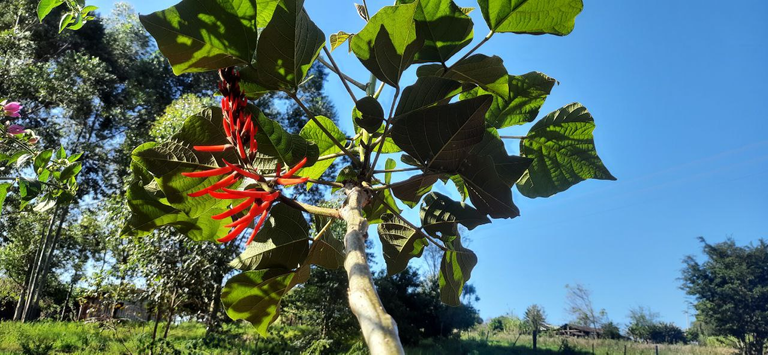 Buen también la forma del pétalo de la flor tiene la forma de un ají picante, diría muy parecido, tiene muchas propiedades curativas, dicho árbol es oriundo de la parte hispana, se pueden hallar las partes mas plantadas en el centro sur de sud américa, como por ejemplo CHILE, PERU, BRASIL, PARAGUAY y parte de ARGENTINA, contiene químicos como el alcaloide.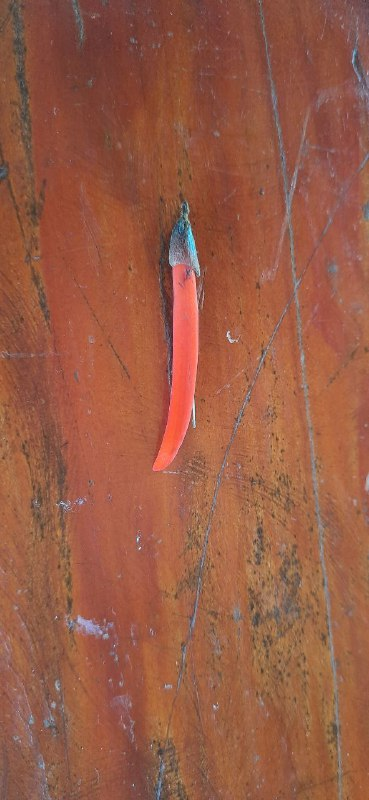 De esa manera amigos, investigando un poco esta bella planta de flor como dije roja, anaranjada, es sorprendente todo su beneficios, es para tener en cuenta de la misma, sabiendo que todo esto es obra de la MADRE NATURALEZA, la cual es la máxima creación de nuestro señor DIOS.
MUCHAS GRACIAS POR SEGUIRME Y LEERME, QUE PASEN UN BELLO Y MARAVILLOSO DIA.
TRADUCIDO AL INGLES.
Hello everyone, this morning, leaving my house, in the block where I live, there is a part of land that is without housing or wasteland, in it grow several plants, but one of them caught my attention, I say this because of its shape, height, its flowers and color of the same, so I started looking for its name which alle, this plant is called eritrina america.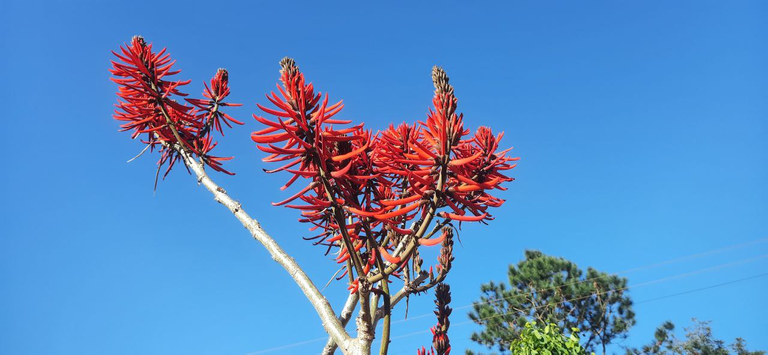 The same is a plant that grows up to 10 meters sometimes, this tree is used as an ornamental tree, as a shade tree in coffee and cocoa crops, as support in other crops and live fences or are formed as a curtain around the plantations mentioned above, also as fertilizer and animal feed, its flowers are edible, with which you can prepare infusions, because they contain sedative properties,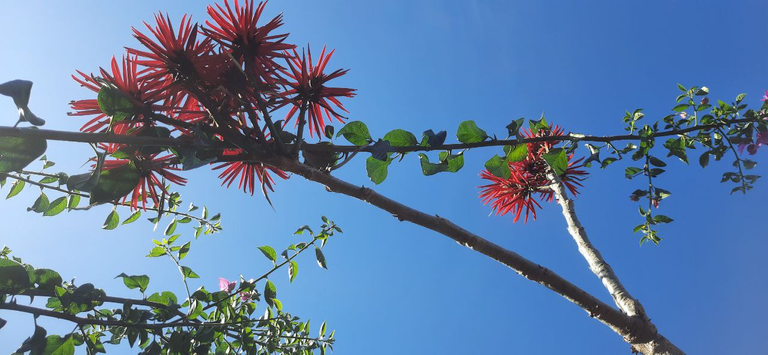 Its stem is very fleshy of a light green color, its leaves are separated from the stem, as seen in the photo, they are very large, heart-shaped, are not very abundant and its flowers grow in bunches, I compare them to the petals as sticks of potato chips, a reddish-orange color.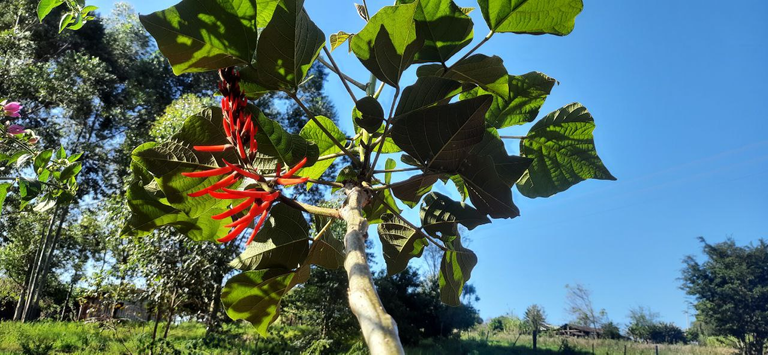 Good also the form of the petal of the flower has the form of a hot bell pepper, I would say very similar, it has many curative properties, this tree is native of the Hispanic part, the most planted parts can be found in the center south of South America, as for example CHILE, PERU, BRAZIL, PARAGUAY and part of ARGENTINA, it contains chemicals such as alkaloid.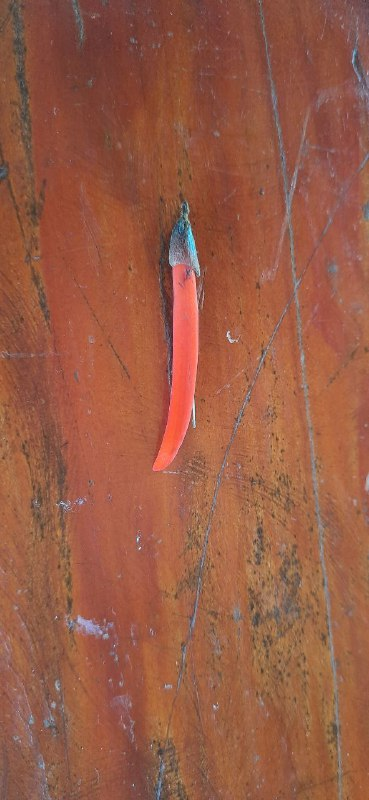 So friends, investigating a little this beautiful plant flower as I said red, orange, is surprising all its benefits, is to take into account the same, knowing that all this is the work of MOTHER NATURE, which is the ultimate creation of our Lord GOD.
THANK YOU VERY MUCH FOR FOLLOWING ME AND READING ME, HAVE A BEAUTIFUL AND WONDERFUL DAY.