A veces nos sorprendemos cuando vemos estas cosas, por ejemplo estas fotos donde se puede observar esta gran construcción la cual pertenece a una empresa constructora, la verdad amigos lo que me llamo la atención es que mientras viajaba veía todo lo que es plantación de soja, pero de repente algo de color rojo comenzó a aparecer, fue grande mi sorpresa, todo de color verde y de golpe algo de color rojo sobresaliendo y en el horizonte algunos que otros arboles, luego la gran sabana verde, dejando de esa manera un bello paisaje.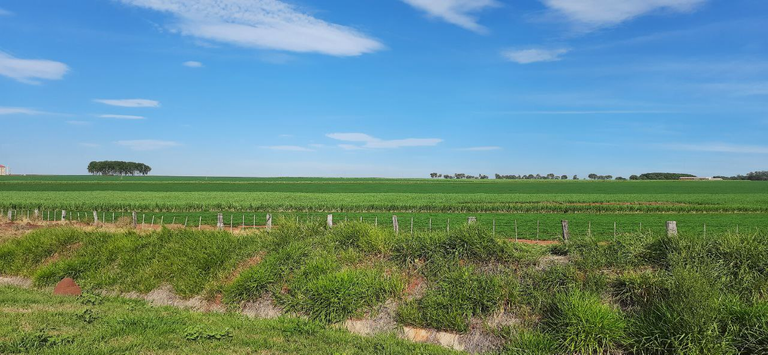 Bueno al aproximarnos apenas se podía leer el nombre y a que se dedican, lo cual decía que todo referente a la construcción tanto viviendas como rutas, caminos, puentes, silos para granos de hormigón, etc., la verdad me emociono todo esto además como se veía hasta ahí, todo bien prolijo y ordenado, eso me dio a entender que todo lo que construyen lo hacen muy bien o sea excelente.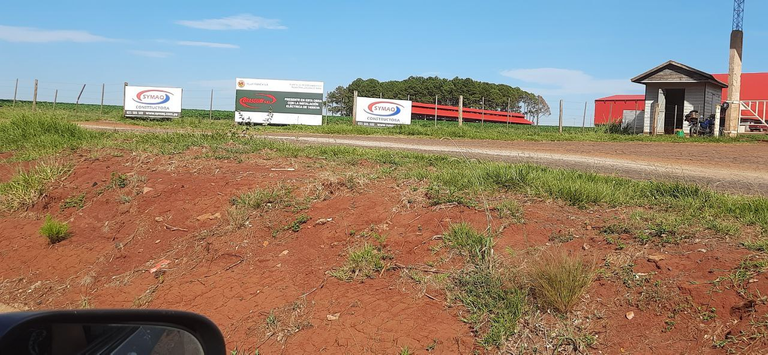 Como verán amigos el contraste de todo, por un lado color blanco, rojo, negro, colorado de la tierra y lo mejor el verde del resto de la plantación, que sin lugar a duda es lo mas productivo en lo que a campo se refiere.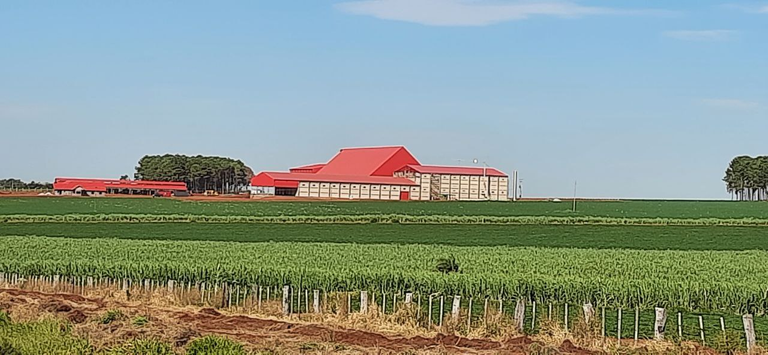 Acá se puede ver también la plantación de maíz que sobresale de la soja por el color verde pero mas claro, la verdad que a cierta distancia si no supiera diría que es una maqueta gigante, por la perfección de su construcción, por la forma y colores.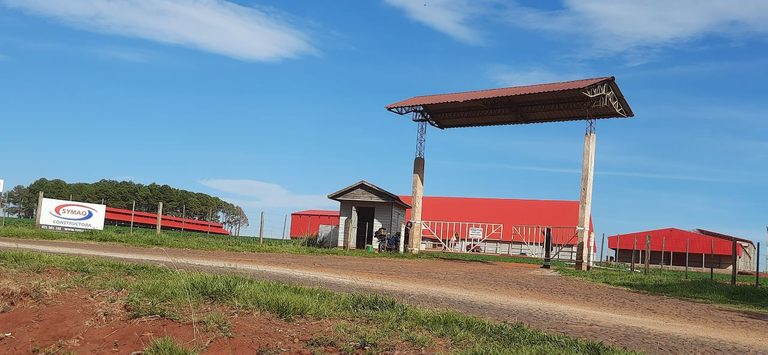 Pasando por el frente es cuando note todo eso, hasta ese momento no podía saber de que se trataba tan bella construcción y en el medio de la nada, como mencione, resaltando todo lo que es del verde de las plantaciones, esas cosas son las que me sorprenden y me da esperanza de que todo seguirá evolucionando cada día mas, para un futuro mejor.
MUCHAS GRACIAS POR SEGUIRME Y LEERME, QUE TENGAN UN EXCELENTE DIA
TRANSLATED INTO ENGLISH.
Sometimes we are surprised when we see these things, for example these photos where you can see this great construction which belongs to a construction company, the truth friends what caught my attention is that while traveling I saw everything that is soybean plantation, but suddenly something red began to appear, it was great my surprise, all green and suddenly something red sticking out and on the horizon some other trees, then the great green savannah, thus leaving a beautiful landscape.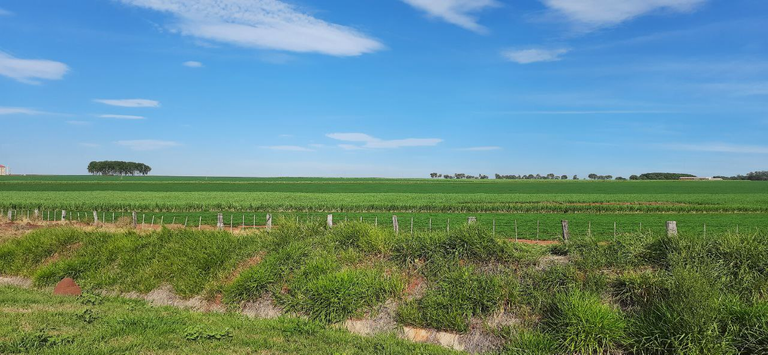 Well, as we approached you could barely read the name and what they do, which said that everything related to the construction of both housing and roads, roads, bridges, silos for concrete grains, etc., the truth I was excited about all this plus as it looked so far, all neat and tidy, that gave me to understand that everything they build is done very well or excellent.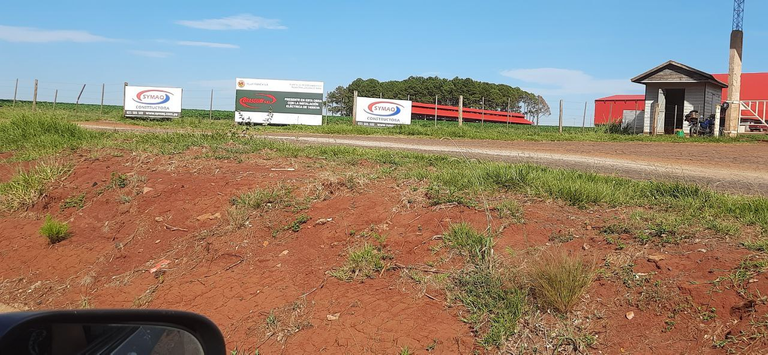 As you can see friends the contrast of everything, on the one hand white, red, black, red of the land and the best of the green of the rest of the plantation, which undoubtedly is the most productive as far as the field is concerned.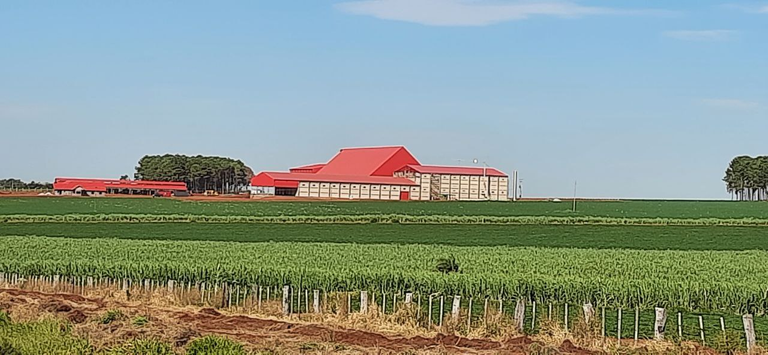 Here you can also see the corn plantation that stands out from the soybeans because of the green color but lighter, the truth is that from a distance if I did not know I would say it was a giant model, because of the perfection of its construction, shape and colors.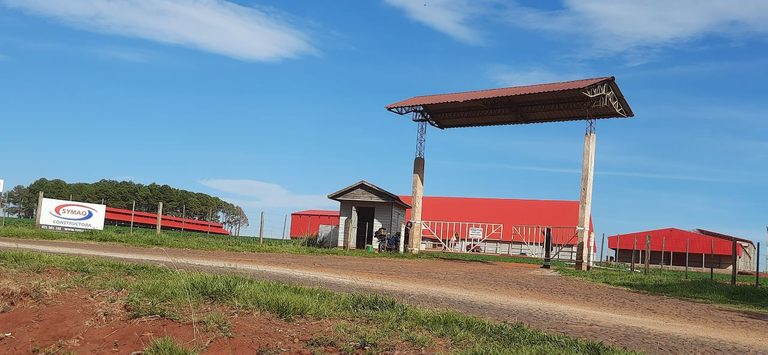 Passing by the front is when I noticed all that, until that moment I could not know what was so beautiful construction and in the middle of nowhere, as I mentioned, highlighting all that is green plantations, those things are what surprise me and gives me hope that everything will continue to evolve more and more every day, for a better future.
THANK YOU VERY MUCH FOR FOLLOWING AND READING ME, HAVE A GREAT DAY.