Hola a todos, cuando uno se propone lo puede lograr, quiero decir con esto el de fabricar tendedero para la ropa después de ser lavada, es ahí cuando me propuse a fabricarle algo cómodo y que le de un buen resultado en el secado de las prendas, lo primero fue ejecutar el proyecto de como lo fabricaría, el tiempo, el material y en las condiciones en que lo haría, así que puse mano a la obra, comenzando a cortar todas las medidas que necesitaría, para luego ir soldando dichos caños, para empezar lo que ven en esta foto seria la parte de la base.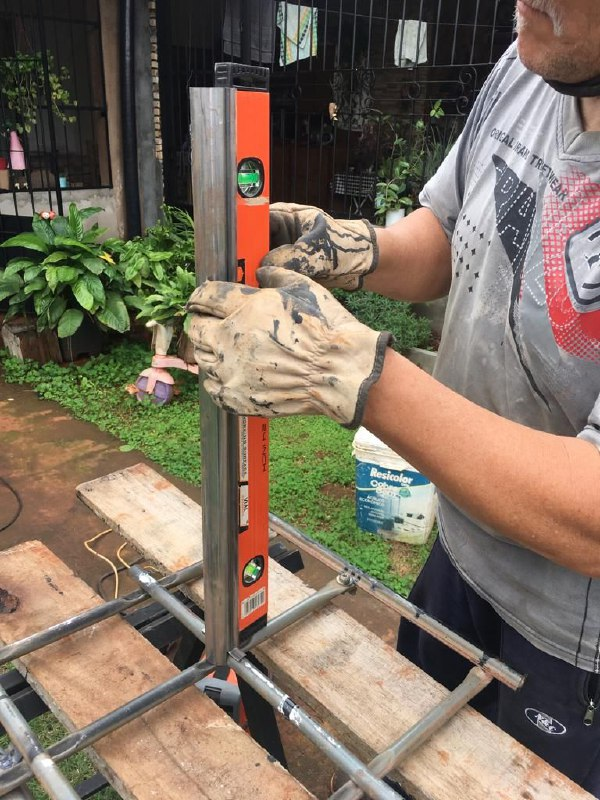 Es muy importante que este todo en la medida que podamos y que corresponde que quede bien o sea el nivel principalmente, dado que seria lo fundamental, lo comparo con el ser humano, si tenemos el zapato mal colocado, pisamos mal, por ende nos paramos torcidos, buen en este caso es similar porque si esta todo a nivel, dicho tendedero estará bien derecho, es por eso que se debe soldar muy bien esta parte.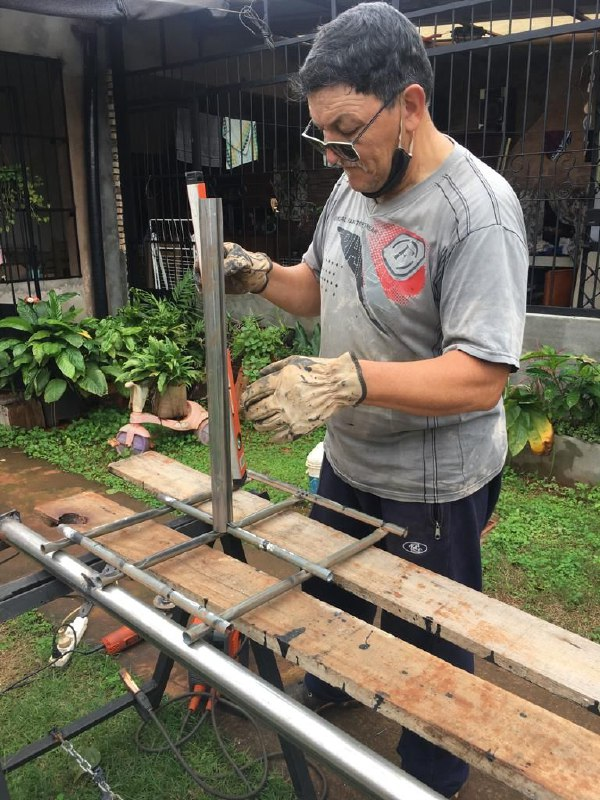 Para que dicha base una ves que se le arme bien el concreto en la parte soldada como ven en esta foto, por lo tanto la finalidad del mismo es para que quede bien firme el tendedero y no se caiga con el viento, cuando este sopla fuerte, porque hace girar todo el tendedero, secando de esa manera las prendas de forma mas rápida.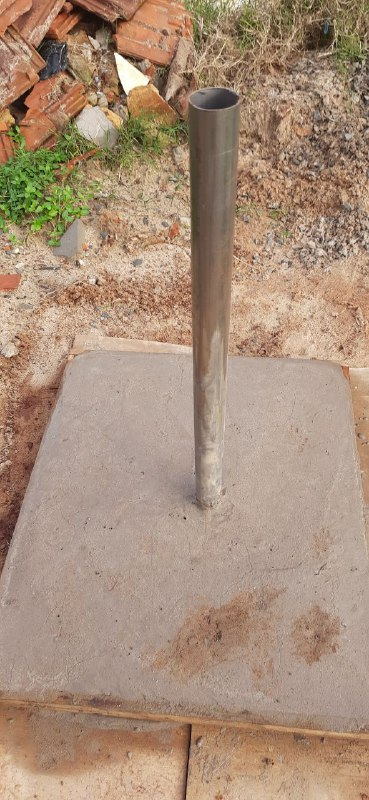 Luego de pintar todos los hierros que componen este entendedero, asimismo la base también, luego armarlo todo con mucha dedicación, con amor y perseverancia, para que de esa manera salga todo bien como se ve en la foto, por supuesto que el hormigón de la base también queda pintado para que sea todo uniforme.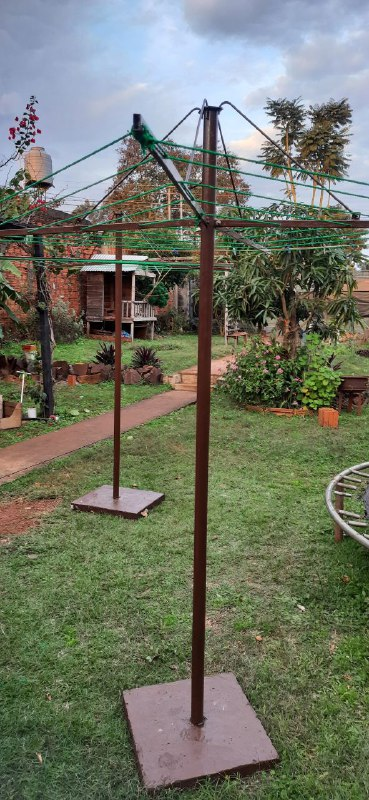 Así que teniendo a conciencia todo bien claro lo que tenia que fabricar, para quedar bien con mi esposa, por ende ella también agradecida por tener esa comodidad y facilidad para sus prendas y por supuesto amigos como digo siempre si todo lo que hacemos lo hacemos con amor y perseverancia, sale bien.
MUCHAS GRACIAS POR SEGUIRME Y LEERME, QUE PASEN UN EXCELENTE DOMINGO EN FAMILIA Y POR SUPUESTO PROYECTANDO LA FABICACION PARA LA AMA DE LA CASA.
TRANSLATED INTO ENGLISH.
Hello everyone, when you propose you can achieve it, I mean with this to make clothesline for clothes after being washed, that's when I decided to make something comfortable and that will give a good result in the drying of the garments, the first thing was to run the project as it would manufacture, time, material and the conditions in which it would, so I put hand to work, starting to cut all the measures I would need, and then go welding these pipes, to start what you see in this picture would be the part of the base.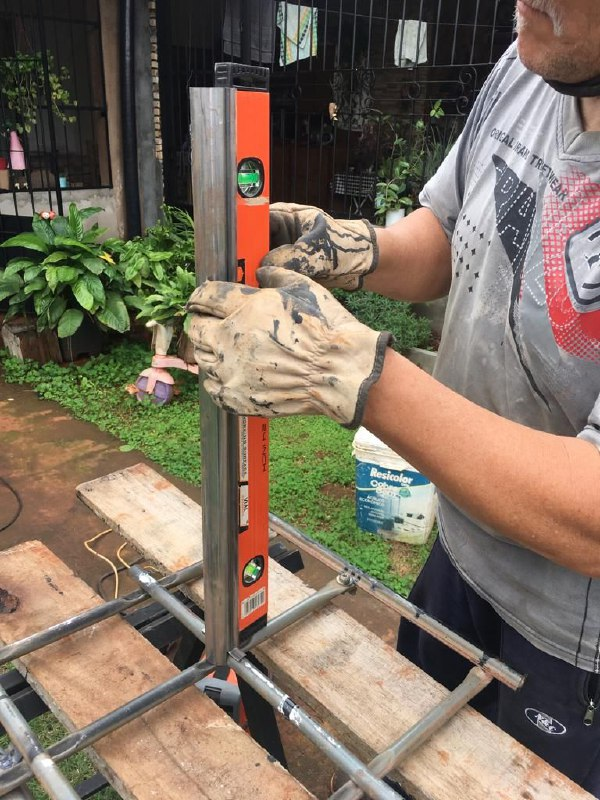 It is very important that this all in the measure that we can and that corresponds that it is well or the level mainly, since it would be the fundamental thing, I compare it with the human being, if we have the shoe badly placed, we step badly, therefore we stand crooked, well in this case it is similar because if this all level, this clothesline will be well straight, that is why this part must be welded very well.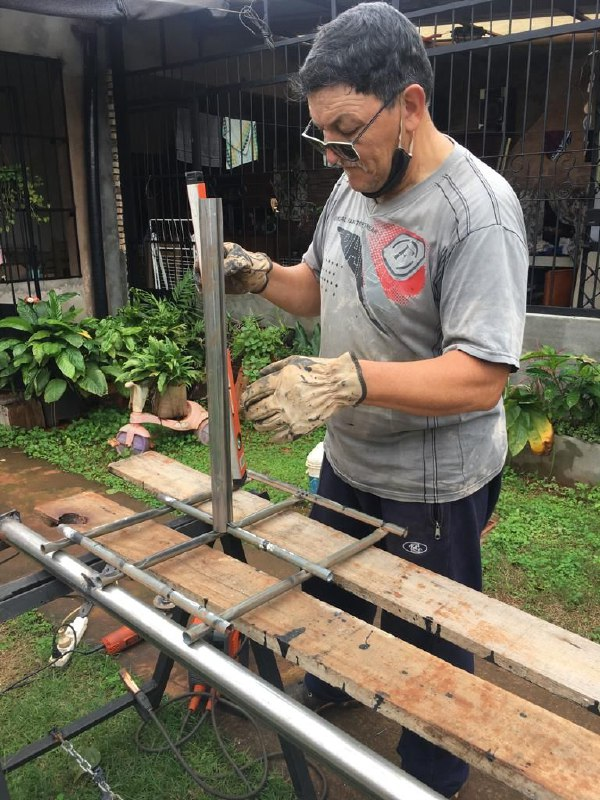 For this base once the concrete is well welded in the welded part as you can see in this photo, so the purpose of it is to make the clothesline firm and not fall with the wind, when the wind blows hard, because it rotates the whole clothesline, thus drying the clothes faster.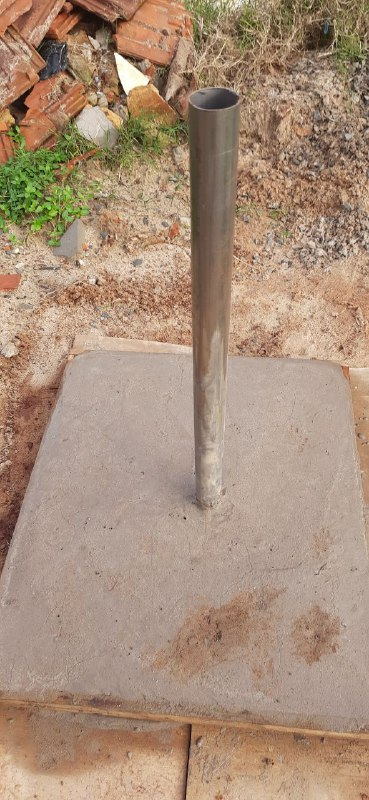 After painting all the irons that make up this clothesline, also the base also, then put it all together with great dedication, with love and perseverance, so that in this way everything goes well as seen in the photo, of course the concrete of the base is also painted to make it all uniform.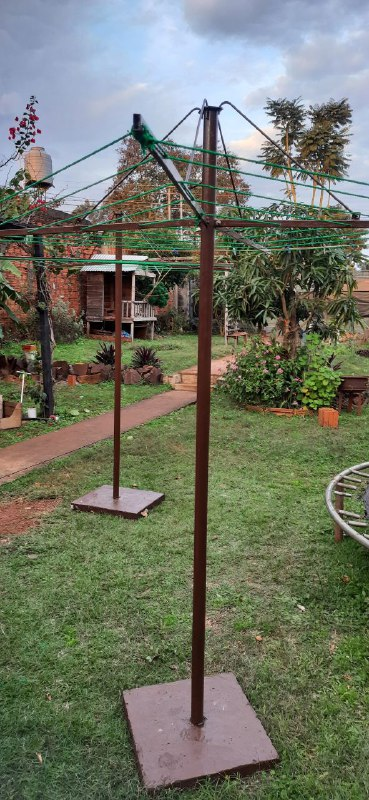 So having everything very clear what I had to make, to look good with my wife, so she also grateful for having that comfort and ease for their clothes and of course friends as I always say if everything we do we do it with love and perseverance, it comes out well.
THANK YOU VERY MUCH FOR FOLLOWING ME AND READING ME, HAVE A GREAT SUNDAY WITH YOUR FAMILY AND OF COURSE PROJECTING THE FABRICATION FOR THE HOUSEWIFE.