Buenos días a todos, estando de paseo en la casa de mi hija en BUENOS AIRES, ARGENTINA, a pedido de mi nieto y mi nieta, los cuales reclamaron al abuelo para que les haga una pared en su habitación porque la misma es muy grande entonces como cada uno quería su habitación, ahí esta el abuelo para fabricarles dicha pared, no perdí tiempo y manos a la obra, lo primero Hera medir la cantidad de madera que utilizaría, siendo las mismas alfajías, tirantes y machimbres de media pulgada.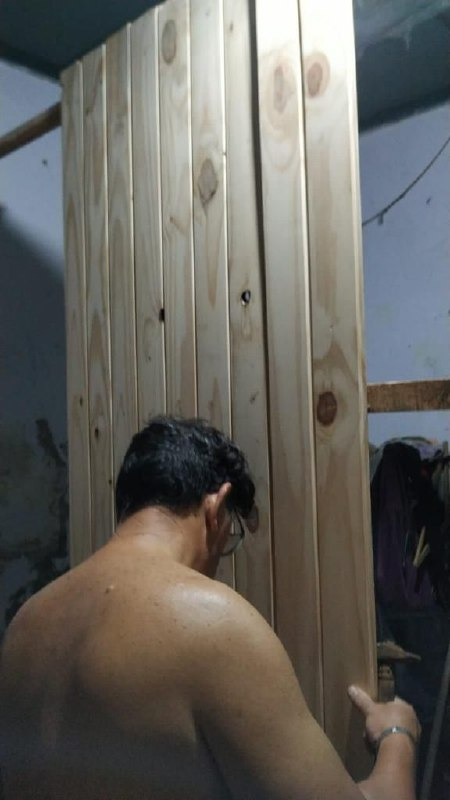 Estando ya la medida y la madera, solamente me resto encuadrar todo, para comenzar con la pared, así que amurando las alfajías en las paredes, también los tirantes en el piso, siendo todos de una medida de 2 mts. 30 cm. de altura.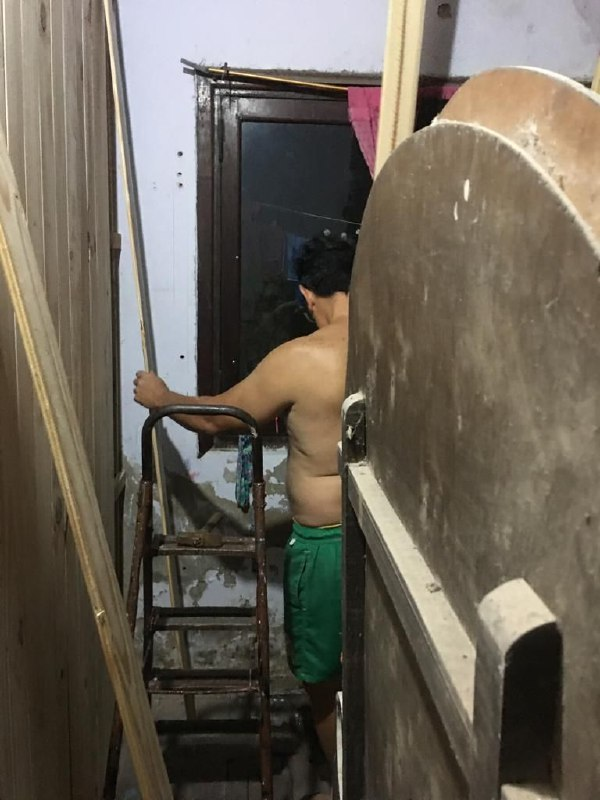 Cuando estaba ya clavando dichos machimbres, verán que estaba solamente en shorts, Hera debido al intenso calor de BUENOS AIRES, sabemos cuando hay un poco de humedad en el ambiente y el sol esta a pleno, el calor llega a ser sofocante.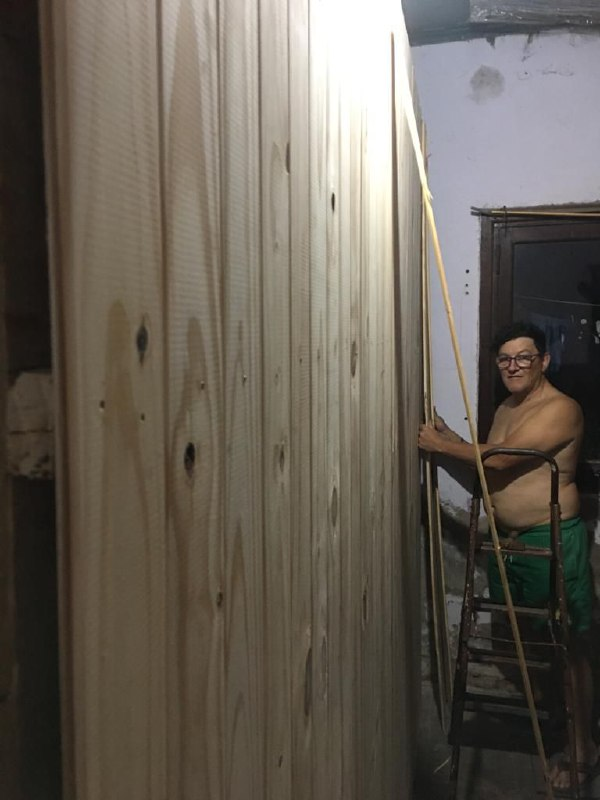 Como verán amigos cada ves faltaba menos, como siempre digo al comenzar un trabajo es lo siguiente, si todo lo que hacemos le ponemos amor y perseverancia las cosas salen bien , debido a la altura de las maderas, debí utilizar una escalera, para que saliera todo bien prolijo.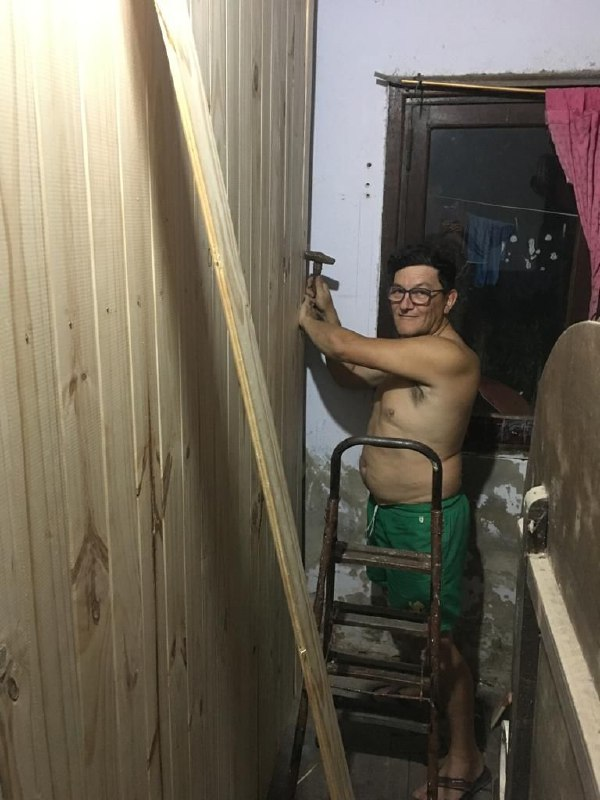 En esta fotografía se puede ver la terminación de dicha pared, quedando perfectamente y mas bella la habitación de cada uno, de esta manera el abuelo dejo muy feliz a dos de sus nietos y nieta, la verdad que la función de un abuelo en la familia, en mi caso es ser como un comodín, por estar siempre listo como los boi scout , eso me hace muy feliz en lo personal, porque lo digo siempre, es el mejor legado que les dejo a mis nietos, el de colaborar y estar siempre ahí preparado para todo.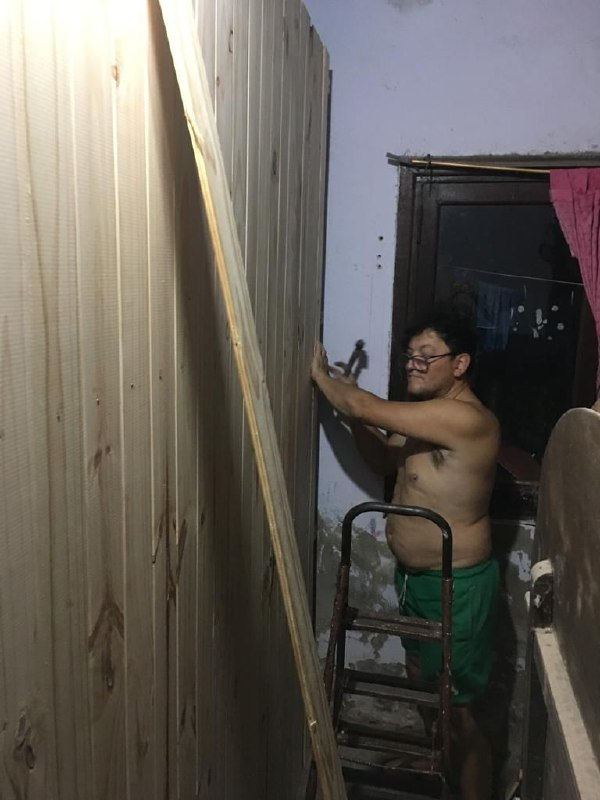 Así que como dije no nada mejor que el de hacer feliz a un niño, la verdad que con tan poca cosa, el de fabricarle una pared con madera, para que les quede una habitación a cada uno y ellos muy felices por eso.
Sabemos que existen varias maneras de hacer feliz a un niño, pero mis nietos con este trabajo que ellos colaboraron conmigo fue el mejor regalo hasta ahora, por lo tanto si el hecho de hacer feliz a un niño se trata, quedo a la espera de sus maravillosos comentarios.
MUCHAS GRACIAS POR LEERME Y SEGUIRME, BENDICIONES A TODOS.
TRANSLATED INTO ENGLISH.
Good morning everyone, being out and about at my daughter's house in BUENOS AIRES, ARGENTINA, at the request of my grandson and granddaughter, who asked my grandfather to make them a wall in their room because it is very large so as each wanted his room, there is the grandfather to make such a wall, I wasted no time and hands to work, the first thing was to measure the amount of wood to be used, being the same alfajías, suspenders and machimbres of half an inch.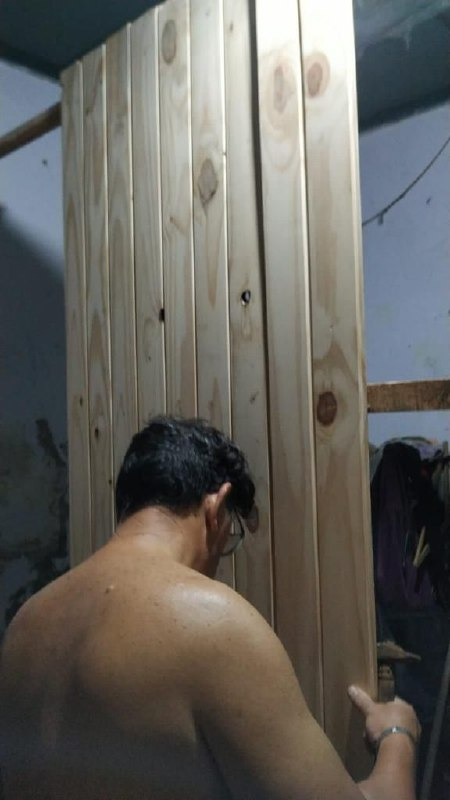 Once I had the measure and the wood, I only had to frame everything, to start with the wall, so I would fix the wall braces on the walls, also the suspenders on the floor, being all of them 2 mts. 30 cm. high.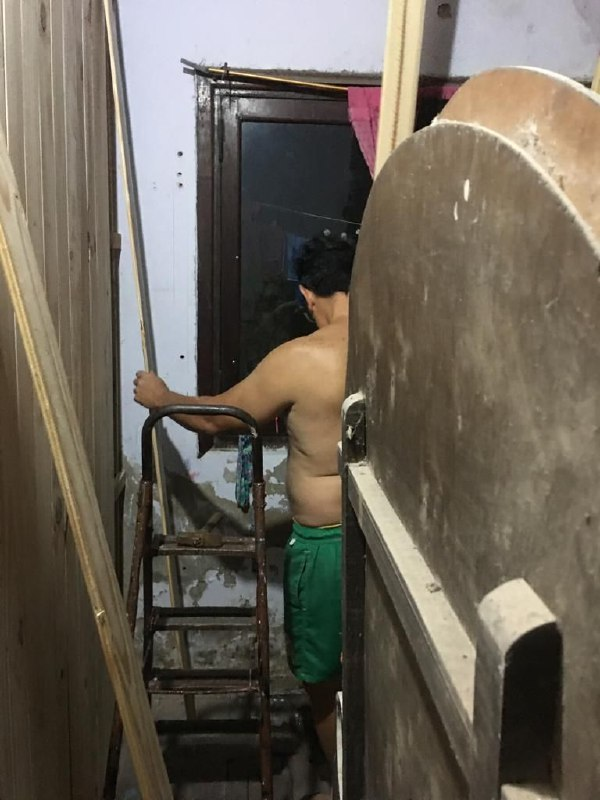 When I was nailing these machimbres, you will see that I was only in shorts, Hera due to the intense heat of BUENOS AIRES, we know when there is a little humidity in the environment and the sun is full, the heat becomes suffocating.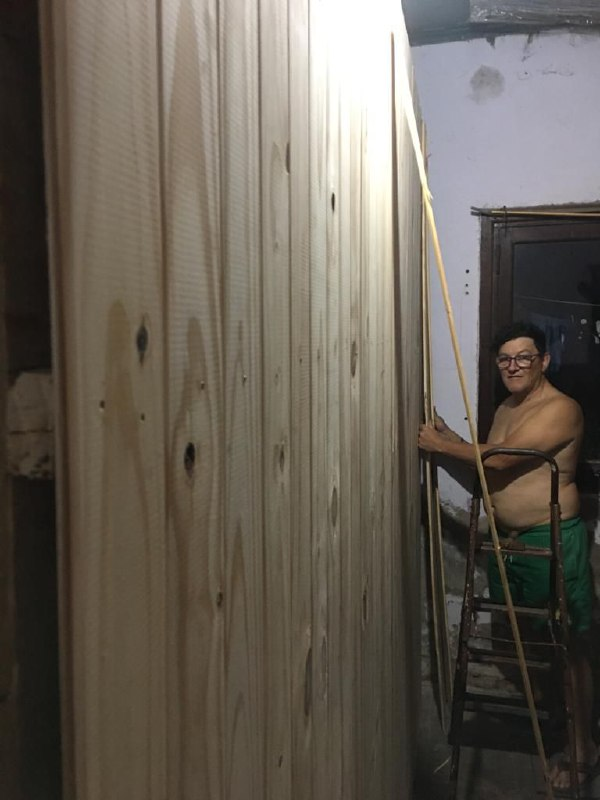 As you can see friends, as I always say when starting a job is the following, if we put love and perseverance in everything we do, things go well, due to the height of the wood, I had to use a ladder, so that everything would be neat and tidy.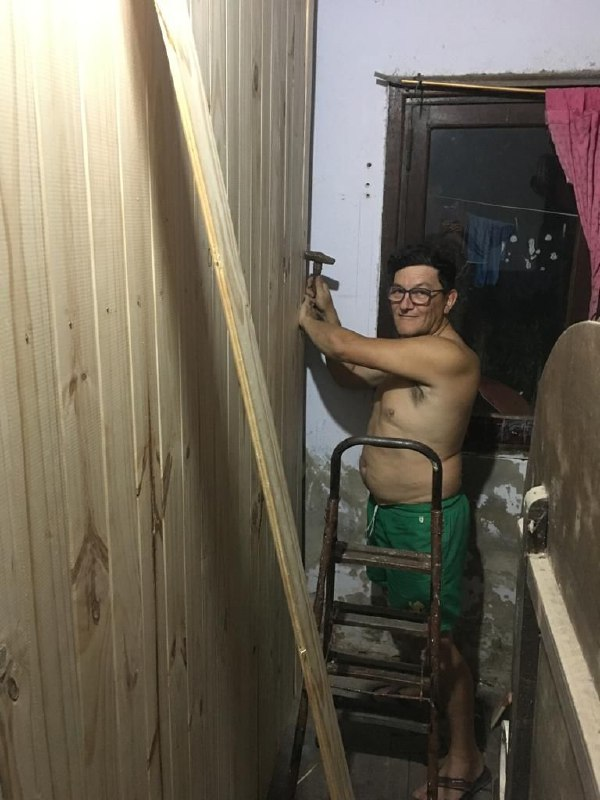 In this picture you can see the completion of the wall, being perfectly and more beautiful the room of each one, in this way the grandfather left very happy to two of his grandsons and granddaughter, the truth that the function of a grandfather in the family, in my case is to be like a joker, to be always ready as the boi scout, that makes me very happy personally, because I always say, is the best legacy I leave to my grandchildren, to collaborate and always be there ready for everything.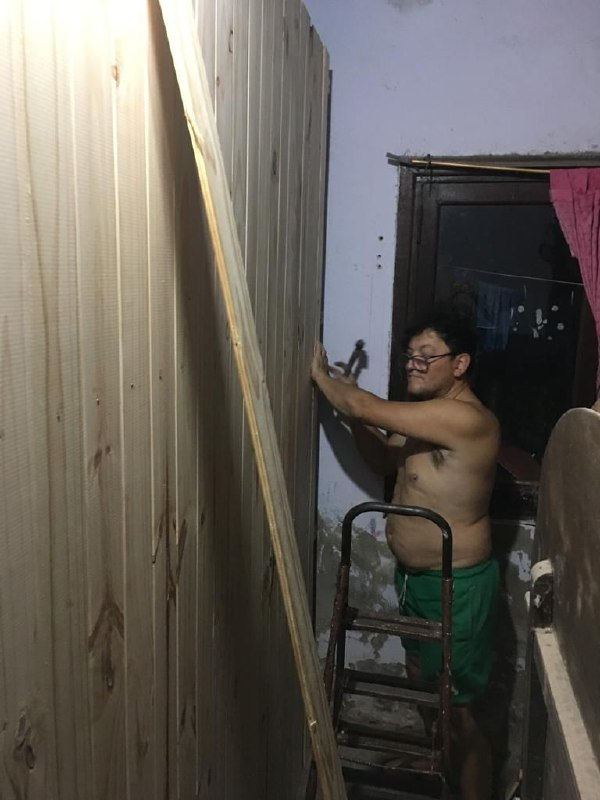 So as I said, there is nothing better than making a child happy, the truth is that with so little, making a wall with wood, so that they have a room for each of them and they are very happy about it.
We know that there are several ways to make a child happy, but my grandchildren with this work that they collaborated with me was the best gift so far, so if it is about making a child happy, I am waiting for your wonderful comments.
THANK YOU VERY MUCH FOR READING AND FOLLOWING ME, BLESSINGS TO ALL.