Buenos días a todos, como verán siguiendo con el piso que une la parrilla con la pérgola, una ves con el nivel del piso a terminar, el siguiente paso es colocar arena para rellenar donde se colocaría las lajas, previo pisotear bien dicha arena para que no quede floja, lo que se observa en esta foto es la arena que estoy volcando para rellenar.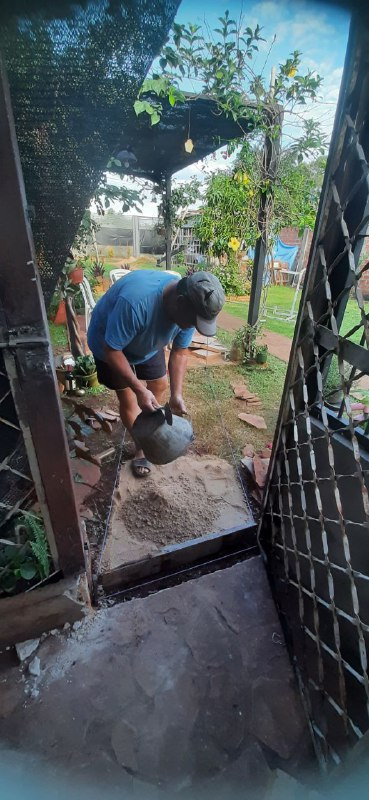 Como verán la arena estando bien asentada, se procede a colocar las lajas arriba de las mismas, y con el mango de un maso las golpeo hacia abajo, para que las misma queden bien firmes.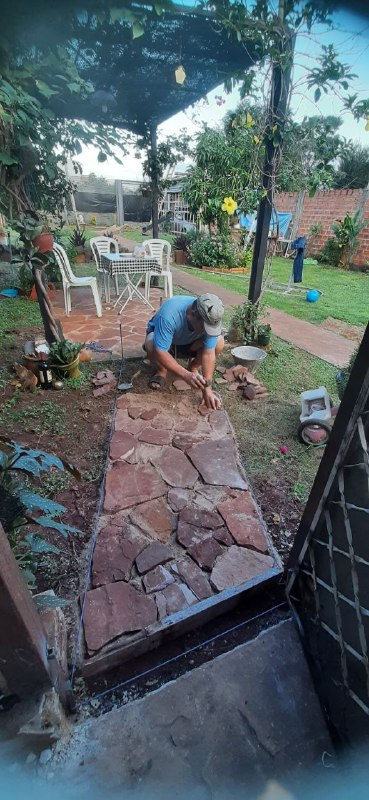 Siempre respetando el nivel de la altura del piso de la parrilla con el piso de la pérgola, este trabajo me hace acordar de cuando Hera niño y armaba los rompecabezas jaajajaj, porque se tiene que ser muy cauteloso en ir colocando dichas lajas, para que las mismas coincidan bien.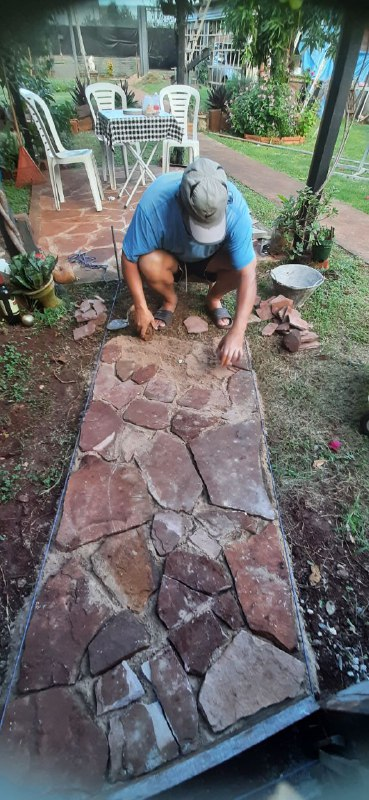 La verdad que estaba tan entusiasmado en terminar de colocar dichas lajas, que como verán me llego la noche sin darme cuenta, con luz artificial y todo apenas se pudo terminar de colocar dichas lajas.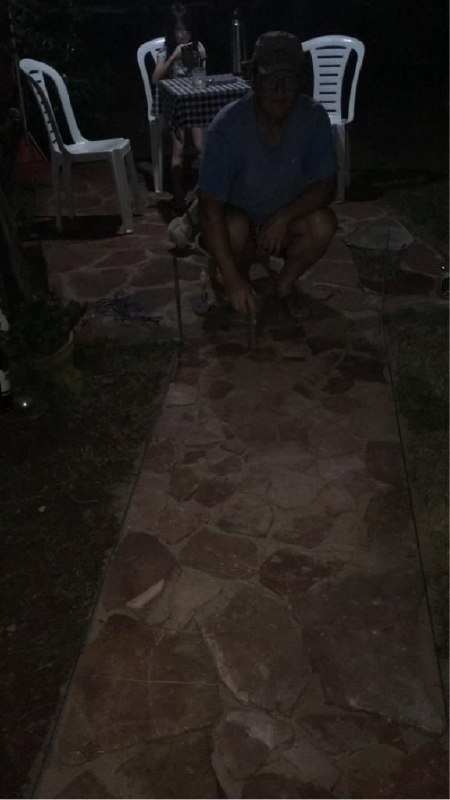 Al día siguiente para continuar lo primero, fue pasar con un cepillo de cerda todas las juntas, para que de esa manera quede un espacio donde colocaría el cemento que seria para tomar dichas juntas.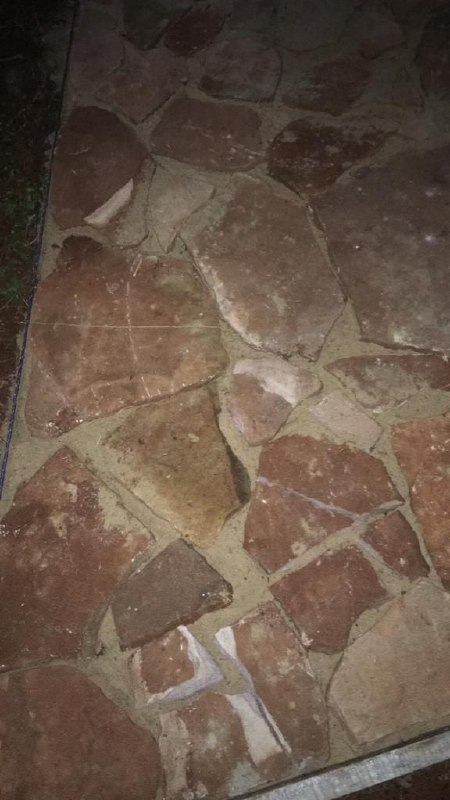 Estando las juntas limpias, es el momento de preparar el cemento lo mas blando posible, previo mojar bien el piso con agua para que la arena se asiente bien y también para que las lajas se mojen entonces se pega mejor el cemento.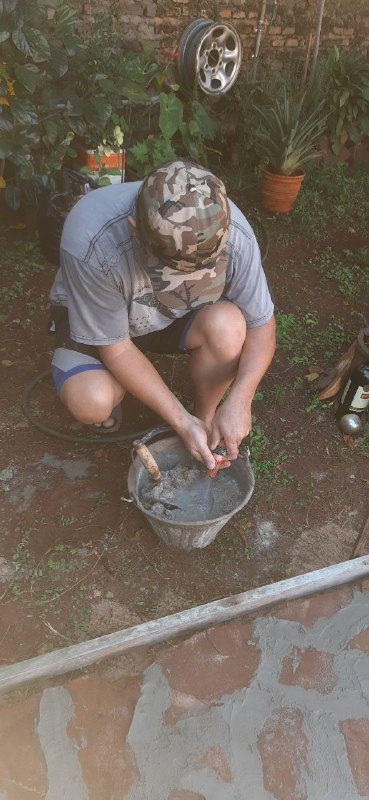 Como ven el siguiente trabajo fue colocar cemento en todas las juntas, también en los costados, como dije los mas liquido posible para que penetre bien en las juntas y que sobresalga un poco en la parte de arriba, quedando asi.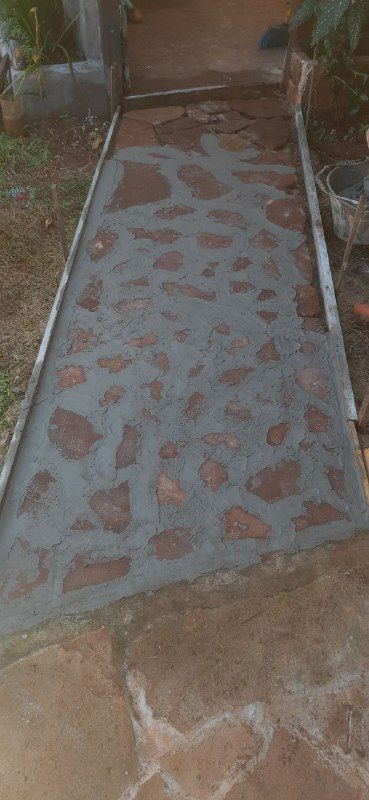 Por fin la parte final luego de que se secara un poco el cemento liquido, se le pasa una esponja con mucho cuidado, limpiando el sobrante de cemento y al mismo tiempo queda todo bien parejo como podemos ver, las piedras apenas se notan por la humedad del cemento, cuando este se seque bien se van a notar mucho mas.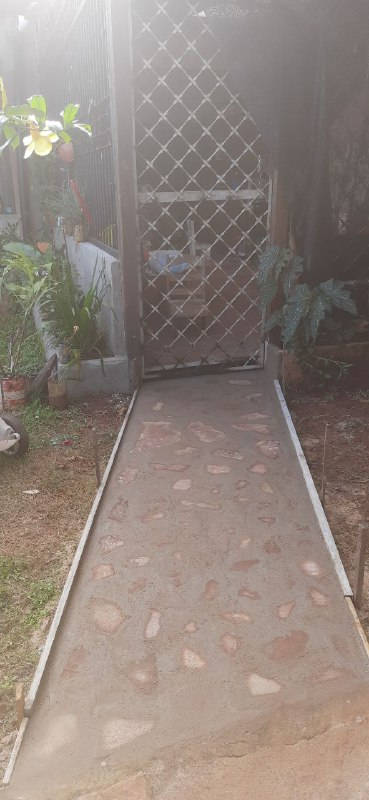 Vuelvo con mi dicho amigos, no soy constructor, pero si todo los que asemos le ponemos amor y perseverancia sale muy bien como en este caso.
MUCHAS GRACIAS POR LEERME Y SEGUIRME, QUE TEGAN UN BELLO DOMINGO EN FAMILLA.
TRANSLATED INTO ENGLISH.
Good morning everyone, as you can see following with the floor that joins the grill with the pergola, once the floor level is finished, the next step is to place sand to fill where the slabs would be placed, previously trample the sand well so that it is not loose, what is seen in this photo is the sand that I am pouring to fill.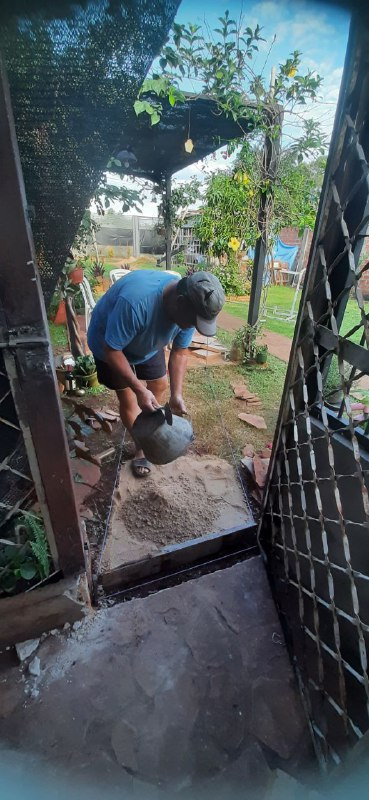 As you can see the sand being well settled, proceed to place the slabs on top of them, and with the handle of a maso I hit them down, so that they are well firm.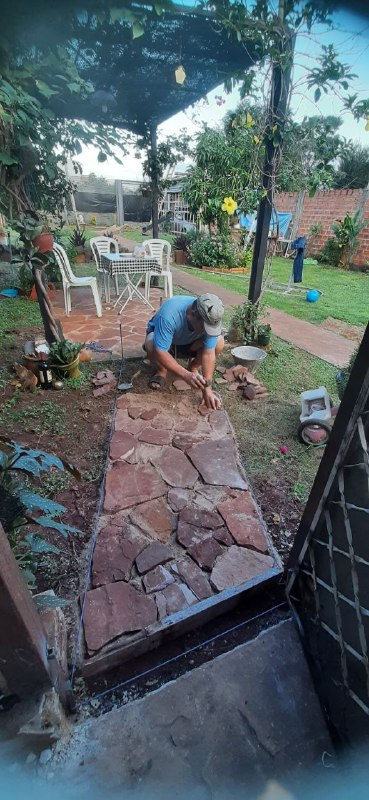 Always respecting the level of the height of the floor of the grill with the floor of the pergola, this work reminds me of when Hera was a child and assembled the puzzles hahahahahah, because you have to be very careful to be placing these slabs, so that they match well.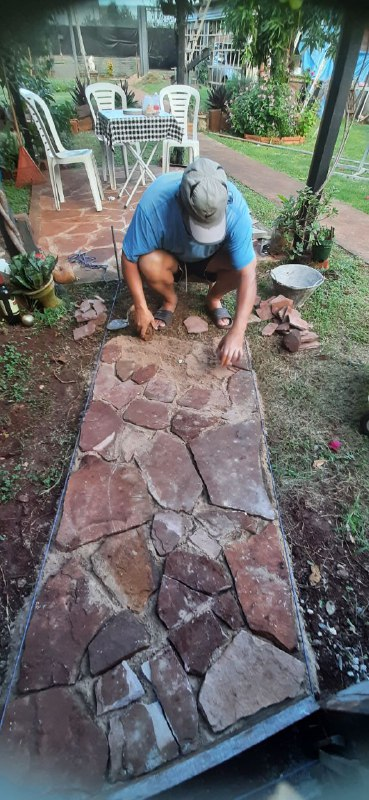 The truth is that I was so excited to finish placing the slabs, that as you can see the night came without realizing it, with artificial light and all, I could barely finish placing the slabs.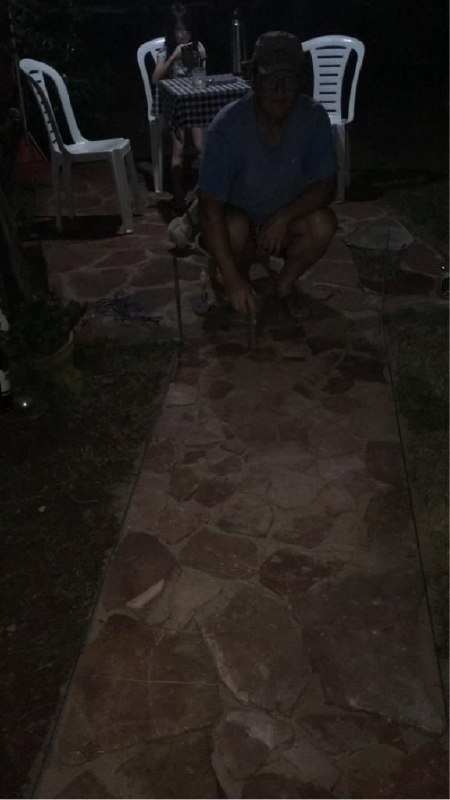 The next day to continue the first thing was to pass with a bristle brush all the joints, so that in this way there is a space where I would place the cement that would be to take these joints.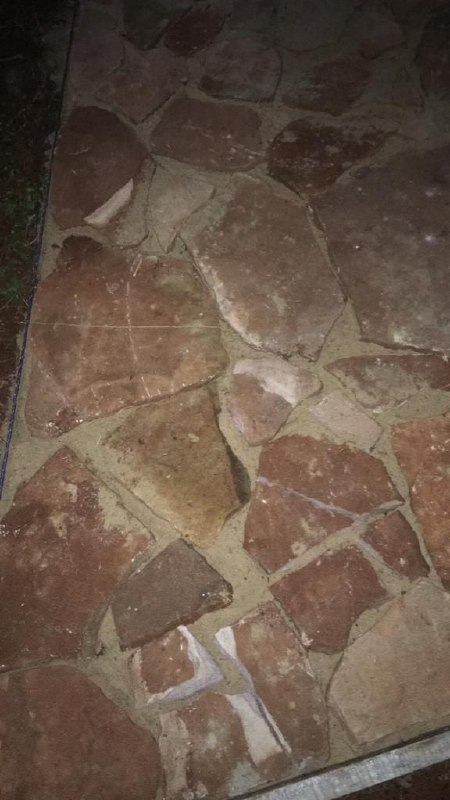 Once the joints are clean, it is time to prepare the cement as soft as possible, previously wet the floor well with water so that the sand settles well and also so that the slabs get wet so the cement sticks better.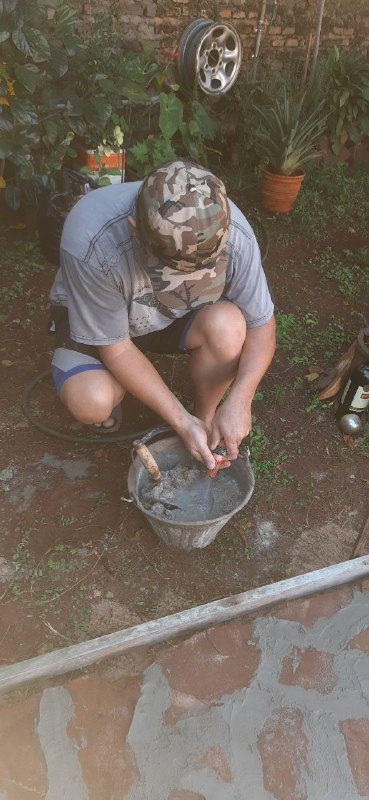 As you can see the next job was to place cement in all the joints, also on the sides, as I said the most liquid as possible to penetrate well into the joints and protruding a little at the top, looking like this.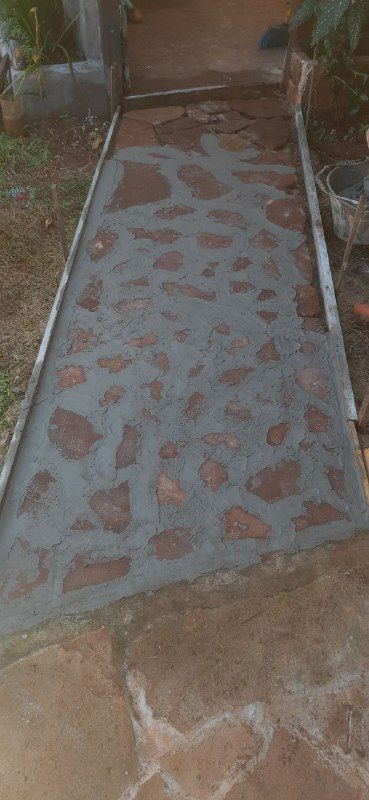 Finally the final part after the liquid cement dries a little, pass a sponge very carefully, cleaning the excess cement and at the same time is all well even as we can see, the stones are barely noticeable by the moisture of the cement, when this dries well will be much more noticeable.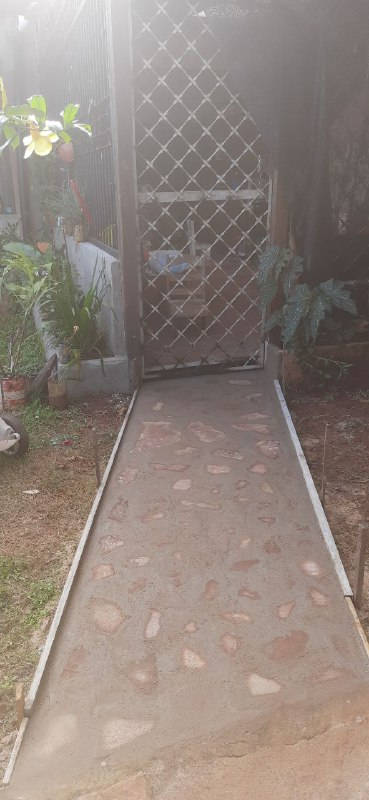 I go back to my saying friends, I am not a builder, but if we put love and perseverance in everything we do, it comes out very well as in this case.
THANK YOU VERY MUCH FOR READING AND FOLLOWING ME, HAVE A NICE SUNDAY WITH YOUR FAMILY.