Hola a todos los componentes de esta gran comunidad de HIVE, como en el post anterior, les comentaba de cuando ingresamos a la escuela de suboficiales de infantería de marina, los primeros meses en dicha escuela, las campañas de adaptación en la misma, para luego de un año, estar preparados para lo mejor que Hera jurar por la bandera de nuestro pais, ARGENTINA, lo cual consideramos ese día muy especial, porque 2 meses antes practicábamos los desfiles y formaciones para que ese día todo saliera muy bien, recuerdo que la jura de la bandera lo hicimos en la parte del puerto de MAR DEL PLATA, el comercio que se observa pertenecía en ese entonces a CHICHILO, como todos los que viajaron a esa ciudad sabrán que en la actualidad sigue dicho comercio con mucho auge en el puerto, ese día juramos defender nuestra bandera con la vida, que es lo que se vivió en la guerra de Malvinas contra INGLATERRA o sea el REINO UNIDO.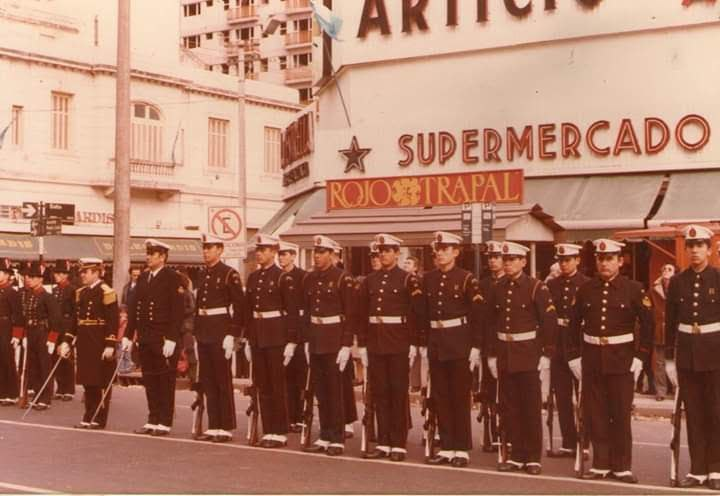 Recuerdo que cuando termino la fiesta de la jura de la bandera, regresamos a la escuela-ESIM- escuela de suboficiales de infantería de marina, nos dieron franco todo ese lo que quedaba de ese día, como se ve en la foto, salíamos a seguir recorriendo y conociendo esa gran ciudad, en la foto se parte de un espigón el cual se encuentra ubicado en la playa BRISTOL, la mas tradicional y conocida, que esta justo frente al casino de MAR DEL PLATA, de esa manera pasamos la tarde y muy alegres de habernos comprometidos por nuestra patria, AL JURAR POR NUESTRA BANDERA.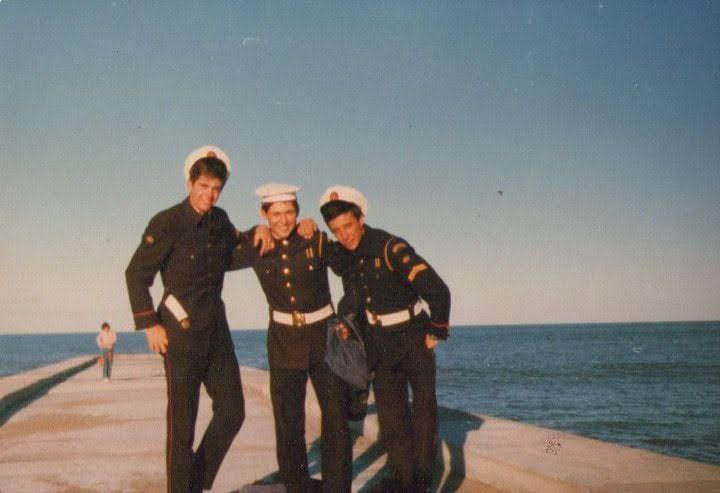 En otra de las fiestas tradicionales de ARGENTINA, la cual es considerada fiesta patria, que es el día 9 de julio, en donde nos preparamos para desfilar junto a otras fuerzas nacionales, lo hicimos por la avenida LURO, frente a la plaza SAN MARTIN, donde para ese evento se concentraba una gran masa humana, porque como bien dije Hera un día de festejo nacional, que para ese evento poníamos todo de nosotros, el premio de todo esto Hera cuando llegáramos a la escuela teníamos franco el resto del día, eso Hera nuestra mayor alegría.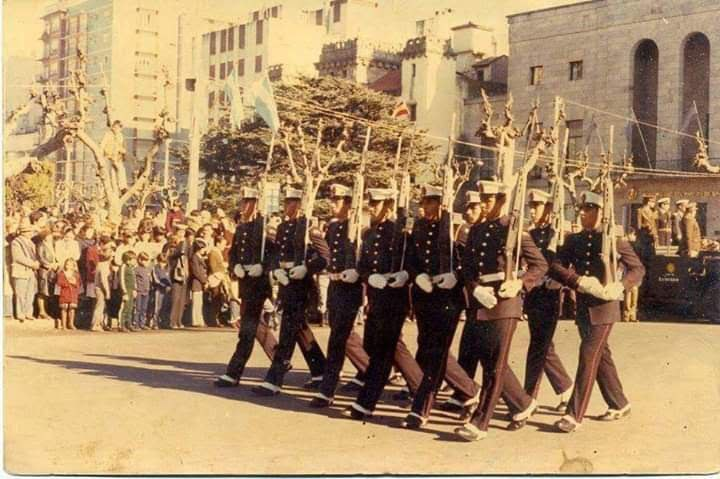 Nuevamente de regreso a las actividades rutinarias, las cuales como se ve en este caso la pista de obstáculos, el cual Hera un lugar acondicionados con varios obstáculos, los cuales los enfrentaríamos en caso de entrar en combate real, como lo fue la GUERRA DE MALVINAS.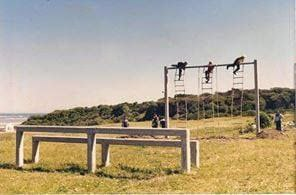 Así que en cada ejercicio teníamos que poner todo de nosotros, porque herramos nosotros mismos los que estaríamos frente al enemigo o sea en la guerra, por eso todo lo que aprendíamos lo teníamos que hacer a conciencia, porque nuestra vida dependía de eso.
MUCHAS GRACIAS POR SEGUIRME Y LEERME, QUE TENGAN UN BENDECIDO DIA.
TRANSLATED INTO ENGLISH.
Hello to all the components of this great community of HIVE, as in the previous post, I told you about when we entered the NCO school of Marine Infantry, the first months in that school, the adaptation campaigns in the same, for after a year, to be prepared for the best thing that was to swear by the flag of our country, ARGENTINA, which we consider that day very special, because 2 months before we practiced the parades and formations for that day everything went very well, I remember that we swore the oath of the flag in the port of MAR DEL PLATA, the trade that is observed belonged at that time to CHICHILO, as all those who traveled to that city will know that at present the trade is still booming in the port, that day we swore to defend our flag with our lives, which is what we lived in the Malvinas war against ENGLAND or the UNITED KINGDOM.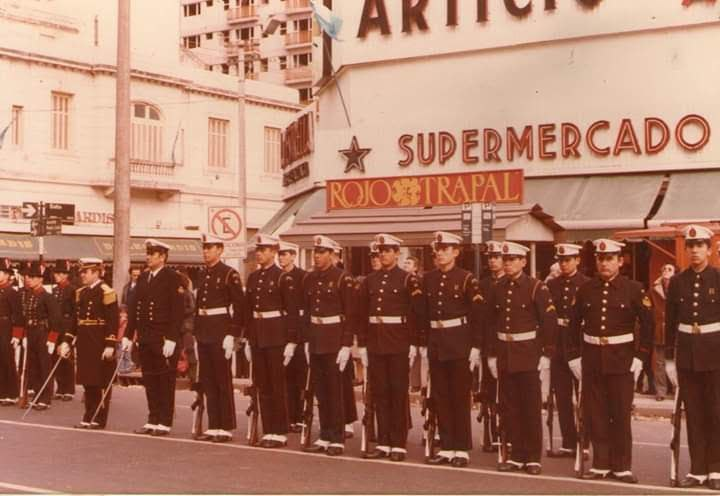 I remember that when the party of the swearing in of the flag was over, we returned to the school-ESIM- Marine Infantry NCO school, we were given all that was left of that day, as you can see in the photo, we went out to continue touring and getting to know that great city, in the photo is part of a breakwater which is located on the beach BRISTOL, the most traditional and well known, which is right in front of the casino of MAR DEL PLATA, so we spent the afternoon and very happy to have committed ourselves for our country, to swear by our flag.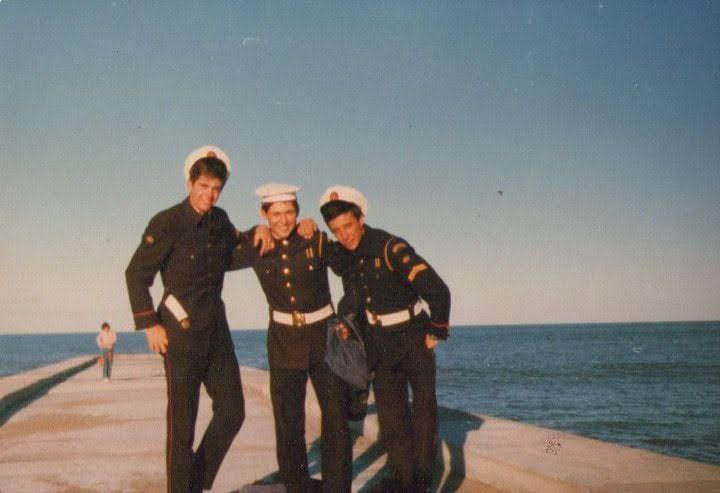 In another of the traditional festivities of ARGENTINA, which is considered a national holiday, which is the 9th of July, where we prepared to parade along with other national forces, we did it on LURO avenue, in front of the SAN MARTIN square, where for that event was concentrated a large mass of people, because as I said it was a day of national celebration, that for that event we put all of us, the prize of all this was when we arrived at school we had free for the rest of the day, that was our greatest joy.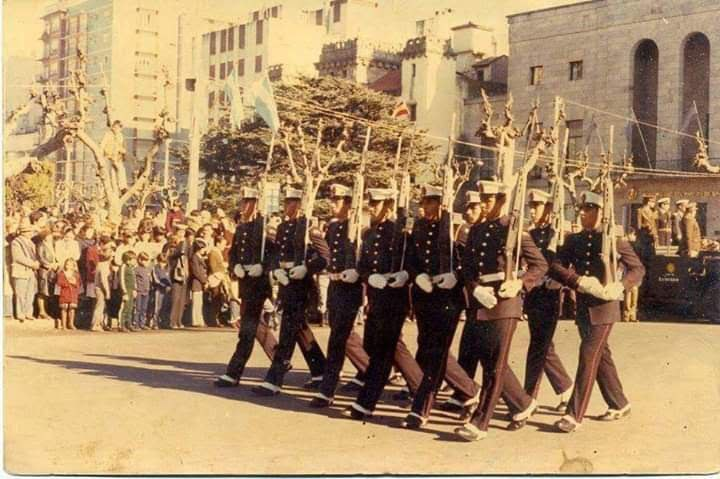 Again back to routine activities, which as seen in this case the obstacle course, which Hera a place conditioned with several obstacles, which we would face in case of entering in real combat, as it was the MALVINAS WAR.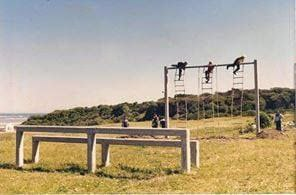 So in each exercise we had to put all of us, because we ourselves were the ones who would be in front of the enemy or in the war, so everything we learned we had to do conscientiously, because our life depended on it.
THANK YOU VERY MUCH FOR FOLLOWING ME AND READING ME, HAVE A BLESSED DAY.