Buenos días amigos de esta Hermoza comunidad de HIVE, en este post, el cual como ven la foto tratare de restaurar unos muebles, los cuales se alcanzaron a rescatar de un incendio de la casa de un amigo, el tema es que dichos muebles son muy antiguos y son muy apreciados por ellos, por el valor sentimental que les tienen
, son de madera buena pero lo que vale acá es el sentimiento que le tienen porque ya pasaron los cuarenta años, eso me motivo a colaborar con ellos, les mostrare el paso a paso de cada mueble restaurado.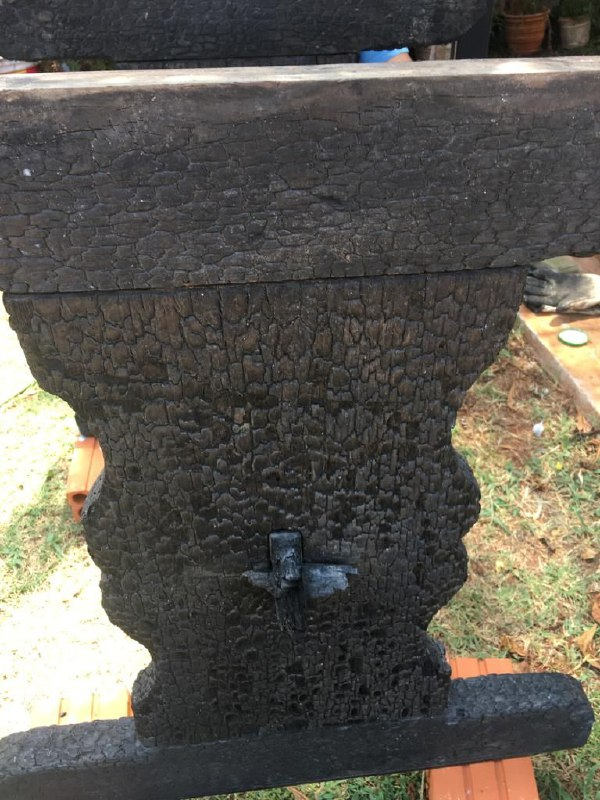 Para empezar amigos no se le puede pasar la lija tampoco la escoplo, en caso de hacerlo la madera que tiene un espesor de 5 centímetros todo macizo y natural, con el fuego que se introdujo en la misma, si saco el exterior o sea lo quemado me queda una madera de 1 centímetro, por ende no sirve mas.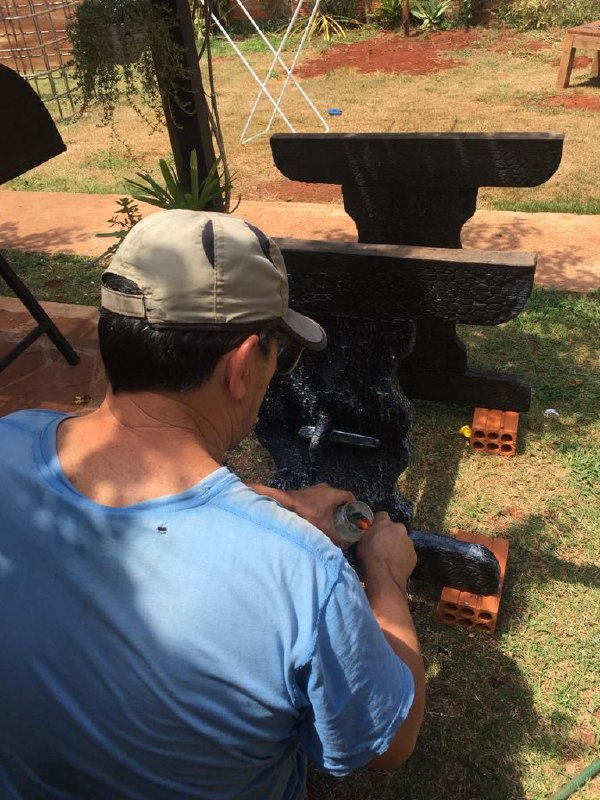 Entonces la única opción Hera recurrir a mis principios, el de comandoyeya, que siempre los menciono, SI TODO LO QUE HACEMOS, LO HACEMOS CON AMOR Y PACIENCIA SALE BIEN, tenia que inventar algo, hurgando mi intelecto se me ocurrió, pasarle al carbón para no desarmar dichos mueble y que siguiera existiendo, el pasarle una o dos manos de cola rebajada con agua, pero pasar el pincel muy despacio, el cual lo hice como ven en la foto, de esa forma no se desarmo nada.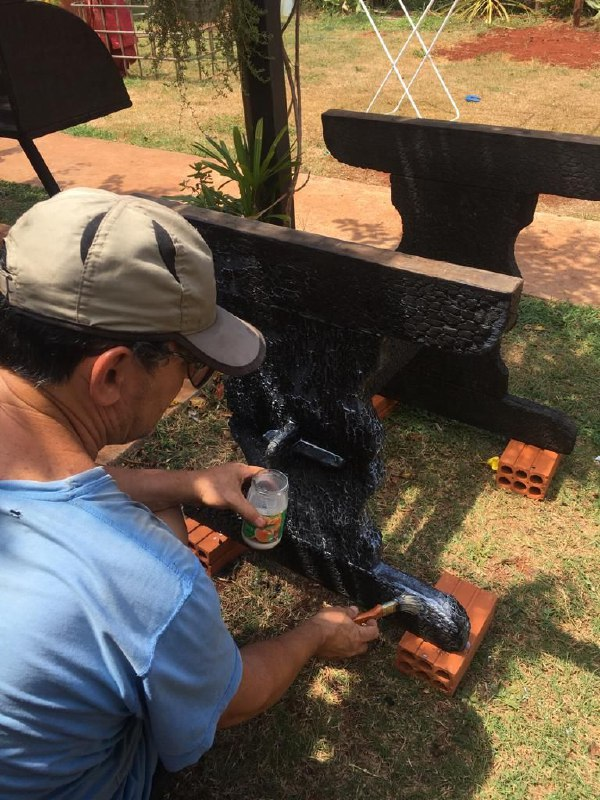 Lo blanco que se ve es de la cola, la cual una ves que se seca queda natural o sea transparente, y lo mas importante es que le da brillo al carbón, también lo endurece y por supuesto no se desarma, queda de color negro, es la única manera de poder salvar dicha mesa en este caso.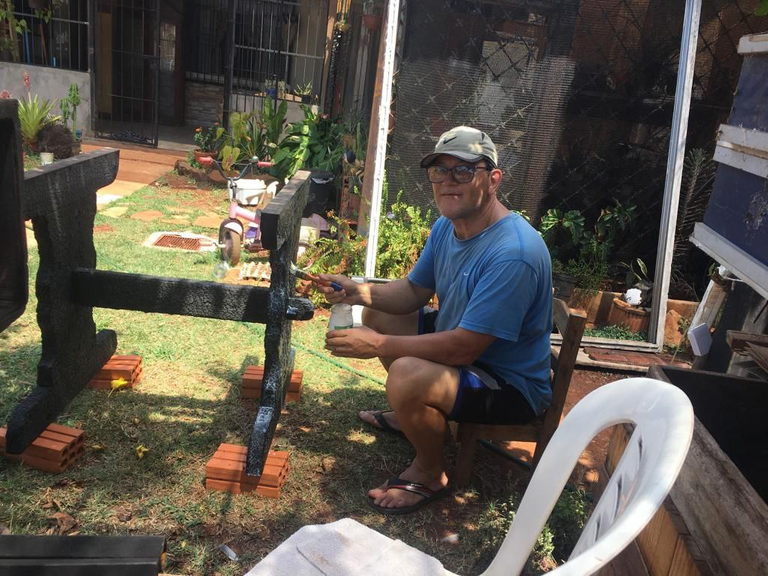 Como ven amigos me puse muy cómodo para efectuar dicho trabajo, porque la verdad lo tenia que hacer muy lentamente, para que siguiera conservando dicho mueble sus formas.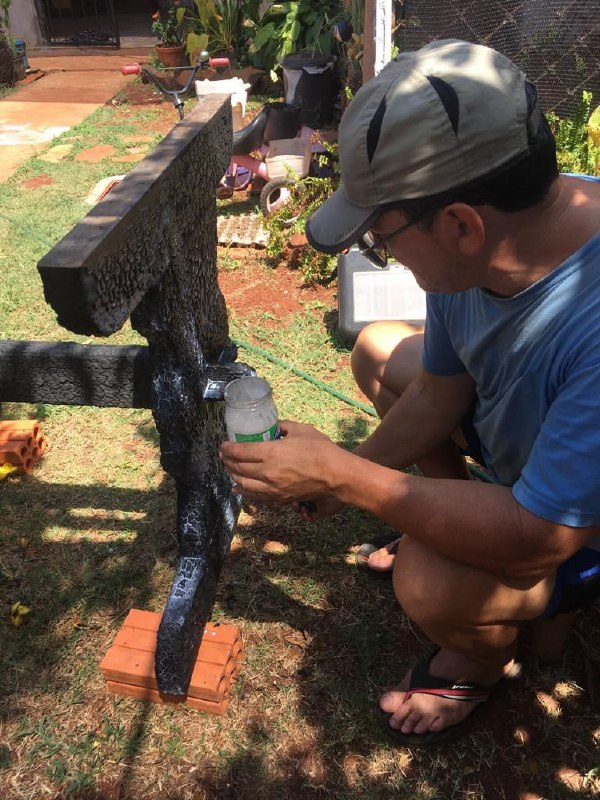 Una ves que se seca todo queda mas que bien, eso quiere decir que mi pensamiento no esta del todo erróneo, porque salió perfecto lo que pensaba de que iba a quedar bien, cuando arme dicha mesa porque falta muchos detalles, les mostrare, como digo siempre tiempo al tiempo, pero eso si con mucha dedicación.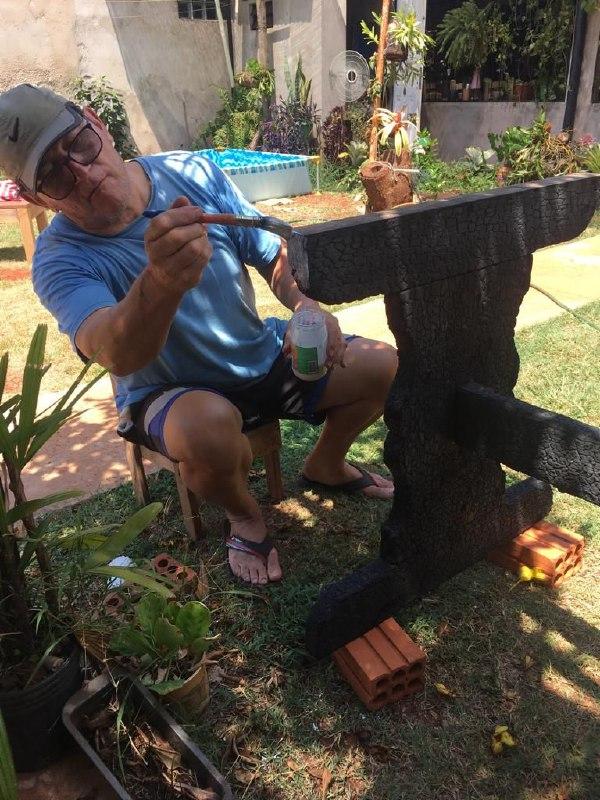 Como es lema de los boyscout, siempre listo, en este caso para darle animo a esta gente de que no todo se perdió en el incendio, por lo menos esto los alimenta y les da fuerza para seguir adelante.
MUCHAS GRACIAS POR SEGUIRME Y LEERME, QUE PASEN UN EXCELENTE DIA EN FAMILIA.
TRANSLATED INTO ENGLISH.
Good morning friends of this Hermoza HIVE community, in this post, which as you see the picture I will try to restore some furniture, which were reached to rescue from a fire at a friend's house, the issue is that these pieces of furniture are very old and are very appreciated by them, for the sentimental value that they have, they are good wood but what is valuable here is the feeling that they have because they are past forty years, that motivated me to collaborate with them, I will show the step by step of each piece of furniture restored.
They are made of good wood but what is worth here is the feeling they have because they are over forty years old, that's what motivated me to collaborate with them, I will show you the step by step of each restored piece of furniture.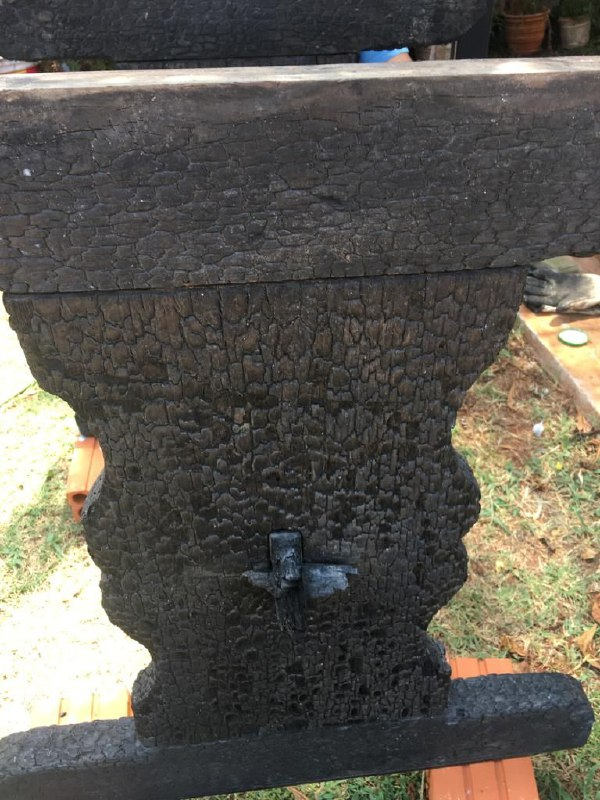 To begin with friends you can not pass the sandpaper neither the chisel, in case of doing it the wood that has a thickness of 5 centimeters all solid and natural, with the fire that was introduced in the same one, if I remove the outside or the burned thing I am left with a wood of 1 centimeter, therefore it does not serve but.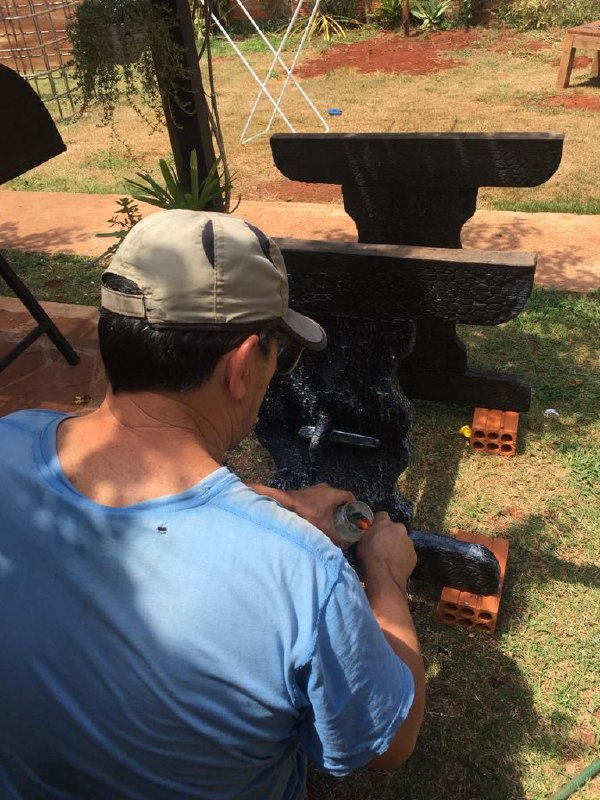 Then the only option was to resort to my principles, that of comandoyeya, which I always mention, IF EVERYTHING WE DO, WE DO IT WITH LOVE AND PATIENCE IS GOOD, I had to invent something, rummaging my intellect came to me, to pass to the coal to not disassemble such furniture and to continue to exist, to pass one or two coats of glue diluted with water, but pass the brush very slowly, which I did as you see in the photo, that way nothing was disassembled.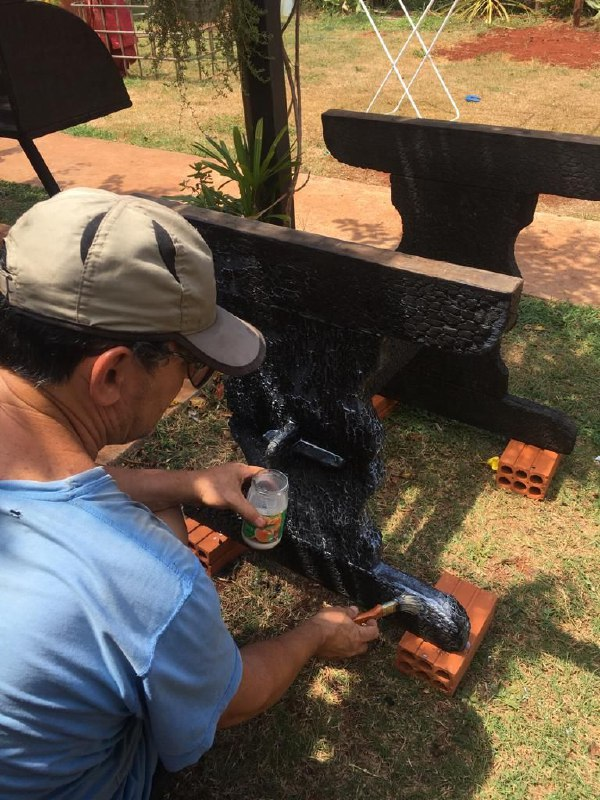 The white you can see is from the glue, which once it dries remains natural or transparent, and the most important thing is that it gives shine to the charcoal, it also hardens it and of course it does not fall apart, it remains black, it is the only way to be able to save the table in this case.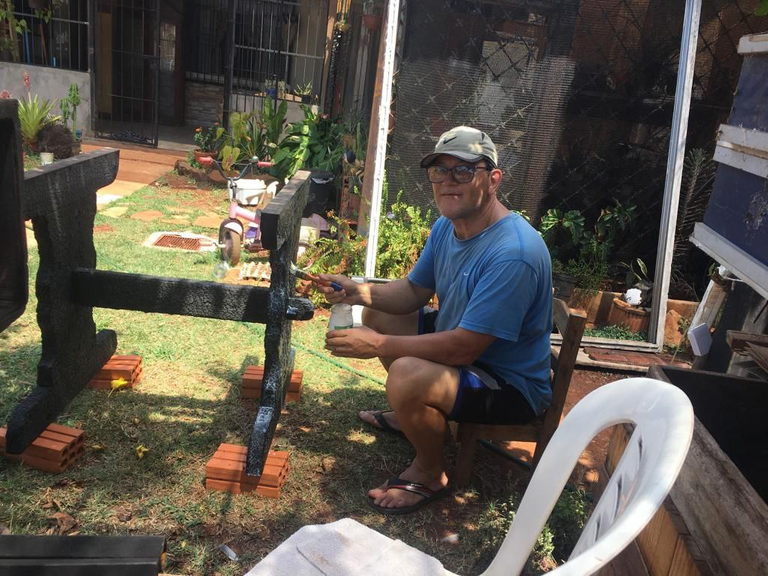 As you can see friends, I got very comfortable to do this work, because the truth is that I had to do it very slowly, so that the piece of furniture would keep its shape.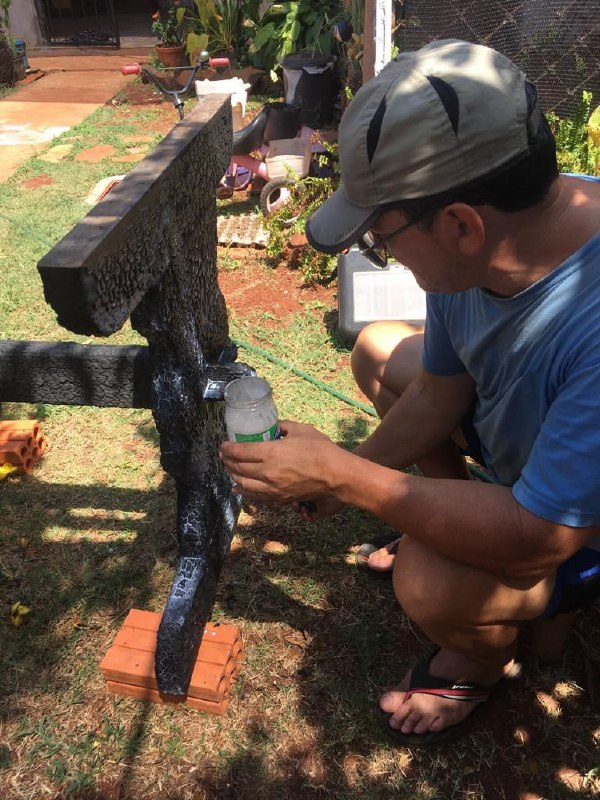 Once it dries everything is more than fine, that means that my thinking is not entirely wrong, because it was perfect what I thought it was going to be good, when I assemble the table because it lacks many details, I will show you, as I always say time to time, but that if with great dedication.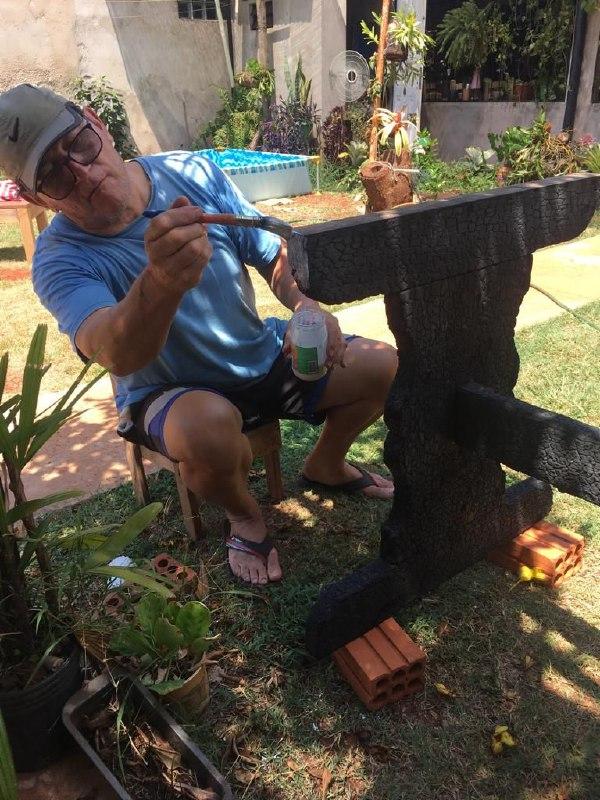 As is the boyscout motto, always ready, in this case to give encouragement to these people that not everything was lost in the fire, at least this feeds them and gives them strength to move forward.
THANK YOU VERY MUCH FOR FOLLOWING AND READING ME, HAVE A GREAT DAY WITH YOUR FAMILY.