Hola a todos, muchas veces al comenzar con la restauración de algún mueble, lo dije y lo digo, si todo lo que hacemos, lo hacemos con amor y perseverancia, las cosas salen bien, no solamente eso, es que el mueble a restaurar es bastante viejo y esta muy destruido tal cual se ve en la foto, esta parte es una de las puntas de un costado, donde se encuentra la madera muy deteriorada, así que manos a la obra, lo primero fue cortar y sacar la madera podrida, luego medir para comprar la madera que utilizaría.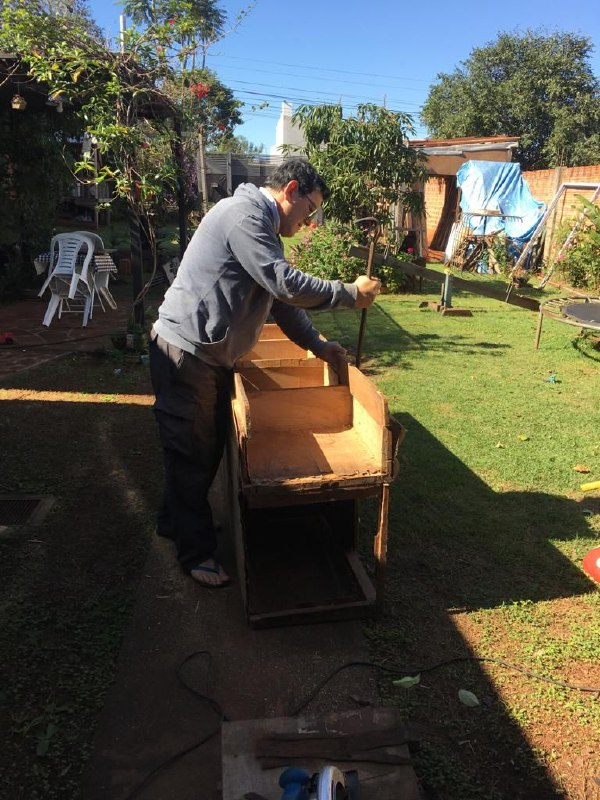 Toda esta madera que se puede ver en la foto, justo la que estoy observando, es para cortar la misma, para que la parte de arriba de la alacena no se vea muy alta, además dicha madera sobraría, sin darle ninguna utilidad, por lo tanto que procedí a tomar la cierra eléctrica y cortar la misma.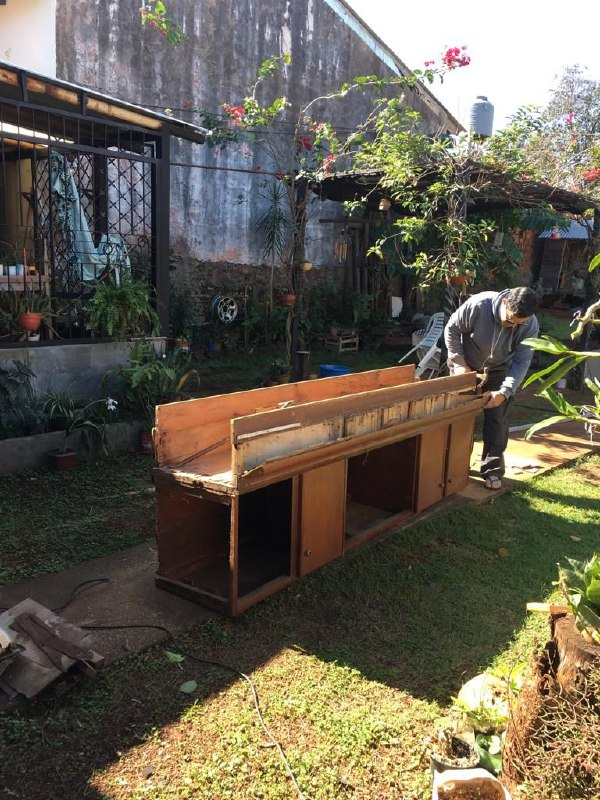 Luego con un martillo, de forma muy cautelosa para que no se desarme dicho mueble, le fui quitando todas las tablas de arriba que sobran, dejando así cada ves menos para terminar el mismo.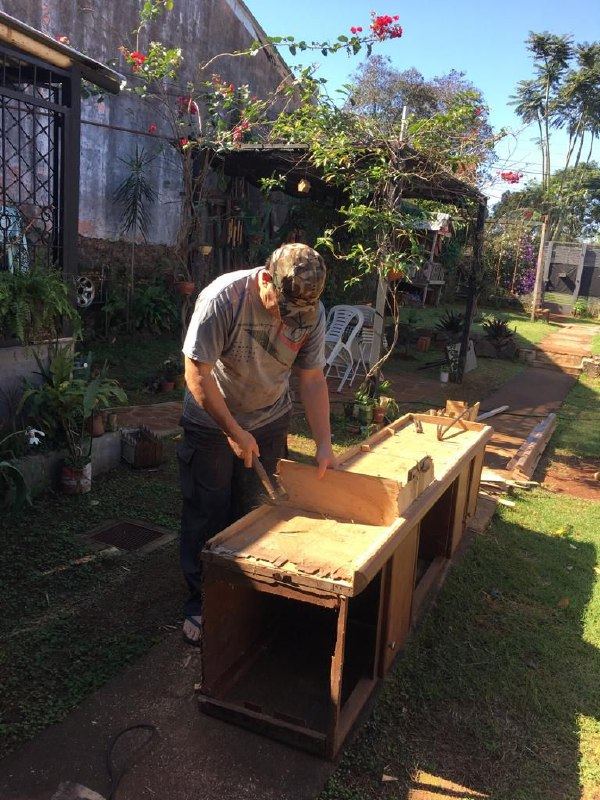 Como comente al principio, dicho trabajo lo hago despacio, como no soy carpintero, tampoco herrero o constructor, pero si le pongo muchas ganas, para dejar lo mejor posible lo que comienzo a reparar, como este mueble..
Por supuesto que esta seria la parte donde, quito del mismo toda la parte dañada y que no sirve mas, debido a los años, que tiene la alacena, que sufrió los efectos de la humedad y corrosión del tiempo, en el siguiente post. espero terminarlo, para que se vea como quedara.
MUCHAS GRACIAS POR SEGUIRME Y LEERME, QUE PASEN UN EXCELENTE DIA EN FAMILIA.
TRANSLATED INTO ENGLISH.
Hello everyone, many times when starting with the restoration of a piece of furniture, I said it and I say it, if everything we do, we do it with love and perseverance, things go well, not only that, is that the furniture to restore is quite old and is very destroyed as seen in the photo, this part is one of the tips of one side, where the wood is very deteriorated, so hands to work, the first thing was to cut and remove the rotten wood, then measure to buy the wood I would use.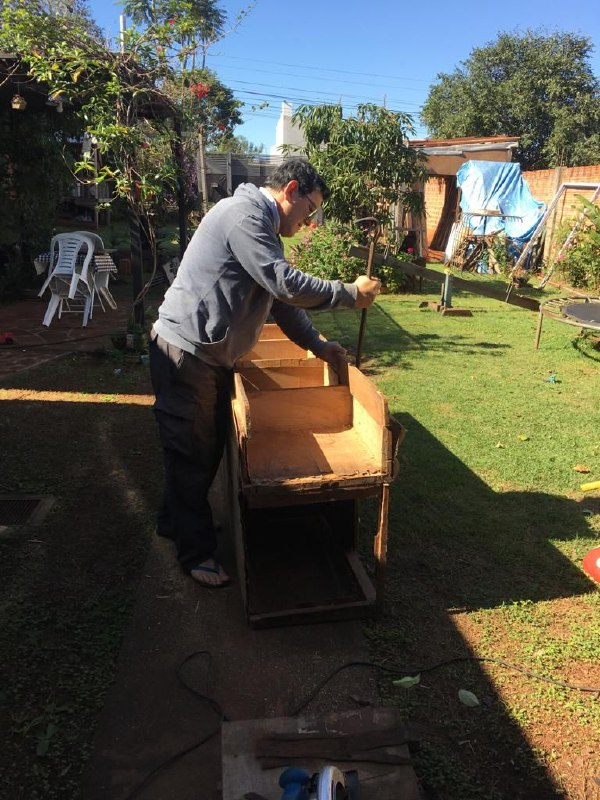 All this wood that you can see in the photo, just the one I am looking at, is to cut the same, so that the top of the cupboard does not look too high, also this wood would be left over, without giving any use, so I proceeded to take the electric fence and cut the same.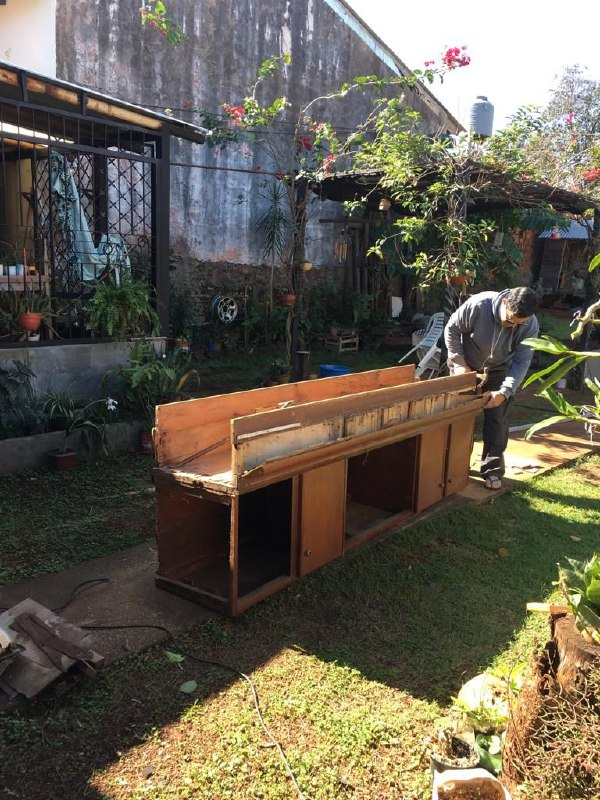 Then with a hammer, very cautiously so as not to disassemble the furniture, I removed all the top boards that are left over, leaving less and less to finish it.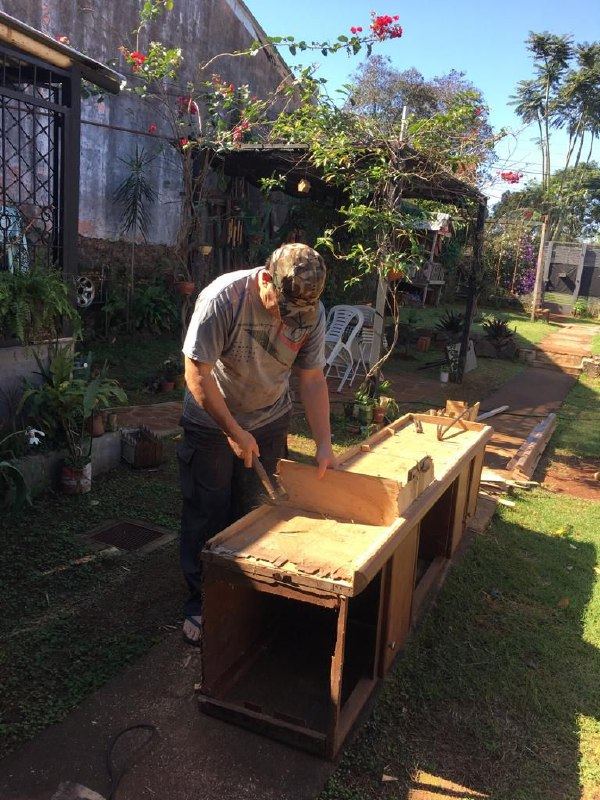 As I said at the beginning, I do this work slowly, as I am not a carpenter, nor a blacksmith or builder, but I put a lot of effort, to leave as best as possible what I start to repair, as this piece of furniture...
Of course this would be the part where, I remove from it all the damaged part and that no longer serves, due to the years, which has the cupboard, which suffered the effects of moisture and corrosion of time, in the next post. I hope to finish it, so you can see how it will be.
THANK YOU VERY MUCH FOR FOLLOWING ME AND READING ME, HAVE A GREAT DAY WITH YOUR FAMILY.