Como Hera de saber, cuesta mucho poder darle el toque final a cada mueble, los cuales estoy restaurando, es por eso que en cada post, lo hago con un mueble diferente, por como estaban cuando se incendio la casa y como los estoy dejando ahora, por eso como digo yo con mucha perseverancia y amor todo se puede lograr.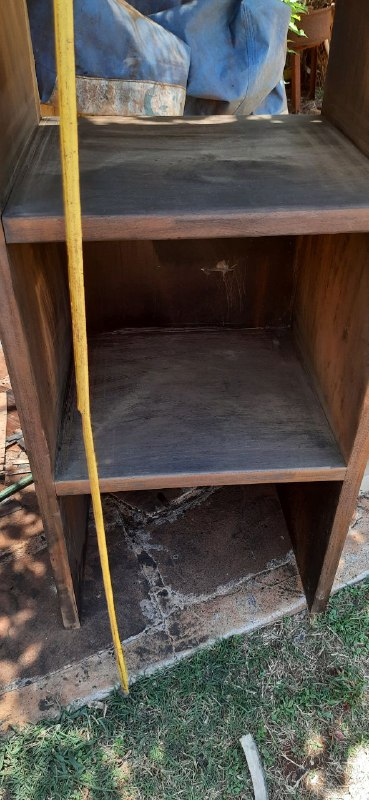 Este mueble en cuestión se trata de los que se archivan carpeta , escritos o expedientes, también pueden libros, la parte atrás la mitad casi de la tapa se quemo casi todo, es por eso el color que presenta, es en el cual debo trabajar lijándolo para tratar de llegar a la madera y color natural.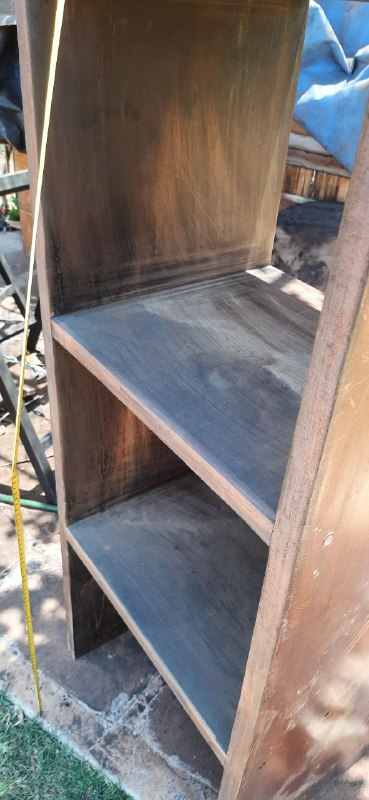 Así que saque de atrás la parte quemada, como se puede ver quedo el vacío, pero por suerte ya conseguí una madera que encaja justo, se trata de una plancha de aglomerado, la misma es justo lo que estaba necesitando, solamente tomo bien la medida y procedo a cortar y clavar sobre este mueble.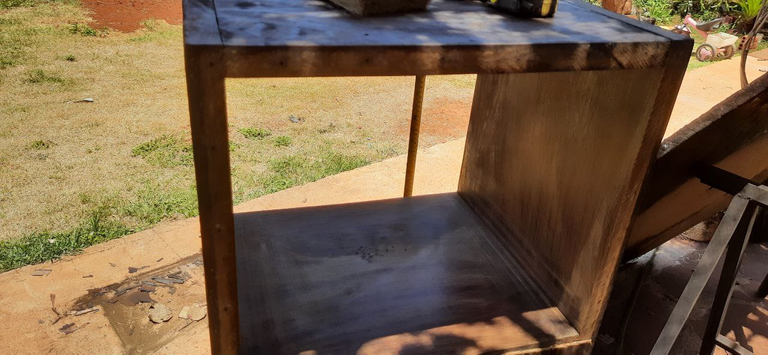 Como verán amigos el color del mueble viejo y este que es la parte nueva que cambie por lo quemado que estaba, cuando comience a pasarle el barniz, tratare de que todo quede del mismo color, para no sacarle la vista a todo el mueble.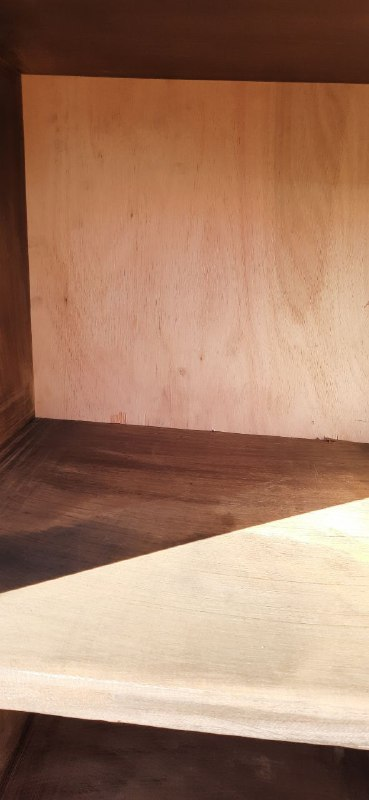 La verdad que este trabajo hay que dedicarle mucho tiempo por el estado que quedaron los mismos, pero como todo esto me agrada y para que sepan todos no soy carpintero, pero como dije al gustarme eso me impulsa a tratar de restaurarlo lo mejor posible.
MUCHAS GRACIAS POR SEGUIRME Y LEERME, BUEN COMIENZO DE SEMANA.
TRANSLATED INTO ENGLISH.
As you may know, it costs a lot to give the final touch to each piece of furniture, which I am restoring, that's why in each post, I do it with a different piece of furniture, because of how they were when the house was burned and how I am leaving them now, so as I say with a lot of perseverance and love everything can be achieved.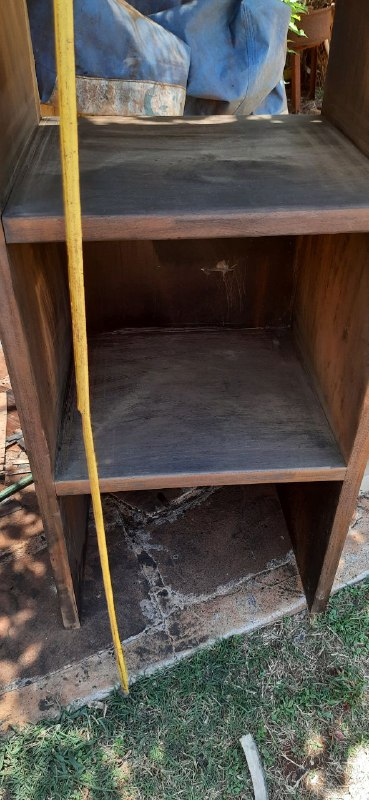 This piece of furniture in question is about those that are filed folder, writings or records, books can also be, the back half almost half of the lid is burned almost everything, that's why the color that presents, is in which I must work sanding it to try to reach the wood and natural color.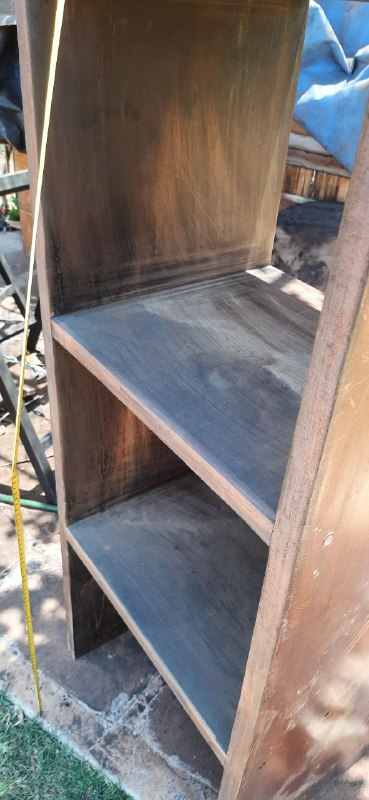 So I removed the burned part from the back, as you can see there is a void, but luckily I got a wood that fits just right, it is a chipboard, it is just what I was needing, I just take the measure and proceed to cut and nail on this piece of furniture.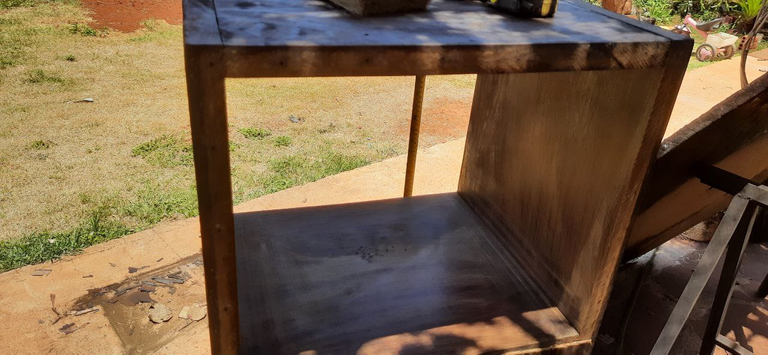 As you can see friends the color of the old furniture and this is the new part that I changed because of how burned it was, when I start to pass the varnish, I will try to keep everything in the same color, so as not to take the view of the entire piece of furniture.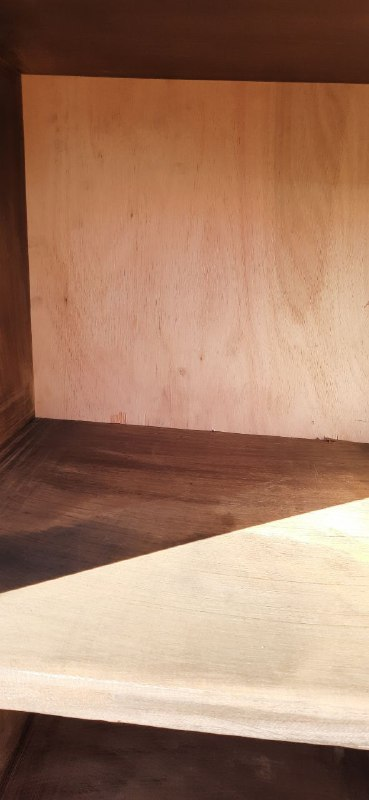 The truth is that this work has to dedicate a lot of time because of the state they were in, but as I like all this and just so you all know I am not a carpenter, but as I said when I like it that drives me to try to restore it as best as possible.
THANK YOU VERY MUCH FOR FOLLOWING ME AND READING ME, GOOD START OF THE WEEK.