Siendo hoy un día mas, en el momento que recorría como de costumbre el jardín de casa, descubrí una planta de morrón o locote, la cual se hallaba atrás de una planta de helecho, muy bien escondida por lo cual se me hiso muy fácil poder hallarla, fue tan grande mi emoción, que me hizo recordar a todas las plantas de verduras de mi jardín, como así también las plantas de hierbas de frutales, de flores, etc., la verdad justo esta a punto para ser cosechado o sea para darle uso en las comidas, por el color que tiene, que es el color rojo, eso quiere decir que se encuentra bien maduro.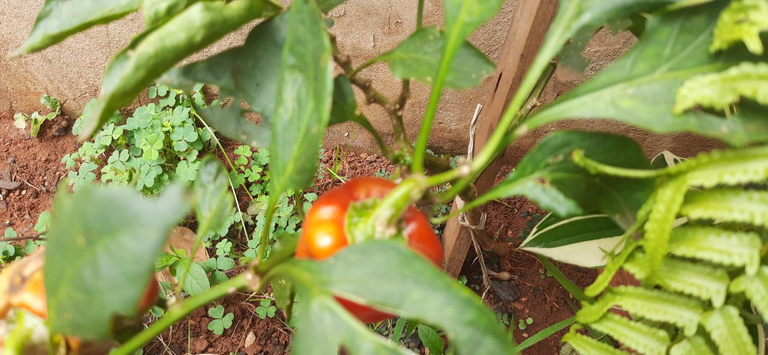 El helecho mide aproximadamente 1 metro y medio y la planta de morrón unos 60 centímetros, con la diferencia que es una planta que contiene una de las verduras con beneficios increíbles, para empezar el mismo contiene el doble de vitamina c que la naranja y que los otros pimentos o sea el verde o amarillo, es un buen reductor de estrés porque contiene mucho antioxidantes, además esta compuesto por 90% de agua, con 45 kcal. el cual es muy baja, muy rico en fibras y en hidrato de carbono, también tiene un alto contenido de vitamina -A- lo cual es para tener un vista muy sana, ayuda en la intervención del colágeno, glóbulos rojos, muy bueno para los huesos o sea para los dientes y lo mas importante de este morrón rojo es que es muy depurativo, lo cual lo hace especial para nuestras dietas.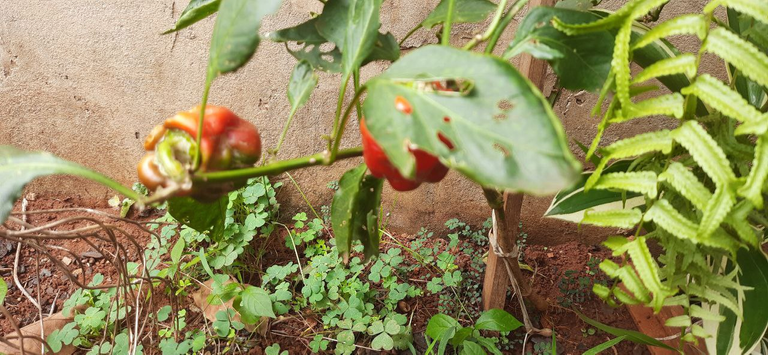 Esa es una gran razón para tenerlo en nuestro jardín, porque lo digo, es porque si lo consumimos fresco y crudo es ahí cuando aprovechamos todo sus beneficios, si el mismo una ves quitado de la planta después de las 24 horas ya pierde el 50 % de sus beneficios, convengamos que para la comida, nos parece que siempre están fresco, por ejemplo para cuando consumimos pizza y otras comidas también.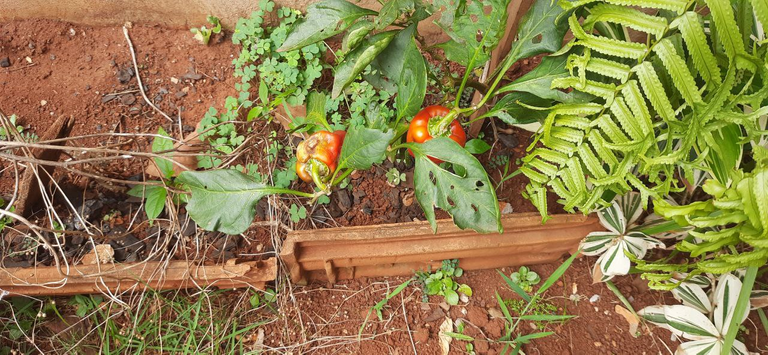 Así es queridos amigos una planta tan insignificante con un fruto como este tan pequeño, bueno los hay grandes, cuanto bien hace a nuestro organismo o sea al cuerpo humano por todo lo que contiene, asimismo dicha planta el único cuidado es, regarlo todos los días normalmente para que crezca, no ocupa mucho espacio, lo podemos tener en un macetero, en un rincón de nuestra casa, mientras tenga un poco de luz natural.
De esta manera sabemos que nuestra MADRE NATURALEZA ES NUESTRA MAS APRECIADA ALIADA, siempre y cuando nosotros pongamos lo mejor de nosotros.
MUCHAS GRACIAS POR LEERME Y SEGUIRME, QUE PASEN UN EXCELENTE DIA.
TRANSLATED INTO ENGLISH.
Being today another day, at the moment that I was walking as usual in the garden of my house, I discovered a sweet bell pepper plant or locote, which was behind a fern plant, very well hidden so it was very easy for me to find it, it was so great my emotion, that made me remember all the vegetable plants in my garden, as well as the herb plants of fruit trees, flowers, etc., The truth is that it is just ready to be harvested or to be used in food, by the color it has, which is red, that means that it is well ripe.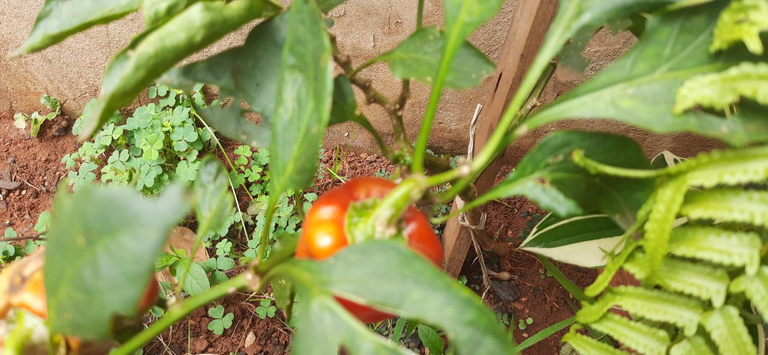 The fern is about 1 meter and a half and the sweet bell pepper plant about 60 centimeters, with the difference that it is a plant that contains one of the vegetables with incredible benefits, for starters it contains twice as much vitamin C than the orange and the other peppers or green or yellow, is a good stress reducer because it contains many antioxidants, it is also composed of 90% water, with 45 kcal. which is very low, very rich in fiber and carbohydrate, also has a high content of vitamin -A- which is to have a very healthy view, helps in the intervention of collagen, red blood cells, very good for the bones or for the teeth and the most important thing about this red bell bell pepper is that it is very depurative, which makes it special for our diets.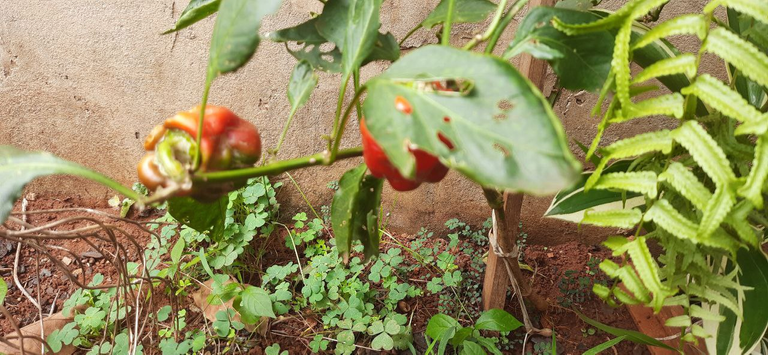 That is a great reason to have it in our garden, why I say so, is because if we consume it fresh and raw is when we take advantage of all its benefits, if the same once removed from the plant after 24 hours and loses 50% of its benefits, let's agree that for food, we always seem to be fresh, for example when we eat pizza and other foods as well.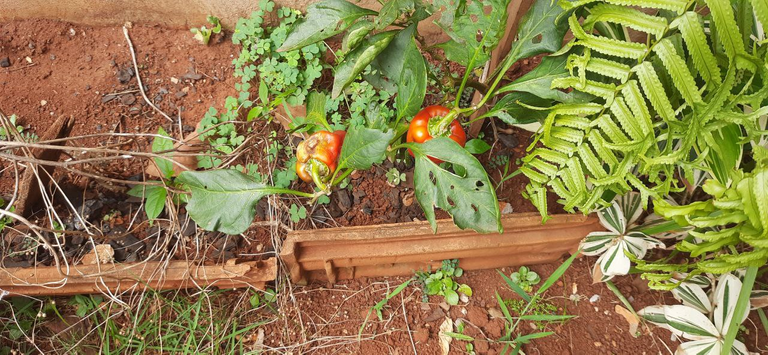 So it is dear friends, such an insignificant plant with such a small fruit, well there are big ones, how much good it does to our organism or to the human body for all that it contains, also this plant the only care is, water it every day normally so that it grows, it does not occupy much space, we can have it in a flowerpot, in a corner of our house, as long as it has a little natural light.
In this way we know that our MOTHER NATURE IS OUR MOST APPRECIATED ALLY, as long as we do our best.
THANK YOU VERY MUCH FOR READING AND FOLLOWING ME, HAVE A GREAT DAY.