Hola a todos hoy cambie la manera de postear para enseñarles la manera de cambiar una puerta de ingreso a su hogar de la manera mas fácil, como siempre digo en la parte de trabajo, si a todo lo que hacemos, lo hacemos con mucho amor y perseverancia sale bien, bueno les comento que la puerta de ingreso la cual estaba colocada la misma, consistía en una puerta de aluminio corrediza como si fuera de balcón, la cual estaba bien segura con reja exterior y todo, también por el tamaño de la misma, al ser amplia cumplía una función ideal para el ingreso, el detalle amigos es que primero dicha construcción seria para un quincho, debido a las circunstancias monetarias, al no poder construir todavía lo que seria la casa, me vie obligado a remodelar dicho quincho y hacerlo vivienda, como el de cambiar la puerta de ingreso.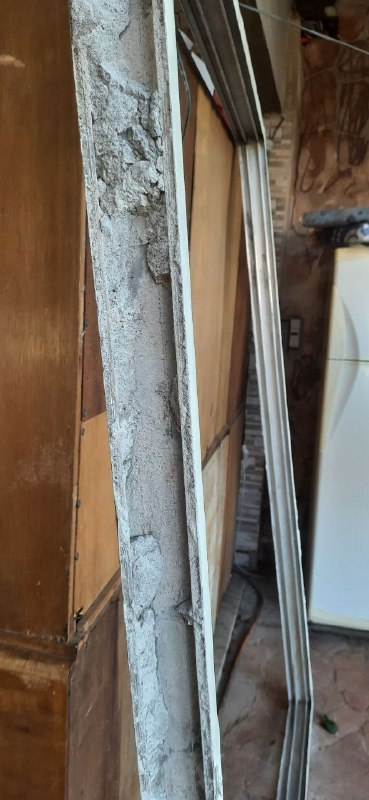 El primer paso es picar la pared y sacar lo que Hera la puerta anterior de aluminio con sus rejas propiamente dicha, al quitar la misma, es obvio que el hueco de la pared quedo grande, la de aluminio Hera de 1,50 de ancho por 2 metros de alto y la puerta nueva de 90 de ancho por 198 de alto, así que había diferencia.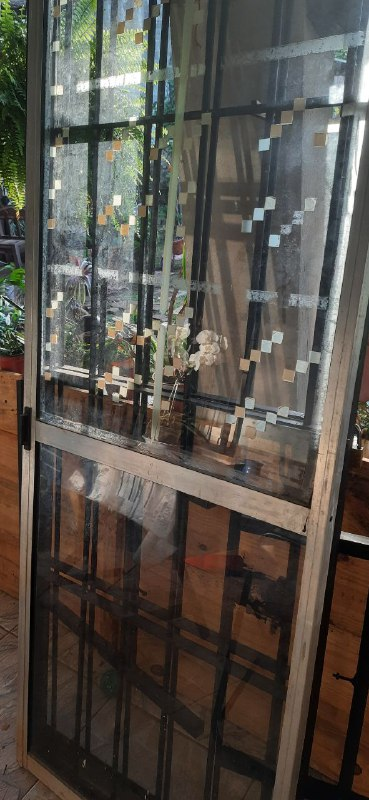 Bueno esta foto lo dice todo, el tamaño de la puerta nueva presentada en el lugar donde estaba la puerta anterior de aluminio, una ves que se la presento, la deje a nivel tanto de la parte lateral como paralela o sea de los costados y de arriba, detalle en el marco se le agrega unas varas pequeñas de tornillos, la función que cumplen las mismas es para que una ves amurado el marco quede bien trabado.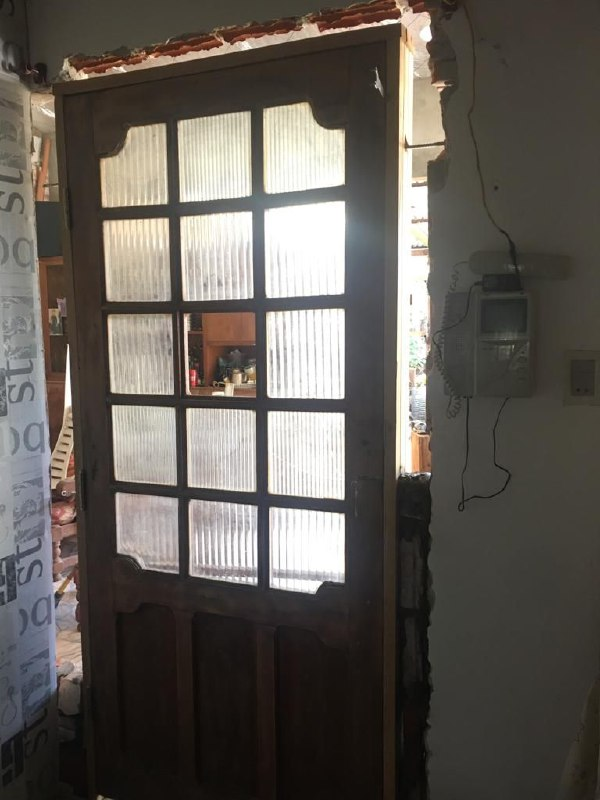 En esta foto se puede observar uno de esos tornillos, son tres de cada lado, es para darle firmeza y seguridad al marco una ves que esta colocado.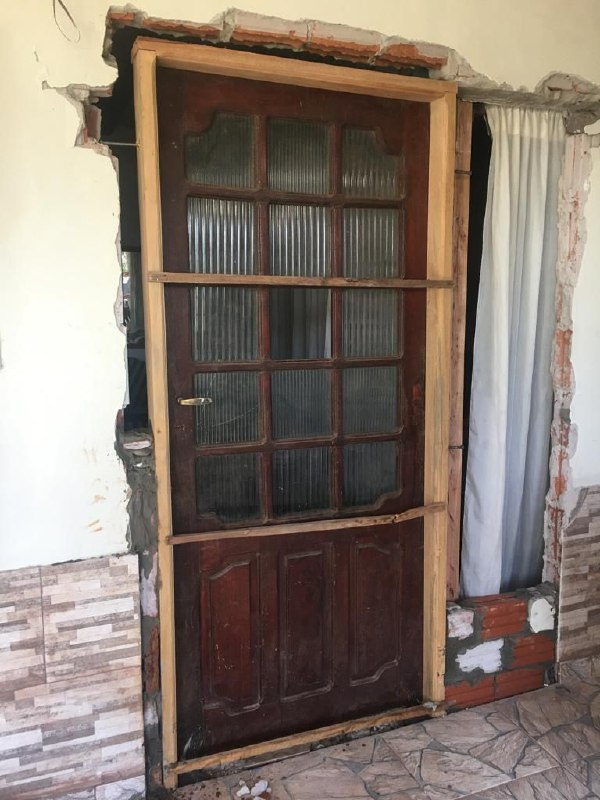 A dicho marco se le clava como vemos unos pequeños tirantillos de madera, el mismo es para que quede trabajo dicho marco y no pierda la linea, cuando se lo deja a nivel, cuando ya esta bien a nivel el marco el cual tiene que estar con la puerta colocada, es para que se le de a la puerta la luz correspondiente de cuando la serramos y la abrimos, de esa forma no quedaría trabada o sea no se trabaría cuando la abrimos, comenzando a colocarle mescla desde abajo hacia arriba, la mescla es de cemento y arena, la cual se endurece rápido.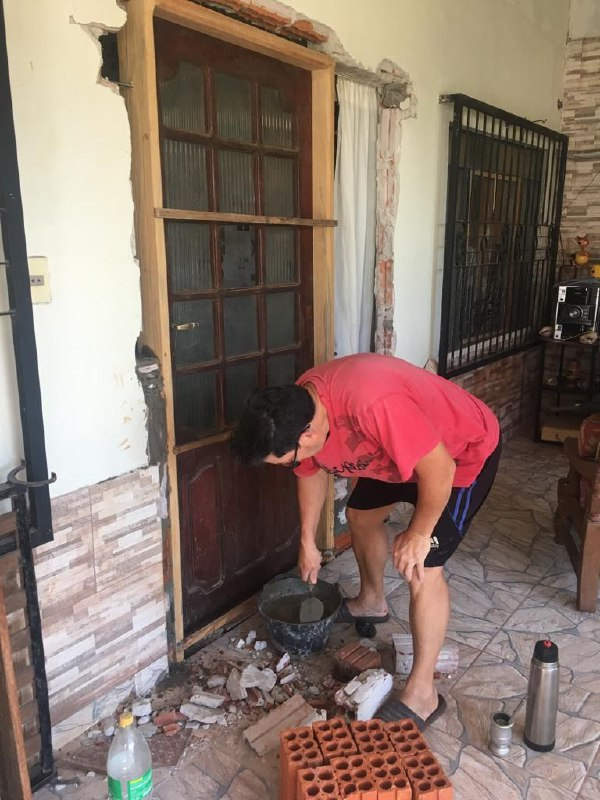 Bueno como verán dicha puerta y marco ya casi esta totalmente amurado, verán que el albañil se encuentra muy cómodo en dicha tarea de remodelar la entrada de la vivienda jajaajaj, bueno en mi caso personal me gusta trabajar lo mas distendido posible y lo tomo como un relax y también como un momento de gimnasia.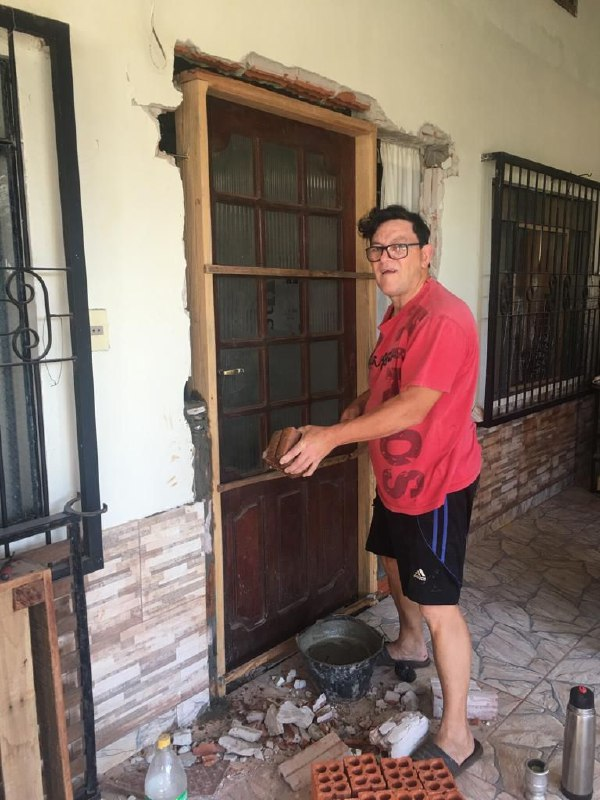 Así que este post y los próximos venideros seguiré con el instructivo de como cambiar una puerta de ingreso, utilizando las siguientes herramientas, maza, corta hieros, un balde para la mescla y la cuchara y el material para la mescla es, cemento y arena, espero que sea de sus agrados es manera de como cambiar una puerta de ingreso, lo cual es muy fácil teniendo siempre en cuente la disponibilidad de cada uno uno en querer hacerlo bien,
quedo a la espera de sus comentarios.
MUCHAS GRACIAS POR SEGUIRME Y LEERME, QUE TENGAN UN EXCELENTE DIA.
TRANSLATED INTO ENGLISH.
Hello everyone today I change the way to post to show you how to change an entrance door to your home in the easiest way, as I always say in the work part, if everything we do, we do it with love and perseverance comes out well, well I tell you that the entrance door which was placed the same, consisted of a sliding aluminum door as if it were a balcony, which was well secured with exterior grille and everything, also because of the size of it, being wide it was ideal for the entrance, the detail friends is that first this construction would be for a barbecue, due to monetary circumstances, not being able to build yet what would be the house, I was forced to remodel the barbecue and make it housing, such as changing the front door.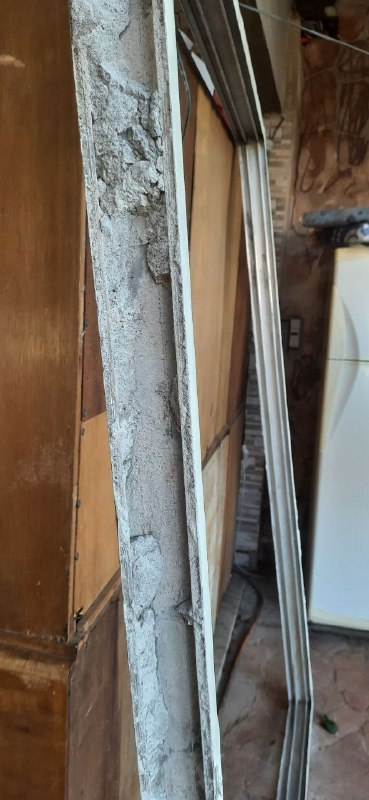 The first step is to chop the wall and remove what was the previous aluminum door with its bars itself, to remove it, it is obvious that the gap in the wall was large, the aluminum door was 1.50 wide by 2 meters high and the new door was 90 wide by 198 high, so there was a difference.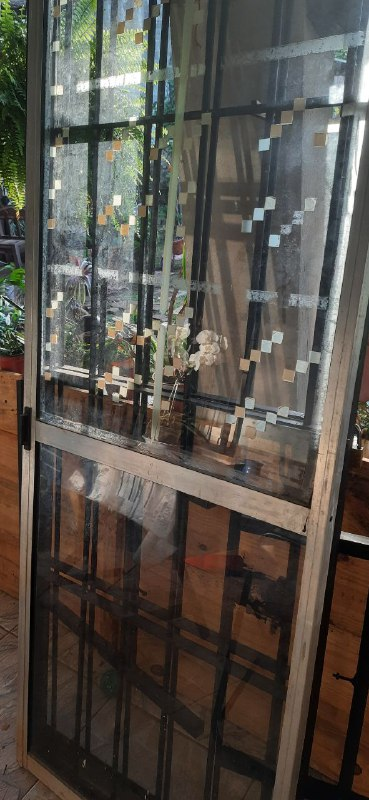 Well this photo says it all, the size of the new door presented in the place where the previous aluminum door was, once it was presented, I left it at the level of both the side and parallel or the sides and top, detail in the frame is added some small rods of screws, the function they serve is to ensure that once the frame is well locked.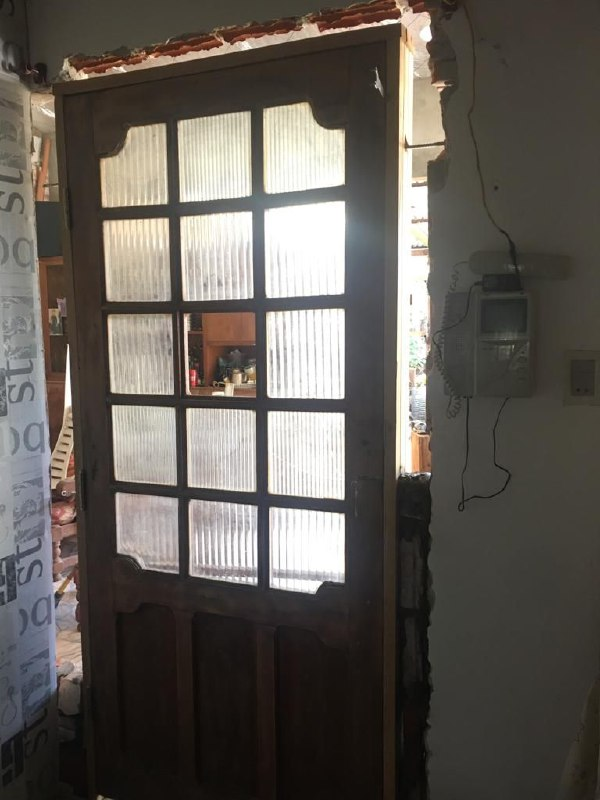 In this photo you can see one of these screws, there are three on each side, is to give firmness and security to the frame once it is placed.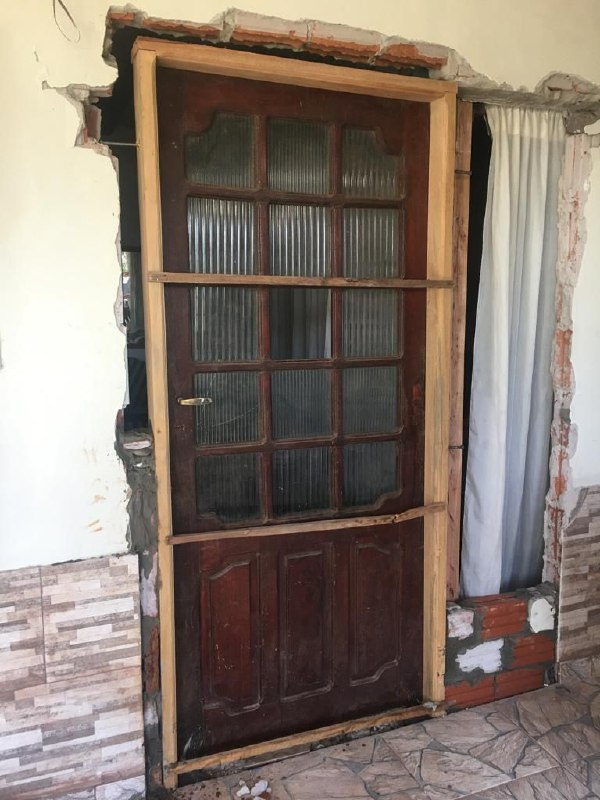 To this frame is nailed as we see a small wooden straps, the same is to work the frame and do not lose the line, when it is left level, when it is already well level the frame which has to be with the door placed, is to give the door the corresponding light when we saw it and open it, that way it would not be locked or it would not be locked when we open it, starting to place the mixture from the bottom up, the mixture is cement and sand, which hardens quickly.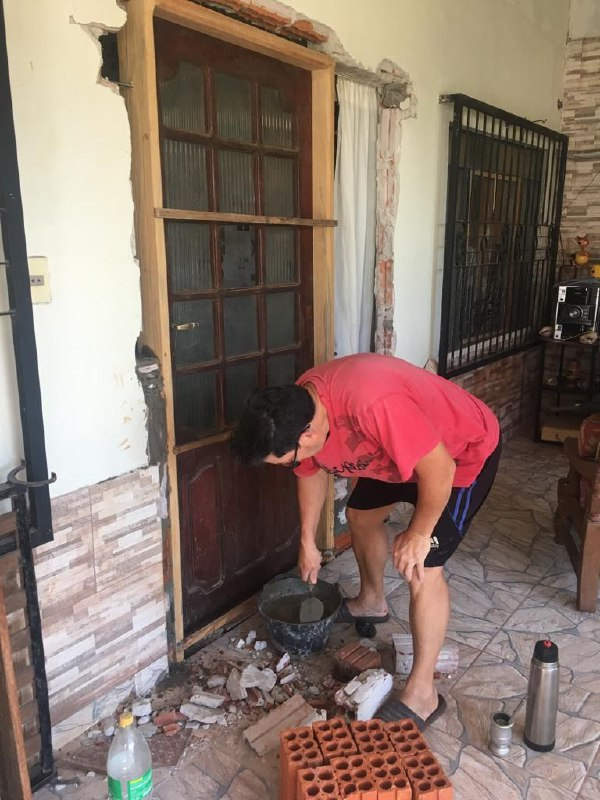 Well as you can see this door and frame is almost completely amurado, you will see that the mason is very comfortable in this task of remodeling the entrance of the house hahahahah, well in my personal case I like to work as relaxed as possible and I take it as a relax and also as a moment of gymnastics.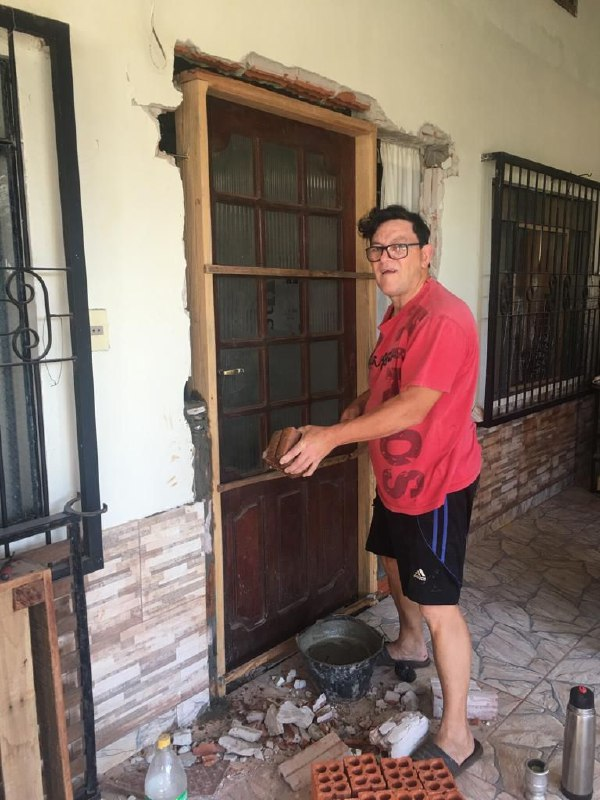 So this post and the next ones to come I will continue with the instructive of how to change an entrance door, using the following tools, mace, iron cutter, a bucket for the mixture and the spoon and the material for the mixture is, cement and sand, I hope you like this way of how to change an entrance door, which is very easy always taking into account the availability of each one in wanting to do it well,
I am waiting for your comments.
THANK YOU VERY MUCH FOR FOLLOWING AND READING ME, HAVE A GREAT DAY.