Buenos días a todos los integrantes de esta gran comunidad, hoy la verdad me alegro el día al levantarme y cuando me acerque a la galería, pude observar que mi planta preferida la que mas dedicación le doy por el hecho de que es muy frágil, apenas uno la toca y se desprenden sus gajitos, la misma se la puede comparar con mi mano de esa forma vemos su tamaño, el cual no es muy grande, pero si lo que rescato son sus flores la verdad muy bellas, a las misma las comparo con la flores de la planta rayito de sol.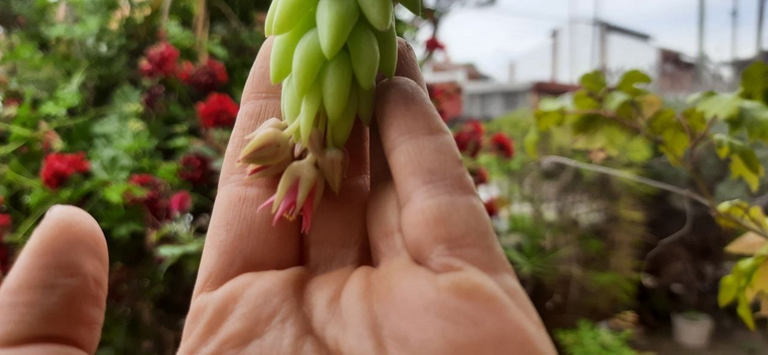 Lo digo por su tamaño,, pero estas son mas lindas, dicha planta como se puede ver en la foto se va alargando como tentáculos de pulpo al quedarse colgadas en la maceta, estas crecen hacia abajo o sea por la fuerza de gravedad, mas abajo se caen mas rápido crecen, formando con sus pétalos carnosos en forma de gusanitos un liana o soga de grosor grande, con ese color verde claro y por fuera con un sombreado plateado, la verdad es toda una exhibicionista, porque mas la admiramos y parece que mas rápido crece.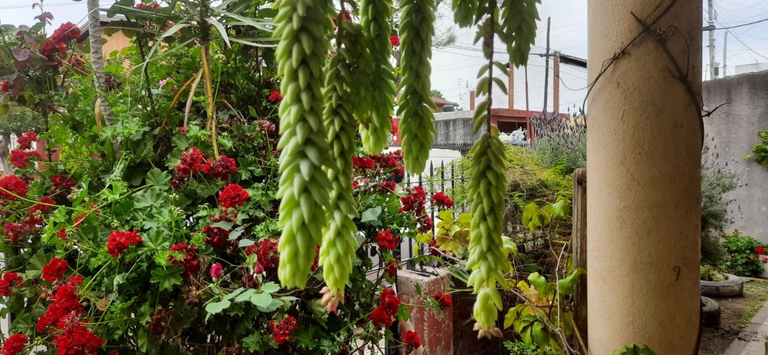 Como les comente antes amigos esta planta es de maceta no se la puede plantar en la tierra, bueno donde la plante tuve que preparar bien la tierra, además la misma no lleva mucha agua por lo carnosa que es, es similar al cactus, como saben el cactus sobrevive en el desierto casi sin agua, solamente cuando llueve, de esta manera me alegro el día esta planta al exhibir su bella flor de color anaranjado claro con la parte de atrás en color rosa pálido.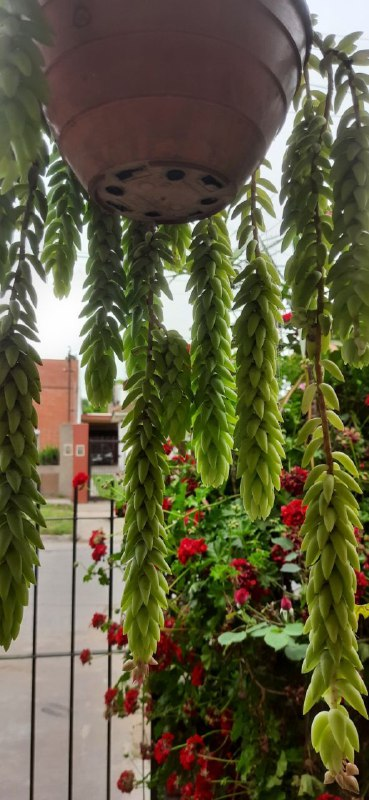 Bueno como les dije no hay mejor relax que observar las flores por la mañana, sus colores, el aroma de su perfume y de la manera que se van reproduciendo, hermoseando el jardín y por ende la casa, así que si les agrado esta planta de flor no duden de dejar sus apreciados comentarios.
MUCHAS GRACIAS POR LEERME Y SEGUIRME, BUEN COMIENZO DE FIN DE SEMANA.
TRANSLATE INTO ENGLISH.
Good morning to all the members of this great community, today the truth glad me the day to get up and when I approached the gallery, I could observe that my favorite plant the one that more dedication I give him by the fact that it is very fragile, as soon as one touches it and its gajitos come off, the same one can be compared with my hand of that form we see its size, which is not very big, but if what I rescue is its flowers the very beautiful truth, to the same ones I compare them with the flowers of the plant rayito de sol.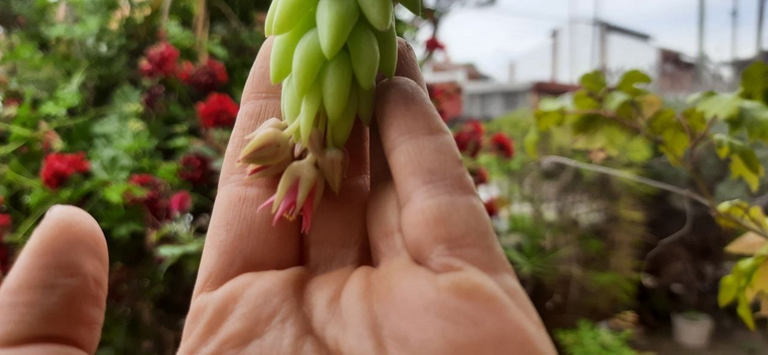 I say it by its size, but these are more beautiful, this plant as you can see in the photo is lengthening as octopus tentacles to stay hanging in the pot, these grow downward or by the force of gravity, the lower they fall faster grow, forming with its fleshy petals in the form of small worms a liana or rope of great thickness, with that light green color and on the outside with a silvery shading, the truth is a real exhibitionist, because the more we admire it and it seems that the faster it grows.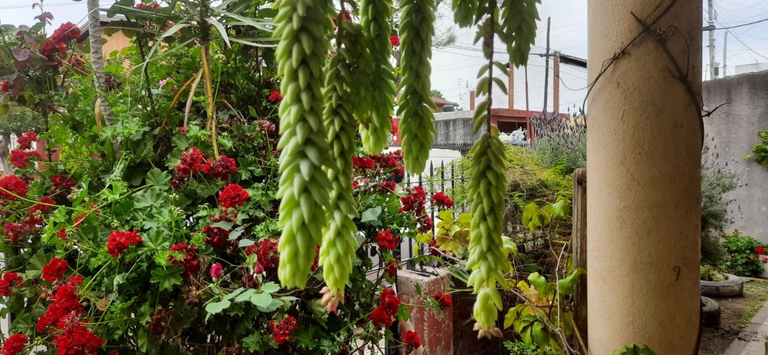 As I told you before friends this plant is potted, it can not be planted in the ground, well where I planted it I had to prepare the soil well, also it does not take much water because it is so fleshy, it is similar to the cactus, as you know the cactus survives in the desert almost without water, only when it rains, in this way this plant made my day by exhibiting its beautiful light orange flower with the back in pale pink.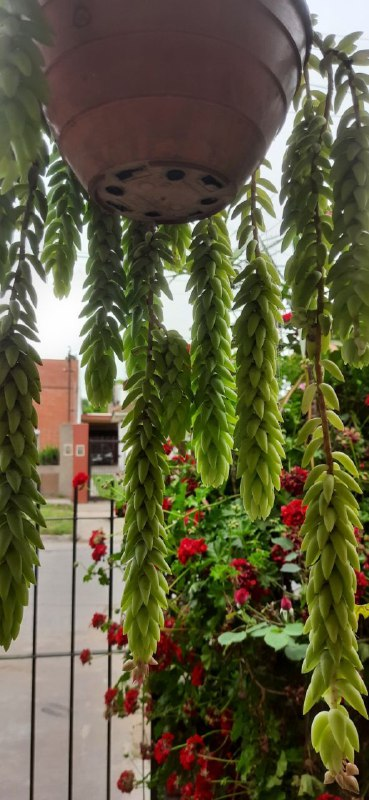 Well as I told you there is no better relaxation than watching the flowers in the morning, their colors, the scent of their perfume and the way they reproduce, beautifying the garden and therefore the house, so if you like this flowering plant do not hesitate to leave your appreciated comments.
THANK YOU VERY MUCH FOR READING AND FOLLOWING ME, GOOD BEGINNING OF THE WEEKEND.