Muy buenos días a todos los que integran esta linda comunidad, me expreso bien y lo de linda es porque tiene mucho que ver con las reglas de convivencia, o sea lo que rescato es el respeto referente a los comentarios y eso es muy importante, lo digo así porque de esa manera todos nos sentimos prescindibles al efectuar nuestras publicaciones con la esperanza de seguir para adelante y creciendo cada día mas, como pueden observar el post de hoy en mi blog tiene que ver mucho con los niños, en este caso son los amiguitos de mis nietas, que se juntan a jugar en los juegos que he construido en mi jardín, de los cuales lo disfrutan mucho como pueden ver.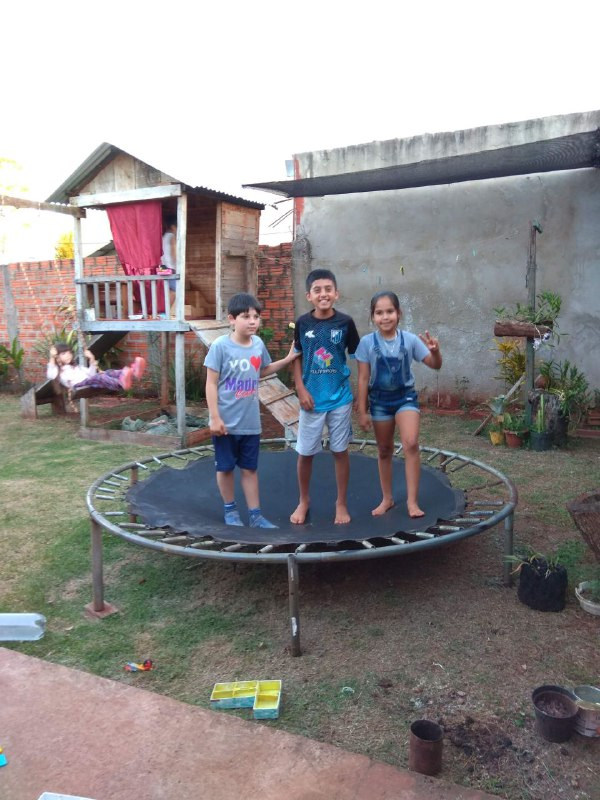 Algunos lo hacen en el saltarín o cama elástica, divirtiéndose de una gran manera, por eso como ven la foto salió un poco borrosa ajjaja, es por el movimiento de los chicos, otros lo hacen en la hamaca disfrutándola y en la parte izquierda se puede ver parte de mi cuerpo observando como juegan, eso para mi en lo personal es algo que me llena, porque como siempre me exprese en otros pots, no existe nada mas bello que ver la sonrisa de un niño, cuando expresa su gran alegría.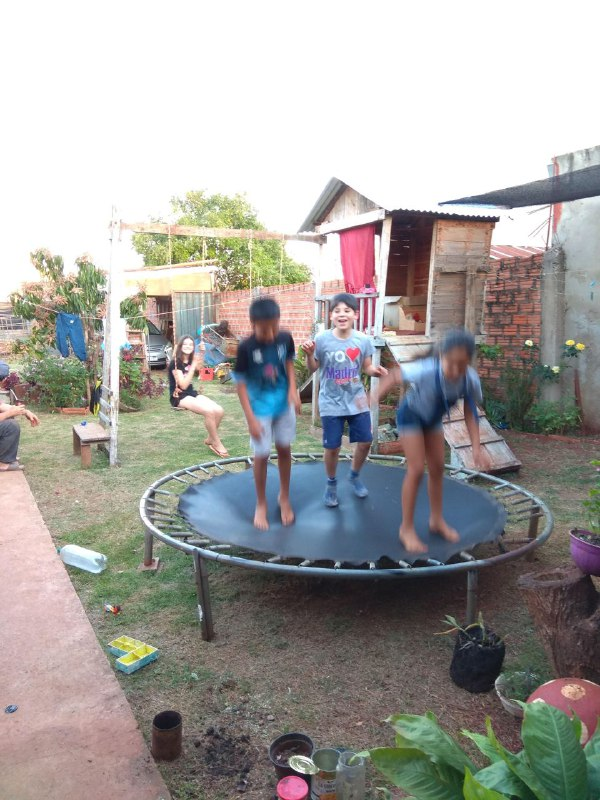 Los mas pequeños como lo es una de mis nietas, les agrada el dibujo por ende en la mesa ratonera de la galería, les deje unas hojas de dibujo con colores varios, para que puedan expresar sus iniciativas en lo que a dibujo me refiero, no lo podrán creer pero la verdad me dejaron sorprendido con lo que dibujaron, la verdad son muy creativos.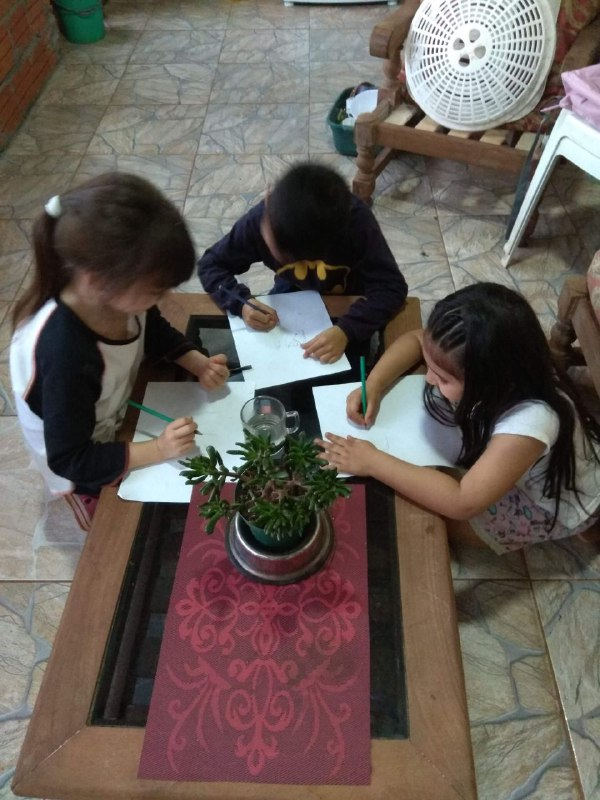 Luego de terminar con los dibujos y haber merendado, algunos de ellos todavía tienen su galletita en la mano, pero el juego y la diversión pueden mas como ven, una de mis nietas esta ahí es la segunda de abajo hacia atrás, a pedido de ellos que tuvieron la iniciativa para que les quite esta foto, la cual salió a mi parecer excelente, como dije mirando las expresiones de alegría de cada uno eso me llena como abuelo y también cuando requieren de mi presencia-ABUELO O TIO, en este pais PARAGUAY se estila expresarse hacia un adulto como TIO, de esa manera me siento muy contenido con todos ellos, alegrándome el día.
Quizás los juegos que he fabricado para el entretenimiento de estos niños sean un poco precario, bueno falta la pintura, pero lo que destaco es mi iniciativa en construirlos, sabiendo que con los mismos hare feliz a un niño los cuales son el futuro de nuestra generación y de la humanidad toda.
ES POR TODO ESO QUE LES DOY LAS GRACIAS, PRIMERO AL SEÑOR DIOS Y LUEGO A TODOS USTEDES POR LEERME Y SEGUIRME, QUE TENGAN UN BENDECIDO DIA.
TRANSLATED INTO ENGLISH
Very good morning to all who are part of this nice community, I express myself well and the nice is because it has much to do with the rules of coexistence, that is what I rescue is the respect for the comments and that is very important, I say so because that way we all feel dispensable to make our publications in the hope of moving forward and growing every day more, as you can see today's post in my blog has to do a lot with children, in this case are the friends of my granddaughters, who get together to play in the games that I have built in my garden, which they enjoy a lot as you can see.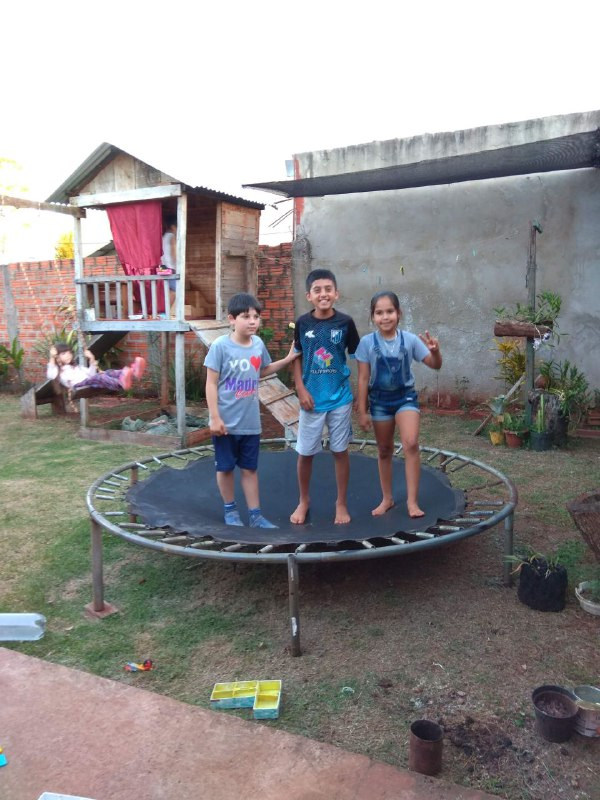 Some do it on the trampoline, having a great time, that's why as you can see the picture is a little blurry ajjaja, is because of the movement of the kids, others do it in the hammock enjoying it and in the left part you can see part of my body watching how they play, that for me personally is something that fills me, because as I always expressed in other pots, there is nothing more beautiful than seeing the smile of a child, when he expresses his great joy.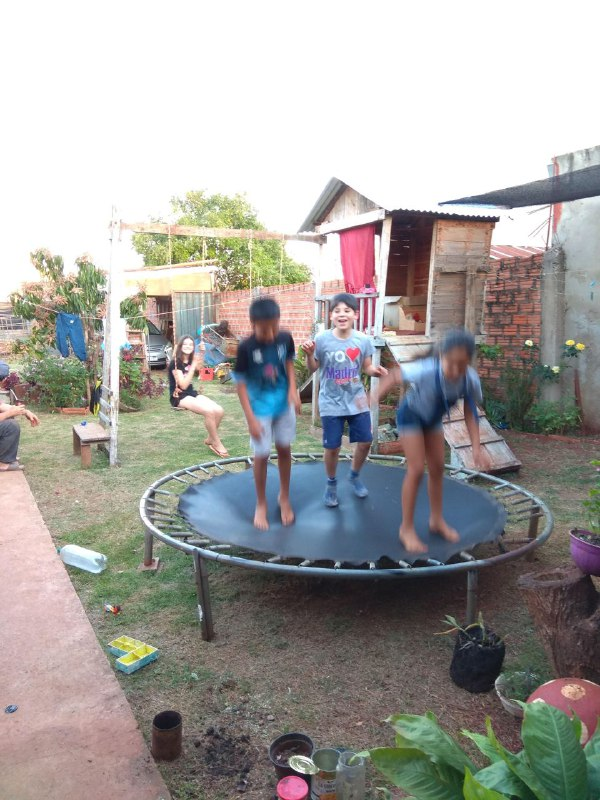 The little ones, like one of my granddaughters, like drawing, so in the mousetrap table of the gallery, I left them some drawing sheets with various colors, so they can express their initiatives in what I mean to drawing, you can not believe it but the truth left me surprised with what they drew, the truth is they are very creative.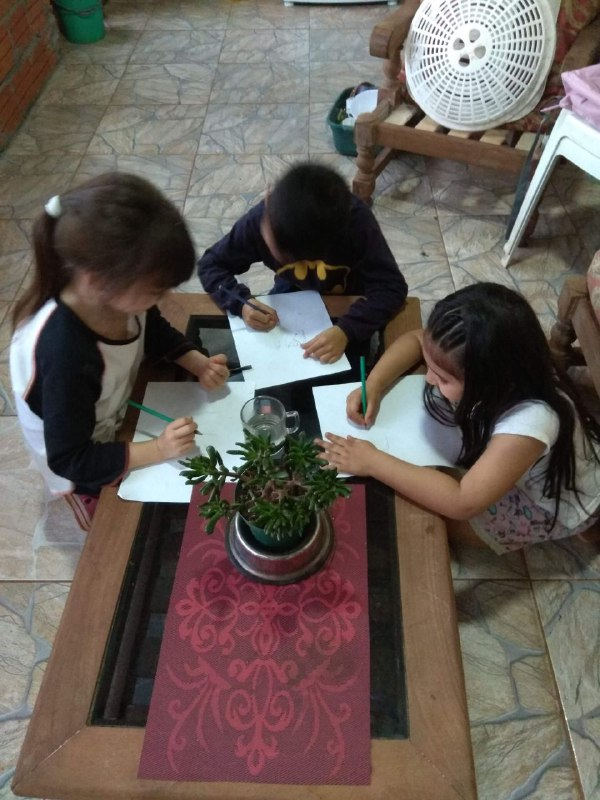 After finishing with the drawings and having a snack, some of them still have their cookies in their hands, but the game and the fun can do more, as you can see, one of my granddaughters is there, she is the second from the bottom to the back, at the request of them who had the initiative for me to take this picture of them, which came out in my opinion excellent, as I said looking at the expressions of joy of each one that fills me as a grandfather and also when they require my presence-ABUELO O TIO, in this country PARAGUAY it is customary to express themselves to an adult as TIO, in this way I feel very content with all of them, making my day.
Perhaps the games that I have made for the entertainment of these children are a little precarious, well the painting is missing, but what I emphasize is my initiative in building them, knowing that with them I will make a child happy, who are the future of our generation and of humanity as a whole.
FOR ALL THAT I THANK YOU, FIRST TO THE LORD GOD AND THEN TO ALL OF YOU FOR READING AND FOLLOWING ME, HAVE A BLESSED DAY.