Buenos días a todos, siendo hoy un día mas, en la cual nuestras ilusiones, nos hace soñar un poco, quizás por la niebla que se presento en este bello amanecer londinense, donde el sol todavía no se hace ver, pero si esta gran niebla, que azota todo, desde mi barrio hasta llegar casi al centro de la ciudad, saliendo de mi casa caminando, donde voy obteniendo estas fotos con mi teléfono celular, en donde se aprecia y se destaca, como bien dije la niebla.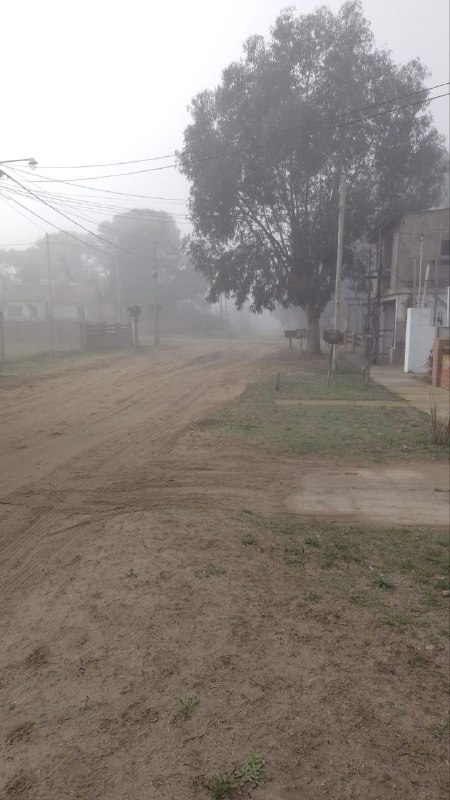 Siguiendo el camino, conde como bien dije quitando fotos, las cuales me parecen como si fuera un día de fantasía, lo expreso así, porque si observan la visibilidad es muy corta. pero a medida que voy avanzando se aclara un poco mas.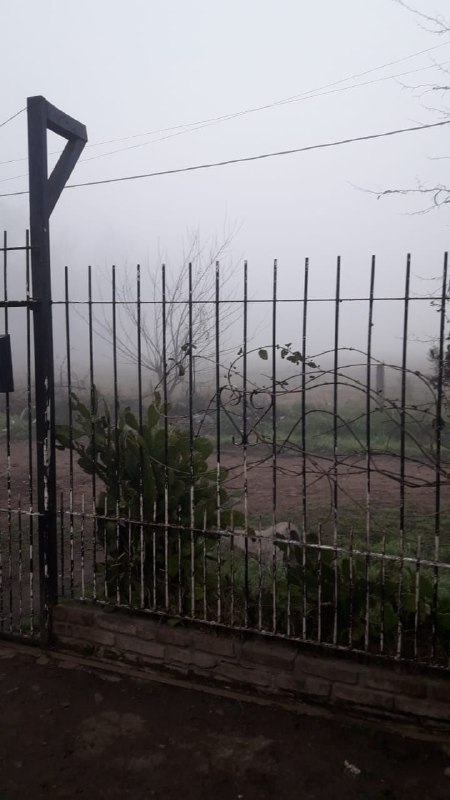 Si de aclarando hablamos es todo esto que ven en estas fotos, pero con el detalle que vemos hacia el horizonte, donde comparo esa silueta que se ve como si fuera un cohete, preparándose para su despegue en cabo cañaveral.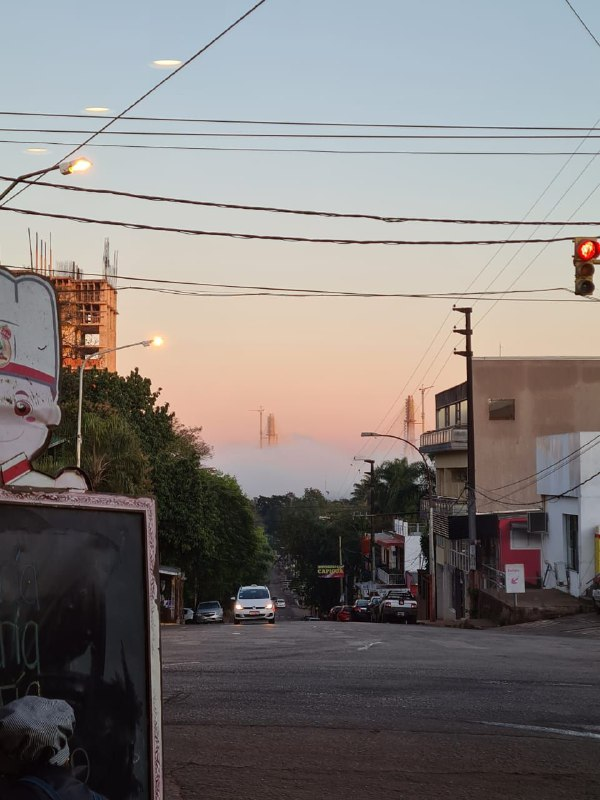 Tanta es mi fantasía como el día, que aumente el zoom del teléfono y o sorpresa, sabiendo de lo que se trataba, pero que mis ojos decían otra cosa.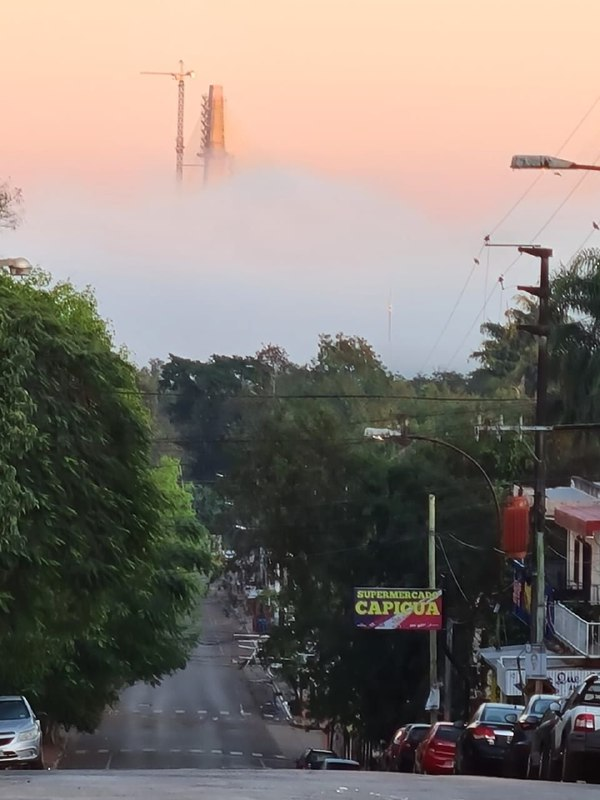 Pensando en todo esto y observando lo accidentado de las calles, como verán una gran bajada, con arboles y sus copas bien verdes, haciendo contraste con los vehículos estacionados y algunos carteles de publicidad que sobresalían, con el fondo hacia el horizonte, después de la niebla como si fuera de un color rosa viejo.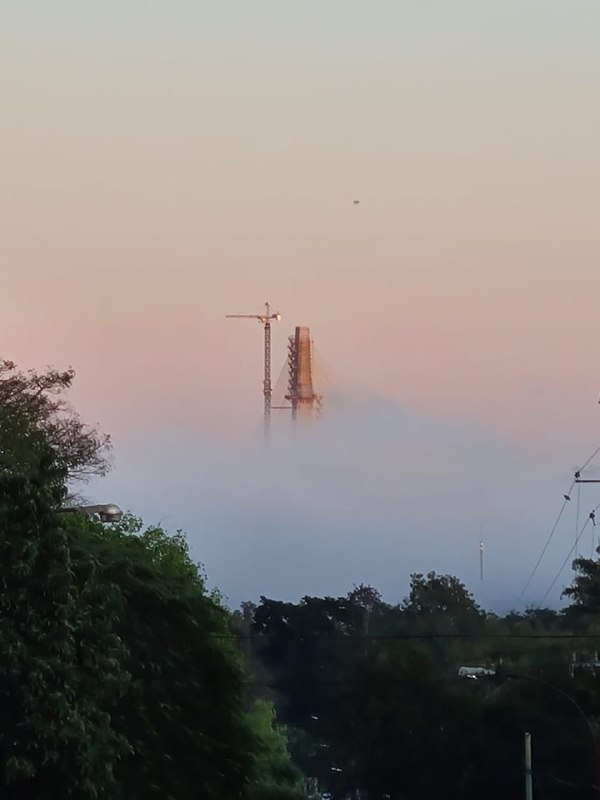 Es ahí recién que pude divisar muy bien por la salida mas solida del sol, que al brillar mas, se disipo un poco mas la niebla, dejando de esa manera al descubierto lo que por la forma parecía un cohete con la plataforma de vuelo.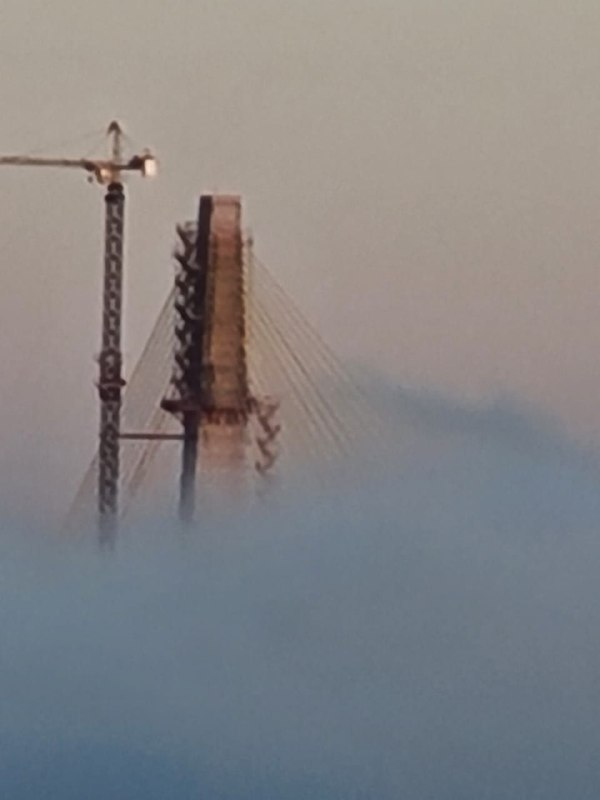 Pero la realidad es otra queridos amigos, decía que dicha realidad es otra porque lo que se podía ver desde el punto en que me hallaba, no Hera nada mas y nada menos que el futuro puente, el cual une dos naciones en la triple frontera.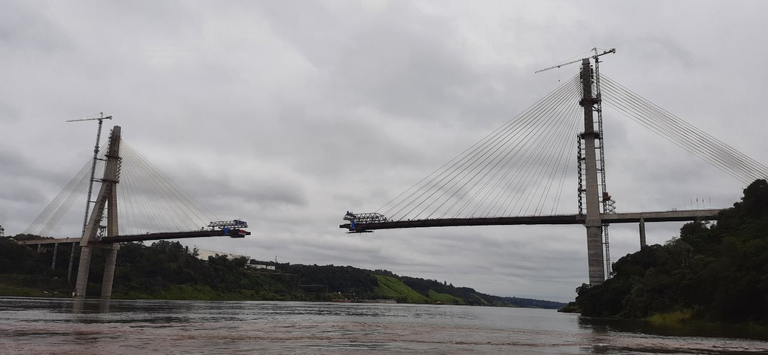 Cuando menciono triple frontera, es porque se trata de tres paices, ARGENTINA, BRASIL Y PARAGUAY, y dicho puente lo que hará es unir el pais de BRASIL CON PARAGUAY, con el propósito de reducir el flujo de circulación de camiones de carga, entre esos dos paices, la verdad que ver esta gran obra y construcción, es para destacar la labor de nosotros los seres humanos.
MUCHAS GRACIAS POR SEGUIRME Y LEERME, QUE TENGAN UN BENDECIDO DIA.
TRADUCIDO AL INGLES.
Good morning everyone, being today another day, in which our illusions, makes us dream a little, perhaps because of the fog that was presented in this beautiful London dawn, where the sun is not yet seen, but if this great fog, which lashes everything, from my neighborhood to get almost to the center of the city, leaving my house walking, where I get these pictures with my cell phone, where you can see and stands out, as I said the fog.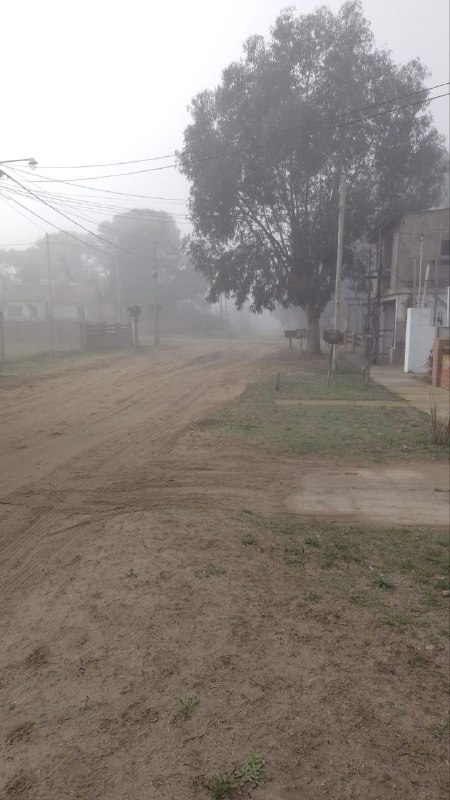 Continuing on the road, where as I said, taking pictures, which seem to me as if it were a day of fantasy, I say so, because if you look at the visibility is very short, but as I move forward it becomes a little clearer.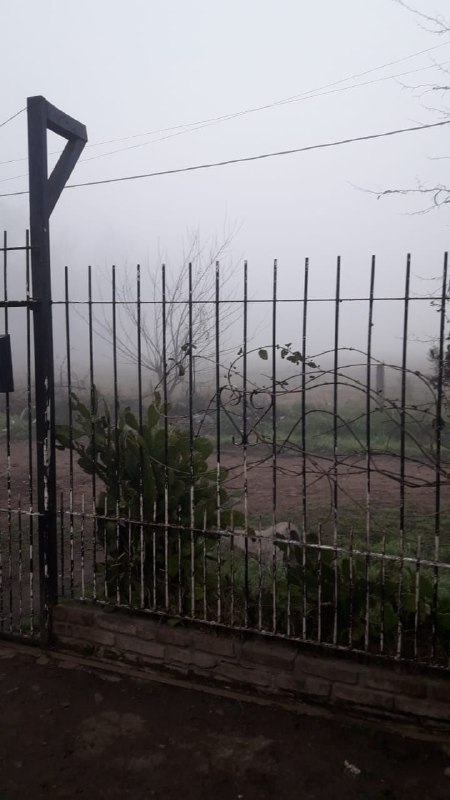 If we talk about clarifying is all this you see in these photos, but with the detail that we see towards the horizon, where I compare that silhouette that looks like a rocket, preparing for takeoff at Cape Canaveral.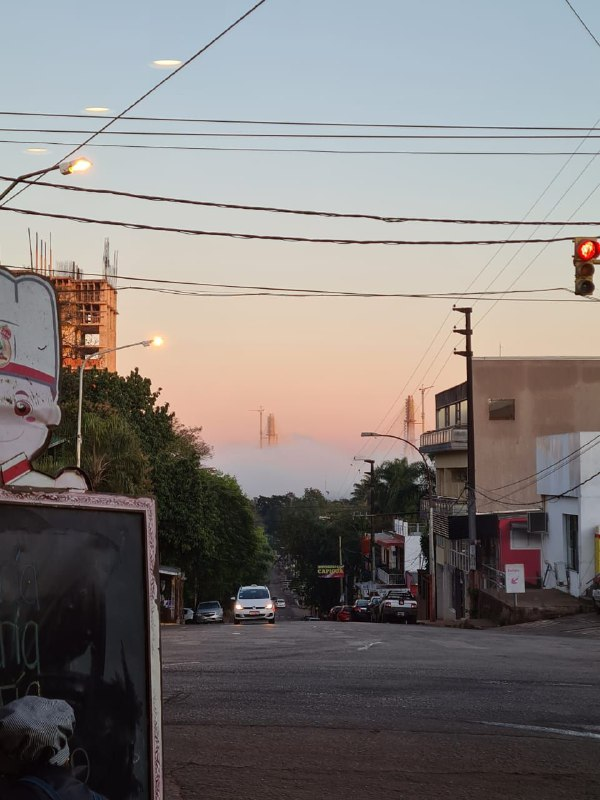 So much is my fantasy as the day, that I increased the zoom of the phone and or surprise, knowing what it was, but that my eyes said something else.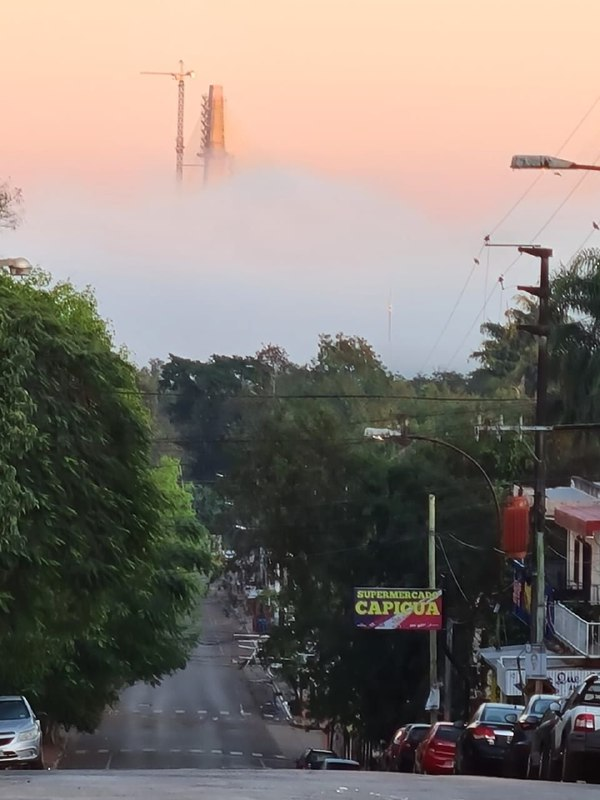 Thinking about all this and observing the ruggedness of the streets, as you will see a great descent, with trees and their tops well green, contrasting with the parked vehicles and some advertising signs that stood out, with the background to the horizon, after the fog as if it were an old pink color.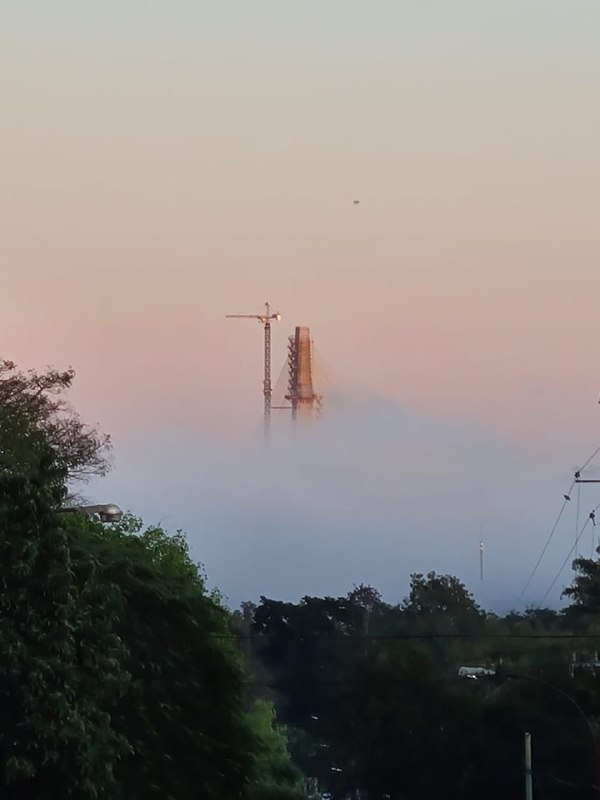 It was then that I could make out very well by the more solid sunrise, that when shining more, the fog dissipated a little more, thus exposing what by the shape looked like a rocket with the flight platform.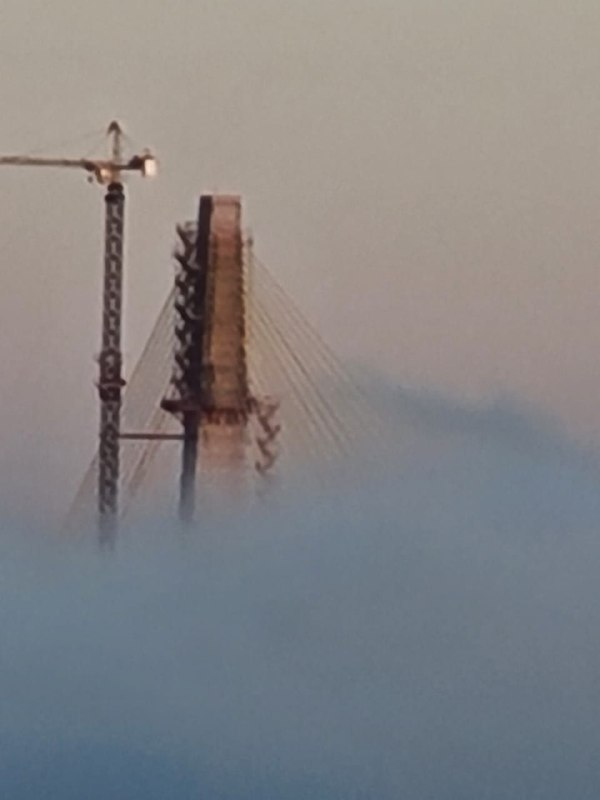 But the reality is different dear friends, I said that reality is different because what I could see from the point where I was, was nothing more and nothing less than the future bridge, which unites two nations in the triple border.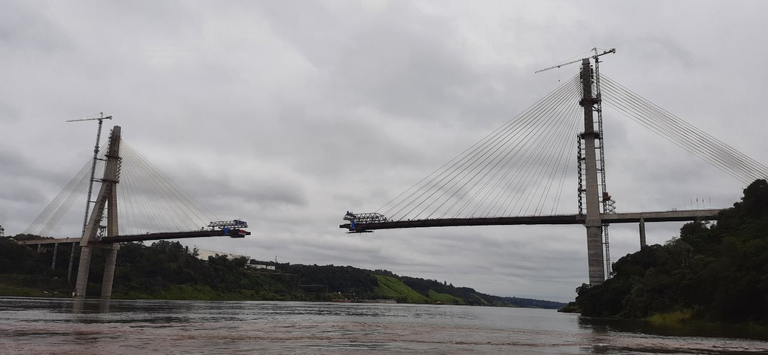 When I mention triple border, is because it is three countries, ARGENTINA, BRAZIL AND PARAGUAY, and this bridge will unite the country of BRAZIL WITH PARAGUAY, in order to reduce the flow of cargo trucks circulation between these two countries, the truth is that seeing this great work and construction, is to highlight the work of us human beings.
THANK YOU VERY MUCH FOR FOLLOWING AND READING ME, HAVE A BLESSED DAY.