Hola a todos, espero se encuentren todos ustedes y sus seres queridos gozando de buena salud, es mi deseo como integrante de esta hermosa plataforma social a la cual integro y también aporto con mis publicaciones a diario, sumando de esa manera cada día un granito de arena como digo siempre y así crecemos todos, referente a las publicaciones, como bien saben en anteriores que he explayado referente al muro o tapia que he construido, teniendo en cuenta su finalidad, el no ingreso de personas amigos de lo ajeno o de malvivir, que habían ingreso por ese lugar.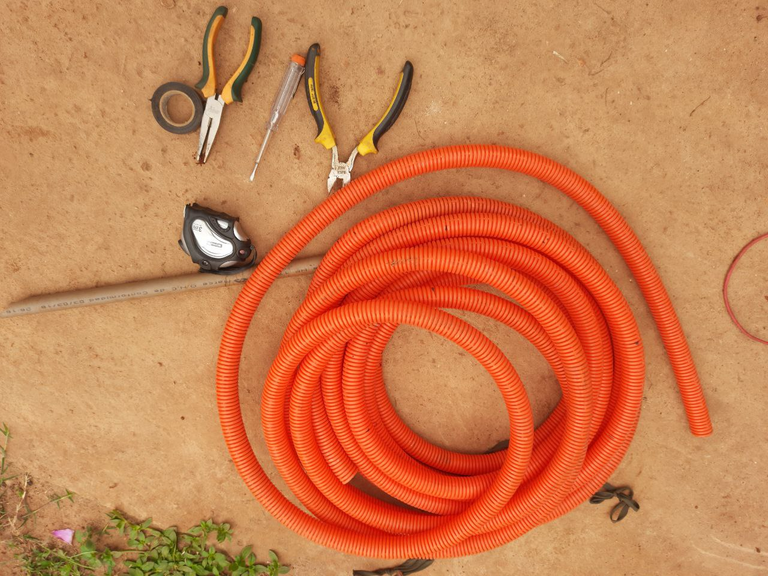 Las herramientas que he utilizado son las que se pueden observar en la foto,, alicate de corete, pinza, destornillador buscapolo, cinta métrica, caño corrugado, caño de pvc y cinta aisladora para cubrir las uniones de los cables a conectar.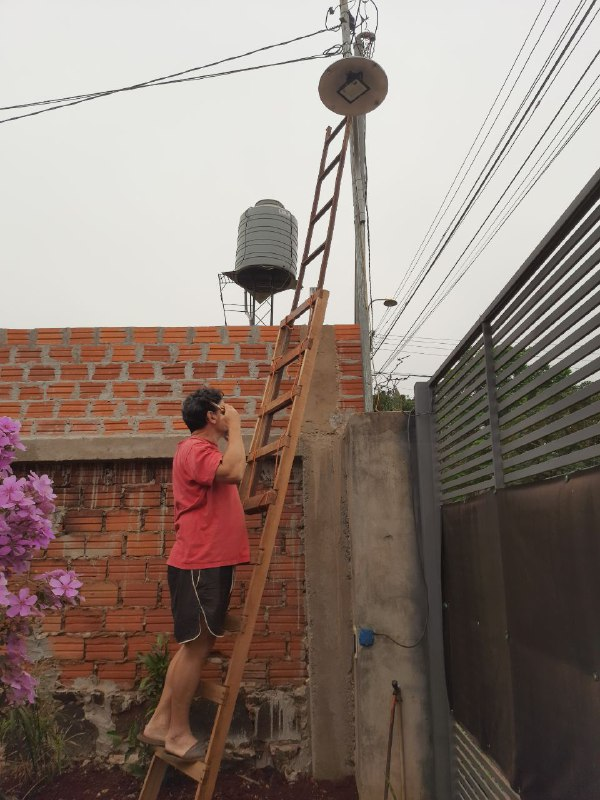 Lo primo que realice fue restaurar una lampara con el caño que tenia, conectándole en la parte de abajo de lo que seria la campara un pequeño reflector de led de 30 wat, el cual se adapto perfectamente, por ahora a dicho caño con el caño del pilar lo ate o amarre con alambre , luego pondré abrazadera de metal, luego como se puede ver en la foto, uní dos escaleras bien amarradas para de esa manera poder llegar a la altura deseada.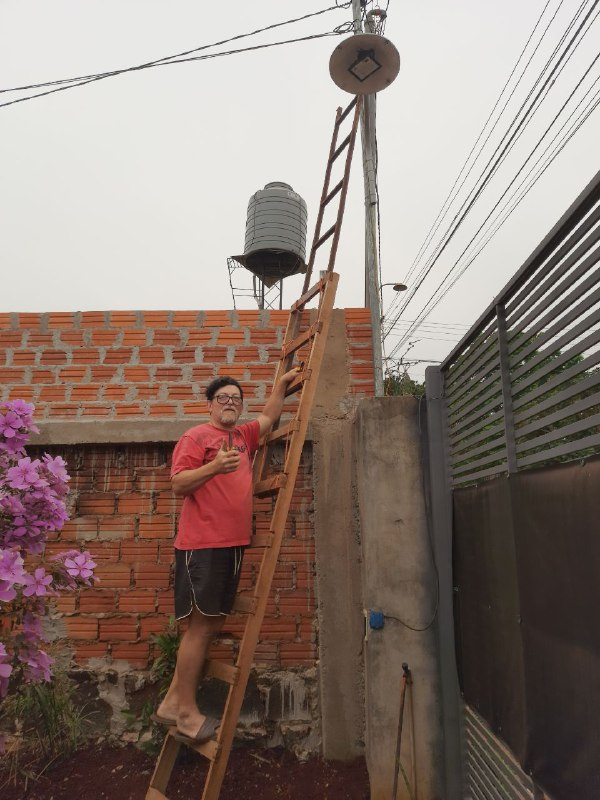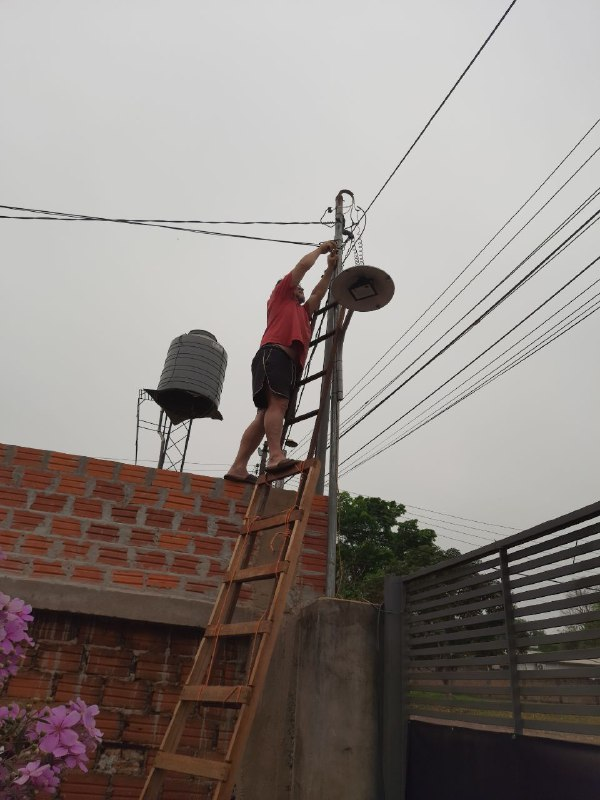 Como ven queridos amigos, el esfuerzo puesto de manifiesto para la instalación de dicha luz o lampara, teniendo en cuenta como siempre comento, si todo lo que hacemos le ponemos amor y perseverancia sale bien como en este caso también.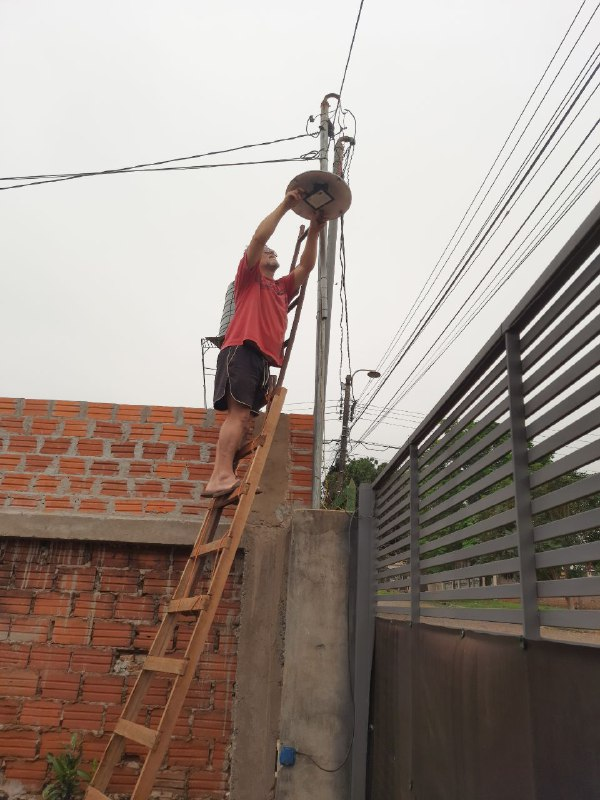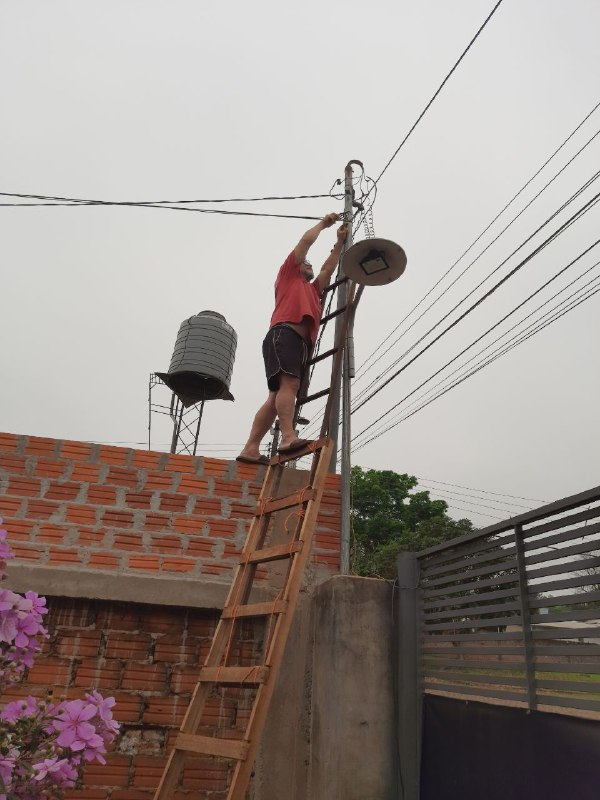 La verdad que luego de quitar la parte del espagueti del cable o funda de plástico, cuando este quedo con la parte del cobre a la vista, tomando el destornillador buscapolo, localice el cable positivo, entonces comencé a unirlos y luego de colocarle la cinta aisladora, quedo perfecto, asimismo se puede ver en la foto la escalera la cual apoya en su parte de arriba en el caño, el comentario es para que se puede ver la altura de la conexión.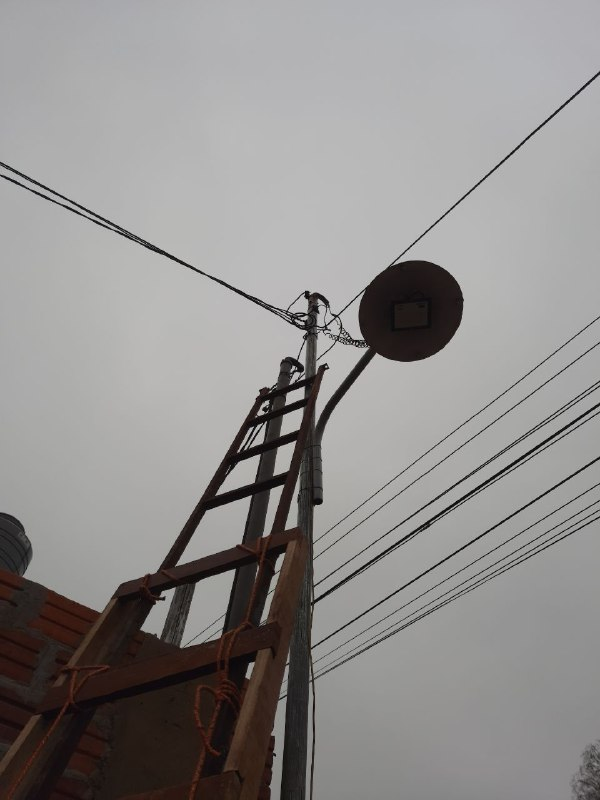 Quizás cuando hacemos algo de este tipo o sea como instalar una luz de este tipo, la ansiedad que nos invade como en mi caso y en lo personal, la verdad es enorme, quiero decir con esto que al dejar de día instalado dicha lampara con la fotocélula, que bien sabemos que con la luz del día se apaga, pero en este caso espere la noche y acá esta el resultado del esfuerzo realizado.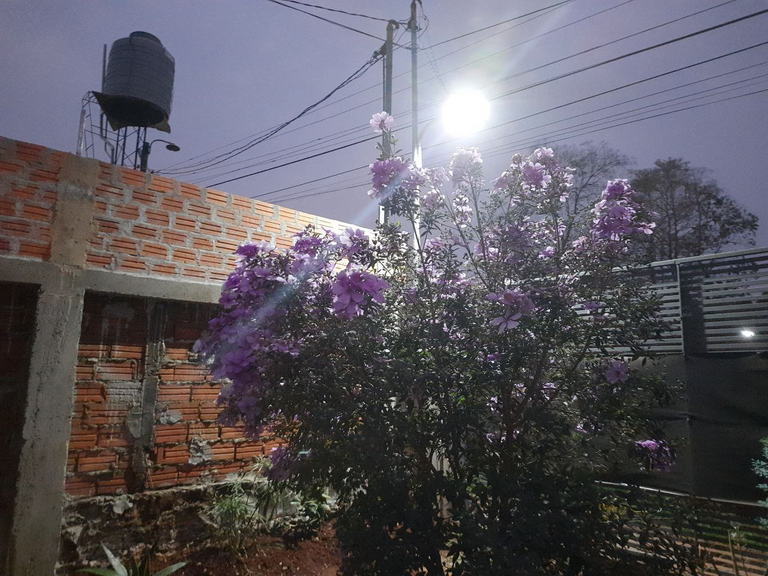 Me alegro la tarde noche al ver que funciono perfecto, como puede ver en las fotos, además amigos es una precaución menos, porque ese lugar ahora se ve como si fuera de día.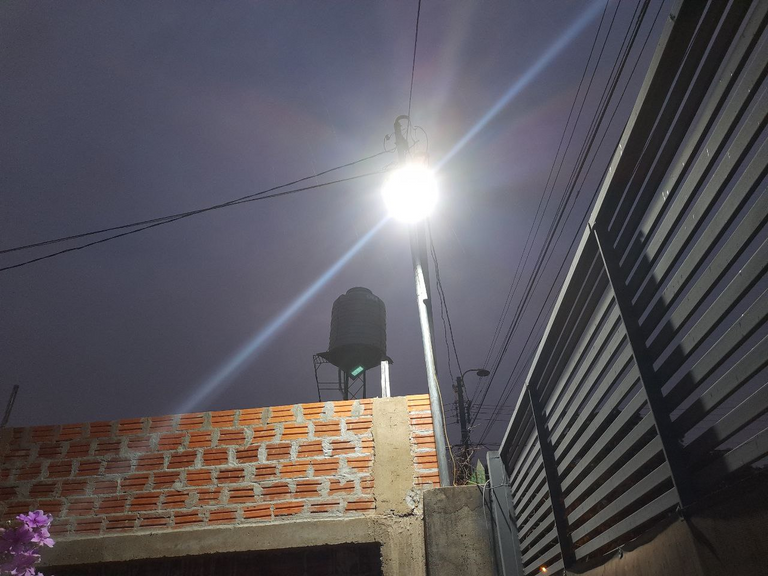 El comentario que rescato de todo esto es que a veces nosotros facilitamos todo para los amigos de lo ajeno, pero al tomar la iniciativa como lo realice con la instalación de esta luz y elevando mas el muro o tapia,, se les hará todo mas difícil, diría imposible para que vuelvan a ingresar a mi casa, teniendo en cuenta también que la nueva mascota -RUFO- esta ubicado a escasos metros de esa luz, por lo tanto es todo mas seguro.
Así que de haberles agradado esta publicación, quedo a la espera de sus comentarios, los cuales son estímulos para darnos mas aliento a seguir con los post y también de sus votos.
MUCHAS GRACIAS POR LEERME Y SEGUIRME, QUE PASEN UN EXCELENTE DIA.
TRANSLATED TO ENGLISH.
Hello everyone, I hope all of you and your loved ones are in good health, it is my wish as a member of this beautiful social platform to which I join and I also contribute with my publications on a daily basis, thus adding every day a grain of sand as I always say and that is how we all grow, referring to the publications, as you well know in previous publications that I have elaborated on the wall or wall that I have built, taking into account its purpose, the non-entry of people who are friends of others or of bad living, who had entered through that place.
! [image.png] (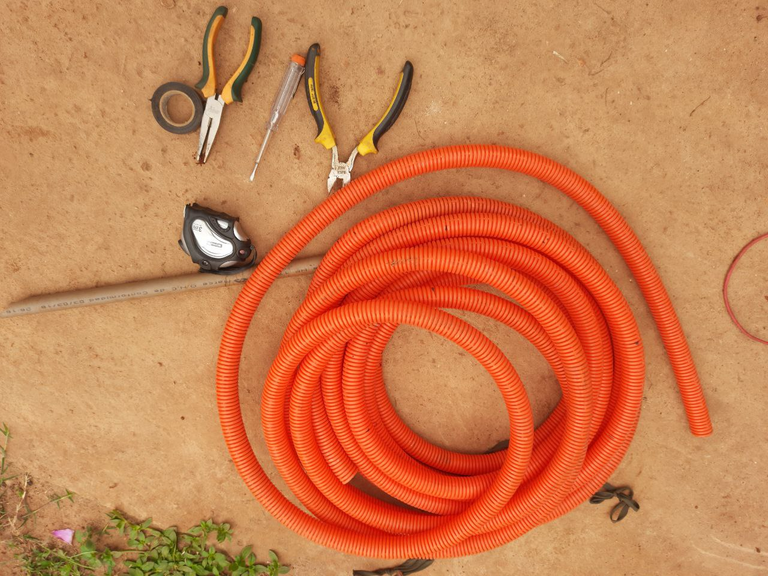 )
The tools that I have used are the ones that can be seen in the photo, corete pliers, pliers, pole finder screwdriver, measuring tape, corrugated pipe, PVC pipe and insulating tape to cover the joints of the cables to be connected.
! [image.png] (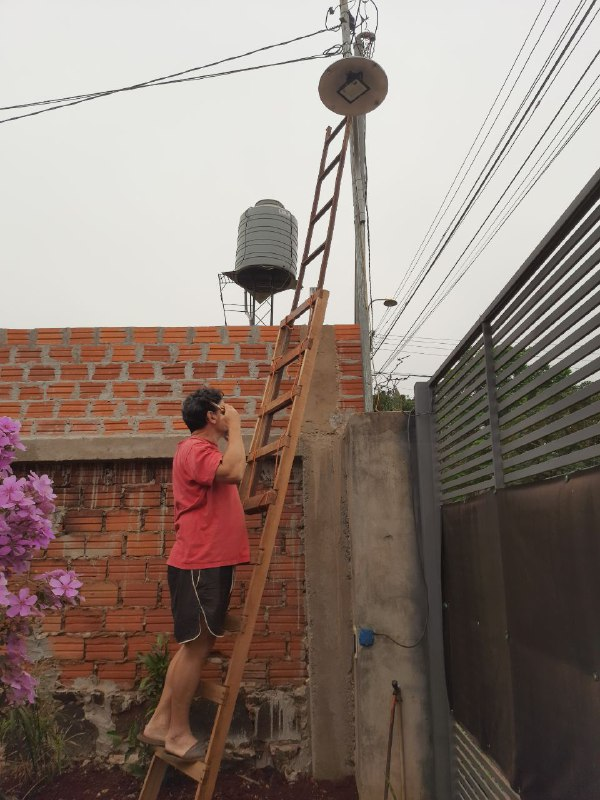 )
The first thing I did was to restore a lamp with the spout that it had, connecting a small 30 watt led reflector at the bottom of what would be the hood, which adapted perfectly, for now, to said spout with the spout of the I tie the pillar or tie it with wire, then I will put a metal clamp, then as you can see in the photo, I joined two well-tied ladders so that I could reach the desired height.
! [image.png] (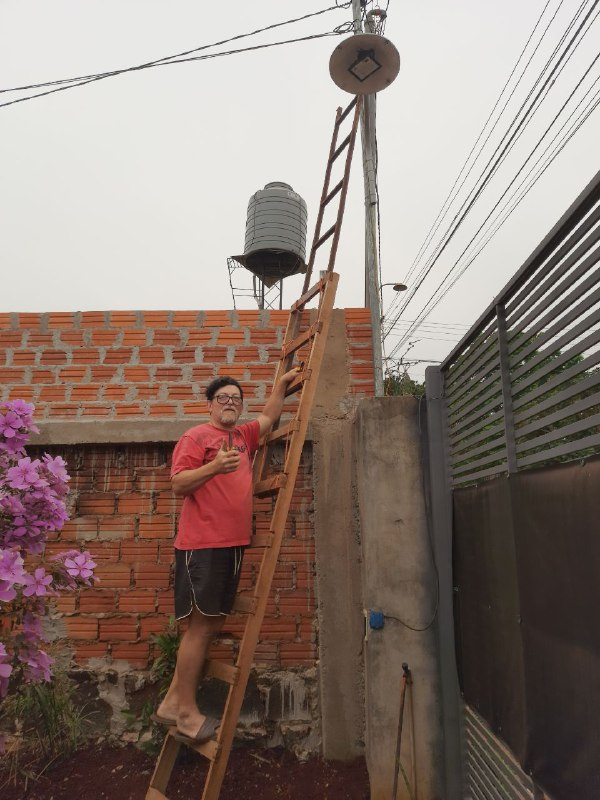 )
! [image.png] (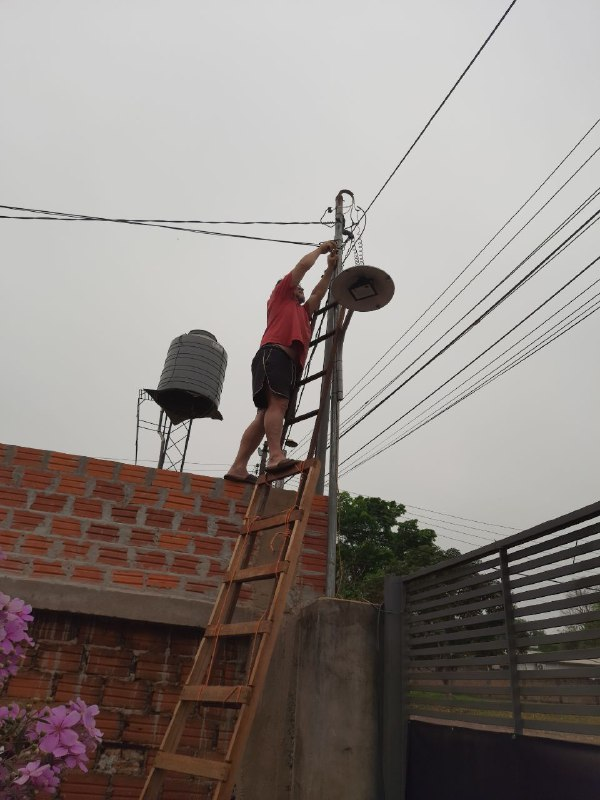 )
As you can see, dear friends, the effort shown for the installation of said light or lamp, taking into account as I always comment, if everything we do we put love and perseverance into it goes well as in this case as well.
! [image.png] (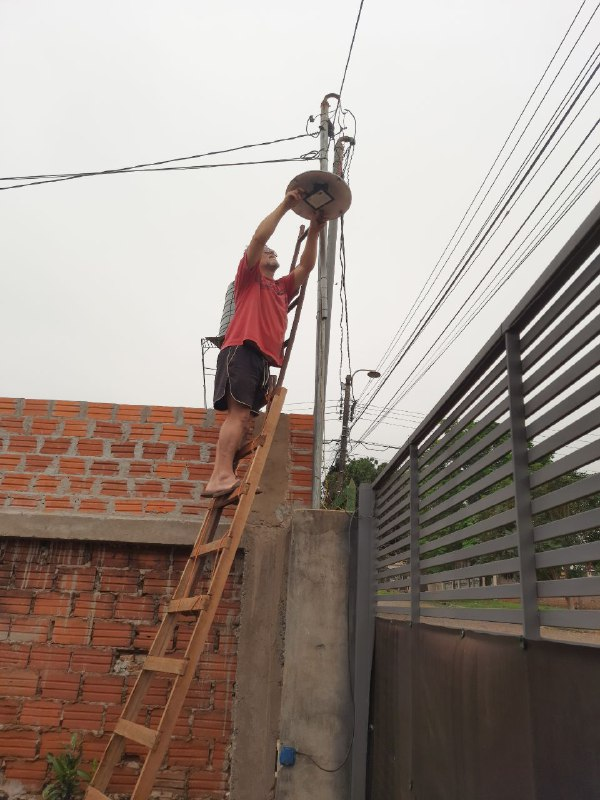 )
! [image.png] (https://files.peakd.com/file/peakd-hive/comandoyeya/23qrQ5T4iMgMyctkJfAu2sUoPSTh8jHP9FGBNDvMd4gz3nKpWJ9DFsEQ3TXVCQ3LCBhtR)
The truth is that after removing the spaghetti part of the cable or plastic sheath, when I am left with the copper part in sight, taking the pole finder screwdriver, locate the positive cable, then I began to join them and after placing the insulating tape , It was perfect, you can also see in the photo the ladder which rests on the top of the pipe, the comment is so that you can see the height of the connection.
! [image.png] (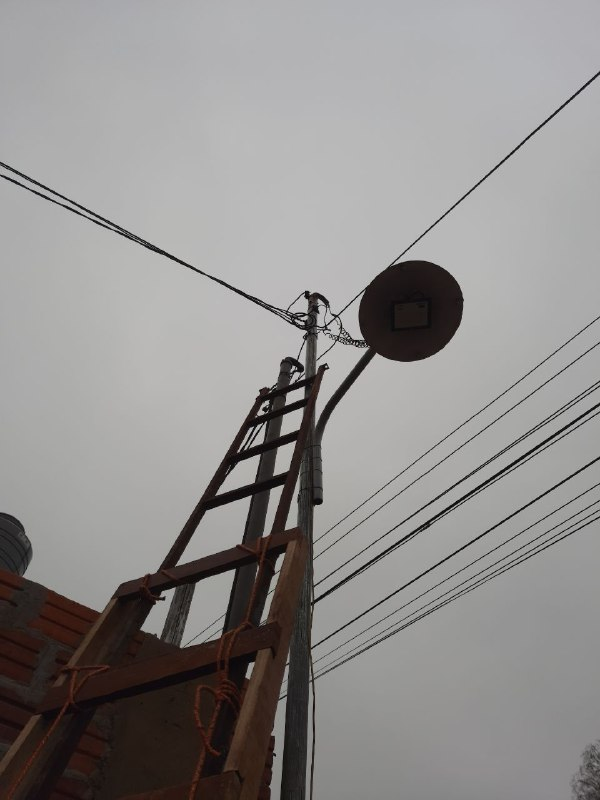 )
Perhaps when we do something of this type or it is like installing a light of this type, the anxiety that invades us as in my case and personally, the truth is enormous, I mean by this that when leaving said lamp installed during the day with the photocell, which we well know that with daylight it turns off, but in this case wait for the night and here is the result of the effort made.
! [image.png] (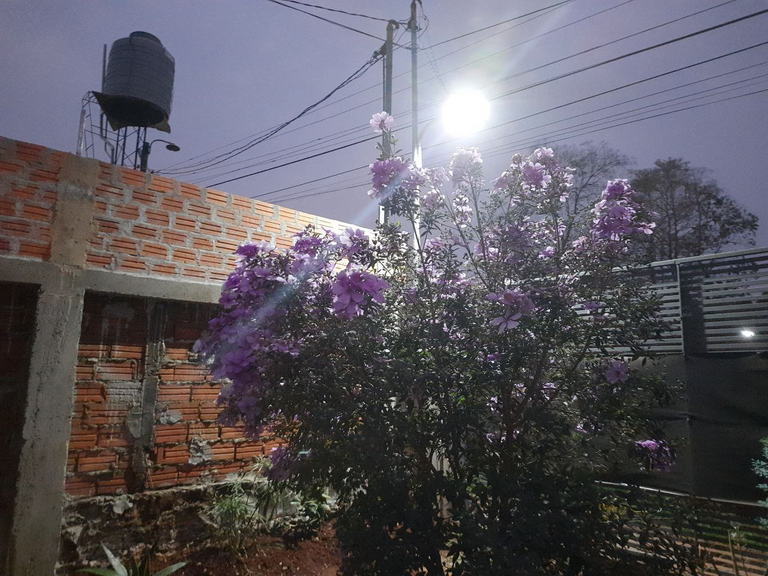 )
I'm glad the late night to see that it worked perfectly, as you can see in the photos, besides friends it is one less precaution, because that place now looks like it was daytime.
! [image.png] (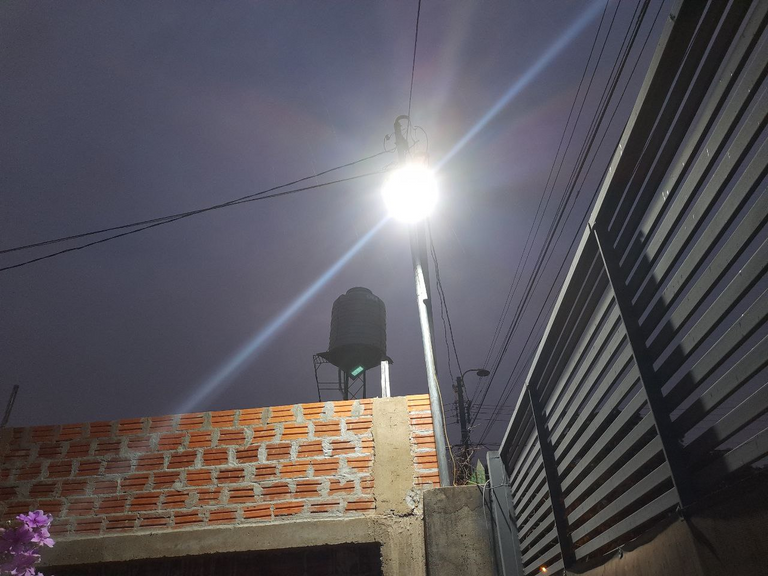 )
The comment that I rescue from all this is that sometimes we facilitate everything for the friends of others, but by taking the initiative as you do with the installation of this light and raising the wall or wall more, it will make everything more difficult I would say impossible for them to re-enter my house, also taking into account that the new pet -RUFO- is located a few meters from that light, therefore everything is safer.
So if you have liked this publication, I look forward to your comments, which are encouragement to give us more encouragement to continue with the post and also your votes.
THANK YOU SO MUCH FOR READING AND FOLLOWING ME, HAVE AN EXCELLENT DAY.