Queridos y estimados amigos de esta hermosa plataforma social, la cual integro y me siento muy dichoso por pertenecer a la misma, porque la considero en lo personal muy especial, por el hecho de que al efectuar mis post, no solamente colaboro con mi progreso, si no que lo estoy haciendo también con todos ustedes, quizás este en especial con un poco de nostalgia, por el sol hecho de que son buenos recuerdos de ese viaje a dicha provincia de SANTA CRUZ, la cual la considero muy especial por la gran cantidad de atracción turística que tiene, pero esta para mi es y será la mas hermosa e importante, por la gran masa de hielo que existe pero que cada año se va rompiendo, dejando de esa forma una belleza natural de gran magnitud.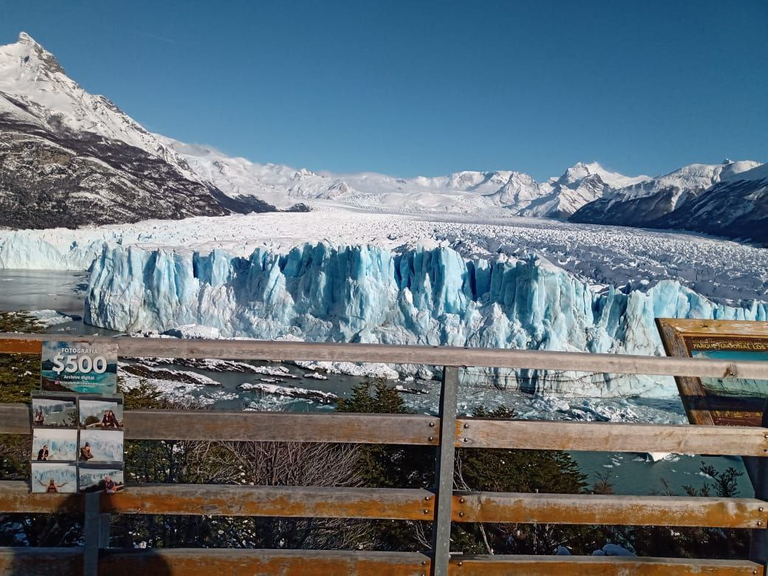 Lo digo de gran magnitud porque a medida que dicho hielo se va rompiendo, va dando espacio a mas cantidad de agua, porque estos hielos al romperse se derriten y de estado solido pasan a un estado liquido.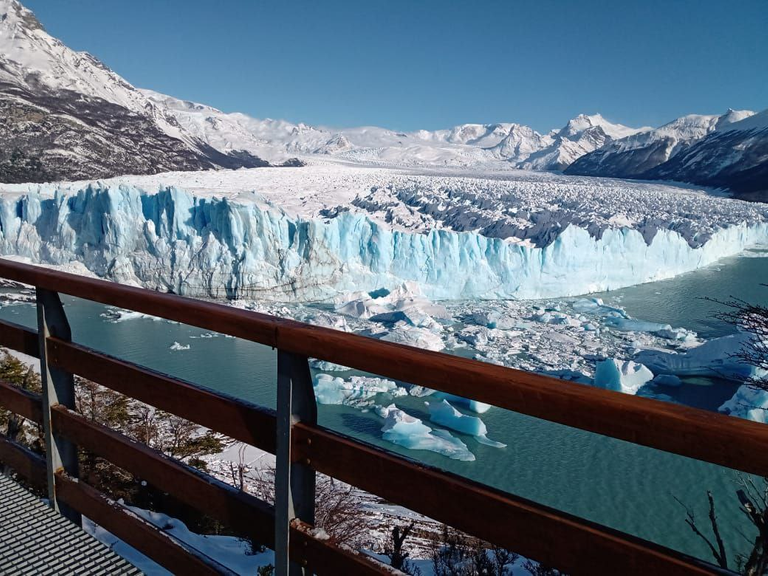 Como podemos ver en las fotos, si pasan a un e estado liquido, es mas probable que en el plantea se obtenga mas cantidad de agua, es por eso que seria lo mejor que se quedara en estado solido, de esa forma no pone en peligro la existencia de nuestro planeta tierra.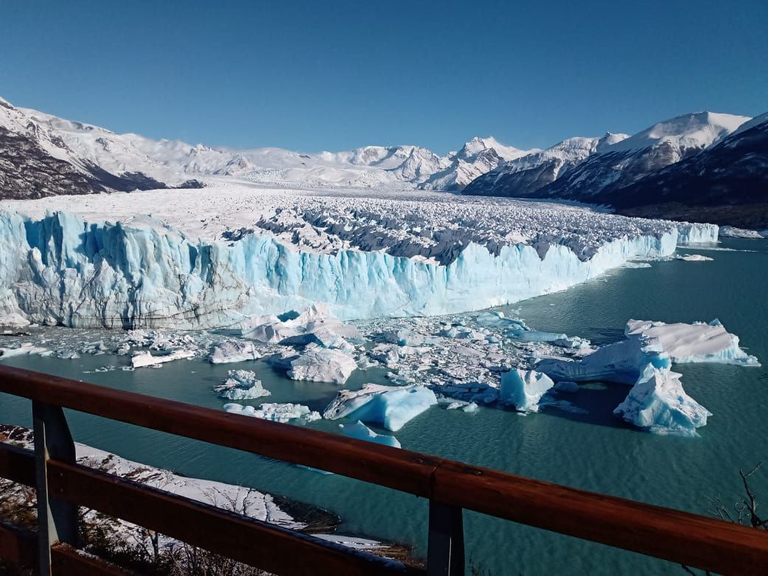 Amigos quizás el paisaje como puede verse es igual pero si observamos la baranda del corredor turístico se va cambiando, esto es por el hecho que nunca quito fotos del mismo lugar, para darle de esa manera mas contenido a la naturaleza que tengo a vista.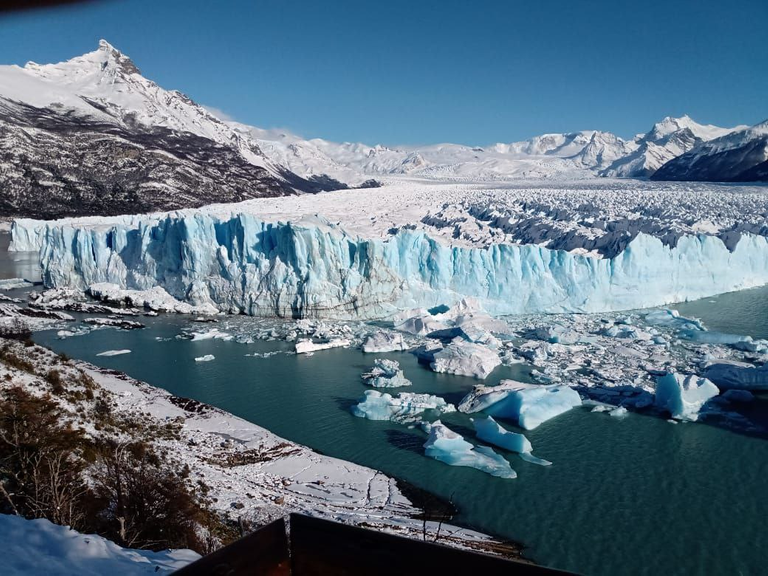 Testo sin contar con el horizonte el cual pueden ver, los picos de montañas y mesetas, por supuesto muy congelados con gran cantidad de nieve, dejando verse la parte de rocas y tierra muy poco, porque predomina la nieve.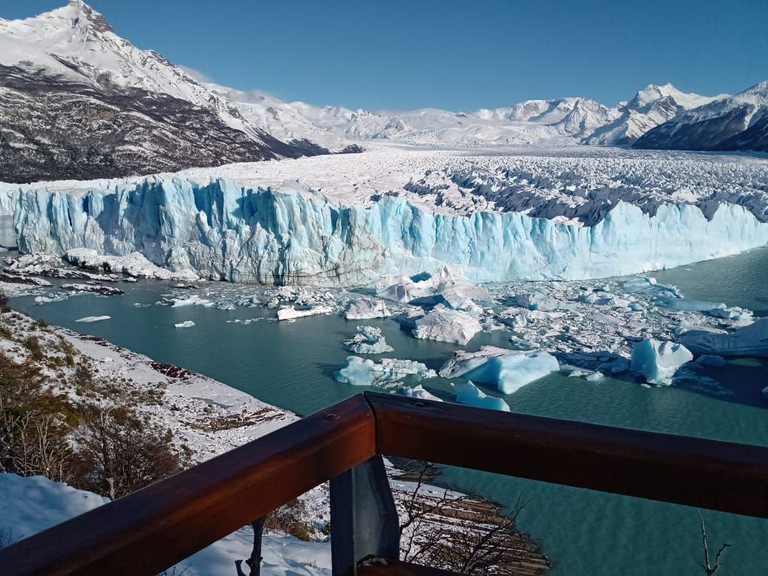 La verdad que encontrarse en este lugar, por supuesto que gozando de unos días de paseo en las vacaciones, es muy importante, lo digo para la parte del ser humano, teniendo en cuenta que al no correr mucho viento, se puede disfrutar muy bien de todo.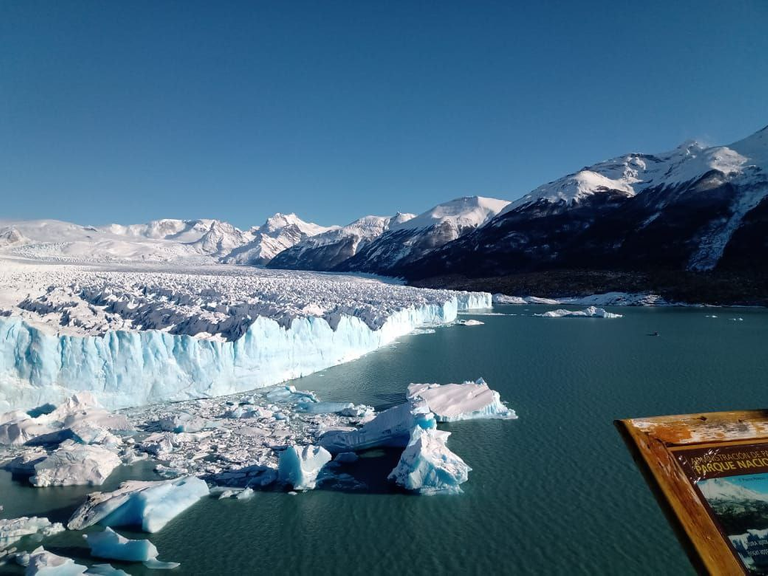 Por lo tanto es muy importante lo digo, porque al estar disfrutando de esta frio, al no nevar, con el viento muy suaves, el cual lo comparo como una caricia del alma.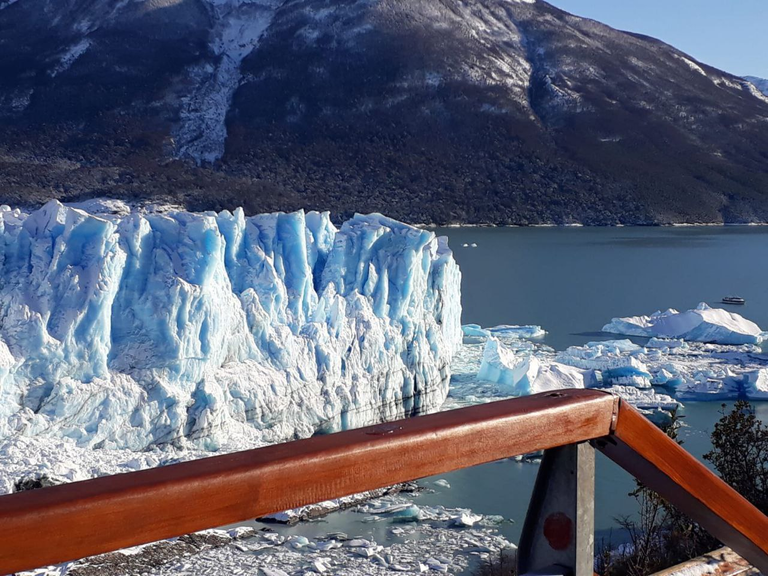 De no creer amigos, el abrir y cerrar los ojos, encontrarse con esta belleza, la cual es totalmente obra de nuestra MADRE NATURALEZA, sabiendo también que es un accidente del terreno, donde se encuentra todo esto, por el hecho de las formas que tiene el terreno.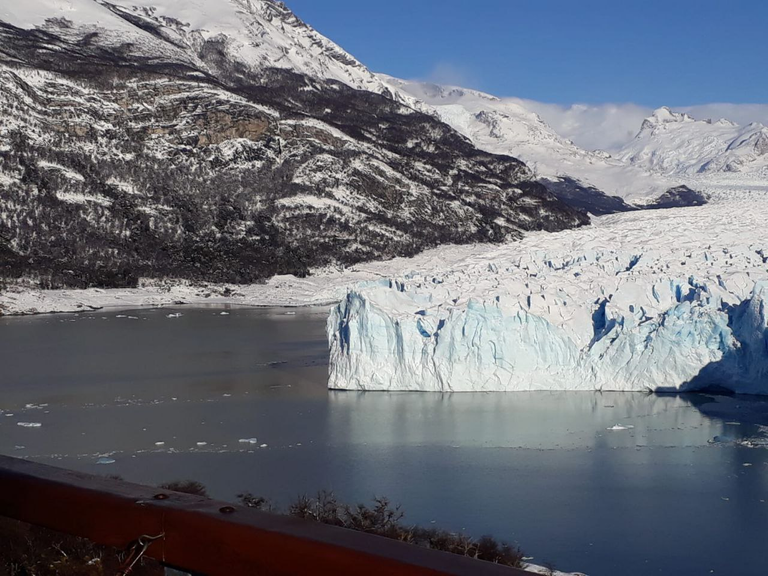 Dando un espectáculo único e irreversible, por ejemplo cuando vemos que se desprende de la gran masa de hielo y se cae al agua, dejando en ese momento un gran estruendo, como anunciándose que dicha masa de hielo se esta muriendo.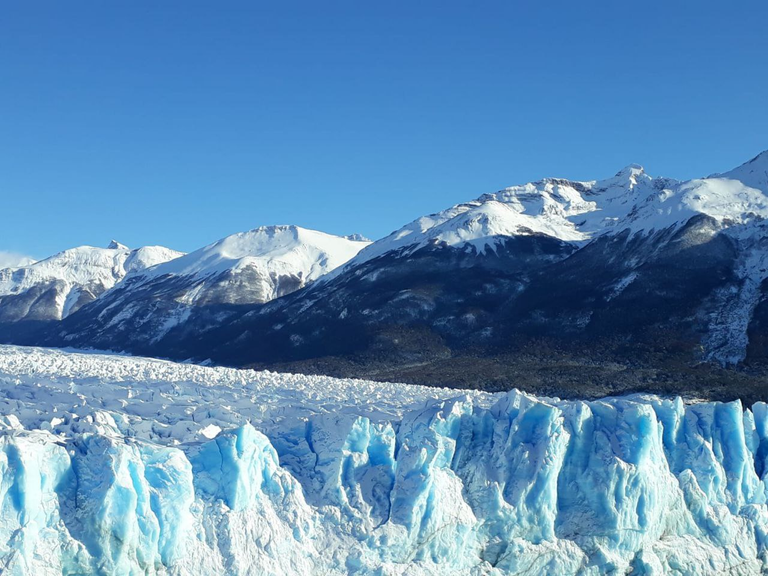 Pero el hielo que va quedando, por ejemplo, lo comparo en esta foto, como una gran y gigante alfombra blanca, con su contorno en negro, marrón y blanco, haciendo un gran contraste, bello y natural.
Por ejemplo desde esta distancia, se puede divisar la parte de la montañas y mesetas muy rocosas, en la parte del horizonte, pero en la parte mas próxima se puede ver la copa de los arboles (pinos y araucarias ), que son la parte de la vegetación que mas tolera este clima.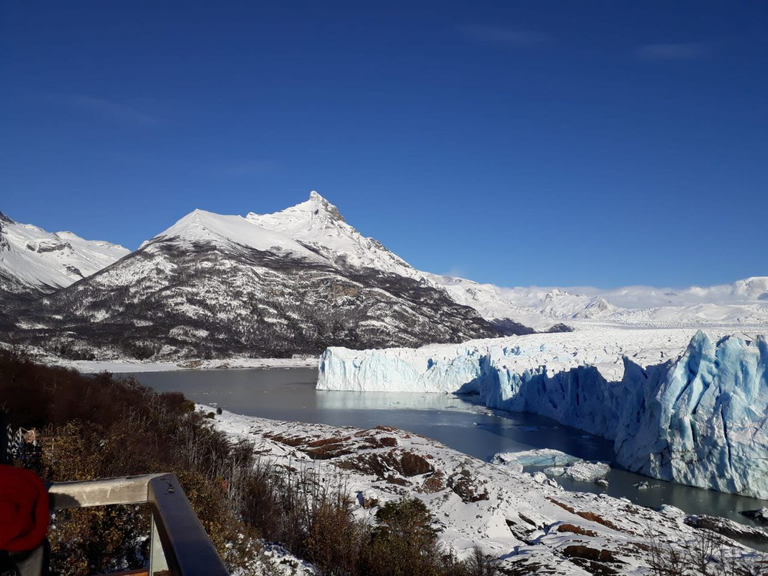 Si miramos bien , se puede ver que al no romperse y desprenderse la gran masa de hielo, el agua parece una pintura de acuarela, por estar muy estática y calma, reflejando en ella los rayos de sol.
MUCHAS GRACIAS POR SEGUIRME Y LEERME, CONTINUARE CON MAS DESCRIPCIONES DE DICHO VIAJE, QUE TENGAN UN EXCELENTE DIA.
TRANSLATED INTO ENGLISH.
Dear and dear friends of this beautiful social platform, which I integrate and I feel very happy to belong to it, because I consider it personally very special, by the fact that when I make my post, not only collaborate with my progress, but I am also doing it with all of you, perhaps this especially with a little nostalgia, for the sole fact that they are good memories of that trip to the province of SANTA CRUZ, which I consider very special for the large number of tourist attractions it has, but this for me is and will be the most beautiful and important, for the great mass of ice that exists but that every year is breaking, leaving a natural beauty of great magnitude.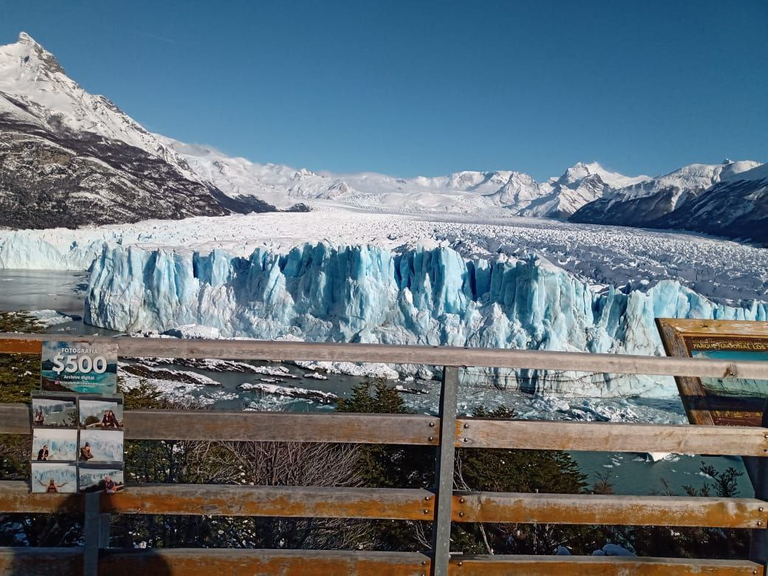 I say great magnitude because as the ice is breaking up, is giving space to more water, because these ice to break melt and melt from solid state to a liquid state.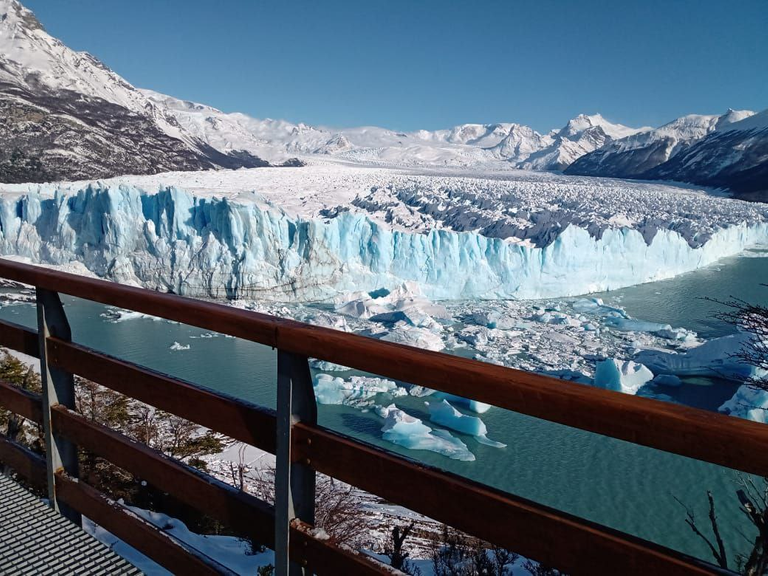 As we can see in the photos, if they pass to a liquid state, it is more likely that in the future more water will be obtained, that is why it would be better to stay in a solid state, so it does not endanger the existence of our planet earth.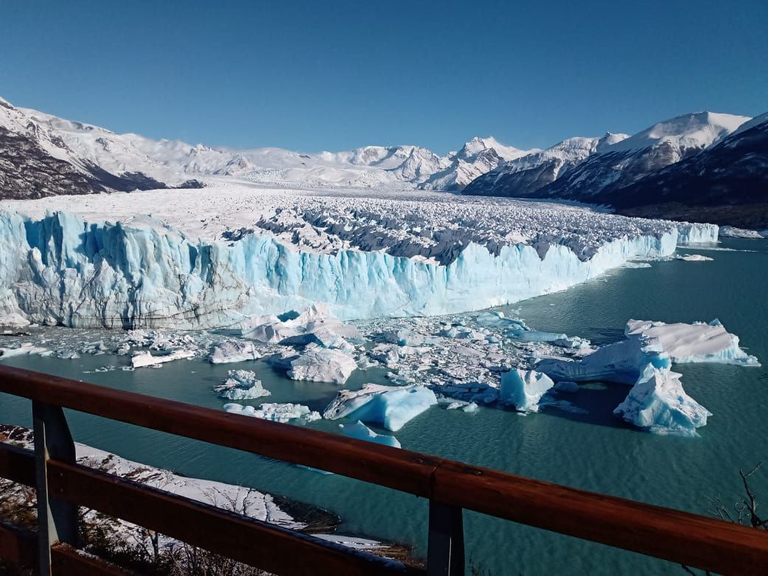 Friends perhaps the landscape as it can be seen is the same but if we observe the railing of the tourist corridor it is changing, this is for the fact that I never remove photos of the same place, to give in that way more content to the nature that I have in sight.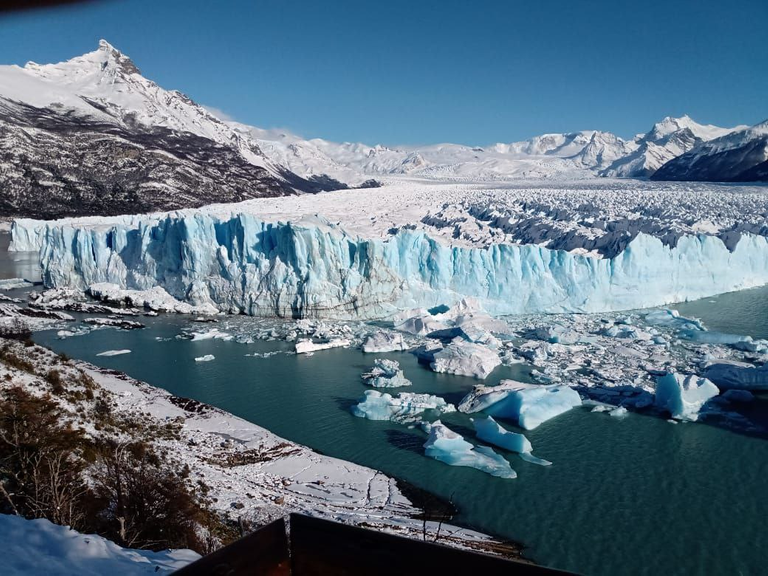 This is without counting the horizon which you can see, the peaks of mountains and plateaus, of course very frozen with a lot of snow, leaving the part of rocks and land very little to be seen, because the snow predominates.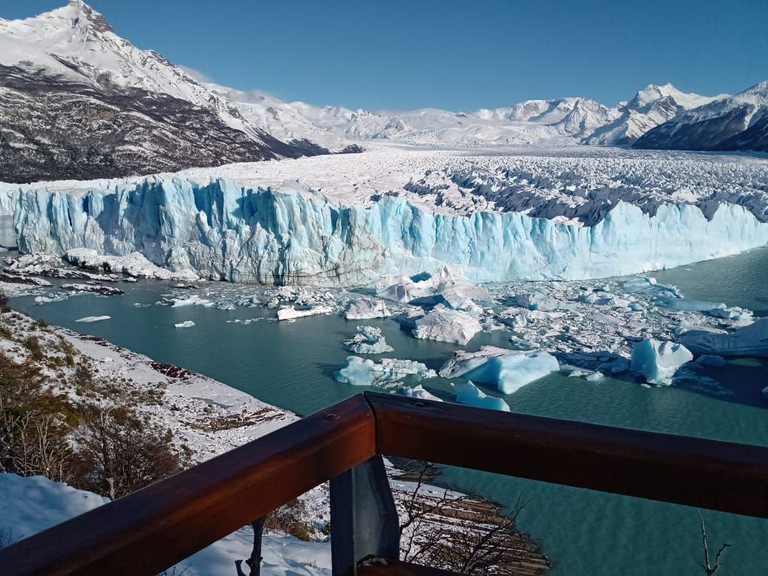 The truth is that being in this place, of course enjoying a few days of walking on vacation, is very important, I say this for the part of the human being, taking into account that not running much wind, you can enjoy everything very well.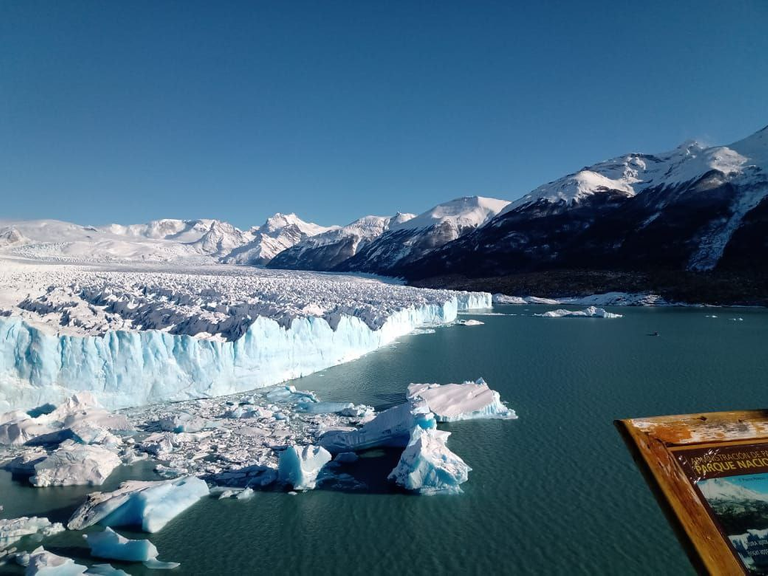 Therefore it is very important I say it, because to be enjoying this cold, not snowing, with the wind very soft, which I compare it as a caress of the soul.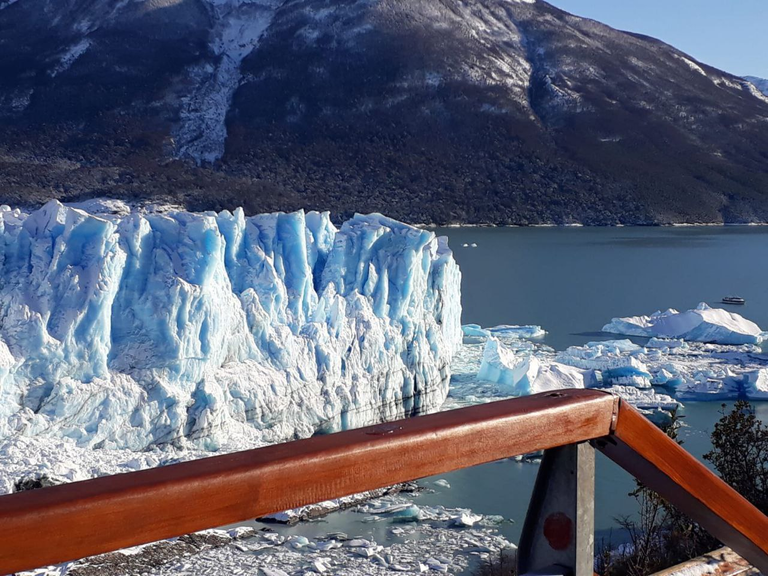 Unbelievable friends, to open and close your eyes, to find this beauty, which is totally the work of our MOTHER NATURE, also knowing that it is an accident of the terrain, where all this is found, due to the fact of the shapes that the terrain has.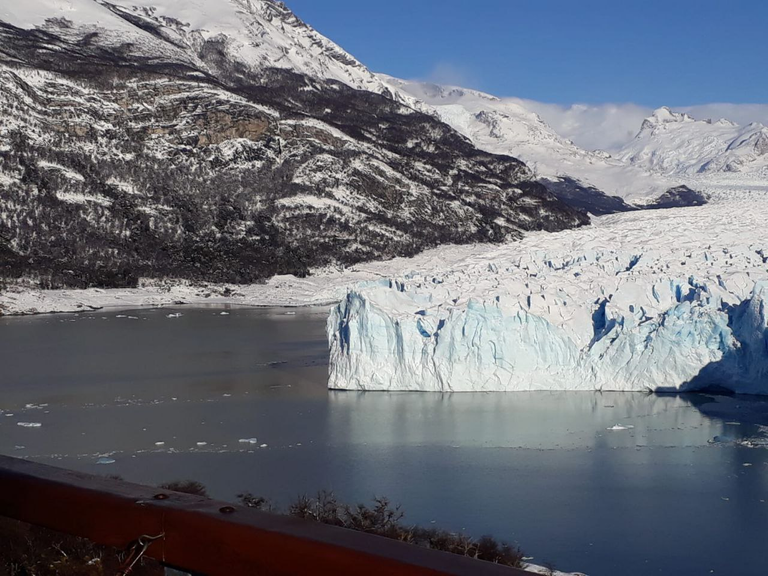 Giving a unique and irreversible spectacle, for example when we see that it detaches from the great mass of ice and falls into the water, leaving at that moment a great roar, as if announcing that the mass of ice is dying.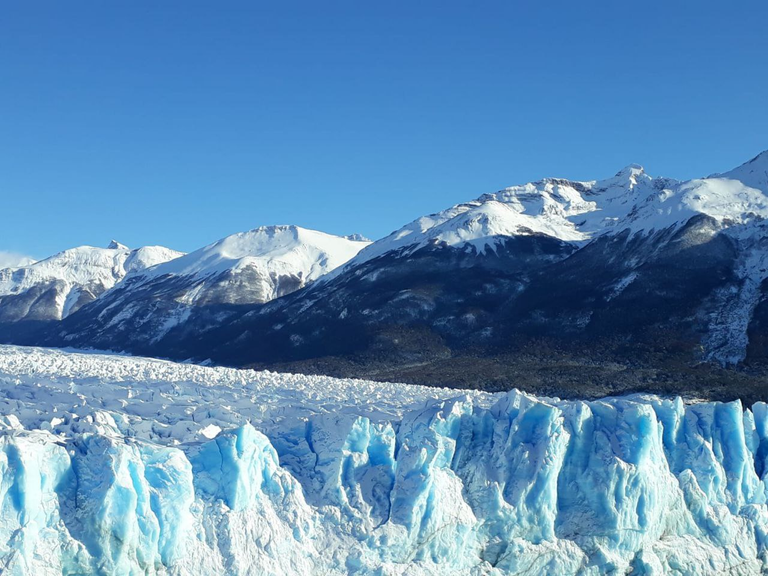 But the remaining ice, for example, I compare it in this photo, as a big and giant white carpet, with its outline in black, brown and white, making a great contrast, beautiful and natural.
For example from this distance, you can see the part of the mountains and very rocky plateaus, in the part of the horizon, but in the nearest part you can see the top of the trees (pines and araucarias), which are the part of the vegetation that most tolerate this climate.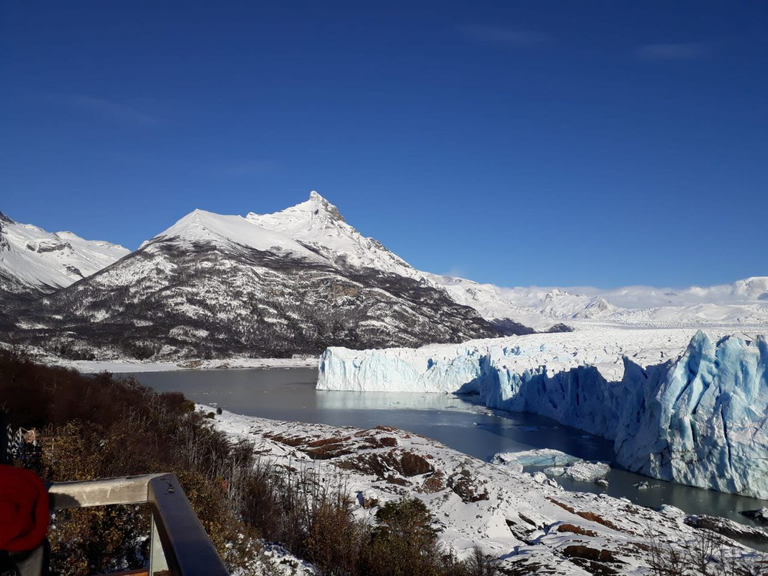 If you look closely, you can see that the water looks like a watercolor painting, because it is very static and calm, reflecting the sun's rays.
THANK YOU VERY MUCH FOR FOLLOWING AND READING ME, I WILL CONTINUE WITH MORE DESCRIPTIONS OF THIS TRIP, HAVE A GREAT DAY.