Buenos días a todos y buen comienzo de semana, que sea con mucha salud y trabajo, con ganas de seguir adelante subsistiendo en esta vida, que nos toco vivir, siguiendo, como dije en otros post de este viaje, como guía turístico, luego de la navegación, regresando al vehículo, dejamos atrás el catamarán y dirigiéndonos a la pasarela nuevamente, como dije dejando atrás, lo de la navegación y este bello paisaje, de frente y hacia el horizonte.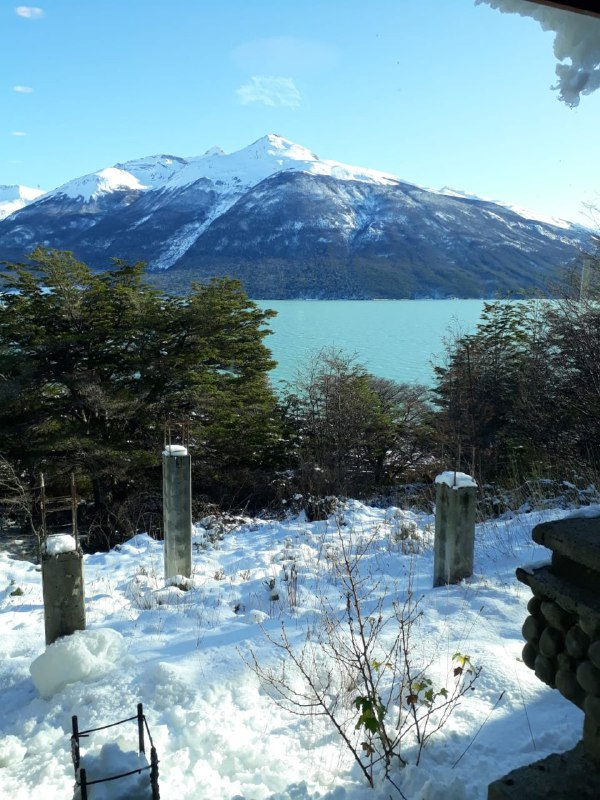 La verdad amigos comenzando a caminar por la pasarela, es imposible ignorar tanta belleza, como la vista que tiene en esta foto, donde apenas se puede observar al paredón blanco de hielo.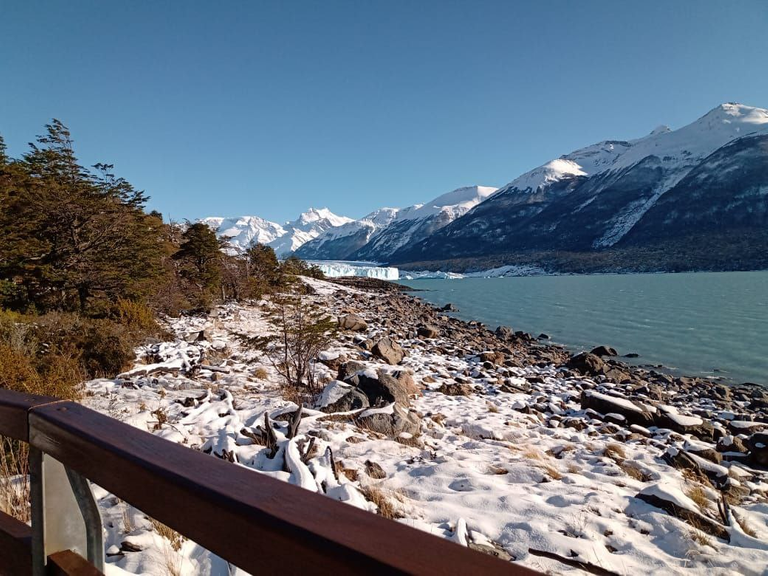 Siguiendo el camino, formado todo por madera, porque es una de las mejores maneras de transitar por este lugar, porque la nieve acá no es muy solida, al caminar uno se hunde demasiado, este seria un sector de cabañas, cerca de donde se embarca.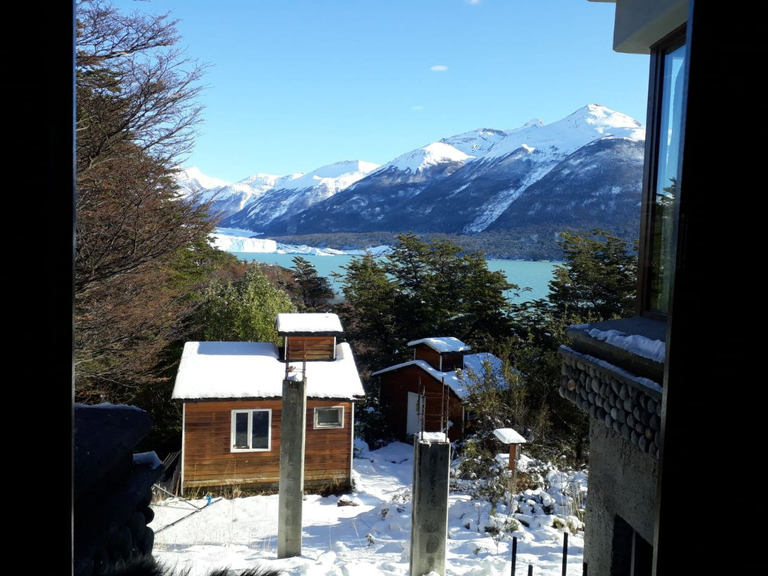 En esta parte del recorrido por la pasarela, se hace un poco monótono porque lo único que se puede ver aparte de la nieve, son los arboles de un color marrón o sea muy secos y la parte del piso la goma de color negro.
Aunque quitando bien las fotos de fondo y hacia el horizonte se puede ver las montañas y en este caso también un cruce de pasarelas, lo comparo con un cruce de avenidas, con la garita del policía que dirige el transito jajajaajaj.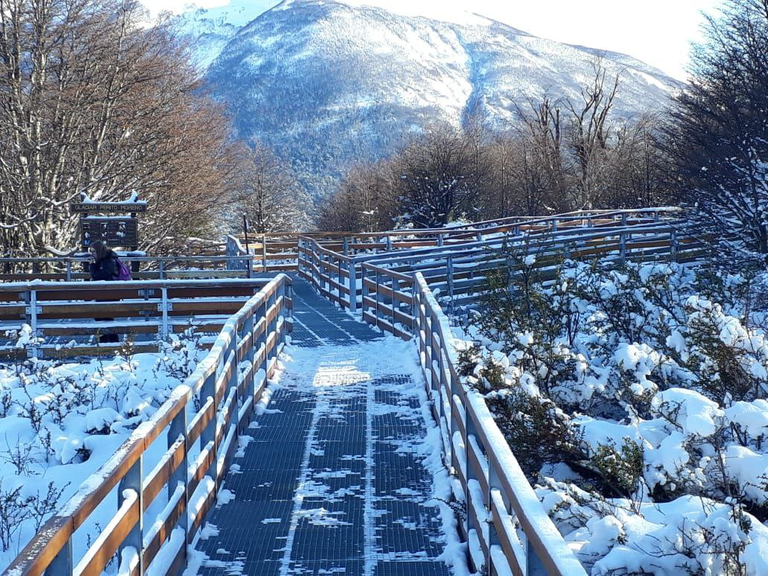 No solamente como un cruce de rutas, si no como los bretes donde hacen circular las vacas, caballos, ovejas, para ser vacunados, bueno eso se llamaría bretes, esta foto la tome, lo que seria la parte de arriba de un pequeño pino, el cual esta cargado con nieve.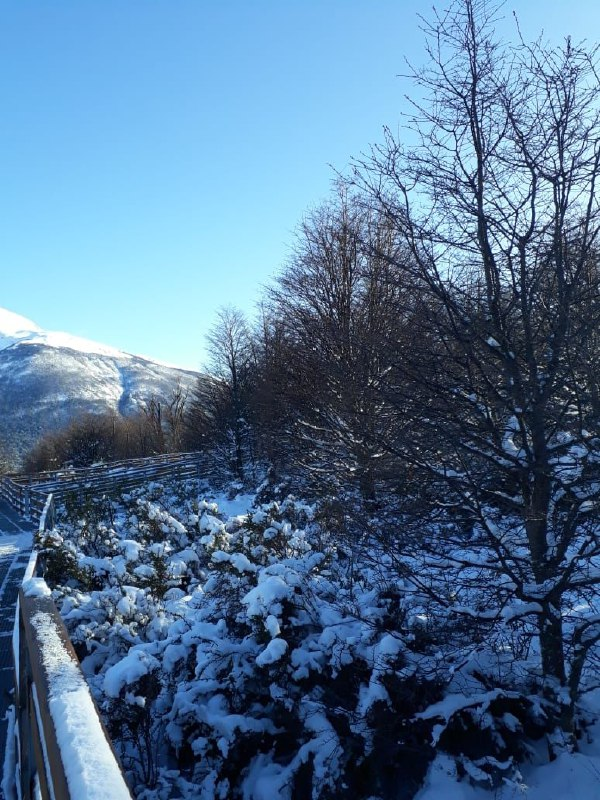 Nuevamente el suelo de color blanco, como algodón, con los arboles de un color amarronado y de fondo las montañas, como podrán ver.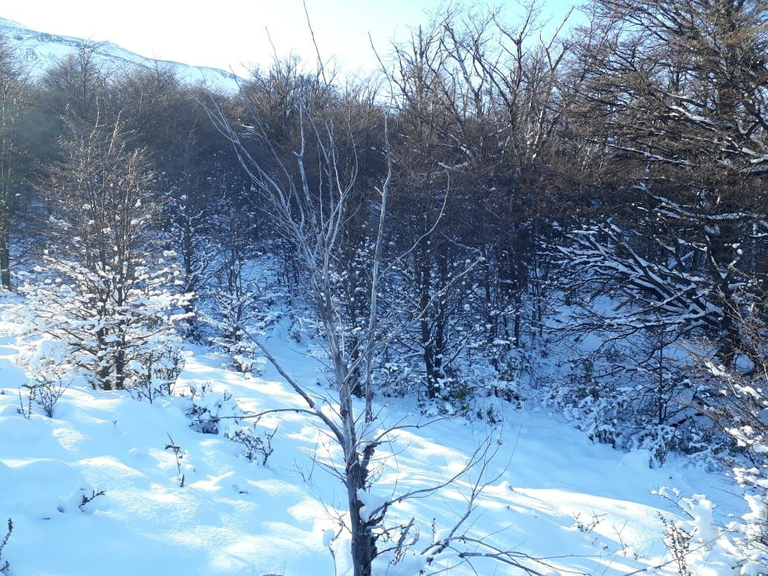 La verdad amigos si nos organizamos, bien los días, como verán los disfrutamos bastante, por eso cuando llega la noche, descansamos muy bien.
MUCHAS GRACIAS POR SEGUIRME Y LEERME, BUEN COMIENZO DE SEMANA.
TRADUCIDO AL INGLES.
Good morning to all and good start of the week, may it be with good health and work, with the desire to move forward subsisting in this life, that we had to live, following, as I said in other posts of this trip, as a tour guide, after navigation, returning to the vehicle, we left behind the catamaran and heading to the gangway again, as I said leaving behind, the navigation and this beautiful landscape, in front and towards the horizon.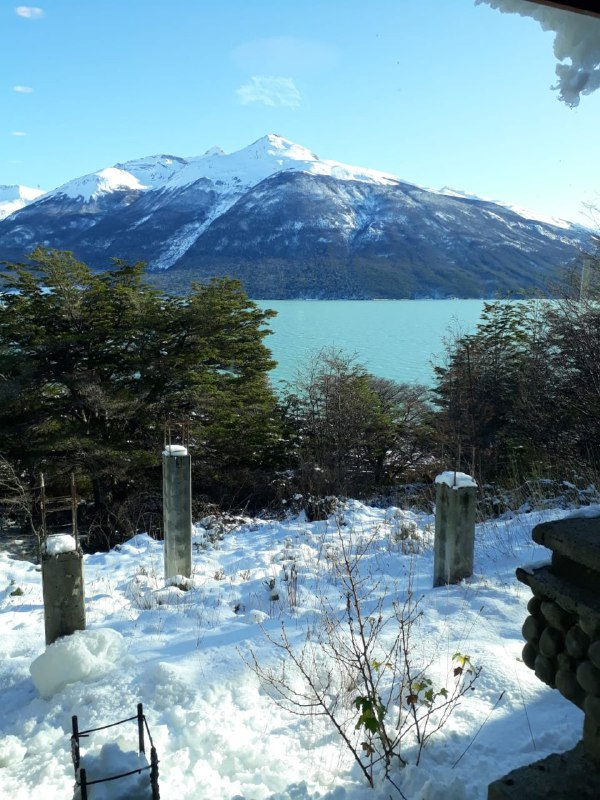 The truth friends starting to walk along the gangway, it is impossible to ignore so much beauty, like the view you have in this photo, where you can barely see the white wall of ice.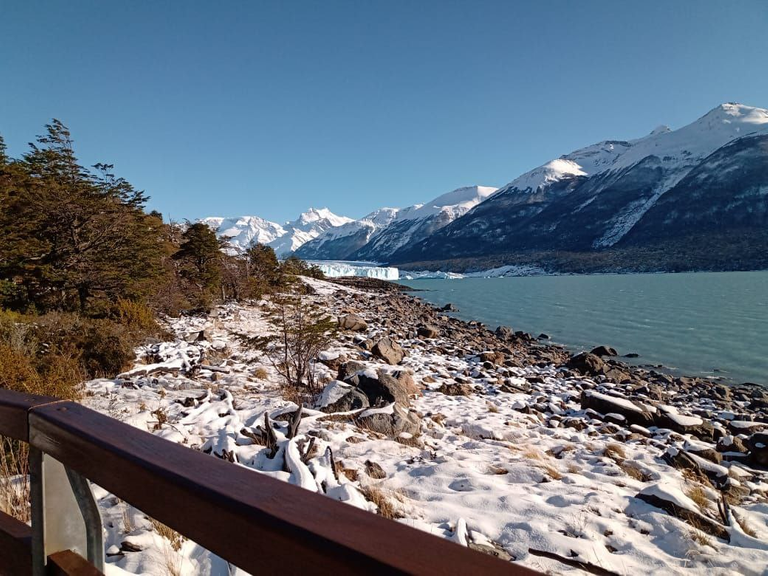 Following the path, formed all by wood, because it is one of the best ways to travel through this place, because the snow here is not very solid, when walking one sinks too much, this would be a sector of cabins, near where you embark.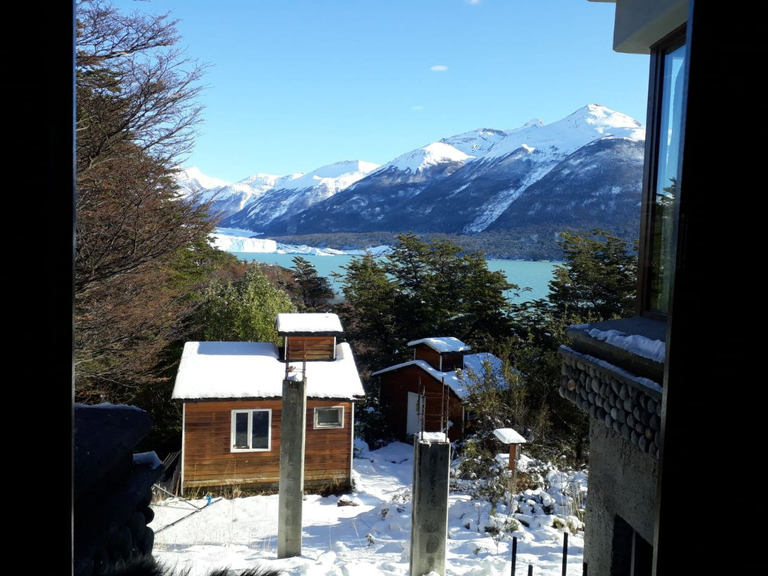 In this part of the walk along the walkway, it becomes a bit monotonous because the only thing you can see apart from the snow, are the trees of a brown color or very dry and the part of the floor is black rubber.
Although removing well the photos in the background and towards the horizon you can see the mountains and in this case also a crossing of footbridges, I compare it with a crossing of avenues, with the police station that directs the traffic jajajaajajaj.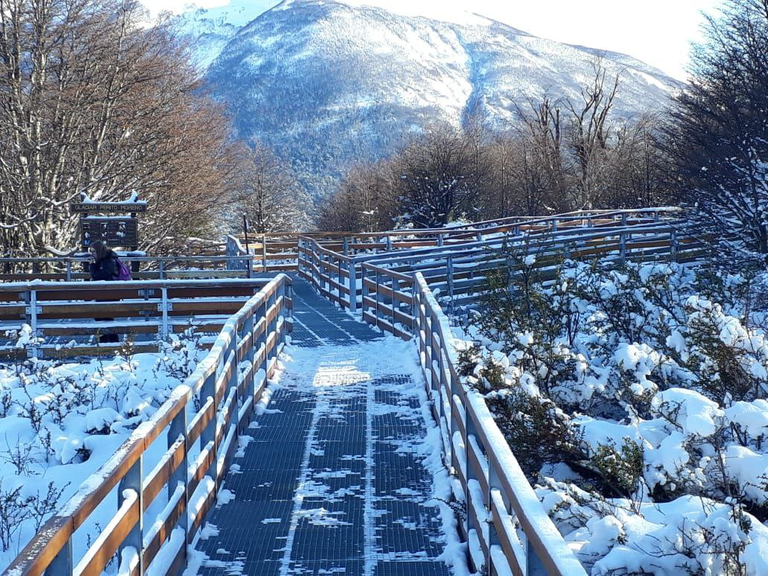 Not only as a crossroads, but as the bretes where they make the cows, horses, sheep, to be vaccinated, well that would be called bretes, this photo was taken, what would be the top of a small pine tree, which is loaded with snow.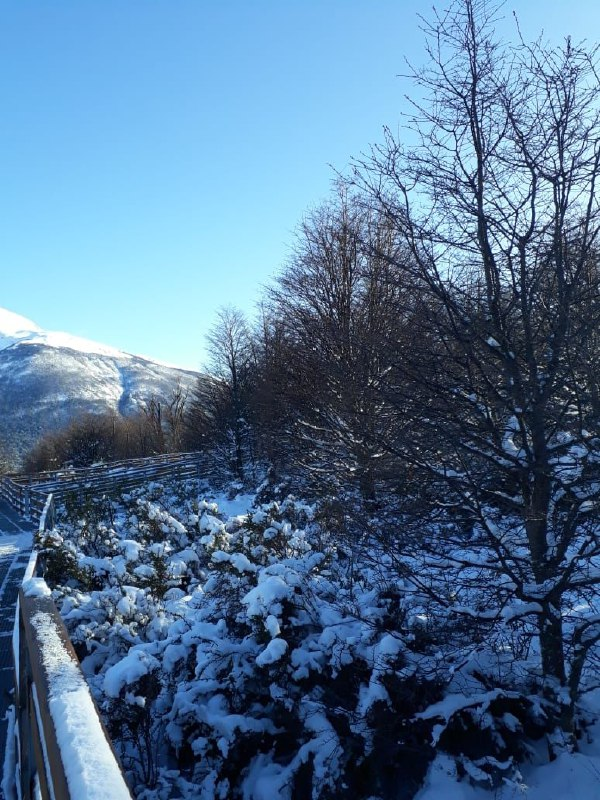 Again the ground is white, like cotton, with the trees of a brownish color and in the background the mountains, as you can see.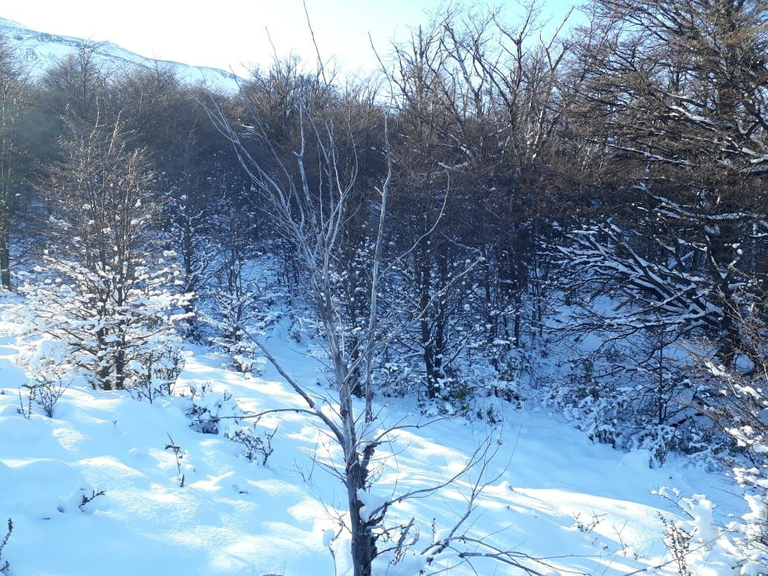 The truth is that if we organize our days well, as you can see, we enjoy them a lot, so when the night comes, we rest very well.
THANK YOU VERY MUCH FOR FOLLOWING AND READING ME, GOOD START OF THE WEEK.