Buenos días queridos amigos y seguidores de esta gran plataforma social, continuando con el recorrido por la PATAGONA ARGENTINA, en este caso por este maravilloso pueblo de el CALAFATE, como les mencione en un momento, referente a que estoy catalogado casi como guía turístico, por las descripciones, de cada paisaje que vamos viendo, bueno todo esto es por haber conocido el lugar, también para aquellos que no conocen el mismo, es para que tengan una referencia de lo que nuestra PATAGONIA ARGENTINA.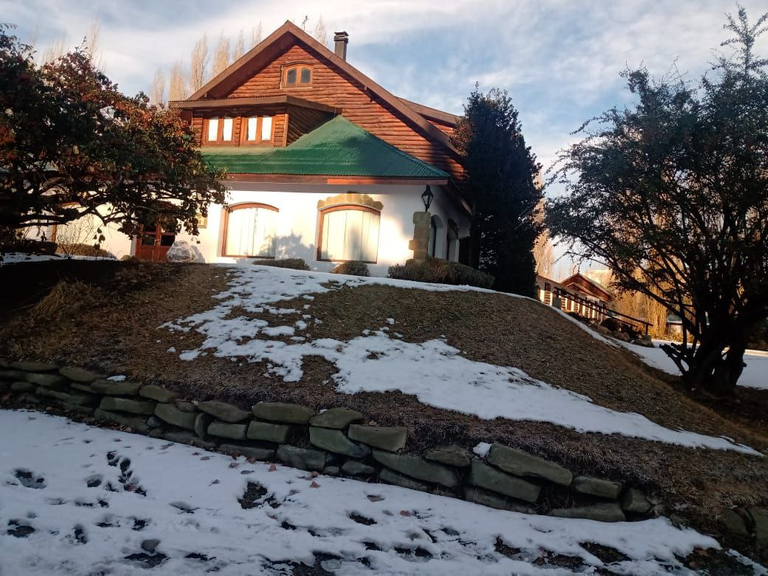 Las fachadas de alguna de las casas del lugar, tienen un estilo suizo, también como se puede ver los muros de los frentes, que son todos de rocas naturales, prolijamente colocadas.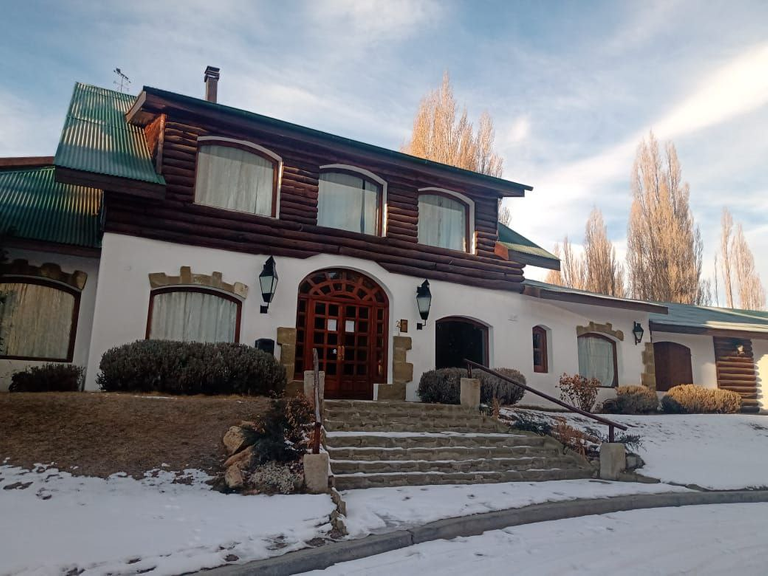 Esta casa por ejemplo a mi forma de ver tiene un estilo mas bien colonial, por la forma delas ventanas y la puerta, también por la construcción, es alargada, y no todo de dos plantas.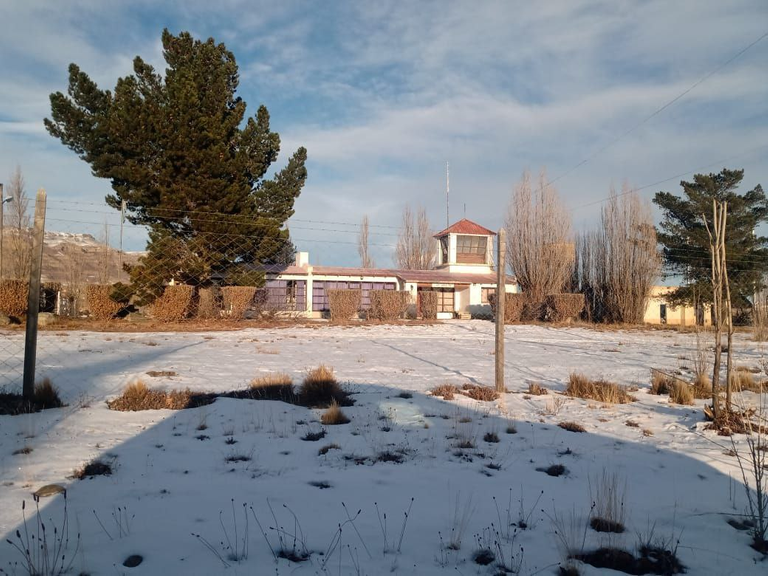 Si tengo que destacar esta casa, por ejemplo de agrada porque tiene mucha iluminación natural o sea por sus ventanales, también lo que veo que todos los arboles están secos y sin hojas, exceptos los pinos, como ven muy verdes.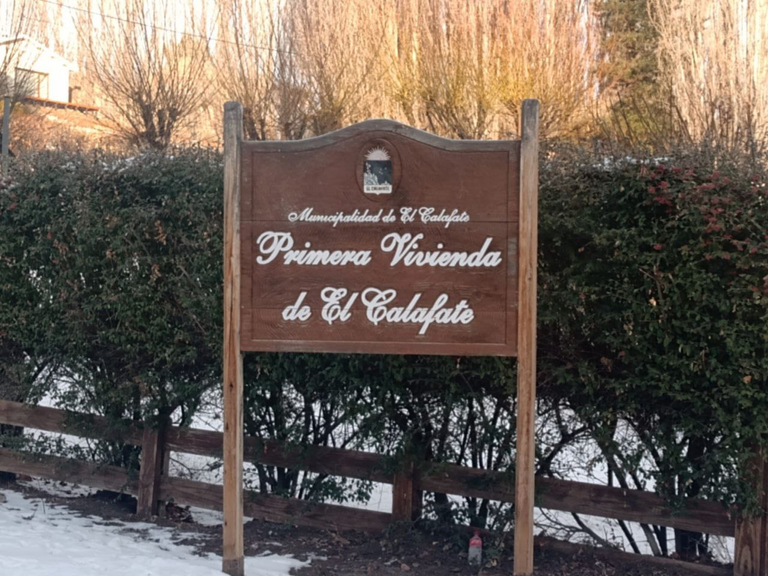 Si hay algo que de mi mayor agrado, es cuando como en este caso, puedo ver, sentir este momento al observar esta o lo que quedo de esta casa, la primera construida en este pueblo.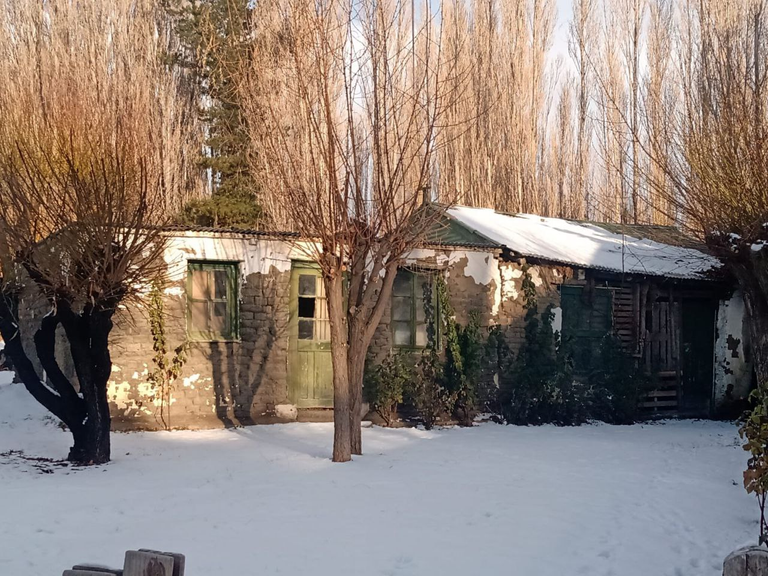 La misma esta totalmente construida con adobe, típico de la PATAGONIA, ARGENTINA, en la época de los gauchos que habitaban el lugar, o sea el adobe es mescla de yuyos o gramillas, con barro, se amasa todo y las paredes primero se le da forma con tacuaras o cañas, luego con el adobe se le aplica en forma de revoque, quedando perfecta dicha pared.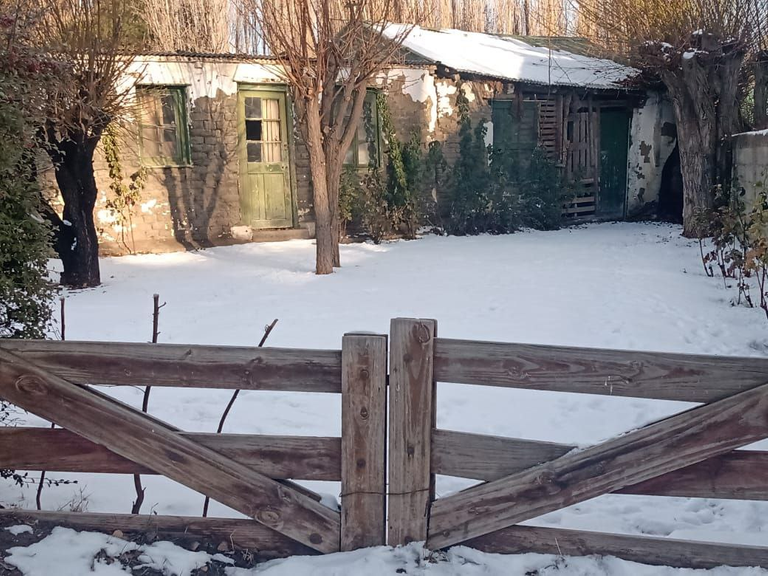 La típica entrada, con la tranquera que cumplía la función de portón de ingreso a dicha vivienda, los arboles de color marrón y gris, con el piso de color blanco, parce una pintura de acuarela, pero nada mas que esto es real.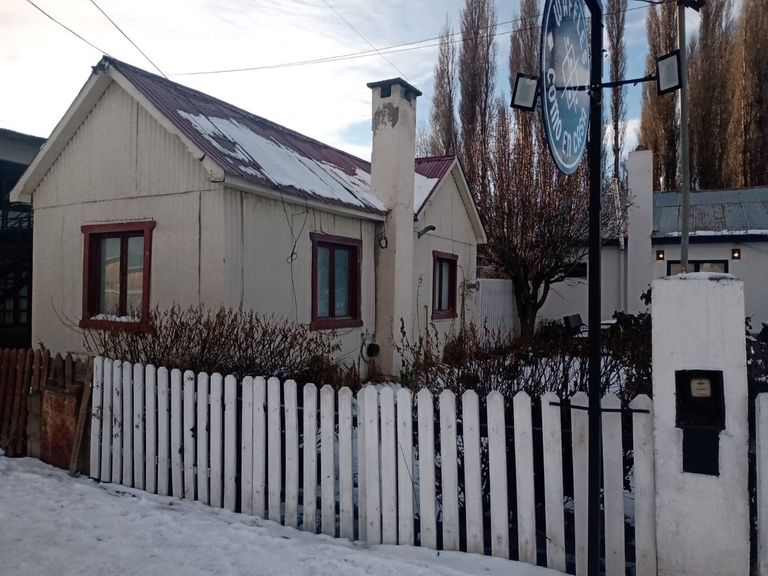 Sin embargo existen otras construcciones como esta mas modernas, pero con sus medianeras o sea en ves de muralla son empalizados, colocados prolijamente, como los techos de dichas casa en dos aguas, la función de colocar este techo es para que deslice mas rápido la nieve, cuando esta nevando.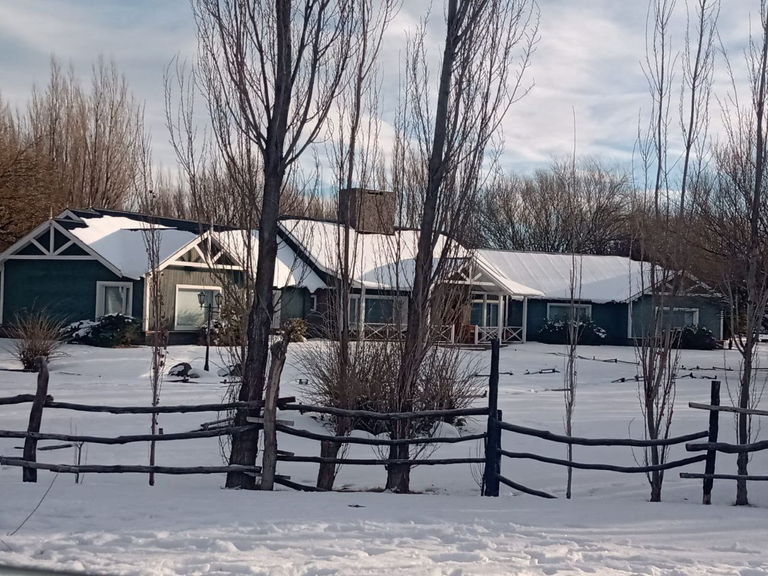 Bueno también tenemos en este pueblo, por supuesto las cabañas o hoteles como este, desde ya muy modernos, en la cual se pueden acobijar a un centenar de turistas.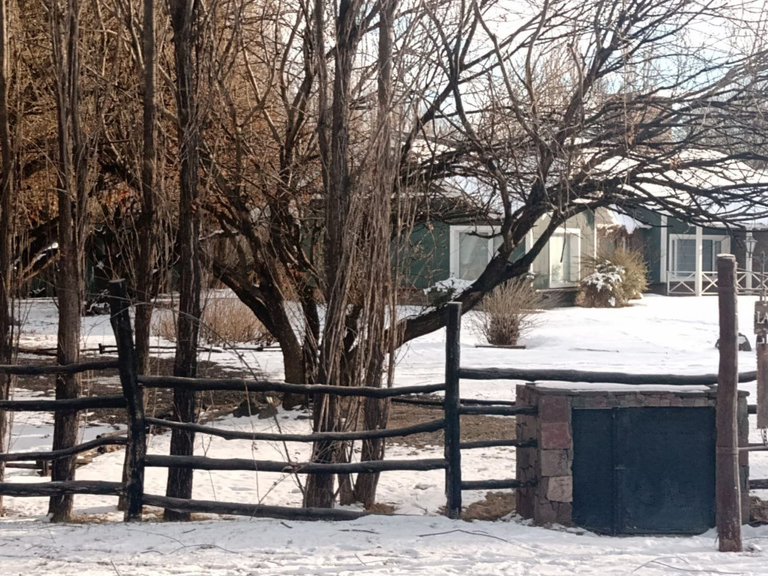 Con la única diferencia como dije anteriormente, los arboles secos, con la nieve en el suelo, lo cual deja verse como un paisaje excelente.
MUCHAS GRACIAS POR SEGUIRME Y LEERME, QUE TERMINEN ESTE BELLO DIA, DE LA MEJOR MANERA.
TRADUCIDO AL INGLES.
Good morning dear friends and followers of this great social platform, continuing with the tour of the PATAGONIA ARGENTINA, in this case by this wonderful town of CALAFATE, as I mentioned at a time, referring to that I am listed almost as a tour guide, by the descriptions of each landscape that we see, well all this is for having known the place, also for those who do not know the same, is to have a reference of what our PATAGONIA ARGENTINA.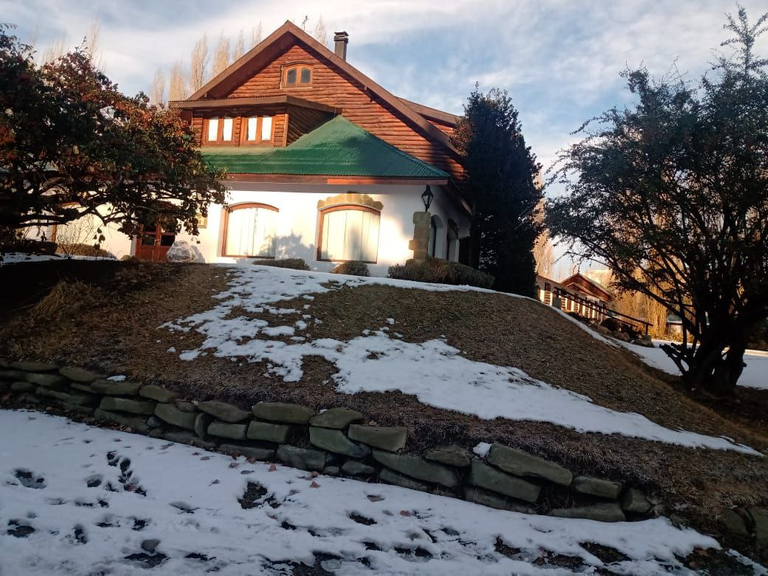 The facades of some of the houses of the place, have a Swiss style, also as you can see the walls of the fronts, which are all of natural rocks, neatly placed.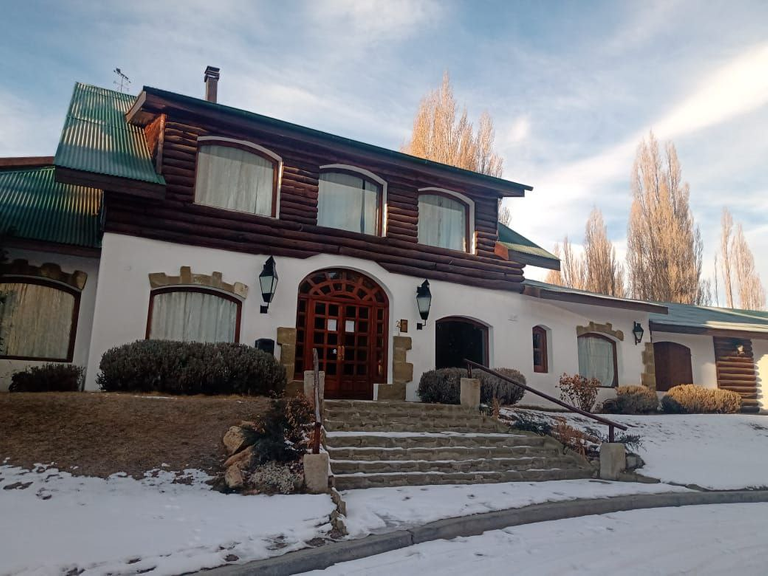 This house for example in my opinion has a rather colonial style, by the shape of the windows and the door, also by the construction, it is elongated, and not all of two floors.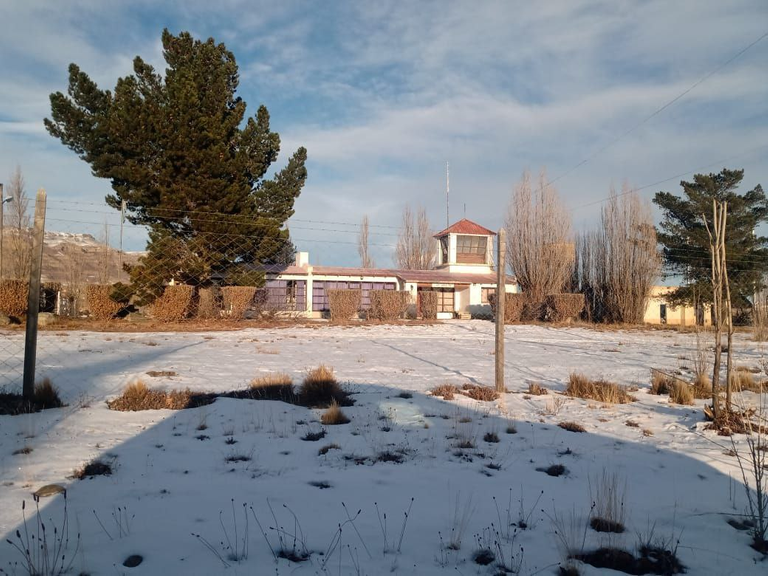 If I have to highlight this house, for example, I like it because it has a lot of natural light because of its large windows, also I see that all the trees are dry and without leaves, except for the pines, as you can see they are very green.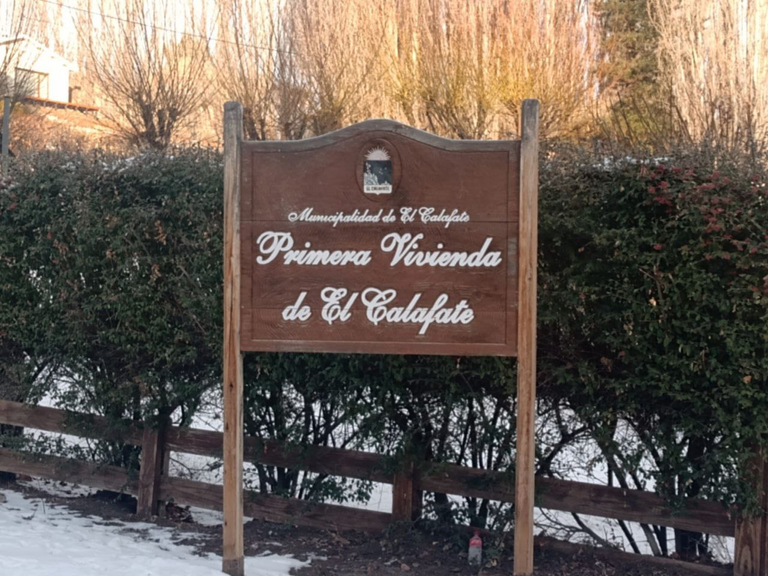 If there is something that pleases me the most, it is when, as in this case, I can see, feel this moment when observing this or what is left of this house, the first one built in this town.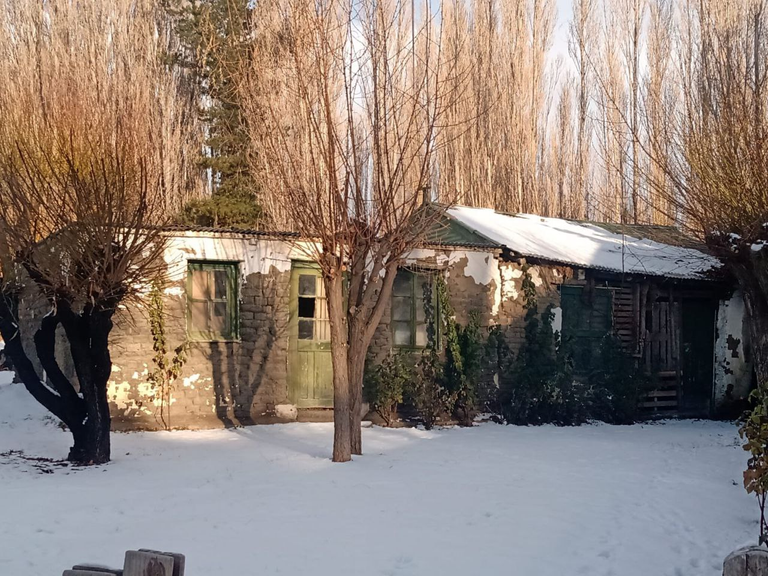 The same is completely built with adobe, typical of the PATAGONIA, ARGENTINA, at the time of the gauchos who inhabited the place, or adobe is a mixture of weeds or grass, with mud, everything is kneaded and the walls are first shaped with tacuaras or reeds, then with adobe is applied in the form of plaster, leaving the wall perfect.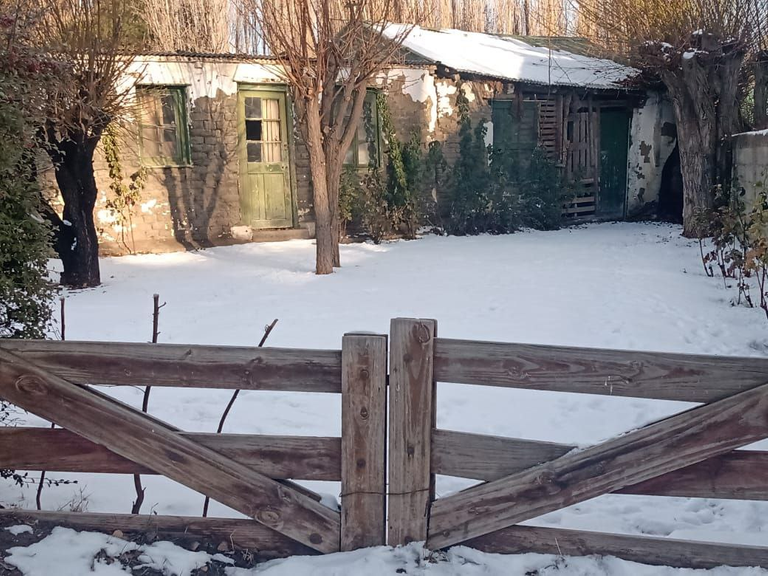 The typical entrance, with the gate that served as an entrance gate to the house, the brown and gray trees, with the white floor, it looks like a watercolor painting, but nothing more than this is real.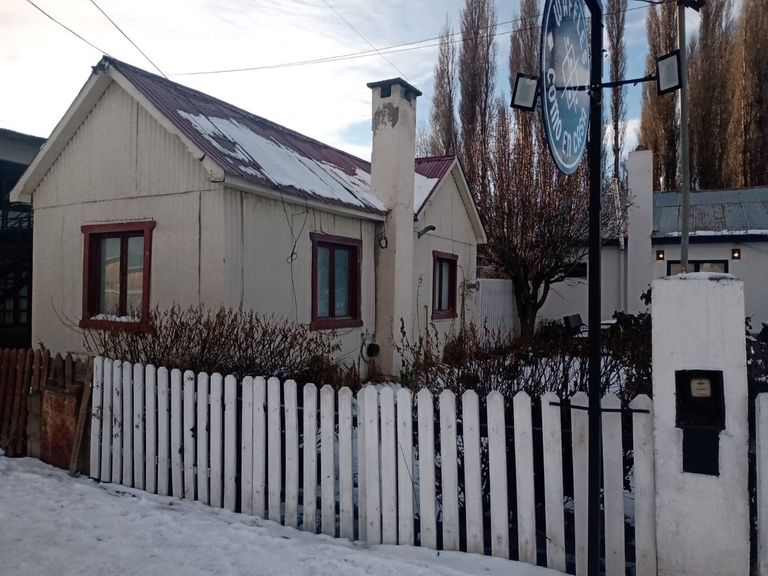 However there are other constructions like this more modern, but with its dividing walls or instead of walls are palisades, placed neatly, like the roofs of these gabled houses, the function of placing this roof is to slide faster the snow, when it is snowing.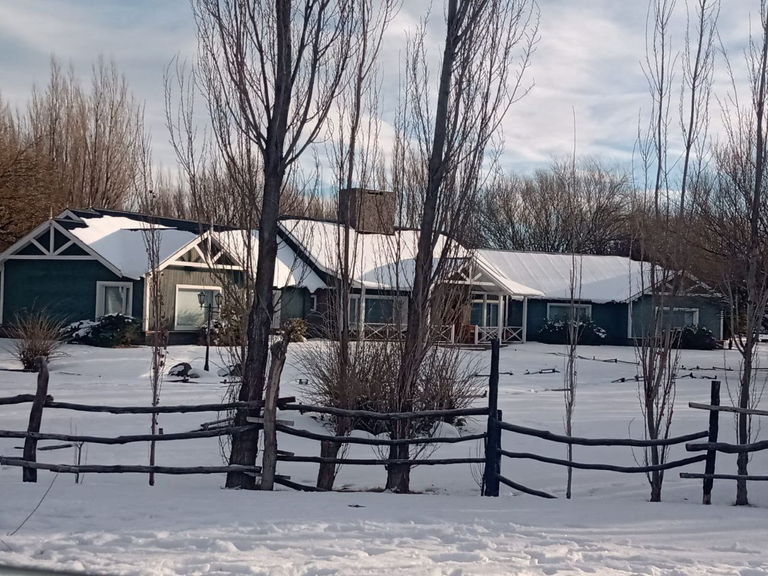 Well we also have in this town, of course the cabins or hotels like this one, of course very modern, which can accommodate a hundred tourists.
image.png](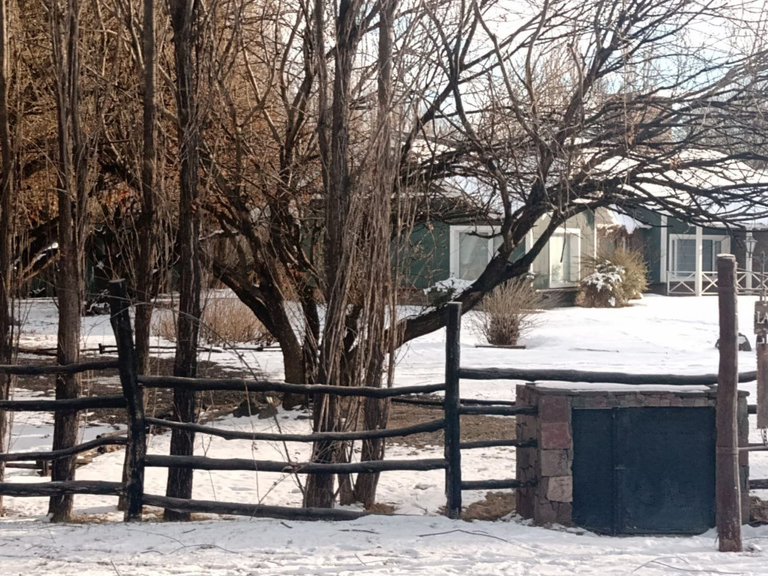 )
With the only difference as I said before, the dry trees, with the snow on the ground, which makes it look like an excellent landscape.
THANK YOU VERY MUCH FOR FOLLOWING AND READING ME, MAY YOU END THIS BEAUTIFUL DAY IN THE BEST WAY