Culminando con el armado de la reja y el portón de ingreso de la misma, los cuales e comenzado todo esto en otro post, como les había comentado si todo lo que hacemos le ponemos amor y perseverancia todo sale bien, así que amigos como no soy soldador pero le pongo ganas y tomando las precauciones del caso o sea todas la herramientas necesarias para dicho trabajo.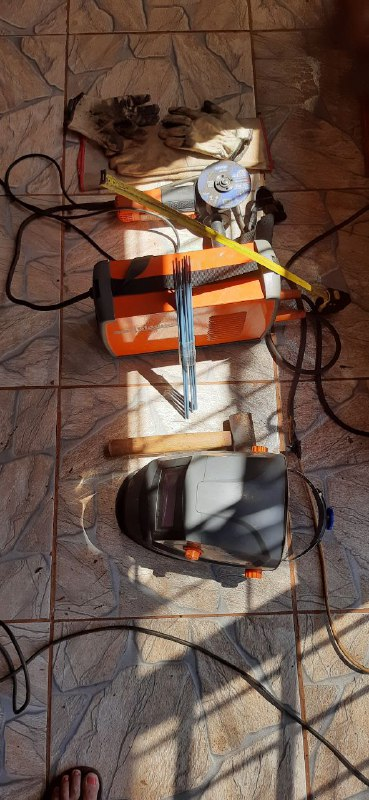 Maquina de soldar inverter, maza, corta hierro, amoladora, discos de corte de hierro, guantes de cuero, casco de seguridad para soldador y los electrodos, que seri el material principal para todo soldador.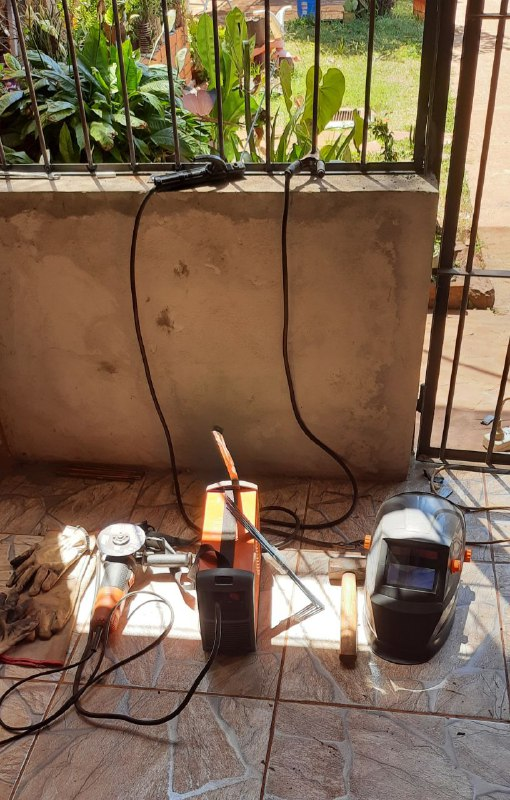 El temas de soldar no seria tanto porque como se ve en la foto, la maquina de soldar es cómoda, el tema pasa que tenemos que medir muy bien el hierro, el cual una ves cortado con la amoladora, a la medida que necesitamos, los cuales una ves que soldamos, es muy difícil desarmarlo, solamente cortando dicha soldadura con la amoladora.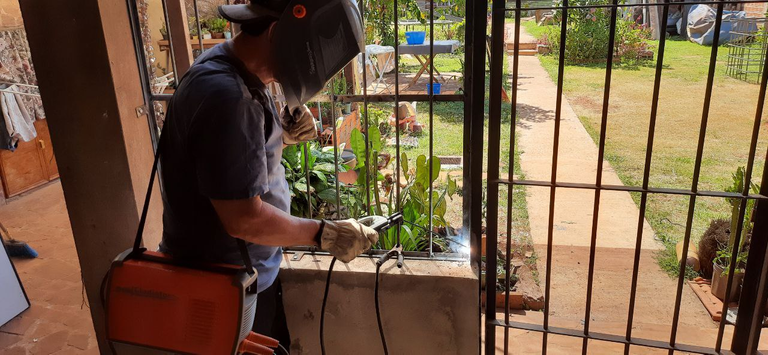 como se ve en esta foto la medidas son en lo posible perfectas, para lo cual utilizamos una tiza de color blanco, es lo único que marca bien el hierro y para soldar las planchuelas laterales, utilizamos un nivel de mano, para que quede bien derecho, como dije anteriormente los bordes son con ángulos que seria como un marco todo alrededor, luego van soldadas las varillas de hierro liso.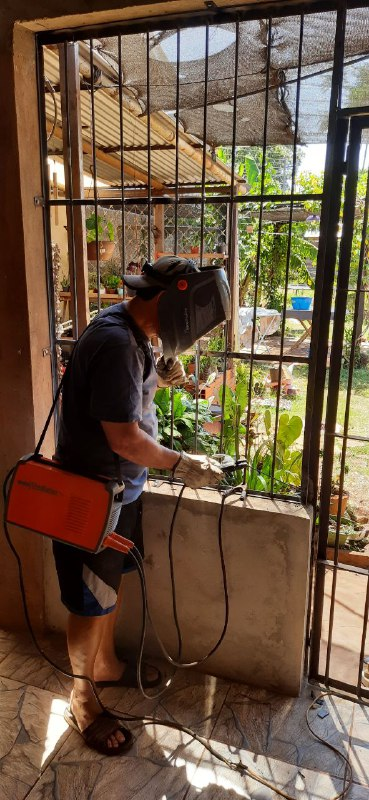 Dándole de esta manera la forma de una reja, la verdad amigos he soldado anteriormente pero nunca armando una reja como esta, la verdad es la primera ves, pero siempre con mucho amor y perseverancia para que salga medianamente bien como ahora, luego de todo esto le doy la mano de pintura, color negro para hierro, pero antes con la amoladora corrijo las rebarbas que quedan dejando dicha soldadura bien pareja y lista para pintar.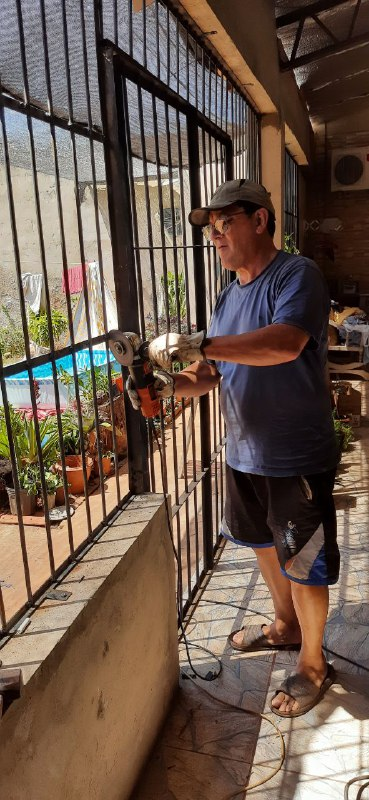 Bueno en esta foto donde estoy comprobando de que la puerta sierre bien y que coincida los agujero para colocar el candado, lo cual a la brevedad remplazare con una cerradura, porque con llave es mejor, para eso le pondré un tope a la puerta de dicha reja.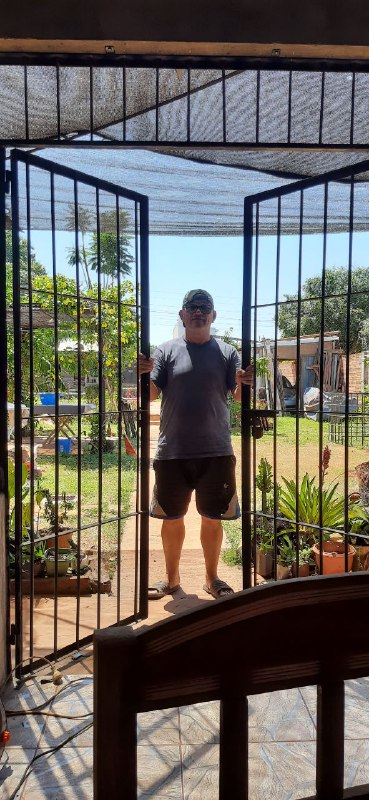 De esta manera doy por finalizado la parte de armado y soldadura de dicha reja, a la brevedad terminare todo cuando quede todo bien pintado, pero la verdad amigos mi alegría como pueden observar al abrir dicha puerta y ver de esa manera que sierra y abre bien, todavía me que un lateral para color y armar mas reja, todo esto es para brindar mas seguridad y tranquilidad a mi familia.
MUCHAS GRACIAS POR SEGUIRME Y LEERME, QUE TENGAN UN BENDECIDO DIA
TRANSLATED INTO ENGLISH.
Culminating with the assembly of the fence and the entrance gate of the same, which I started all this in another post, as I had told you if everything we do we put love and perseverance everything goes well, so friends as I am not a welder but I put desire and taking precautions of the case or all the necessary tools for such work.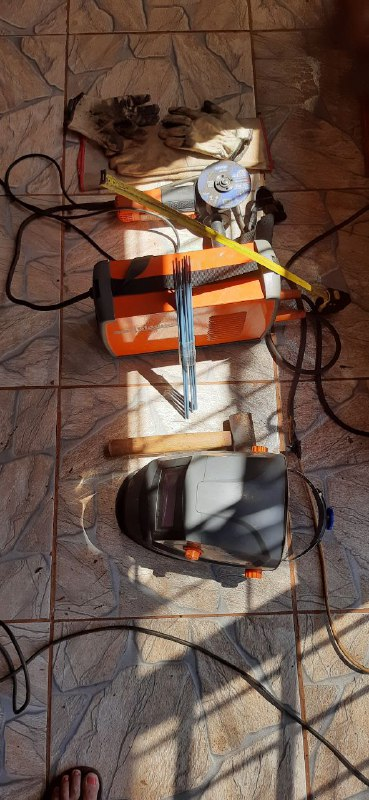 Inverter welding machine, mallet, iron cutter, grinder, iron cutting discs, leather gloves, safety helmet for welder and electrodes, which would be the main material for any welder.
image.png](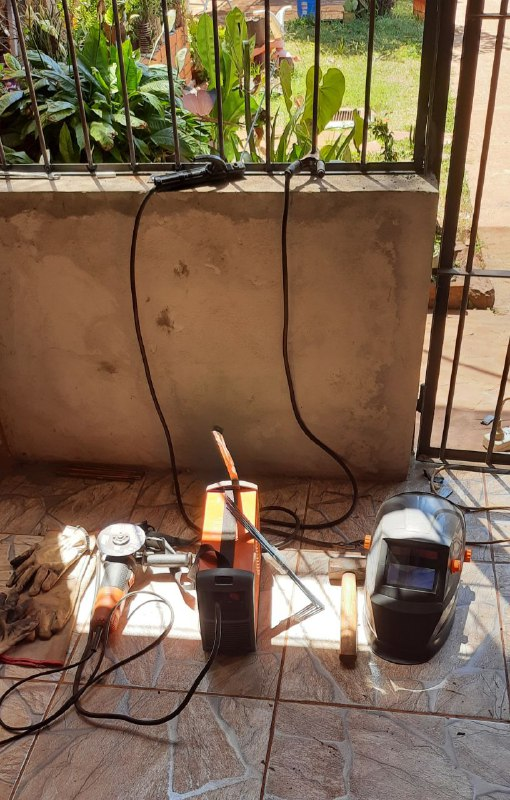 )
The welding issues would not be so much because as seen in the photo, the welding machine is comfortable, the issue is that we have to measure very well the iron, which once cut with the grinder, to the extent we need, which once we weld, it is very difficult to disassemble it, only cutting the weld with the grinder.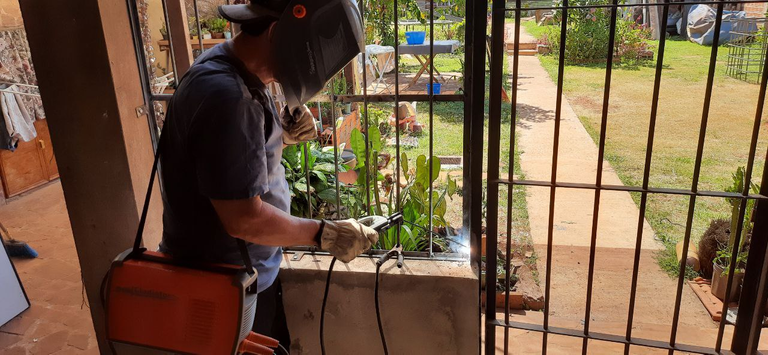 as you can see in this picture the measures are as far as possible perfect, for which we use a white chalk, it is the only thing that marks the iron well and to weld the side plates, we use a hand level, so that it is well straight, as I said before the edges are with angles that would be like a frame all around, then the smooth iron rods are welded.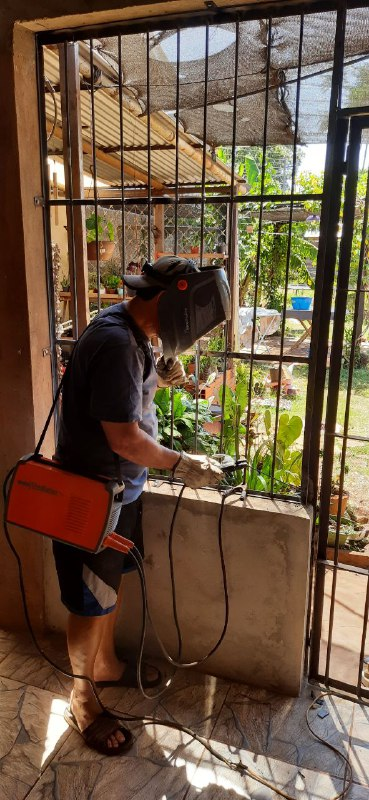 Giving this way the shape of a grille, the truth friends I have welded before but never assembling a grille like this, the truth is the first time, but always with love and perseverance to come out moderately well as now, after all this I give a coat of paint, black color for iron, but before with the grinder correct the burrs that remain leaving the weld well even and ready to paint.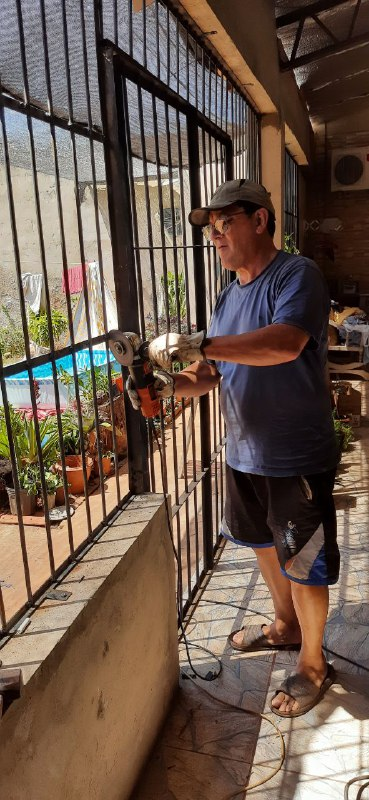 Well in this photo where I am checking that the door closes well and that matches the holes to place the padlock, which soon I will replace with a lock, because it is better with a key, for that I will put a stopper to the door of the grille.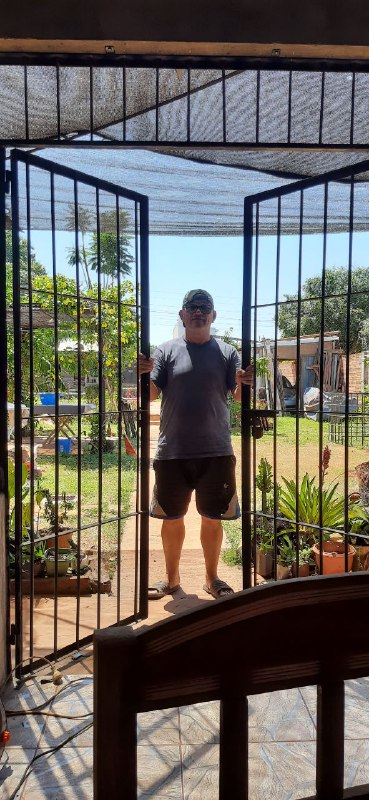 In this way I give by finalized the part of armed and welding of this grille, to the brevity I will finish everything when everything is well painted, but the truth friends my joy as you can observe when opening this door and to see that way that it saws and opens well, I still have a side to color and to assemble more grille, all this is to offer more security and tranquility to my family.
THANK YOU VERY MUCH FOR FOLLOWING ME AND READING ME, HAVE A BLESSED DAY.